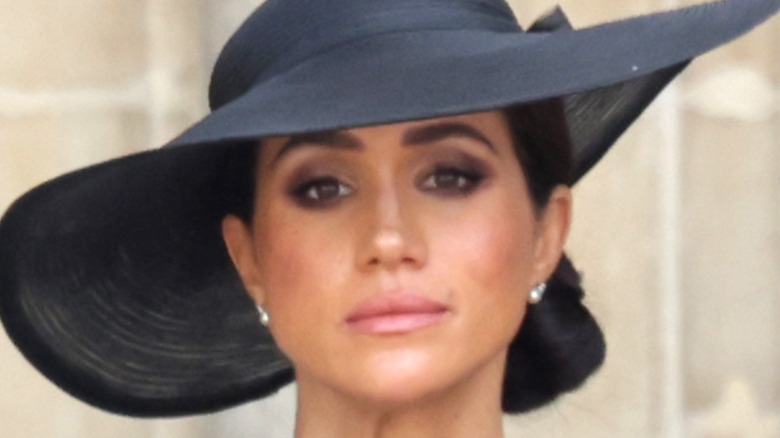 Ever since Meghan Markle was first linked to Prince Harry in 2016, she has been a constant feature of the British tabloids. Unsurprisingly, one of the media's main concerns has been her fashion. What she wore and when and why seem to be a source of constant fascination for the press and the public alike. And it's not too hard to see why. Meghan is undeniably stylish. She came to the UK straight from Hollywood and it shows. From her slick pant suits to her classic gowns to her laid-back LA cool girl casual looks, she always serves when it comes to fashion.
But Meghan doesn't always get her inspiration from Hollywood. In fact, over the years, she seems to have taken a few style tips from her late mother-in-law, Princess Diana. And she isn't the only royal to do so. As celebrity stylist Rochelle White told the Daily Mail, both Meghan and her sister-in-law, Kate Middleton, have emulated Diana in her fashion choices. "Over the past few years I feel Meghan's look has definitely become fashionable and relaxed, that could be because she is back in LA," White said. "They both know how to turn it on, bring elements of Diana in, but not lose the focus on who they are."
Let's take a look at some of the times Meghan has appeared to take fashion inspiration from Diana over the years.
Meghan Markle copied this classic white shift dress look in 2018
It's hard not to see the parallels between these two simple and classic looks. In 2018, Meghan Markle wore a minimalist midi white shift dress during a trip to Australia. According to Town & Country, the dress was designed by Australian designer Karen Gee and was paired with simple nude heels.
Funnily enough, Princess Diana wore an almost identical dress in November 1995 during a trip to Argentina, though she paired the dress with a pair of black heels. While we don't know whether or not Meghan was intentionally imitating her mother-in-law with this look, she did wear Diana's own butterfly earrings with the dress (via Insider), which suggests the entire look was a subtle nod to the late princess. As the Daily Mail's royal correspondent Rebecca English wrote at the time, "Really touching to think that Harry's mother's personal jewellery is now being worn by the daughter-in-law she never got to meet."
This 2020 emerald green look was possibly inspired by Diana
No, you're not seeing double — although these emerald green dresses and fascinators are eerily similar. In March 2020, Meghan Markle wore a midi green dress with a matching cape by Emilia Wickstea, a veiled fascinator by William Chambers, a pair of nude pumps by Aquazzura, and a small bag by Gabriela Hearst to the 2020 Commonwealth Day Service — her final royal engagement (via Harper's Bazaar).
Eagle-eyed royal fans may have noticed that the entire look was almost identical to an outfit Princess Diana had worn to the 1982 Trooping the Color ceremony. Although Diana wore a green dress and fascinator, there were, of course, a few subtle differences. Diana's green dress featured a few 1980s touches, such as smocking, puffed sleeves, and buttons, while Meghan's outfit was a little more minimalistic and modern. We love to see Meghan adding her own touches to a classic royal look.
She channeled Princess Diana on Remembrance Day in 2019
This may have been Meghan Markle's most obvious and deliberate Princess Diana imitation to date. In 2019, Meghan chose to wear a black belted coat and a wide-brimmed bat hat to the Remembrance Sunday ceremony in 2019. The silhouette and look of the outfit emulated Diana's outfit for the 1991 Cenotaph. Meghan's outfit featured a wool coat by Stella McCartney with a black dress. As the Express pointed out, Meghan's hat featured a ribbon, just like Diana's, and was the same width and shape.
"There is no doubt in my mind that this was a deliberate move on Meghan's behalf," said royal fashion expert Miranda Holder. "Whilst the Royal Family are immersed in royal tradition and etiquette when it comes to dressing, team Meghan are by comparison unrestricted, and the polished Hollywood PR team that surround her know a thing or two about personal branding." Looking at these looks side by side, we have to agree with Holder.
Meghan Markle took inspiration from Princess Diana with this pale pink off-the-shoulder gown
In 2018, Meghan Markle wore a pale pink off-the-shoulder gown to Trooping the Color that looked very similar to an outfit Princess Diana had worn in 1987 during a trip to the opera.
Meghan's Carolina Herrera dress featured a folded off-the-shoulder design and large pink buttons down the side of the bodice. Diana's Catherine Walker dress featured a similar folded neckline (though hers was white) and pink buttons on the front of the dress (though her dress featured two rows). Diana's dress, however, was made of a silky material and featured a dropped waist with a full skirt of pleats, while Meghan preferred a more sleek, modern silhouette (via Glamour).
As Hello! Magazine pointed out, some royal fans took issue with Meghan's Bardot-style neckline, claiming it was a little too revealing — that is, until they realized that Diana had already paved the way for the off-the-shoulder dress in the royal family. So, not only was Meghan's look appropriate, it was actually an homage to another member of the family.
This red and purple look evoked Princess Diana
Let's face it — many of us probably wouldn't be brave enough to pair red with purple. However, as both Princess Diana and Meghan Markle have shown, two bold colors can go together just fine. In 1987, Diana wore a colorful outfit during a trip to Hong Kong, featuring a knee-length purple skirt, purple pumps, a white shirt, a purple handbag, a red jacket and, to top it all off, a purple hat with a red ribbon. According to Harper's Bazaar, this was actually one of Diana's most famous looks — she even wore it again at the 1990 Royal Ascot and during a trip to the Taj Mahal in 1992.
Three decades later, her daughter-in-law, Meghan Markle, appeared to imitate the striking look. While appearing in Birkenhead, U.K., Meghan wore a purple dress from Aritzia, a long red coat from Sentaler, and a pair of red Stuart Weitzman heels (via Insider). Although the two looks do have their differences, with the red coat and purple skirt combo, it seems pretty evident that Meghan took some inspiration from Diana for this colorful outfit.
Meghan Markle has worn the same blue and green tartan print as Princess Diana
One way to dress like a true Brit? Wear some tartan! After all, the famous checked print has been around since the third or fourth century in Scotland. Unsurprisingly, plenty of royals have worn tartan over the years. However, there is one specific tartan print that both Princess Diana and Meghan Markle have worn.
Diana wore a dark blue and green tartan dress during the Bute Highland Games in Scotland in 1987. The dress featured a lace collar, lace sleeves and gold buttons. Meghan updated the look for the twenty first century when she wore a blue and green tartan coat with a black turtleneck and a black and gold crossbody bag during a trip to Scotland to celebrate her engagement.
Coincidence? We may never know. But it's clear that both Diana and Meghan knew how to dress for the occasion — especially when in Scotland!
Meghan Markle dressed like Diana did for this cricket match
In 2022, Meghan Markle supported her husband during a polo match in Santa Barbara wearing a wide brimmed black hat, a black and white polka dot blouse, a pair of white Bermuda shorts, and black heeled sandals. While some outlets compared the look to Julia Robert's famous outfit in "Pretty Woman," others noticed that she looked pretty similar to Princess Diana, too (via PopSugar). In fact, in 1983, Diana wore a polka dot top and white shorts to — you guessed it — a polo match.
Diana's outfit featured a billowy white top with black dots and huge puffy sleeves, along with high waisted shorts. Meghan updated the look by wearing a black top with small white dots, long sleeves and a V-neck neckline, along with billowy white shorts and a chunky black belt, both by Khaite (via Town & Country). Apparently, polka dots and white shorts are something of an unspoken uniform for royal polo matches!
Did Meghan Markle imitate this all-white look from Diana?
What could be more chic than an all-white outfit? Naturally, both Princess Diana and Meghan Markle have both pulled off the all-white look. In 2022, Meghan wore a white blazer, white trousers and white heels to the Invictus Games in the Netherlands. According to Hello! Magazine, it was a design by Valentino.
White all-white is a classic look, there is a chance that Meghan was at least partially inspired by her late mother-in-law. Diana has had her fair share of all-white looks over the years. For instance, Diana wore a white blazer with a white skirt during a visit with Mother Teresa on a trip to New York in 1997.
While the two looks are definitely similar, Meghan did update the look for 2022. Instead of Diana's more feminine blazer, Meghan went for a more masculine cut. She also chose to swap the midi skirt for a pair of wide-legged trousers.
Meghan Markle chose a second wedding dress than matched a famous Diana look
As most royal fans will probably remember, Meghan Markle had not one but two wedding dresses. After the ceremony, she changed out of her off-the-shoulder white gown by Givenchy and put on a white halter dress by Stella McCartney (via Evening Standard). As McCartney later told Elle, "I think Meghan chose me for reasons other than just a beautiful dress … obviously I am a British designer, but I think being a woman and being a women's woman played a part" (via Marie Claire). While McCartney didn't mention whether or not the dress was a nod to Princess Diana, it turns out, the late Princess of Wales once wore a very similar look.
Shortly after her split from Prince Charles, Diana wore a beaded white lace halter dress to a fundraising gala, designed by Catherine Walker. Said Cyrus, one of Catherine Walker & Co.'s cofounders, reportedly said the dress "gave her great confidence when she stepped out after her divorce" (via PopSugar). Whether you need confidence for a wedding or for a divorce, it seems that white halter dresses are the way to go!
Meghan Markle may be mimicking Princess Diana's classic make-up look
It turns out, Meghan Markle doesn't just look to Princess Diana for fashion inspiration — she might also be imitating her makeup looks, too. As Joy Adenuga, a professiona makeup artist told the Express, Meghan often seems to copy Diana's famous smoky eye.
"Meghan has always been a fan of a soft smoky eye, whether that's using gorgeous chocolate tones to mimic her eye colour, or greys and neutral tones that also enhance her natural appearance," she said. "Her skin is always fresh looking, with little coverage needed." She added, "Both women favour a natural lip shade, with Meghan usually wearing something with a cooler undertone and Diana choosing coral-undertones. If Meghan goes for colour, it's usually a plum-toned red and when Diana would rarely wear another lip shade, she would go for a more warm-toned red, always with a glossy finish."
Accoring to Adenuga, Meghan's makeup in her infamous interview with Oprah Winfrey was very similar to Diana's makeup in her own infamous interview on BBC Panorama. "The main comparison and depth added to their makeup looks is the iconic eyeliner across their top and bottom lashes," she said. "Both are avid eyeliner wearers, but there is more of a focus on this in both interviews."
While traveling, Meghan Markle imitated Diana's safari-inspired dress
As every royal knows, it's always a good idea to dress up for the occasion — and on holiday, that means wearing outfits that pay homage to the location. So, it follows that both Princess Diana and Meghan Markle have chosen safari-style dresses while on holiday.
Diana wore a khaki blazer dress with buttons and pockets during a trip to Egypt in 1992. Similarly, Meghan wore a midi khaki safari dress during her trip to South Africa. While Diana's dress featured white lapels and three-quarter length sleeves and Meghan's dress was double-breasted and sleeveless, it's easy to see the similarities between the two looks. As Who What Wear noted, all of Diana's Egypt looks are surprisingly trendy from a modern perspective — it wouldn't be a huge shock if Meghan had taken note of her mother-in-law's holiday looks and recreated one of them for herself.
Meghan Markle put a modern spin on this blue one-shoulder dress Diana once wore
One thing Princess Diana certainly knew how to do was red carpet style. One of her greatest looks came in 1996 when she wore a silk royal blue gown during an evening event at the Sydney Entertainment Center in Australia. The sleek gown featured an asymmetrical one-shoulder design. She paired it with a blue clutch and blue shoes.
Almost three decades later, Meghan Markle wore a dress that looked incredibly similar. At the NAACP Image Awards in 2022, Meghan wore a Christopher John Rogers dress. According to Vogue, both she and Prince Harry wore outfits by Black designers. Just like Diana's dress, Meghan's dress was royal blue and featured the same one-shoulder design. However, Meghan's dress did feature a few extra modern touches, including a side slit and a light blue train that also covered part of the neckline.
Meghan Markle may have taken a page from Diana's red carpet lookbook
Another brilliant red carpet look for Princess Diana came before she even entered the royal family. In 1981, she wore a sparkly red dress by Bruce Oldfield to a the premiere of the James Bond film "For Your Eyes Only" (via InStyle). As Glamour noted, the dress featured the classic princess shape with a tight waist and a voluminous flared skirt.
In 2021, Meghan appeared at the Salute to Freedom Gala in what appeared to be a modern interpretation of the dress. Her Caroline Herrera number featured the same red color and the same princess silhouette (via InStyle). However, unlike Diana's dress, Meghan's dress featured a plunging neckline and a few slits. She also did away with the delicate lines of sparkles and opted for a more modern solid satin finish. She accessorized with dark red Giuseppe Zanotti heels, diamond drop earrings, and a red poppy in honor of Remembrance Day.
Both royals have done monochrome Ascot looks
As all royal aficionados will know, the Royal Ascot is the perfect occasion to dress up — while it may seem like an opportunity to see a horse race, it's really all about being seen yourself. Princess Diana had a number of iconic Ascot looks over the years, but in 1987, her look really stood out. That year, she wore a white blazer with black lapels, black gloves, a black skirt and a black hat with a white brim. It was color blocking in monochrome done perfectly.
At the Royal Ascot in 2019, Meghan Markle appeared to imitate Diana's black and white look — only in reverse. She wore a white dress by Givenchy with a black belt and a white hat with a black brim by Philip Treacy (via PopSugar).
While we don't know for sure, we are guessing that both royals were somewhat inspired by another famous black and white Ascot outfit. You guessed it — we're talking about the iconic outfit worn by Audrey Hepburn in the film "My Fair Lady."