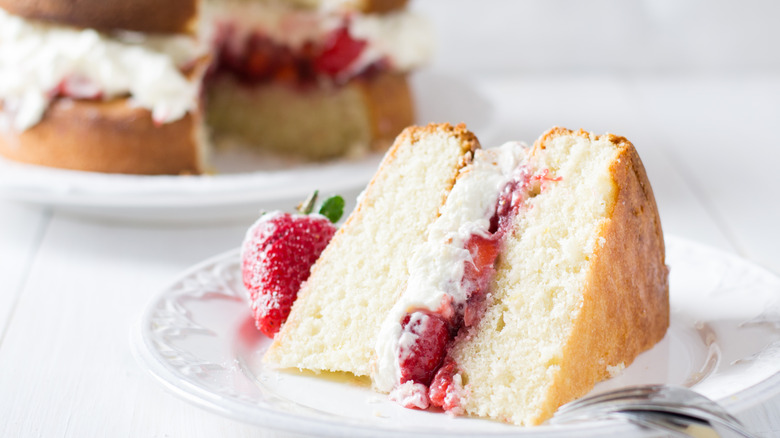 Imagine having a lifestyle that allowed you to eat anything you wanted — and have the best chefs in the country at your disposal to cook it for you. For most of us, this would be an unrealistic pipe dream. But for Britain's royal family, it's reality. According to The Express, during her reign, Queen Elizabeth II had 20 chefs at her service to accompany royal family members as they traveled among the family's 19 estates. The chefs and their teams were responsible for everything from wedding banquets to children's meals to family dinners.
But if you think being a royal family member means indulging in formal banquet treats with every meal, you'd be wrong. Yes, the royals do get to enjoy the fancy stuff more than most of us, but according to Insider, many of their favorite everyday dishes are the same type of traditional comfort foods many of their subjects make for themselves at home. And while staffers at the royal household are known to be officially tight-lipped about the personal habits of their employers, they are more than happy to share their favorite recipes. So here are some to try if you want to eat like a royal.
These quintessentially British scones were a favorite of the queen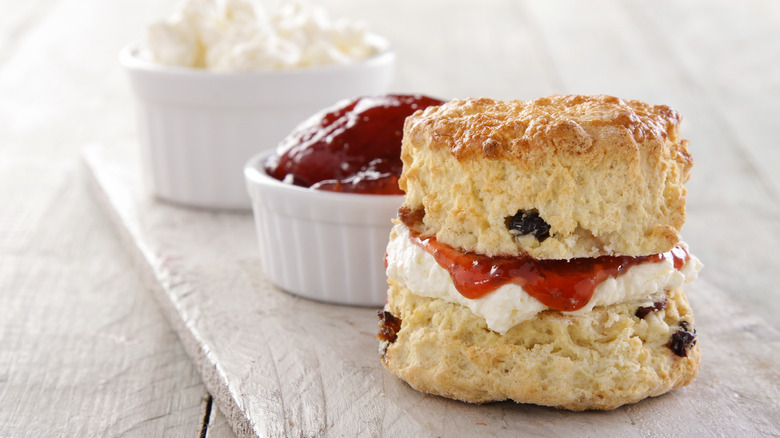 Mention a traditional British afternoon tea and chances are one of the first items that come to mind — after a properly made pot of tea, of course — will be scones. These treats — a bit like a richer, sweeter version of an American baking-powder biscuit — have deep roots in British tradition. According to Freshways, the first written mention of scones comes from Scotland and dates back to 1513. But it wasn't until the 1840s when the royal household made them part of the teatime tradition. It was at that time that a good friend of Queen Victoria, Anna, Duchess of Bedford, adopted the habit of enjoying scones and tea as an afternoon snack — and made it the height of fashion for others to do the same.
Scones have continued to be a favorite among the royal household. And those lucky enough to secure an invitation to a garden party at Buckingham Palace will likely get to sample these fruit scones, said to be a favorite of Queen Elizabeth II. They're super-simple to make, which is no doubt a blessing for the royal household's bakers since 20,000 scones are served each year at Buckingham Palace.
These hearty baked eggs enjoyed by King Charles showcase British cheeses
Let's give credit where credit is due: The sometimes-awkward fellow now known as King Charles III proved to be way ahead of his time in his thinking about sustainability and food. Once mocked for his embrace of organic gardening and warnings against industrial pollution (per The Guardian), he's now gained the respect of many environmentalists, among whom his beliefs are now mainstream.
Related to his passion for natural food is his interest in small-scale, traditional food production. According to BBC, when a raft of food-safety regulations — including a proposed ban on unpasteurized milk in cheese production — threatened the livelihoods of Britain's traditional farmhouse cheese makers, he sprang into action. He became a patron of an artisanal cheesemakers' advocacy group and brought producers and government officials together to develop mutually agreeable safety regulations. In doing so, he was quite literally putting his money where his mouth was: In honor of the British Cheese Weekender, an event to promote British cheeses, the Instagram account for Clarence House (then-Prince Charles' residence) shared a recipe for cheesy baked eggs, which features multiple types of cheese along with the instruction, "Where possible, use organic ingredients."
Both the queen and Prince William loved this chocolate biscuit cake
Royal household chefs know that desserts fit for royals don't have to be fancy — they just have to be really good. A case in point is this chocolate biscuit cake, a favorite of Queen Elizabeth II. This simple, no-bake treat — called "lazy cake" elsewhere — consists of crumbled butter cookies folded into a mixture of melted chocolate, butter, and eggs, then poured into a mold, chilled, and frosted with ganache. "It is her favorite cake that she eats until it is all gone," Darren McGrady, former personal chef to the queen, told Today. "If there is anything left when she has it at Buckingham Palace, it then goes to Windsor Castle so she can finish it there. I used to travel on the train from London to Windsor Castle with the biscuit cake in a tin on my knee. It was half eaten."
Queen Elizabeth wasn't the only royal who loved this chocolate biscuit cake. As McGrady told Today, Prince William also grew fond of it after years of enjoying it at afternoon teas with his grandmother — so fond that he had one made as his groom's cake at his wedding.
Princess Kate made this Middleton family chutney as a gift for the queen
It's tough to choose a gift for a future in-law, and even tougher to choose a gift for someone who already has everything. But if your future grandmother-in-law is the Queen of England, the pressure to get your gift right is many magnitudes higher. This was the predicament the former Kate Middleton found herself in upon being invited for the first time to participate in her in-laws' Christmas gift exchange, according to Town and Country.
She realized there was no way she could wow the queen with extravagance, so she opted for a personal touch. "I thought back to what I would give my own grandparents," she said in a documentary honoring the Queen on her 90th birthday (per Town and Country). "And I thought, 'I'll make her something,' which could have gone horribly wrong. But I decided to make my granny's recipe of chutney." Her jar of homemade marrow chutney — a sweet-and-tart mixture of chopped marrow (a type of squash), apples, raisins, dates, onions, vinegar, and spices — made it onto the royal dining table the next night, signaling her welcome into the family fold.
The recipe for the queen's favorite custard tart was once a well-kept secret
Sometimes, the most crave-able recipes are the most humble and unassuming ones. Take, for example, this simple custard tart dusted with nutmeg, a traditional English home dessert. An old family recipe of restaurateur and chef Marcus Wareing, it became a favorite of Queen Elizabeth when he served it to her at her 80th birthday lunch. (He also offered it on the menu of his own restaurant in London.)
Custard pies can be finicky (the risk of the dreaded soggy bottom and/or curdled custard is real), but Wareing's recipe is certainly doable for a fairly experienced home cook. First, the sweet crust is blind baked by itself. Once it's baked and cooled, the custard mixture — a rich blend of egg yolks, cream, and sugar — is poured in and topped with a generous layer of freshly grated nutmeg. Then the whole pie is baked just until the custard is set (it should still quiver ever so slightly). Wait until the pie is cool before slicing it, then enjoy a comforting dessert fit for a queen.
Roast chicken and mac and cheese were childhood favorites of Princes Harry and William
Some foods are like catnip for kids — for whatever reason, children can't stay away from them. Among the foods highest on the list of kid favorites is mac and cheese – the blend of creamy, cheesy sauce and soft pasta seems to appeal to even the pickiest little eaters. And it's not just American kids who crave it — according to Darren McGrady, a former chef to the royal family, it was a perennial favorite of Princes Harry and William.
When he was cooking for the boys during their youth, he served his made-from-scratch mac and cheese (which contained three kinds of cheese — cheddar, parmesan, and mozzarella) with crispy chicken thighs, which he simply salted and roasted until crisp and cooked through. (He insisted that the chicken needs no seasoning other than a sprinkle of salt.)
He shared that, while the boys most enjoyed eating their mac and cheese and roast chicken with a side dish of corn, their nutrition-minded nanny insisted on broccoli instead so the boys would get their fill of greens. Like many kids, they disliked the green veggie, but she insisted they each eat one floret with every chicken thigh they took — and grudgingly, they did. But this wasn't enough. Determined to further up their vegetable intake, she pulled McGary aside one evening before dinner. "Can you make the florets bigger?" she asked with a wink.
These spiced sweet potato wedges beloved by the Duchess of Sussex reflect her California roots
When Meghan Markle married Prince Harry, she was supposed to bring a breath of fresh air into the stodgy royal family. But the relentless public scrutiny and open hostility from the British media proved intolerable, and in 2020, she and Prince Harry announced they were stepping down from their royal responsibilities, according to BBC.
A possible point of difference between Markle and her in-laws could have been her taste in food. Judging from Queen Elizabeth II's preferred diet (per Marie Claire), it's a good guess that everyday meals with the royal family leaned towards somewhat bland traditional fare. For instance, the queen hated garlic and onions (an aversion shared by Queen Consort Camilla), so neither appeared in meals served to the queen.
But Los Angeles-raised Markle was used to spicier, more diverse fare. Known for her cooking and entertaining flair in her pre-royal life, in 2015 she shared a favorite recipe for spiced sweet potato wedges with Grazia. Her recipe calls for tossing sliced sweet potato wedges in maple syrup and flavoring them with cayenne, lemon, and salt before roasting. Before serving, she adds roasted pepitas (pumpkin seeds) — a popular ingredient in Mexican cooking often adopted by cooks north of the border in California. It's unclear whether she ever got to enjoy this dish in her royal residence — but if she did, it almost certainly would have raised some eyebrows.
The Duchess of Sussex's favorite holiday cocktail is a vegan take on eggnog
In her pre-royal life, Meghan Markle was known as much for her lifestyle blog, The Tig, as for her acting. (She closed down The Tig after marrying Prince Harry, but an archive of her posts is available on Tumblr.) A quick stroll through her posts reveals a wide range of passions, from social justice to travel to wellness, fashion, and entertaining. And, of course, food — her posts are filled with recipes and pictures of the completed dishes.
As an experienced party host, Markle knew that the most memorable parties feature a signature cocktail. And for the winter holidays in particular, festive cocktails are a must. Markle's almond milk spiced holiday cocktail is a very Californian take on eggnog — a sweet, festive, but totally vegan blend of almond milk, cinnamon, ground ginger, cloves, and dried dates blended together and mixed with bourbon. You can enjoy this cocktail either hot or cold — and if you serve it cold, Markle suggested serving it in champagne flutes rimmed with cinnamon sugar.
King Charles' favorite risotto features mushrooms foraged from his estate
Few people have deeper insight into the royals' tastes in food than the chefs charged with catering to their whims. And King Charles' curious and informed palate won him the respect of longtime royal chef Darren McGrady, now a cookbook author and caterer in Dallas. "I really like Prince Charles — he was a foodie, he loved to know what was being served, where it was sourced from. He was into organic farming 30 years ago, before it was even invented, I think," McGrady said in a video for Delish.
McGrady recalled that then-Prince Charles not only grew organic produce at his estates but enjoyed meals made from foods sourced from his property. "The Prince of Wales loves wild mushrooms, and I remember one time we were at Balmoral Castle, and we heard he was coming up to Balmoral and bringing his chefs and bringing a man to show them all around the estate where the best mushrooms were, the organic, beautiful wild mushrooms," he told Delish. A favorite dish of his, according to McGrady, was mushroom risotto, flavored with reconstituted dried local mushrooms, homemade chicken broth, and white wine — a literal taste of home.
Princess Diana requested these savory stuffed peppers several times a week
To the public, Princess Diana was known as "The People's Princess" for her natural affinity for people and skill for connecting with the public. But as we all know in retrospect, she struggled mightily with personal demons behind the scenes, including bulimia, according to Vogue. She successfully fought back the disorder, and according to former royal chef Darren McGrady (per Delish), she genuinely enjoyed food by the time he started cooking for her.
Still, physical fitness continued to be a concern for Princess Diana, and she preferred lighter, lower-fat meals. According to McGrady (per Huffington Post), a favorite dish of hers was stuffed bell peppers. But unlike the heavy, meat-and-rice-filled numbers you might remember your grandmother making, McGrady's recipe for stuffed peppers is light and colorful with a distinctly Mediterranean vibe: He stuffs pre-roasted red bell peppers with a mix of sauteed veggies and herbs (including zucchini and mushrooms) and a little rice and cheese before baking them. And they were a hit with the princess. "She'd probably have them two or three times a week," McGrady told Delish.
Victoria sponge, Queen Camilla's favorite dessert, is a British classic
A new trend among a few of the newer members of the royal family is an interest in doing one's own cooking. Per Huffington Post, Princess Kate, raised a commoner, is an accomplished home cook and turned down the queen's offer to assign one of her chefs to her household, preferring to shop for and prepare family meals to share with Prince William and their children herself. And while as the wife of the new king, Queen Camilla likely enjoys the services of the royal chefs, per Town and Country, she is also handy in the kitchen and has put her skills to use to promote the Poetry Together initiative, in which seniors in assisted living facilities pair with schoolchildren to learn and recite a poem, then celebrate together with tea and cake.
Her contribution to the effort was her homemade Victoria Sponge cake, a traditional, un-iced British treat of sponge cake layers filled with a sweet filling. The cake has a long association with the royal table, according to English Heritage, and was a favorite of Queen Victoria — hence its name. While traditionally filled with raspberry jam, other variations are possible, and Queen Camilla's recipe offers several options, including lemon curd, fresh fruit, and whipped cream, and for those really willing to buck tradition, Nutella.