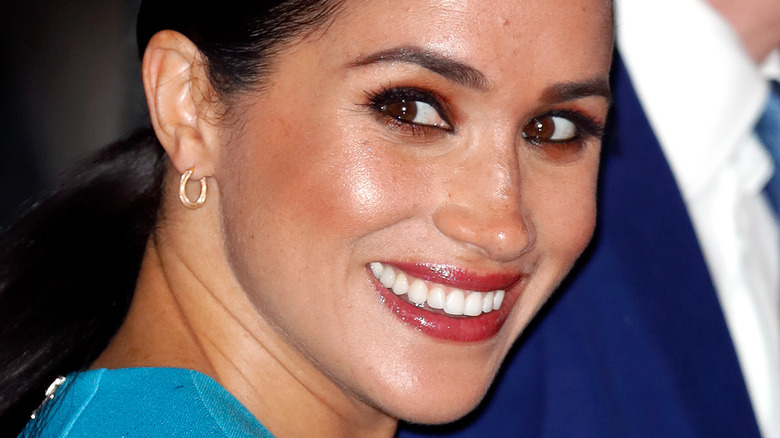 The following article includes brief refences to mental health issues and suicidal ideation.
Meghan Markle is the first American to marry into the royal family since King Edward VIII married American socialite Wallis Simpson after their scandalous romance led him to abdicate the thrown. But it has been Markle's poise and elegance in her royal role — not to mention, her ability to consistently shake up the status quo of The Firm — that has captured the world's attention.
Her catapult into the royal family was unexpected, even though she grew up around the entertainment business. Woodland Hills, a suburb in Los Angeles, was Markle's hometown, and her upbringing was far from conventional. From an early age, Markle seemed to understand her purpose as a global citizen. She was always focused on how she could help her community. By 15, she was already volunteering in soup kitchens. Along the way, she became a powerful advocate for women and the poor. Once she became an A-list actor, she used her celebrity status to bring even more attention to the causes she cared about.
When she became the Duchess of Sussex, Markle's humanitarian work didn't stop, but her life became harder as she dealt with cruel British tabloids that seemed to make it a priority to demonize her. Of course, we all know how she and Prince Harry decided to deal with that. But let's rewind, all the way back to the beginning, and take a look at her evolution, from toddler to tiara.
An early lesson about race shaped Meghan Markle's views
In this picture, Meghan Markle is a toddler, pictured with her father, Thomas Markle. According to Inside Edition, the adorable, curly-haired kid lived with him and her mother, Doria Ragland, in Woodland Hills until they divorced when she was 6.
Meghan's signature curly locks reflected her bi-racial heritage. Her father is white and her mother is Black. Her parents' background shaped her identity in a way that was sometimes confusing. In an essay for Elle, she wrote, "Being biracial paints a blurred line that is equal parts staggering and illuminating." Growing up, Meghan didn't see many people that looked like her. Woodland Hills was far from diverse, as she put it. Her mother was often mistaken for her nanny, and by middle school, the pressure to "choose" a race was further compounded when she had to fill out a census. "I didn't tick a box. I left my identity blank — a question mark, an absolute incomplete — much like how I felt," Meghan wrote.
Fortunately, Meghan's dad came through with some sage advice: "If that happens again, you draw your own box."
Meghan Markle's dad's job was cooler than yours
Here, Meghan Markle (far left) is in elementary school, pictured with some of her friends. By this time, the freckle-faced cutie was attending Immaculate Heart Catholic School, and still rocking her signature 'fro.
Her after-school experience looked a lot different than her strict classroom structure. Her dad, Thomas Markle, worked as a lighting director and director of photography for the hit show "Married… With Children." Meghan told Esquire that, for 10 years, she spent every day after school on the set with her father. That time shaped her view of the acting world. That's where Meghan was first introduced to the magic of show business. "There were a lot of times my dad would say, Meg, why don't you go and help with the craft services room over there? This is just a little off-color for your 11-year-old eyes," recounted Meghan. Her time on set gave her the chance to meet some of the era's most popular bombshells. "There were guest stars like Tia Carrere and Traci Lords and Nikki Cox. Those were the kind of women coming in every day," she shared.
The opinionated young girl turned into a strong woman
From an early age, Meghan Markle had an opinion worth hearing. By age 11, in 1993, she had already taken her wisdom to the national stage. That year, she was interviewed along with some classmates on Nickelodeon's "Nick News." They were tasked with giving their take on the imagery in commercials, which were stereotypical scenes of women doing housework. Markle didn't hold back. She said she was tired of the patriarchal roles in the commercials. "I don't think it's right for kids to grow up thinking these things, that just Mom does everything," she told the host.
She didn't stop there. Markle wrote a letter to Procter & Gamble (the makers of the commercial), asking the company to change its dishwashing commercial. Her suggestion? Trade the word "women" in the line, "Women are fighting greasy pots and pans with ivory soap" to the word "people." They took her advice and changed it. Markle: 1, P&G: 0.
Blink and you'll miss Meghan Markle on General Hospital
In 2002, Meghan Markle made her first appearance on "General Hospital" as a nurse. By this time, she was usually wearing her hair straight. She only had a few lines, but she rocked those scrubs!
The following year, Markle graduated from Northwestern University. She majored in theater and international studies while in college, but once she finished school, it cleared up her schedule so she could audition for roles in Los Angeles. However, it wasn't her degree that saved her from the low-wage jobs other rookie actors lean on to get by while they try to make it. Instead, it was her handwriting.
Markle told Esquire, "I've always had a propensity for getting the cursive down pretty well. What it evolved into was my pseudo-waitressing job when I was auditioning." Fun fact: She wrote the wedding invitations for Robin Thicke and Paula Patton's wedding. Little did she know, she would one day be even bigger than the A-list celebrities she worked for.
It was pretty much 'no deal' for Meghan Markle
By the time Meghan Markle was 25 years old, she had some success in acting, but she was still trying to make ends meet while pursuing her dream. From 2006 to 2007, she worked as a "briefcase beauty" on the game show "Deal or No Deal." Although Markle looked great in her role, wearing bouncing curls and a bright mini-dress, she told Esquire the job was far from glamorous. She couldn't sit down until someone picked her number. Did we mention she was wearing five-inch heels? Ouch.
"Definitely working on 'Deal or No Deal' was a learning experience, and it helped me to understand what I would rather be doing," she revealed. "If that's a way for me to gloss over that subject, then I will happily shift gears into something else." Lisa Gleave worked with Markle on "Deal or No Deal" as a fellow "briefcase beauty." She told Gold Coast Bulletin (via Harper's Bazaar), "I remember her [Meghan Markle] being very focused on her acting career."
Meghan Markle's big break
In the 2010 picture shown above left, 29-year-old Meghan Markle was on the cusp of her big break. By 2011, "Suits," a pilot she was in, got picked up. She had one of the main roles as Rachel, a smart paralegal who was the main character's love interest.
When the USA series became a hit, Markle was surprised. In 2016, she told Glamour, "I've done so many pilots that have never saw the light of day and we didn't know what 'Suits' was going to become at the time." On the show, she was mostly dressed in Tom Ford, Burberry, and Prabal Gurung. But on the red carpet, she departed from Rachel's office looks, while still keeping it simple, as demonstrated by her look at a 2012 event for USA Network (above right). Of her sartorial preferences, Markle told Glamour, "I don't tend to go with things that are ornate — just beautifully made pieces and some classic jewelry. Let the work speak for itself. I love that."
Even though she was far from her days as a struggling actor at this point, she didn't overdo it on the red carpet. Instead, Markle stayed true to her California-cool roots.
Prince Harry wasn't Meghan Markle's first hubby
2011 was a big year for 30-year-old Meghan Markle. Not only did "Suits" make its debut, but she also married actor and producer Trevor Engelson (pictured above). By this time, Markle was wearing her hair in a warm-brown hue and her skin was glowing.
According to Us Weekly, Markle and Engelson were together for seven years before getting married in Jamaica. The wedding was relatively small, with only 102 people in attendance. But by 2013, they divorced almost as quietly as they got married; neither released any official statements explaining why they broke up. According to The Sun, the divorce papers cited the always vague "irreconcilable differences." Per Andrew Morton's biography of "Markle, Meghan: A Hollywood Princess," it was apparently Markle who ended things. A source told Morton, "The marriage ended so abruptly that Meghan sent her wedding and engagement rings back to Trevor by registered post." Another insider claimed to the author that Markle's decision came "totally out of the blue."
Sparks fly between Meghan Markle and Prince Harry
In July of 2016, Meghan Markle met Prince Harry, the future Duke of Sussex. By this time, Markle was 35 years old and considered an A-list starlet for her work in "Suits." At this point, she swapped her bronze hair for a darker hue. It would take nearly a year for them to make their first official public appearance together, at The Invictus Games in Toronto in September 2017 (shown above).
Markle and Prince Harry owe their meeting to a mutual friend that set them up on a blind date. She told the BBC she only had one question for her friend: "[Is] he nice?" Prince Harry says he had never heard of Markle before, but he was smitten instantly. "I was beautifully surprised when I walked into that room and saw her," he said. "There she was sitting there, I was like, OK, well, I'm really gonna have to up my game!"
The pair liked each other so much that they scheduled a second date before their first date was even over. Their instant connection was like something that came out of a movie.
Meghan Markle becomes a princess
16 months after they started dating, Meghan Markle and Prince Harry got engaged in November of 2017. The world was intrigued by the haste in their engagement, but the couple wasn't fazed. Prince Harry told BBC they fell in love "so incredibly quickly," that it seemed like proof the "stars were aligned." Surprisingly, Harry kept the engagement sentimentally simple. He asked 36-year-old Markle to marry him as they were cooking dinner at home. "It was so sweet and natural and very romantic. He got on one knee," said the future duchess.
By this point in the relationship, Markle's style had become a lot more conservative. Her look had always been on the simpler side, but once she got engaged, she took less risks, adapting to the royal family's dress code, with longer hems and simple manicures. In May of 2018, Markle married Prince Harry in a classic Givenchy gown that slightly hung off of her shoulders.
Meghan Markle becomes a mommy
In October 2018, Kensington Palace announced Meghan Markle and Prince Harry (now the Duke and Duchess of Sussex) were expecting their first child together. The couple kicked off their announcement with their first major royal tour. Markle slayed her maternity looks while on the trip. She went to Australia (above left), New Zealand, Tonga, and Figi (above right) while proudly showing off her now visible baby bump. The couple kept the gender of the baby a surprise.
Although Markle's life had changed since becoming a royal, she still managed to keep up her life somewhat normal. According to People, the duchess returned to New York City in February 2018 to attend her baby shower with her star-studded squad that included: Serena Williams, Amal Clooney, Jessica Mulroney, and Gayle King. Okay, so maybe that's not exactly normal.
The pair's son, Archie Harrison Mountbatten-Windsor, was born on May 6, 2019.
The trouble with the royals
Meghan Markle's time in the royal spotlight was far from easy. She was victim to countless malicious articles from British tabloids, that many chalked up to racism. By 2019, the critical environment seemed to weigh heavily on the royal couple. In October of that year, Prince Harry released an emotional letter to the public, which called out the British tabloids. "I have been a silent witness to her private suffering for too long. To stand back and do nothing would be contrary to everything we believe in," he wrote. The prince also announced he would take the extraordinary step of suing the tabloids. Citing what he perceived as an unfair "double standard" the press had for his wife, Harry claimed, "They have been able to create lie after lie at her expense simply because she has not been visible while on maternity leave."
In an interview for the documentary "Harry & Meghan: An African Journey," Markle agreed with the interviewer that it had "been a struggle," and confessed, "It's a lot. … It's a very real thing to be going through behind the scenes," when asked if she was OK.
Meghan Markle and Prince Harry check out with Megxit
By January 2020, Meghan Markle and Prince Harry decided it was time for a massive change. They released a statement, saying in part, "We intend to step back as senior members of the Royal Family and work to become financially independent, while continuing to fully support Her Majesty The Queen." The couple also announced they would be spending their time between North America and England.
As for her career trajectory, Markle went back to her roots and took on lucrative multimedia projects. In early 2020, she signed a voiceover deal with Disney in return for a donation to a wildlife charity; and in September 2020, The New York Times reported that both she and Harry signed a major deal with Netflix that would see the Duke and Duchess producing documentaries, docu-series, feature films, scripted shows, and children's programming over the course of several years (more on that below).
Meanwhile, when it comes to Markle and Harry's living arrangements in America, their massive Montecito home is fit for a royal life (without all the scrutiny, of course). According to Us Weekly, they bought the $14.65 million mansion on their own, thanks to their hefty media deals. "Their new home is gated and secure. They still have bodyguards but no longer need as many," a source told the outlet. While they spend most of the time in California, the couple stays at the Frogmore Cottage in Windsor during their England visits. Talk about having the best of both worlds!
The duchess' relationship with her father has suffered
Marrying Prince Harry was a life-altering experience for Meghan Markle. Having her prince charming by her side came at the price of jumping through hoops to fit in a world that seemed to clutch its pearls over her every move. Meghan admitted that the British tabloids wreaked havoc on her mental health, but the brutal headlines and an alleged lack of support from the palace (more on that later) weren't the only things she was dealing with.
A week before her big day, TMZ broke the news that her father, Thomas Markle, wouldn't be a part of the regal affair. The reason? In part, because he made headlines for taking money from the paparazzi to stage pictures of him getting ready for the wedding. Thomas, who also suffered a heart attack prior to the nuptials, later claimed that he didn't receive an invitation. Unfortunately, his relationship with Meghan got progressively worse as he did a series of interviews with various media outlets, where he often slammed his estranged daughter for allegedly shunning him. In 2021, he told "Good Morning Britain" (via Newsweek) that he wouldn't stop until she made contact.
What's more, Thomas went as far as allowing the Daily Mail to publicly release a deeply personal letter Meghan wrote to him in February 2019. In the letter, she expressed how heartbroken she was over her father's actions and pleaded him to stop causing her pain. She later sued the publication for publishing excerpts of her letter without consent and won the case.
Her estranged half-sister has strong opinions about her
Next up in keeping up with the Markles: Meghan Markle's half-sister, Samantha Grant's, public criticisms against her. Grant has publicly called out Markle and talked about their strained relationship ever since she started dating Prince Harry in 2016. Days after the world knew of the Sussexes' relationship, Grant claimed to The Sun, "Her behavior is certainly not befitting of a Royal Family member." She also accused Markle of not supporting her family. "The truth would kill her relationship with Prince Harry, he wouldn't want to date her anymore because it puts her in a bad public light," she told Radar.
A year later, and just weeks before the couple's engagement announcement, Grant revealed plans to write a tell-all memoir "The Diary of Princess Pushy's Sister." After facing backlash for allegedly milking her famous sister's name for personal benefit, Grant told the Daily Mail, "The title is a mockery of the media. It wasn't me who called Meg 'pushy,' it was the tabloid newspapers."
Markle and Grant have reportedly never been close, but the latter continued to criticize the duchess, saying she has the right to speak her mind. "I'm not saying anything about her, but if I'm talking about my life or my father's, she has to respect it," Grant claimed to TMZ in 2018. Two years later, however, she also publicly condemned Markle's decision to step down as a working royal.
Meghan and Harry felt let down by the royal family
Unless you live under a rock, you've probably heard about Meghan Markle and Prince Harry's explosive 2021 interview with Oprah Winfrey that uncovered some disturbing details about the way Markle was allegedly treated by The Firm (and you thought things couldn't get worse than Princess Michael of Kent wearing that blackamoor brooch to a 2017 Christmas banquet where Markle was in attendance).
During the interview, Markle revealed that her life as a member of the royal family was so hard that at one point, she contemplated suicide. She did want to get help, but a senior royal allegedly discouraged the idea because it wouldn't reflect well on the family (via The New York Times). Markle also revealed how the palace made it clear to them that her son, Archie, unlike other royal kids, wouldn't have a title or get security. Markle's new family also apparently did little to take action against the vicious tabloids spreading negative reports about her. In addition to reportedly not having Markle's back, an unnamed member of the family allegedly raised concerns about how dark her unborn son's skin might be.
When she and Harry finally took the bold decision to leave it all behind in January 2020, the royals cut them off financially. Harry told Winfrey of his father, the future King Charles III, "I feel really let down," as Charles allegedly stopped responding to his calls for a brief period after he and Markle made their intentions known.
If you or anyone you know is having suicidal thoughts, please call the National Suicide Prevention Lifeline​ by dialing 988 or by calling 1-800-273-TALK (8255)​.
The Sussexes' royal exit opened up a world of new ventures
The so-called "Megxit" did wonders for Meghan Markle and Prince Harry, who are living a cushy life in Montecito, California, as of this writing. Markle seems to be in a good place mentally and was even considering getting back on social media in the fall of 2022 (via The Cut). As for how they manage their finances, Harry previously confessed that they funded their American life with the money he inherited from his late mother, Princess Diana, but they had to find other ways to keep their bank account fat, like the Netflix deal we previously mentioned.
In addition to the lucrative contract, the couple's music production company Archewell Audio secured a partnership with Spotify to produce podcasts for a whopping $30 million, according to Forbes. Did we mention that Markle also released a children's book called "The Bench" in June 2021? And then there is the highly anticipated release of Harry's tell-all memoir, which is a part of a $20 million multi-book contract with Penguin Random House.
Before marrying Harry, Markle made a fortune of her own as an actor (she made around $50,000 per episode in "Suits" as Rachel Zane alone). She might not get back into acting anytime soon, but Markle is eager to work behind the cameras. In July 2021, her media company Archewell Productions announced she would executive produce "Pearl," a family Netflix series surrounding a girl's journey to finding herself. Unfortunately, the streaming giant nixed the show while still in the development stage amid a painful drop in subscribers.
They give back with the Archewell Foundation
For Meghan Markle and Prince Harry, leaving the royal household behind meant giving up their "Sussex Royal" name for all their brands, including social media, but their son, Archie, inspired a new and perhaps more fitting name for their upcoming ventures.
With a mission to drive change through compassion, the couple founded their non-profit organization Archewell in 2020. It later branched out into Archewell Productions and Archewell Audio for commercial projects, but the foundation continues to support charities and humanitarian projects. In 2021, Harry joined the Aspen Institute's new Commission on Information Disorder as a commissioner to aid their mission of solving society's information disorder problem. Markle and Harry also established a partnership with World Central Kitchen to build Community Relief Centers that serve as emergency response kitchens during crises. In January 2021, the Archewell Foundation donated to UCLA Center for Critical Internet Inquiry to support their various research programs. Additionally, Archewell joined forces with Global Citizen to raise awareness about the COVID-19 vaccine and make it globally accessible, and collaborated with the Center for Humane Technology to help create a safer digital space.
Besides spearheading Archewell's humanitarian efforts, Harry is also passionate about supporting mental health causes. In 2021, he joined BetterUp as the Chief Impact Officer to help raise awareness and positivity surrounding mental health. Markle, who was dubbed one of the 50 Women Changing the World by Worth in 2022, shares her husband's passion to destigmatize mental illness.
If you or someone you know needs help with mental health, please contact the Crisis Text Line by texting HOME to 741741, call the National Alliance on Mental Illness helpline at 1-800-950-NAMI (6264), or visit the National Institute of Mental Health website.
Meghan Markle and Prince Harry welcomed a daughter
On June 4, 2021, Meghan Markle and Prince Harry welcomed a healthy baby girl named Lilibet "Lili" Diana at Santa Barbara Cottage Hospital. "She is more than we could have ever imagined, and we remain grateful for the love and prayers we've felt from across the globe. Thank you for your continued kindness and support during this very special time for our family," an official statement from the couple read in part (via People).
Lilibet was named after her great-grandmother, Queen Elizabeth II, whose grandfather, King George V, called her Lilibet when she was little because she couldn't pronounce her name. According to the BBC, an insider alleged that Markle and Harry didn't consult the queen before naming their daughter. However, a spokesperson for the couple clarified that she was the only one they called about the name, saying, "Had she not been supportive, they would not have used the name."
Lilibet's middle name, Diana, is a tribute to Harry's late mother, Princess Diana. The adorable tot celebrated her first birthday at Frogmore Cottage in Windsor with a picnic. Markle and Harry's friend and photographer, Misan Harriman, shared a photo of Lilibet celebrating with his family on Twitter.
Meghan Markle's Archetype podcast got mixed reviews
Archewell Audio's hotly anticipated podcast "Archetype" finally dropped its first episode in August 2022. Host Meghan Markle invited her pal and tennis superstar, Serena Williams, to talk about ambition and how the word has what the former called a "negative connotation" when it comes to women (via Yahoo! News). During the chart-topping episode, Markle also revealed some intimate details about her life as a royal, including how Archie's nursery caught fire while she and Prince Harry were in Nyanga, South Africa for an official royal engagement, per People.
While some praised Markle's candidness and remarked how she could finally speak her mind following the royal exit, others felt it was arrogant of her to supposedly make the whole episode all about herself despite being in the company of someone as influential as Williams, as reported by the Daily Mail. "The effect of all the tinkly music and vapid conversation is to make you feel you've been locked in the relaxation room of a wellness spa with an unusually self-involved yoga instructor," The Times' James Marriot said of the episode.
Meanwhile, some came to Markle's defense, such as the Independent's Clémence Michallon, who criticized the royals for having her and Harry go through another royal engagement after the fire incident when they could've easily pushed back the date. The journalist added, "​​The more I hear about the royal family these days, the more it seems clear that the monarchy isn't working for anyone — including the royals themselves." Yikes!