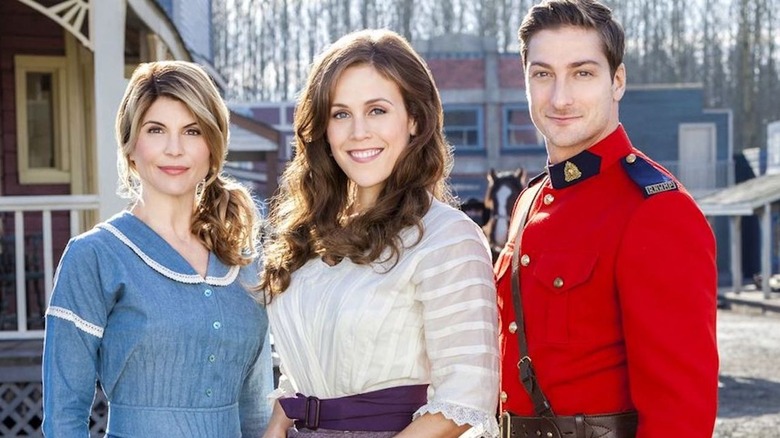 Hallmark Channel became one of television's biggest success stories by offering viewers wholesome, feel-good, escapist entertainment as soothing as a favorite pair of sweatpants and a mug of chamomile tea. In addition to the channel's ever-expanding annual crop of holiday movies, Hallmark Channel has also seen success with its own original series.
Among the most popular is "When Calls the Heart." The series originated as a 2013 Hallmark Channel movie, in which Maggie Grace starred as young schoolteacher Elizabeth Thatcher, a Toronto socialite who leaves her high-society life to accept a teaching position in the tiny Alberta mining town of Coal Valley (later renamed Hope Valley). She falls for a Royal North-West Mounted Police constable, played by "Arrow" star Stephen Amell. The movie's success led to a series that debuted the following year, in which Erin Krakow was cast as Elizabeth, and Daniel Lissing played Constable Jack Thornton. Rounding out the main cast was former "Full House" star Lori Loughlin as Abigail Stanton, one of many women in town to lose their husbands in a horrific coal mining accident.
The show proved to be an enduring hit; in 2021, Deadline reported that the season 8 premiere attracted an impressive audience of 3 million viewers; the following year, Deadline noted that the series ranked as that year's most-watched original scripted series on ad-supported cable, earning a renewal for a 10th season. Read on to find out what only the biggest fans know about Hallmark's "When Calls the Heart."
The show is based on a Canadian book series
Viewers of "When Calls the Heart" may not realize that the show has literary origins based on the bestselling "Canadian West" series of novels by Canadian author Janette Oke.
Bringing Oke's books to the screen was the longtime passion project of producer Michael Landon Jr., son of "Little House on the Prairie" star Michael Landon. In 2003, Landon produced "Love Comes Softly," based on Oke's book. When that movie became Hallmark Channel's most-watched movie ever, Landon saw Oke's "Candian West" series as ripe for television adaptation while offering the opportunity to produce the type of wholesome programming that would honor his late father's legacy. "This kind of family entertainment is non-existent, so I feel like we're tapping into a large audience that's yearning for this type of programming," Landon Jr. said in a 2014 interview with the Globe and Mail.
For Oke, watching the characters, she conjured up in her imagination come to life was a thrilling experience. "Even beyond a person's dreams, things happen, and I never would have guessed when I wrote the characters that they would be shared with the world in the way that they are going to be," Oke told the CBC.
The reason fans threatened to stop watching
The eighth season of "When Calls the Heart" found Elizabeth (Erin Krakow) in the center of a love triangle with Lucas (Chris McNally) and Nathan (Kevin McGarry). In the season finale, noted Good Housekeeping, she chose Lucas.
That decision did not go over well with a pretty big segment of the show's audience, who responded vociferously via social media. As Yahoo! reported, numerous fans vowed to stop watching the show unless Elizabeth ditched and ran to Nathan. Series creator Brian Bird was not unaware of the controversy and responded in a tweet attempting to reassure disgruntled fans that they should trust him and the show's writers to bring the story exactly to where it needs to be. "None of us are upset at disappointed Hearties. We wish they would trust us more bc when have we ever not redeemed every struggle in Hope Valley with hope, faith, and love?" he wrote. "But we're not angry with anyone and we are at peace with all the creative paths we've taken in 8 seasons."
In another tweet, Bird cleared up rumors that the finale's plot twist had been tacked on at the last minute. "That is just not true," he wrote, insisting there weren't any 11th-hour changes to the script. "There were no last-minute changes," he added. "The outcome was decided months earlier. Don't believe everything you read on the internet."
Why the show's creator believes it's an agent of healing
"When Calls the Heart" represents Michael Landon Jr. continuing the legacy that his father, Michael Landon, created with "Little House on the Prairie." "We're trying to bring family entertainment back," he explained in an interview with AFRTALK (via YouTube).
Not only does the show hearken back to the show above and others that families would gather together to watch, but "When Calls the Heart" creator Brian Bird believes the show has a mission that's even nobler than that.
"This show is a healing agent in the culture, in my opinion, and I think that's why so many people watch it," Bird said in an interview with JLJ Media. "I think we're doing good work and I think we're doing the right work on the show, but it's not because of us, it's that the audience is starved to death for this," he continued. "And when you give people food, they will just love you, they'll be so loyal to you. And that's why the audience keeps coming back every Sunday night." Because of the loyal audience the show had built up, Bird felt that the series, then approaching its 10th season, was nowhere near ready to come to an end. "Shows this deep into their lifespan can get old, can get long in the tooth," he said, "and we're not yet."
The scandal that forced Lori Loughlin to leave When Calls the Heart
Arguably the most recognizable star on "When Calls the Heart" was Lori Loughlin, a television staple since her role as Aunt Becky in the beloved 1980s-1990s sitcom "Full House." Loughlin's squeaky-clean image took a beating in 2019 when she and husband, Mossimo Giannulli were arrested and charged with paying a $500,000 bribe to get their daughters accepted into UCLA. After a year-plus of tabloid headlines, Loughlin was sentenced to serve two months in prison (via the BBC). At the time of Loughlin's arrest, Hallmark Channel acted decisively by severing ties with her entirely. "We are no longer working with Lori Loughlin," Crown Media (Hallmark Channel's parent company) declared in a statement to Entertainment Weekly, going so far as even to pull an episode of "When Calls the Heart" from the TV schedule simply because Loughlin appeared in it.
A year after Loughlin had served her time, Hallmark Channel wasn't backing down from its stance. "Hallmark Channel has not cast Lori Loughlin in any current projects, including 'When Calls the Heart,' nor do we have any plans to cast her in the future," read a statement from the Hallmark Channel provided to Showbiz Cheat Sheet.
The sets were built in just three-and-a-half weeks
Once "When Calls the Heart" was greenlit as a series by the Hallmark Channel, construction began immediately on the set, located on a farm in Langley, just outside of Vancouver. According to HuffPost (via Hidden Remote), the sets were built in just three-and-a-half weeks to meet the tight production schedule.
Interestingly, a significant degree of CGI magic is employed to make Hope Valley look like a real town, not just a collection of movie-set buildings. One little trick was revealed in a Facebook post made by the Hallmark Channel, featuring two side-by-side photos. In the first, stars Daniel Lissing and Erin Krakow are embracing in front of a green screen, while the second shows them in front of a row of houses. This, noted Hidden Remote, is because there are only two houses on the set, the ones belonging to Elizabeth Thatcher and Lee and Rosemary Coulter (Kavan Smith and Pascale Hutton). One of those homes is duplicated digitally, so the single structure appears as numerous houses in a row. Meanwhile, those same houses have also doubled for the homes of Abigail Stanton (Lori Loughlin) and Cat Montgomery (Chelah Horsdal).
Heartie merch can be found on Etsy
While Hallmark Channel has an impressive array of merchandise for sale on its website, there's nothing specifically connected to "When Calls the Heart." Sensing that void, the crafty folks who make and sell their wares on Etsy stepped up admirably, offering all manner of merch aimed at Hearties. This includes an array of T-shirts (even one declaring love for star Chris McNally), stickers (which can adorn anything from a laptop to a water bottle), handmade clothespin dolls representing Jack and Elizabeth, and a Chibi-style pillow depicting Jack in uniform.
Other "When Calls the Heart" items available for sale on Etsy are a shawl inspired by the series, an original painting of Erin Krakow as Elizabeth Thatcher, and another depicting Elizabeth and Daniel Lissing's Jack Thornton.
Another item in which Hearties may be interested in the Bundle board game, which tests fans' knowledge of "When Calls the Heart" trivia. Fans who played the game were suitably impressed, according to some testimonials on the website. "We had an absolute blast playing this!" read one testimonial. "Such a clever idea and concept. We thoroughly enjoyed our trip down memory lane. We heard several stories we hadn't even heard before!"
The show is filmed on an actual working farm
When location scouts were seeking a place to double as the fictional Hope Valley in "When Calls the Heart," they settled on Langley, a rural area located about an hour outside of Vancouver. The perfect location was deemed to be MacInnes Farm, an actual working farm that raises free-range chickens. In addition, the farm's owners — the MacInnes family — told the Langley Advance Times they also grow crops, including hazelnuts, honeybees, apple cider trees, hops, and barley.
The farm's website details some of the sets that have been built there for the series; in addition, the farm has also served as a location for "Scary Movie 4" and other productions.
As it happened, the values of the farm's owners are right in line with the show's philosophy, which has resulted in a unique and organic synergy. "The filming is a perfect compliment to the farming because it has no impact, especially 'When Calls the Heart,' they've been so supportive of our farming," farm owner Melanie MacInnes told the Langley Advance Times. "They believe in their place, right," "When Calls the Heart" executive producer Brian Bird said of the farm's owners in an interview with Edify. "It's the law of the place, not the law of the land, the love their soil, they love their property … and they are determined to make this farm work."
There's an annual convention for Hearties
Over the years since "When Call the Heart" first made its debut, fans of the show have continued to increase. These are no ordinary fans, with Hearties demonstrating their extreme love of the show by traveling worldwide to participate in an annual fan convention. The convention, known as Hope Valley Days, took place in September 2022 at an airport hotel in Vancouver. As the event's website, Hope Valley Days provides Hearties with the opportunity to take a guided tour of the set and mingle with fans who are just as passionate about the show as they are.
Fans could also meet series producer Michael Landon Jr., creator and exec producer Brian Bird, and author Janette Oke, who wrote the novels upon which the TV show is based. One caveat was offered for convention attendees, who were advised not to ask Oke for autographs since she would prefer to spend her time meeting and interacting with Hearties rather than scrawling her signature.
Viewers can tour the set of One Calls the Heart
For fans who attended the Hope Valley Days fan event, the highlight was paying a visit to the set of the show to see the actual Hope Valley up close. As it turned out, one doesn't have to attend the convention to visit the set, with tours of the "When Calls the Heart" set available during other times of the year.
The set, reported the Langley Advance Times, has been dubbed Jamestown. The newspaper cautioned visitors to wear sensible shoes when dropping by, noting that "visitors to the Langley set of the television series 'When Calls the Heart' must watch their step or risk finding themselves ankle-deep in a pool of muck."
Unlike some film or TV sets, the buildings that were constructed for Jamestown are all practical, meaning they're not just facades of buildings with nothing inside, but are actual structures with rooms, etc., which allows scenes to be filmed inside these buildings without the necessity of using a studio facility. "Far from just facades, inside each structure is a fully dressed set — whether it's an office with a working fireplace, a hotel/saloon that doubles as a schoolhouse, or the local mercantile, where plank shelves are crowded with everything that would have been needed to run a household 100 years ago," noted the Advance Times.
The series spawned a spinoff
The success of "When Calls the Heart" led to a spinoff, "When Hope Calls." According to the Hallmark Channel, the show focuses on sisters Lillian (Morgan Kohan) and Grace (Jocelyn Hudon), who open an orphanage in the frontier town of Brookfield in 1916; the two characters first appeared in the 2018 "When Calls the Heart" holiday movie "The Great Christmas Blessing."
The series debuted on Hallmark Channel in 2020 and, as ET Online pointed out, was placed in a plum time slot: immediately following "When Calls the Heart." "Fans can get their fix all in one night with the back-to-back airing of both shows," star Kohan told ET about her new series being partnered on Hallmark Channel's schedule with the original show.
For its second season, "When Hope Calls" moved to GAC, the channel launched by former Hallmark Channel chief Bill Abbott after he parted ways with the network. Abbott had a big plan for season 2, revealed with the announcement that Lori Loughlin was joining the cast, reprising her "When Calls the Heart Role" of Abigail Stanton. "It was the first time I'd seen her in two or three years," "When Hope Calls," showrunner Alfonso Moreno (who had previously worked with Loughlin on the original show) told E! News of her return to the role. "From the first day, I think she just felt very welcomed and obviously knows this character and so I think she just had fun."
How a new streaming deal promises to make the show even more popular
"When Calls the Heart" may be filmed in Canada, but its primary audience was in the U.S. — or at least it was, until Canada's national public broadcaster, CBC, picked up the show in 2015 to air as part of its primetime lineup.
The reach of "When Calls the Heart" expanded even further in 2022 when an announcement revealed a major streaming service had picked up the show. As IndieWire reported, Peacock (the streaming service owned by NBCUniversal) had entered into a major deal with Hallmark Channel to become the streaming home for all the channel's content — including "When Calls the Heart."
"We're proud to enter this partnership with Peacock and bring our widely beloved Hallmark content to their subscribers," Hallmark Media CEO Wonya said in a statement. "The opportunity to provide our devoted fanbase access to all three of Hallmark's linear networks will allow our audience to continue to grow and connect in meaningful ways."