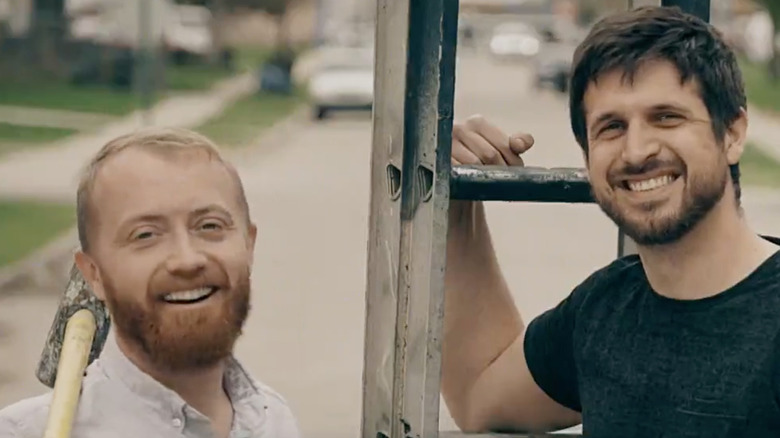 HGTV is the network that churns out wholesome television shows dedicated to DIY enthusiasts, home renovation lovers, interior decor aficionados, and more. "Bargain Block" is one of such shows. According to IMDB, it was released in 2021, thereby making it one of the newest additions to the platform. Keith Bynum and Evan Thomas are the co-hosts of this heartwarming series on which they help build dream homes for residents in the Detroit area.
Keith uses his decor prowess to conceptualize and create mind-blowing and seemingly impossible decor styles, which captivate homeowners every time they view the finished work. Thomas, on the other hand, is the major manpower behind the designs, tearing down and building different parts of the home to make it perfect for the homeowner. A reviewer on the IMDB platform commented about this show saying; "I love this show. The guys are helping this great city. Very cool designs and it's fun to watch the transformation. I wish them much success so they continue to bring life to the neighborhoods." After the first season, the show must have done something right in the eyes of the HGTV brand, seeing as they chose to renew it; leading to a second season that aired earlier this year.
Much like this show and other shows, as seasons pass, loyal viewers of HGTV tend to become more and more invested in the content to the point where they yearn to learn more juicy details such as behind-the-scenes information surrounding the filming of the show. Some may also want to know more trivia-worthy news and additional details about the show hosts. If you're reading this, chances are that you've probably discovered the "Lies From 'Love It Or List It' You Were Led To Believe Were True" in addition to "The Untold Truth Of 'Love It Or List It Vancouver.'" Hence, we shall now take a deep dive into "Bargain Block," dishing out every shred of information you need to know about the show as we go along.
All episodes are filmed in Detroit
According to their profiles on Nine Design + Homes, (Keith and Evan's joint design and construction company), neither Keith, who is originally from West Texas, nor Evan is a Detroit native. The website details further that Evan, being a stranger to the Detroit region, ended up being enthralled by it.
Originally Evan's dad is linked to South Dakota so this means that Evans is most probably from the midwest (via One World Information). Neither of these areas can be considered as a next-door neighbor to Detroit, Michigan. The two individuals moved to Detroit as a duo 5 years ago and since then, they have not looked back even once, claims Hour Detroit. The move to Detroit was most likely instigated by Keith, who the periodical says flew on a whim to the city having heard all the great things about the booming Detroit real estate market. He ended up purchasing a house for $12,000 then he flew back to pack his things and his partner's things and then the rest was history.
At first, they were both wary of the move. Speaking with Pride Source about the initial skepticism, when the idea was placed on the table, Keith says "Detroit kind of has, you know, a little bit of a reputation, and so when we moved here, we were a little scared. But almost immediately we realized how amazing Detroit is, and how kind and loving." This enabled them to execute their business without stress, leading to two seasons of the show with all episodes filmed in Detroit. As the saying goes…"If it ain't broke don't fix it."
They shoulder the financial costs for the show to occur
Both Keith and Evan spend their own money, going from block to block to buy dilapidated homes which they then tear down just to create dream homes for people. According to Evan when speaking to Hour Detroit, the homes are so much worse than they appear. He terms them, "houses that are heavily blighted and not being lived in." Indeed the homes are blighted, yet through skill and patience, Evan and Keith then renovate and furnish the homes thereby breathing life into the location.
Keith shares the same zeal if not more than Evan's zeal when it comes to finding the worst fixer-uppers. In an episode from Season 1, he speaks on the sorts of damaged houses that he prefers to work on. He says, "If it is a nasty house….the one that's absolutely about to collapse…give me some fire damage…that is the one that I am most excited about ." Evan adds that such a damaged location is "Keith's dream home"(via Discovery Plus).
It is great to be a viewer of the show, whereby you can enjoy the ability to sit back and watch all the magic happen on your screens. That's surely more exciting than Keith and Evan's roles which require a lot more to renovate the homes. In reality, all these magical achievements they perform for viewers to witness, come with lots of costs and budget constraints. It's no surprise though, because, the nastier the house they choose, the higher the financial costs they would need to shoulder. For example, many homes they buy are unbelievably filthy and have been abandoned for years. Straight away once they reach the site, you could see the costs piling up, such as the number of dumpster trucks they would have to hire in order to clear out the nasty site for fresh work to begin.
They live in every home that they renovate
On each episode of the first season of "Bargain Block," we see the two co-hosts literally put all they need in trolleys and drive these trolleys up to the individual homes they are renovating. They could possibly live in the home for weeks on end. Why do they have to live in the dilapidated sites? Well, this is because they need to be close to the site at all times, so they can keep on working without any distractions or delays. Keep in mind that they do not get external help from a huge roster of staff, and since Keith and Evan have to do everything themselves, they may as well be as close to the venue as possible so after they take their breaks, they can get right back to business. That being said, this living situation was only executed for Season 1 of "Bargain Block." Once Season 2 aired this year, Keith and Evan stopped this, and Hour Detroit confirms this.
However, living inside a house that you choose to renovate may actually help boost the creativity and productivity of the reno work because you are physically in the space day and night and you become one with the home. According to the Robinson Renovation & Custom Homes blog, if you are currently renovating your home and you do not wish to shell out money to move somewhere temporarily so the reno can be fully completed, then this sort of arrangement could work for you. You just have to consider that it may get a bit messy and cumbersome but you can ace such a living situation by designing safe spaces. These safe spaces are areas that have been renovated already or are not going to be worked on until much later.
Contestants only need a key to move in to the already are furnished home
Most HGTV shows involve people spending countless amounts of money because they need to pay to be on the show and in so doing get their homes renovated. In multiple cases, after these homes are renovated, homeowners tend to not be able to keep the accessories and furniture you see on the reveal day because in such cases, the house has been staged to show the homeowner how they could arrange it to benefit them. On those shows, the homeowners would then have the choice to shell out more cash to buy the items used in staging the house so that they need not stress themselves in having to start a new phase of decoration.
"Bargain Block" as a show, is totally different! In the first season, Keith and Evan confirmed that they "design the homes to a T with custom artwork and furniture and we sell them fully furnished." Contestants of "Bargain Block" actually get the chance to keep every single customized accessory, fixture, and furniture used to enhance the home and make it what it is revealed to be on the final day.
Since Keith and Evan shell out the cash to build by themselves and decorate the homes by themselves, they've also added in the cost of all the furniture so that you do not need to stress yourself when you purchase the house. You literally only need a key to move in and start enjoying your home. Isn't that a bargain?
The real star of the show Is Shea Whitfield
"It's really awesome having Shea in our pocket for these real estate transactions…she really understands Detroit's real estate market," says Keith in the first season of "Bargain Block." The aforementioned Shea is Keith and Evan's "friend and real estate agent" who plays her role perfectly as their on-screen right-hand woman in addition to being the Detroit whisperer. Viewers of the show know her as the fast-talking beauty who sets them straight on what will work and what will not work for each neighborhood they set their sights on revamping.
According to Crain's Detroit, after the first season of the show, Ms. Whitfield received intense celebrity for her role, and is surely worthy of being recognized for the strides she's taken in real estate within her hometown of Detroit. Her love for Detroit can be seen via her Instagram page where she quotes Detroit-born rapper Big Sean, incessantly. Shea loves Detroit so much that she is dedicated to doing everything in her power to shape the neighborhood. She proudly says "…my work is contributing to strengthening the very fabric of our community," (via HGTV). And no lies were told in that statement. There are realtors that provide services and support for different demographics and people with different financial levels. As the name implies, "Bargain Block" was created for people who cannot afford super expensive purchases to live within their means, while enjoying a massive bargain. The reason Shea works well as an additional cast member on this show is because she also is passionate about helping first-time home buyers ease into a wholesome real estate experience.
More of her successes have been recorded on Homes Sold By Shea, where she gives worthy and wholesome options to people who may believe that they cannot afford quality homes. Everyone believes Keith and Evan are the stars of the show, but it is most likely Shea that is the real star of the show. Fans have expressed how much they love the rapport between Shea, Keith, and Evan. When Keith posted a picture on his Instagram of the nursery they designed for a pregnant Shea, a fan of the show stated "…You can really see the love you all have for each other," via Instagram.
Keith got a college degree in a completely different field
Keith introduces himself in the intro of "Bargain Block" as the "creative …behind these renovations, " yet it is not safe to assume that he has a university degree in art. According to Nine Homes, Keith loved business so much that he began his first business venture as an ambitious youth at the age of 14. He also went on to study business in college. LinkedIn confirms that between 2004 to 2007, Keith studied Business Administration and Management acquiring a Bachelor's Degree at the end of his studies. That was not enough for Keith though, because, between 2011 to 2013 he went on to pursue a Master of Business Administration in Entrepreneurship and Entrepreneurial studies.
Nevertheless, the world of art, decor, and construction became a path of expression for him. On his Instagram bio, he describes himself as a builder/designer/artist and an affordable housing advocate. He is now a full-fledged artist, and his art even has its own social media page per Instagram. All 31 posts posted on Instagram prove that Keith is talented and multifaceted in his own right.
Evan has not always been in the construction world
it is true that Evan has not always worn the hat of builder extraordinaire, yet this has not stopped him from being a talented beast when it comes to carpentry and construction as a whole. Evan is introduced by partner Keith on the show as "the construction guru," but according to HGTV, much like his partner, he has a bachelor's degree and also holds a Ph.D. in Physics, which he snagged from the University of Colorado at Boulder.
The possibility of a Physics Ph.D. holder shirking the lab and instead delving into construction and television is quite interesting. But even real estate expert Shea commends Evan's skills on every single project he's worked on. Speaking to HGTV, She says, "…with Evan, he's brilliant with carpentry and building."
As much as he does his part with carpentry and building, there's still a lot more to Evan as he also dabbles in the curation of the types of decor accessories, which they put inside their renovated homes. When speaking to Furniture Today about an upcoming trip to NY with Keith to discover new decor brands, he says, "We can't wait to find new sources for home décor and furnishings for our new shop and to feature in our online store."
The pair are partners in business and partners in life
You may or may not have missed the "this is my partner in life" statement that Keith makes in the opening montage of "Bargain Block." If you've ever wondered what he means by that statement, we can confirm that it extends beyond being business partners. According to Seen The Magazine, Keith Bynum says "I got on Match.com one day, and Evan was the only other gay guy there…I don't remember who winked at whom." Evan Thomas also added, "It was the only Match date either of us went on."
These two lovebirds have been blissfully partnered up for some time now, however it won't come as a surprise to learn that people are unsure that they would last due to their differences. Even as the episodes unfold in front of us, we see that they do not always see eye to eye but Keith and Evan are not worried about this at all. Evan has been more vocal about this, saying via the Detroit Free Press, "People sometimes say Keith is the balloon…I'm kind of like the string that keeps him tethered to reality. I feel like my role in the show and in our business is letting him do all his creative things and then I'll chime in when I think it's getting a little too out there or unrealistic."
On an episode of the HGTV show, Evan spoke about Keith once more, saying, "Those creative types, they can sometimes get ahead of themselves. I try to bring him back down to earth ..make sure that we do the job right…I think that's possibly why we make such a powerful team. "Evan also expressed to Pride Source, "A lot of people have told us that it would be a struggle to work with their partner and essentially be around them 24 hours a day,… We joke about being worried we have become co-dependent being around each other so much, but overall it's a great relationship and we are very fortunate."
This show made them mega stars
Keith Bynum was the first to break into TV as he starred in "Tiny House" on HGTV, according to IMDB. This stint is not what made him hugely popular. He and Evan totally became superstars from "Bargain Block!" Evan gives more context to their road to TV and the ensuing stardom while speaking to Seen The Magazine. He says, "The TV journey has been a long and winding road that started about four years ago… Back when we lived in Colorado, a friend asked Keith if he wanted to build a tiny house for a casting call she found online. Keith thought it sounded fun, so they ended up building one for an episode of "Tiny Paradise" on HGTV. That process exposed Keith to a few production companies that followed Keith's work for the next few years up until 2018 when a production company had us self-produce a 'sizzle reel' for HGTV."
Evan also adds, "Initially…we resisted. We weren't sure if we wanted to go the TV route. However, the production company convinced us and we created the sizzle… We started filming about six months later." They are most likely as wealthy as they are popular thanks to the HGTV series, considering all the homes they've sold. The duo has made such an impact on TV that they are now fixtures on "Rock The Block" Season 3, another show from the HGTV network, per People Magazine.