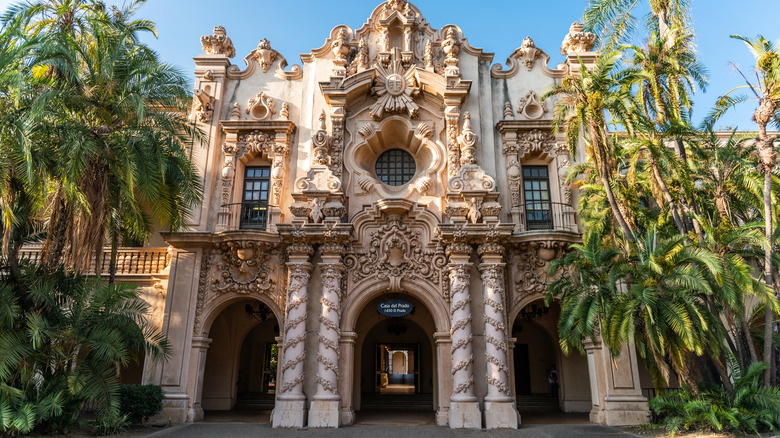 Balboa Park in San Diego isn't some checkbox on a tourist to-do list. It spans 1,200 acres and encompasses over 40 museums, gardens, cultural activities, and restaurants. Add to that over 15 trails for walking, hiking, and biking, and it's clear this is a must-visit destination. Sure, you can make a little day trip or pop-in-style visit, but Balboa Park is easily worthy of its own dedicated vacation agenda — a la Disney but without the soul-crushing lines.
If The Lion King is your idea of fun, Balboa Park is home to the San Diego Zoo, which you can visit on its own or as part of the park's Explorer Pass. Vacationers can buy a 7-day pass and take their time exploring the park's offerings or opt for the one-day version, which includes admission to four venues of their choosing.
The good news is that the park itself is free, so you can enjoy the Spanish-style architecture, trails, gardens, and picnicking areas without shelling out your hard-earned money. The not-so-good news is that the Comic-Con Museum is not included in the Explorer's Pass, but this is easily offset by the free visitor center tours and attention to detail that each venue devotes to accessibility.
Keep in mind that Balboa Park-related content has over 22 million views on TikTok, so we're not the only ones enamored with San Diego's hidden gem.
Balboa Park is basically a 1,200 acre canvas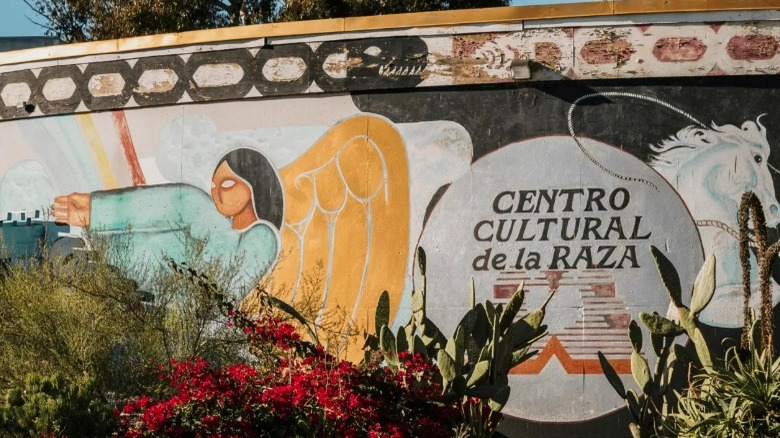 Balboa Park museums are plentiful and offer a kaleidoscope of lenses from folk art to photographic explorations and even railroads, gems, and automotive. Suffice to say that the intense concentration of art-centric museums contributes to the park's frequent features in travel guides — including U.S. News & World Report, which named it the #1 best thing to do in San Diego.
In addition to the San Diego Museum of Art and Institute of Contemporary Art, San Diego, photography enthusiasts can also meander to the Museum of Photographic Arts. Here, you'll be spoiled with the curators' "presentation, collection, and preservation of photography, film, and video," and one TripAdvisor reviewer raved, "MOPA within the Balboa Park complex of museums packs a mighty punch…Whether you're a casual tourist, photo fanatic, or scholar, you'll find something in this museum."
Although there are only so many hours in the day, it's important to note Timken Museum of Art and its collection of European Old Master paintings like Rembrandt, as well as Centro Cultural de la Raza — a jubilant array of Chicano, Latin, and Indigenous art and culture.
From folk art to flesh-eating beetles, museums aplenty!
But not all art is brushed onto a canvas, of course. A trip to Balboa Park wouldn't be complete with dabbling in a far-reaching view of what constitutes art. So, you may want to discover the Air & Space Museum, The San Diego Automotive Museum, and the delightful Mingei International Museum, which offers a whimsical look at global folk art and international examples of everything from ceramics to toys and furniture.
Once you've captured plenty of insta-worthy shots of folksy brilliance, you can head on over to the San Diego Natural History Museum to check out some flesh-eating beetles before ending at the Women's Museum of California or San Diego Mineral and Gem Society. In other words, be sure to pack some comfy walking shoes to explore the 20 onsite museums, each of which is chock-full of artistic expression from across the globe.
Craving culture? Balboa Park will, not disappoint
An homage to Shakespeare's Globe Theatre, The Old Globe offers a smattering of Shakespearean classics and features from today's finest playwrights. But if the staged works of the bards and dramatists aren't quite your cup of culture, Balboa Park has more than a half dozen performance art options.
Whether you (or the kiddos!) want to catch a performance or participate in a workshop, San Diego Civic Dance Arts offers a little something for almost everyone. And on the topic of family, the sprawling grounds of the park are home to the San Diego Civic Youth Ballet, San Diego Junior Theatre, and San Diego Youth Symphony.
All of these are top-notch offerings, but there's one stage that's not to be missed. The Marie Hitchcock Puppet Theater offers workshops as well as performances featuring their extraordinary puppets and marionettes. The theater is known for its interactive shows, and one Yelp reviewer also mentioned a post-show bonus: "This place is a hidden gem in San Diego! The shows last about 20 minutes which is perfect for little ones. And at the end of the show, you can take pictures and meet some of the puppets…"
But we'd be remiss if we didn't mention Spreckels Organ Pavilion, which holds the title of "largest outdoor pipe organ in the world." Its 5,000 pipes bellow across the open-air venue, where people sit to rest a bit and enjoy the music.
The park is a daily festival of freebies
Spreckels Organ Pavilion is just one of the many no-cost options within the 1,200 acres of offerings. First of all, entrance into Balboa Park is free; it's a lush public park with gardens and trails for everyone to enjoy. Once you arrive, feel free to pop into the visitor's center to ask about the current list of free shows, events, and exhibits. There, you can also join one of the free tours of the Central Mesa area, which includes El Prado, Plaza de Panama, Cabrillo Bridge, and the Pan American Plaza. With attention to the park's iconic Spanish-style architecture, which is a frequent highlight mentioned in the park's nearly 13,000 TripAdvisor reviews.
Timken Museum of Art and The Botanical Building (temporarily closed) also welcome visitors with no fee whatsoever. But if you want to prioritize a closer look at the grounds, it won't cost you a dime to explore the many botanical gardens featuring everything from medicinal plants to cacti and roses.
If you've still got a little steam left in your tank, then the free public trails — ranging from one to just over six miles — are always ready for whatever adventure awaits.
You'll need a bite after all the sights
So, you caught a show and learned about the history of cars, photography, and railroads, not to mention that 5-mile bike ride. Your time at Balboa Park will inevitably leave you a bit famished. No worries, there, according to Condé Nast Traveler, which offers high praise for the park's many restaurants, cafes, and coffee shops. The Prado at Balboa Park is a standout if you're looking for casual elegance. Plus, it has over 6,000 reviews on Open Table, with an overall rating of 4.5-stars.
If you just want a bite on the run, you can stop at Craveology, The Flying Squirrel Cafe, or even Daniel's Coffee, which is a charming cart-style java-joy cart. In total, there are five full-service restaurants, 10 options for quick bites, and four additional spots to grab a small snack.
Tasty fuel is an absolute must to take in all that Balboa Park has to offer. With all of its trails, culture, and activities, Balboa Park should definitely be on your San Diego to-do list!