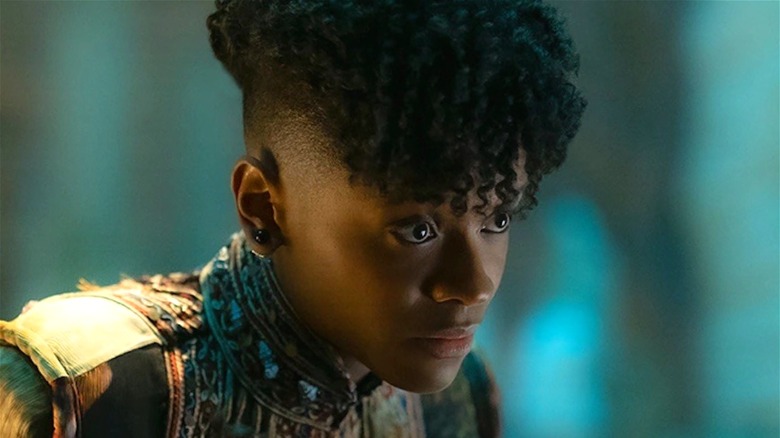 It's premiere week for "Black Panther: Wakanda Forever," and members of the press have attended special screenings of the film. Before they're allowed to give their official reviews, writers, critics, and influencers take to social media to share their initial reactions to the project. These are always different from the official review and tend to be lengthier and more detailed.
The social media reactions for early "Wakanda Forever" screenings have been out for some time now and continue to trickle in as more and more press members are given access to the film. Many of the initial reactions praised the flick, with special nods given to the performances of Letitia Wright and Angela Bassett. Early reactions also hail it as powerful, emotional, and triumphant. Now that critics can expand on those initial reactions, we're getting down into the nitty gritty of "Black Panther: Wakanda Forever." There are still some rave reviews for the flick, but some more negative responses are starting to come through. Here's the good, the bad, and everything in between regarding the official reviews for "Black Panther: Wakanda Forever."
Black Panther: Wakanda Forever is a worthy sequel
As of Tuesday, November 8, the Rotten Tomatoes score for "Black Panther: Wakanda Forever" has been hovering in the mid-90s. As these reviews continue to pile in, this number will rise and fall but it looks like critics are absolutely loving the sequel, but it's not without its flaws. As to be expected, many reviews mention the emotional roller coasters fans will ride while watching "Wakanda Forever." "As surely as love can blossom out of heartache, Black Panther: Wakanda Forever has transformed tragedy into triumph," Toussaint Egan of Polygon wrote.
"There can be no doubt Coogler has meticulously thought all of this out, while still delivering the rip roaring action sequences and uncredited surprise appearances we expect from any Marvel movie, but especially its crown jewel," Deadline's Pete Hammond said of the sequel. Coogler was praised in many reviews, which should come as quite a relief for the director who had a tremendous amount of pressure on his shoulders when making this film. "'Black Panther: Wakanda Forever 'succeeds as a new adventure, and as a tribute to a wonderful actor who was taken from this world decades too soon," famed critic Richard Roper of the Chicago Sun-Times added in his review.
Additionally, Jamie Broadnax of Black Girl Nerds is calling "Wakanda Forever" the best film of Phase 4, making it the perfect film to close out this segment of "The Multiverse Saga."
But it's not as good as the original
Don't get us wrong, according to the "Black Panther: Wakanda Forever" reviews, it's a great film. But while many critics are praising the movie, a nice chunk of them have asterisks of sorts in their reviews that point out the movie's flaws. Richard Lawson of Vanity Fair writes, "Some will no doubt miss the tight focus and energy of Black Panther. This sequel is more scattered, a vast expansion with a hole at its center." This is a common theme among critics, as many suggest it doesn't stack up to its predecessor. To be fair, "Black Panther" is often hailed as one of the best superhero movies of all time, so it's not an insult to say its sequel doesn't match it.
Robbie Collin of The Daily Telegraph held nothing back, saying the film is "A near-three-hour endurance run of gloomy photography and turgidly staged, emotionally empty two-way conversations, all seemingly designed to sap cast and viewers' combined will to live." Matt Singer of Screen Crush calls the movie "A messy sprawl of an ensemble piece" and says in his review that watching the original before seeing the sequel is a bad move because it pales in comparison.
Rolling Stone's K. Austin Collins is entirely fair in his review, writing, "The movie isn't always on such sure footing. But that's almost appropriate: a messier movie trying to reckon with a messier range of feelings." Additionally, some critics mentioned the movie is just a little bit too long, like Owen Gibelman of Variety suggests 20 minutes could have been shaved off of its 161-minute runtime.
Wakanda Forever is one of the better Phase 4 films
Overall, "Black Panther: Wakanda Forever" appears to be a great addition to the ever-expanding MCU. Where it falls in the ranks is entirely up to you, but if these reviews are any indication, it's definitely in the top half. "Director Ryan Coogler delivers a powerful follow-up to the phenomenal 2018 Black Panther that's funny, clever and heartbreaking, impressive in its world-building, honest in its view of world politics and naturally packed with huge action sequences," Brian Truitt of USA Today wrote. It definitely seems like it'll help those suffering from Marvel fatigue after the less-than-stellar Phase 4 films like "Doctor Strange in the Multiverse of Madness," "Eternals," and "Black Widow."
"Wakanda Forever isn't perfect, but its ability to handle this tightrope walk between exploration of loss and a larger superhero film makes this one of the most moving MCU entries so far, and one of the best films to come out of Marvel's Phase Four," Ross Bonamine of Collider added. Is "Wakanda Forever" in the top five Marvel Studios movies of all time? Probably not, but MCU beauty is in the eye of the beholder, and this will likely be a favorite amongst many in the fandom.