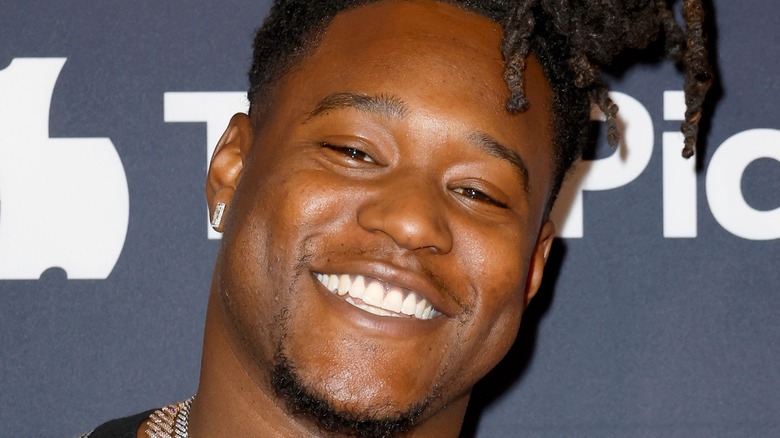 In August 2022, NFL linebacker Shaquem Griffin announced his retirement (via the NFL). The former Seattle Seahawks player made this revelation in an article for The Players' Tribune. Griffin wrote, "Honestly, it's still a little surreal. After everything I've been through in my life — all the hard work, all the doubters — it's almost unthinkable that I'm hangin' it up and moving on from the game of football." According to CBS News, the 27-year-old is known for being the first one-handed player in NFL history. This prompted the Seattle Seahawks to congratulate Griffin on his retirement via Twitter, with the team noting that he is "a true inspiration on the field."
From 2018 to 2020, Griffin played for the Seattle Seahawks alongside his twin brother, Shaquill Griffin (via USA Today). Per the Seahawks, the brothers were born on July 20, 1995, in St. Petersburg, Florida. However, Shaquem was born two minutes after Shaquil and experienced amniotic band syndrome on his left hand. As a result, The Seattle Times explains that Shaquem's fingers did not fully develop. Moreover, it caused him severe pain throughout his arm. At one point, a then 4-year-old Shaquem grabbed a knife and attempted to cut his hand off (per the Seahawks). After this incident, his worried parents, Terry and Tangie, decided that amputation was their best option. Nevertheless, this obstacle did not hinder Shaquem — the football star went on to achieve all of his dreams and more.
He received a scholarship for UCF
Despite having only one hand, the Seahawks reports that Shaquem Griffin's parents did not treat him and his brother Shaquill differently. In an interview with TODAY (via NBC Sports), Shaquem noted that his parents told him he could accomplish anything he wanted, even with a disability. He explained, "It created grit for me to know that I can do anything I put my mind to and having my parents and my brother's there pushing me along every step of the way and not allowing me to create an excuse for myself, allowing me to be that competitor that I am today."
According to the Seahawks, Shaquem's father, Terry, taught the brothers how to lift weights and throw a football. The Seattle Times adds that as a child, Shaquem was involved in various sports, including baseball, track, and of course, football. In fact, Shaquem and Shaquill played football together at Lakewood High School in St. Petersburg. Although Shaquem received various offers from different universities for both his track and football abilities, he was committed to playing football and going wherever his twin went. Ultimately, both Shaquem and Shaquill were offered a football scholarship at the University of Central Florida (per OSDB). They remained at the institution until the brothers were drafted into the NFL.
Shaquem Griffin's historical NFL career
In 2017, Shaquill Griffin was drafted into the Seattle Seahawks (via the Seahawks). A year later, Shaquem joined him. According to the NFL, he was chosen after demonstrating a 4.38 time in the 40-yard dash at the NFL Scouting Combine. In May 2018, Shaquem made history when he became the first one-handed player in the NFL after signing a four-year contract worth $2.8 million (per OSDB). His brother, Shaquill, explained, "It's a dream come true, not just being drafted, but being with my family and bringing my brother back home." Shaquem, on the other hand, stated, "I don't want to be a guy who's just a feel-good story."
He added (via the NFL), "I want to be a football player, and a good one at that." Needless to say, Shaquem was more than good. He made his debut in August 2018 (via OSDB), and NBC Sports reports that in two seasons, he went on to have 16 tackles in 32 games. He also had one sack on Aaron Rodgers. However, in 2020, the Seahawks announced that they had released Shaquem from the team (per The Players' Tribune). USA Today writes that he played a total of 46 games with the Seahawks. Per CNN, Shaquem then joined the Miami Dolphins as a free agent.
He didn't want to play in the NFL without his twin brother
In 2021, Shaquem Griggin was released from the Miami Dolphins (via CNN). Meanwhile, Shaquill had been signed to the Jacksonville Jaguars, per the Seahawks. Then in August, Shaquem announced his retirement after spending only four years in the NFL. In an article for The Players' Tribune, the football star divulged that without being on the same team as his brother, he saw no point in playing for the NFL. Shaquem explained that after his time with the Dolphins, he traveled and worked out for other teams, including the New York Jets and the Arizona Cardinals. Ultimately, he realized that he no longer wanted to do this.
He wrote (via The Players' Tribune), "All this traveling around, working out for teams, trying to catch on somewhere, trying to hang on — it wasn't what I wanted. Football had already given me so much, and the only thing I still really wanted from the game was to play with my brother again." Shaqueem added, "So I told my agent, Buddy Baker, thank you for grinding and bringing me these opportunities. But unless it's Jacksonville, I'm good." Shaqueem ends his essay by thanking Shaquill for always supporting and standing up for him. He notes that Shaquill should continue on with his NFL dreams, even if he isn't playing more.
Football was Plan B for Shaquem Griffin
Although Shaquem Griffin will no longer be playing on the gridiron, he will still be working with the NFL. Upon his retirement, he joined the NFL Legends Community. Shaquem explained (via The Players' Tribune), "It's a resource to provide guidance and support to players in whatever they might be going through or trying to achieve, including assisting with community service initiatives." Simply put, this is a mentorship program that aims to enrich the lives of football players. Shaquem noted that he wants to make positive changes in people's lives and referred to this as his "Plan A." He added that "Plan B" was football.
Now that he's accomplished "Plan B," Shaquem is ready for "Plan A." Shaquem said (per The Players' Tribune), "I like helping people, and I've been blessed to have Shaquill and my family, who have always had my back, and coaches and mentors who I could lean on when I had to. I know not everybody has that." According to the Seahawks, Shaquem came to the realization that he was ready to move on from playing football after speaking with NFL Commissioner Roger Goodell during the Super Bowl. Although he was already thinking about retiring, Shaquem stated that this meeting with Goodell and other retired football legends cemented his decision.
A movie about him is in the works
It seems that making a positive impact was always in the cards for Shaquem Griffin. When he was first drafted into the NFL, he noted that he knew had a role to fulfill as a football star with a disability (via The Seattle Times). Shaquem stated, "I'm not overwhelmed because that's something I want to do. That's something I've always wanted to do. If that's my way of giving back — if that's my way of helping others — then that's what I'll do." Prior to announcing his retirement, Forbes reported that Shaquem is an advocate for disabled athletes and was an ambassador for Citi's #StareAtGreatness campaign.
Now, OSDB writes that Shaquem is also a motivational speaker. Shaquil spoke to TMZ about his brother's new career and said, "He actually just did his first couple of Fortune 500s and he's supposed to be going international soon." He added, "It's exciting news, for sure." Shaquill also told the website that Shaquem is working on a film about his inspirational life story. CBS Sports notes that Shaquem mentioned a film was in the works back in March and expressed excitement about the project, saying, "Wait until you see the movie." Although there is no word on a title or release date, Shaquem also teased the possibility of an upcoming film on The Players' Tribune.