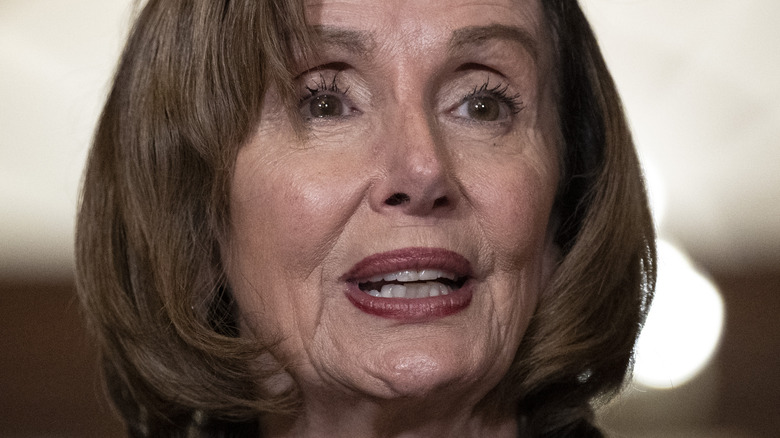 Since first stepping into America's political scene in the '70s, Nancy Pelosi has proven herself to be a formidable force. A powerhouse congresswoman, Nancy is a four-term serving representative at the United States House of Representatives, a former house minority leader, and current Speaker of the House. Having made history as the first woman elected Speaker in Congress, Nancy Pelosi continues to break barriers for women in politics. "For our daughters and granddaughters, today we have broken the marble ceiling," she said in her 2007 post-election remarks (via NBC News). "We have made history, now let us make progress."
Politics was not just a hobby she walked into; politics was always a part of her life, dating as far back as Nancy Pelosi's childhood. Her father, Thomas D'Alesandro Jr., was a three-time Baltimore mayor and also served in Congress, per The Washington Post. Like their dad, her brother, Thomas D'Alesandro III, served as the mayor of Baltimore. Yet, Nancy insists that growing up around politicians did not prompt her to work in the U.S. government.
Her influence? The kids she shares with businessman Paul Pelosi, her longtime love and husband of many years. "I used to think as I was sitting in the park for eight hours a day watching them play, that when they're in school, and I have enough time, I could do something — like feed all the hungry people in the world," Nancy said in 1984 while she was a DNC head committee host (via Vanity Fair). Here's a look into Nancy and Paul Pelosi's successful marriage!
Nancy Pelosi and Paul Pelosi met in college
A love story written in the stars, Nancy Pelosi and Paul Pelosi met as college students in 1962. Though they were in different schools — Nancy was enrolled at Trinity College while Paul was a student at Georgetown University — the pair crossed paths at Georgetown's School of Foreign Service. "I met my husband Paul here while we both took a summer school class at SFS called 'The History of Africa, South of the Sahara,' taught by the legendary Dr. Carroll Quigley," Nancy shared at Georgetown's 2002 commencement, where she accepted an honorary degree.
In 1963, Nancy and Paul got married at the Cathedral of Mary Our Queen in Baltimore, Maryland. The couple has since enjoyed a blissful union, with their marriage heading toward its 60th year at the time of this writing. The secret to their long-lasting marriage despite her highly successful political career, you might ask? Putting in the work, or so Nancy says. "A successful marriage is a decision," the politician told The New York Times in 2014. "You decide it's going to work. … And you have to make sure you are where you're needed most. Sometimes it's here, sometimes it's there; sometimes it's a tie and you have to prioritize. But it's always a decision."
They welcomed their five children in about six years
Per The Baltimore Sun, Nancy Pelosi and Paul Pelosi moved to San Francisco after getting married. There, the couple raised their five kids, Alexandra, Paul Jr, Christine, Nancy Corinne, and Jacqueline. The children were all born in just over six years, Pelosi said on MSNBC. Upon moving to San Francisco, Nancy reportedly stayed home with her kids — something she apparently found the most joy in. "There is no more important responsibility than raising a family," she told USA Today in 2007 (via the Speaker of the House site). She emphasized that her political accomplishments didn't compare to her role as a mother.
As told in Susan Page's book "Madam Speaker: Nancy Pelosi and the Lessons of Power" (excerpted by Vanity Fair), Nancy ran a tight ship and had a system for the daily routines at home. The Pelosis' daughter Christine told the outlet about her fun memories with her mother. To the music of Cher, "She would just dance wildly around the kitchen," Christine recalled. Nowadays, Nancy is hip to emojis and uses them to stay in touch with her grandchildren.
Nancy and Paul simply couldn't be prouder of their brood, as each of their kids have made a name for themselves. Alexandra is known as a documentary filmmaker, journalist, and author. Paul Jr. is a businessman. Jacqueline is an art teacher and the owner of an art studio. Christine's an author, attorney, and politician. Though not much is known about Nancy Corinne's current career choice, she is reportedly married to a businessman named Theodore Prowda.
Paul Pelosi supports his wife away from the spotlight
Nancy Pelosi is one of America's most important political figures, but Paul Pelosi has no interest in soaking up the attention surrounding his wife. "I understand, of course, that since a woman has had such a phenomenal success [people wonder], 'Who is this guy she's married to for 47 years and has five kids?'" he explained in a 2009 interview with The Washington Post. "But it's her celebrity. It's her career. It's her responsibility. I'm enormously supportive and proud about it but I see absolutely no percentage in trying to share the limelight."
As Douglas Emhoff has learned to support Vice President Kamala Harris and Patrick G. Jackson has been a strong support system for Justice Ketanji Brown Jackson, Paul Pelosi has also mastered the art of being a supportive husband. In 2002, when Nancy was sworn in as House Democratic Whip, Paul was standing proudly by his wife's side, according to Insider.
Notably, Paul, a successful businessman and real estate mogul, has been careful not to get himself involved in deals that could harm Nancy's reputation or threaten her position in politics. "Back in the day when she first went into government and I was in real estate, I never did anything with resolution trust … I've religiously steered away from anything that would look controversial to her position," he told The Washington Post.
A bit of speculation about their marriage
In 2013, Politico reported that Nancy Pelosi took a day off from official duties to celebrate her 50th wedding anniversary with Paul Pelosi. This singular move would prove that despite the enormous responsibilities that come with holding a public office, Nancy continued to prioritize her family.
However, the New York Post claimed that this couple's union is not as golden as it appears. A supposed insider said Paul had previously been a ladies' man. "He was a real man about town until she became speaker and that got shut down," the source alleged. "I'm amazed they kept it under wraps … She's off running the country and he's back in San Fran. But he's stuck with her. He could have dumped her a** for some pretty little thing. He's a good Catholic."
Another source insisted that despite the rumors, Nancy and Paul are just fine. "I think they have a very good marriage," the source said. "He was the second gentleman before there was a second gentleman, in a way," said the longtime friend. "He's this big Italian guy who did very well in real estate and handles being Mr. Nancy Pelosi very well."
Paul Pelosi and Nancy Pelosi are investment-savvy
Politics might be her forte, but Nancy and Paul Pelosi are as investment-savvy as they come — and we can't say we're surprised. While his wife made a name for herself in the political scene, Paul registered himself as a business and investment mogul. In 2009, he famously purchased the California Redwoods football team for $12 million, as reported by The Washington Post. "This is a business, I look at it as a business," he said at the time. "I'm in this because I think it is a very solid financial investment that is going to be very successful." Along with his investment in physical assets, Paul is also a regular in the U.S. stock trading scene.
According to Reuters, the businessman has had stock in major global corporations including Disney, Apple, Microsoft, Alphabet, and more. Earlier in 2022, Paul made headlines after purchasing $5 million worth of stock options from Nvidia, a computer-chip company. Per the Daily Caller, the purchase came only a few days before Congress voted to move tens of billions of dollars in subsidies to the semiconductor industry. While the timing piqued suspicions that Paul makes his trading decisions based off information he receives from his wife, a supposed friend of the couple insists it was the opposite. "He was making money for years before she became so powerful," the source told New York Post. "If anything, he might be making less than he could because of Nancy's position."