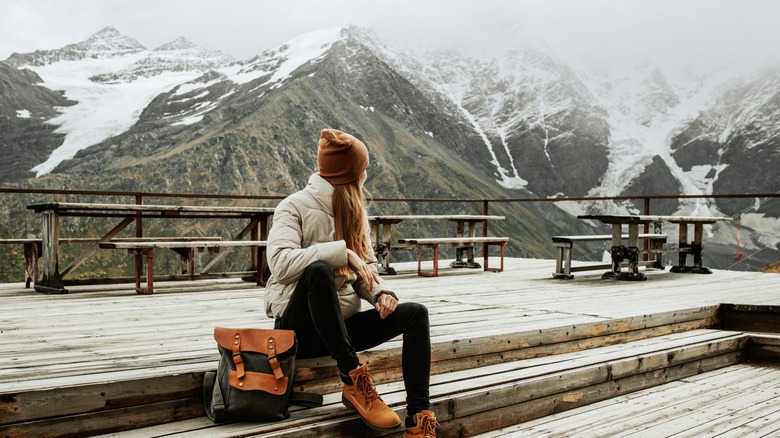 Sitting on a sunny beach drinking frozen cocktails with your bikini-glad besties is a popular vacation idea. But some people prefer the complete opposite when thinking about a vacation destination — warm mittens, snow boots, and hot cocoa, perhaps. For those who favor the latter or simply want to broaden their horizons (literally), several vacation spots around the world are filled with wintery weather, just waiting for you to experience them.
While 23% of Americans travel during the cold winter months to get away from the snow, per Travel Agent Central, some people prefer to run toward the winter-weather climate. Whether you enjoy skiing or snowboarding in the thick snowy mountains or curling up with a book next to a crackling fireplace as snow gently falls outside your window, winter-weather vacation spots are a cozy and adventurous choice. Wondering where to head for a cold and snowy getaway? We got your back — here are five of the best places you should look into for a winter-weather vacation.
Alaska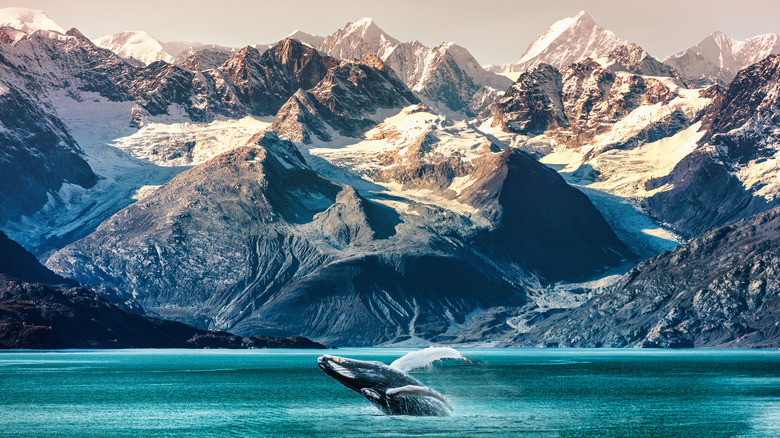 Was this an obvious choice? One Google search of an Alaskan landscape provides several scenic snow-covered photos, tempting all who want to experience a classic winter-weather vacation to book the next flight there. Never short of exciting wildlife sightings, quant and charming coastal towns, peaceful trails, and incredible views, Alaska is the ultimate destination spot for not only relaxation but adventure, per US News. To experience "The Last Frontier" in all its winter-weather glory, visit Alaska between December and March, as those months provide prime winter weather, via The Points Guy.
Norway
People in Norway are "born with skis on their feet" — at least, that's what the Norwegians say, via Nordic Visitor. The country is full of picturesque landscapes, practically begging sightseers from around the globe to visit and experience its beauty — but Norway has so much more to offer than just a gorgeous view. From snowmobiling to sailing the freezing waters and enjoying impeccable seafood cuisine, there is so much adventure to experience in Norway. The best time to explore the country's winter wonderland is between October and March. And who knows, maybe you'll even catch the famous northern lights in the sky since they are commonly seen during those months in the northern region, per Visit Norway.
Lake Baikal, Siberia
Picture this: you're ice skating on the world's deepest and oldest lake (Lake Baikal), with radiant beams of sunlight bouncing off see-through ice in every direction. Nearby, a family is being pulled by dog-sled, a couple is snowmobiling in the distance, an old man and his son are ice fishing, and a helicopter tour is happening above you. These are just a few of the many wintery activities Lake Baikal has to offer, per Rusmania. Ju The Washington Post. Can you see why it's one of Russia's most popular vacation spots, per The Washington Post? Be sure to visit during the winter months between November and April to experience all that and more.
Missoula, Montana
Missoula, Montana is a gorgeous place — but during the winter months? Pure enchantment. Not only are there endless outdoor activities to choose from, like ice skating and sleigh rides, but there is no lack of indoor recreation to enjoy as well. Local performances, shopping centers, breweries, spas, and so much more await in the large-yet-cozy city on the western edge of Montana, via Destination Missoula. The downtown scenery looks incredibly comfy during the winter, as a blanket of snow along the old brick buildings gives a familiar Hallmark Christmas movie vibe.
Iceland
The small island country of Iceland is typically dark and cold, but don't let that scare you away from visiting such a captivating winter-weather vacation spot. Especially between the months of October and March, Iceland can reach very cold temperatures. But the quaint towns within the country are embracingly cozy, per Reykjavik Excursions. Very few moments in life can be equally compared to curling up next to a fire with a warm drink or cocktail as the world outside looks like a backdrop for a live-action reenactment of the movie "Frozen."
Visit Iceland, or any of the shiver-inducing destinations above, to experience the winter wonderland vacation of your dreams.