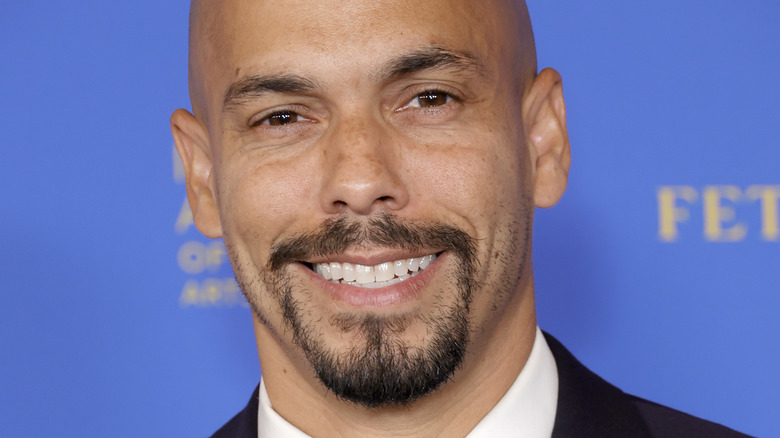 At its core, "The Young and the Restless" has always been about family. The show's ability to combine big business with even bigger family drama has made it one of the most successful daytime programs of all time. The most significant power players in Genoa City include the Newman family, the Abbotts, the Chancellors, and the Winters family. Many have interconnected ties through marriage, children, and business affairs.
However, the Winters family got less screen time than the others for some time. After Neil Winters' (Kristoff St. John) passing and Lily Winters' (Christel Khalil) release from prison, the family was put on the back burner for the most part (via Soaps in Depth). Eventually, Lily returned, forming Chancellor Communications with Billy Abbott (Jason Thompson). Still, the focus largely remained on Devon Hamilton (Bryton James) and his dynamic with cousin Nate Hastings (Sean Dominic) and their significant others Amanda Sinclair (Mishael Morgan) and Elena Dawnson (Brytni Sarpy).
Devon and Nate's family feud splintered into several storylines over the years, with the impact far-reaching, affecting many characters on the canvas. However, according to Soaps, the cousin quarrel couldn't have happened without the death of Devon's wife, Hilary Curtis (Mishael Morgan). If Devon had never moved on with Elena, the chain of events that kicked off this ongoing saga never would've come to fruition. What occurred next created a rift between two of "Y&R's" leading men that could've been permanent.
Devon's girlfriend Elena had an affair with Nate
Devon Hamilton's entire universe was turned upside down the day his sister Lily Winters ran a red light and caused a car accident, leading to the eventual death of his wife, Hilary Curtis, and their unborn child (via Soaps in Depth). Naturally, when a mysterious woman emerged in Genoa City with the same face as Hilary, Devon's interest peaked. Despite being in a committed relationship with Elena Dawson, he couldn't help but feel a connection to Amanda Sinclair. Devon had seen ghostly apparitions of Hilary for a while, so having her lookalike in town caused Elena much anxiety.
Ultimately, Elena let her paranoia about Devon and Amanda get the best of her, and she had an emotional affair with his cousin Nate Hastings. It was easy for them to gravitate toward that because they worked in close proximity, but also because Nate knew all the parties involved, so he was a good sounding board for her frustrations (via Soap Central). Once Amanda was revealed to be Hilary's twin sister, Elena's insecurity regarding the woman's closeness with Devon dramatically increased, driving her closer to Nate. Eventually, it became too much, and the two slept together.
Things were bound to be tense between the cousins once the truth came out, but in an unexpected twist, it was Elena who confessed everything to Devon because the guilt was eating away at her (via Soaps). However, she wasn't anticipating the violent way Devon would respond to learning about the affair.
Devon's attack on Nate cost his cousin his career
It would be an understatement to say Devon Hamilton reacted poorly to Elena Dawson's tearful confession about her tryst with his cousin Nate Hastings (via Soap Hub). There was nothing Elena could've said or done in that moment to prevent Devon from unleashing the full brunt of his anger onto Nate. Devon didn't want to hear from Elena about her intimate moment with Nate, storming out of their suite after learning the truth and making a direct line for Nate.
Devon didn't waste any time trying to drag the truth out of Nate, punching him in the face and sending him crashing to the floor of The Grand Phoenix Hotel, per Soaps. Unfortunately, in his moment of blinding rage, Devon didn't anticipate the consequences of his actions toward Nate.
According to Soaps In Depth, when Nate plummeted to the floor after the sucker punch, his hand went through a glass table. As a surgeon, Nate's hands were everything to him. However, due to the injury, Nate's surgical career abruptly ended. He could continue in the medical field, but his things would never be the same. Despite everything, Devon and Nate eventually reconciled their differences and came together for a new venture.
A business merger temporarily brought Devon and Nate back together
Time apparently healed all wounds for Devin Hamilton and Nate Hastings in the aftermath of the affair and subsequent assault. In 2022, Chancellor Industries merged with Hamilton-Winters to form Chancellor Winters, a supercompany capable of competing with industry titans like Newman Enterprises and Jabot Cosmetics (via Daytime Confidential). Devon Hamilton and Lily Winters formed the company partly as a way to honor their late father following Neil Winter's death in 2019.
The family roots in the fledgling company didn't stop there, as Devon and Lily extended the invitation to Nate, per Soap Central. Prior to being hired on at the family company, Nate had little to no experience in the corporate world. Nepotism was clearly at play with his hire, but they were willing to give him a shot for the sake of family.
However, the siblings weren't expecting Nate to stab them in the back and commit yet another act of betrayal against the family. Nate felt like Devon didn't take his ideas seriously for the company, so he took matters into his own hands to advance his career, regardless of the cost. His desire to climb the corporate ladder as fast as possible led him to turn his back on Devon in a move that was just as crushing as his affair with Elena.
Nate betrayed Devon again and was fired from the family company
The new and more ruthless version of Nate Hastings ignored every plea from his girlfriend, Elena Dawson, to stop betraying his family until it was too late. Figuratively speaking, Nate got into bed with Victoria Newman (Amelia Heinle) to weaken Chancellor Winters from the inside out (via Soap Central). He fed Victoria information that she could use to steal the company away from Devon Hamilton and Lily Winters following their initial public offering. Not only was he willing to sell his shares in the company for a spot as CEO under Victoria's regime, but he also convinced them to make moves specifically to aid Victoria, regardless of the consequences.
However, Elena made it clear to Nate that she had had enough. The man standing before her, making merciless power moves against his family, wasn't who she fell in love with. After Elena appeared at the office, Nate had a change of heart and confessed everything to Devon and Lily. Despite his final-hour confession, Elena still ended the relationship and moved out of their apartment, per Soaps.
Nate tried to make Devon understand where he was coming from and how he felt marginalized in the company, with nobody willing to take on his ideas. Unfortunately for Nate, Devon wasn't interested in what he had to say and thus began another chapter in their family feud.
Nate's refusal to name his accomplice was the final straw
Devon Hamilton and Nate Hastings were destined for a war of words one more time after Nate betrayed the company by secretly working for Victoria Newman (via Soap Hub). Nate questioned Devon's self-awareness, but Devon reminded him of the hierarchy in a business like theirs. Nate has zero experience in the business world, whereas Devon has plenty.
After firing Nate, Devon opted to give Nate another opportunity to come clean about everything after a long heart-to-heart. However, Nate refused to give up the name of the CEO he was colluding with behind Devon's back, severing any final ties they had. Devon felt Nate was betraying Neil Winters' memory and legacy with his actions against the family, and Nate used that against him and accused Devon of having zero self-awareness.
Devon soon learned about Nate working with Victoria, but neither party would admit the truth about what took place, per Soaps. The only thing for certain is Devon and Nate's family feud isn't over. It's unknown what the future holds for these cousins at odds, but with so much negative history, any attempt toward mending fences could take years, if at all. Neither has gotten over what they believe the other has done to wrong them, so the cycle continues.