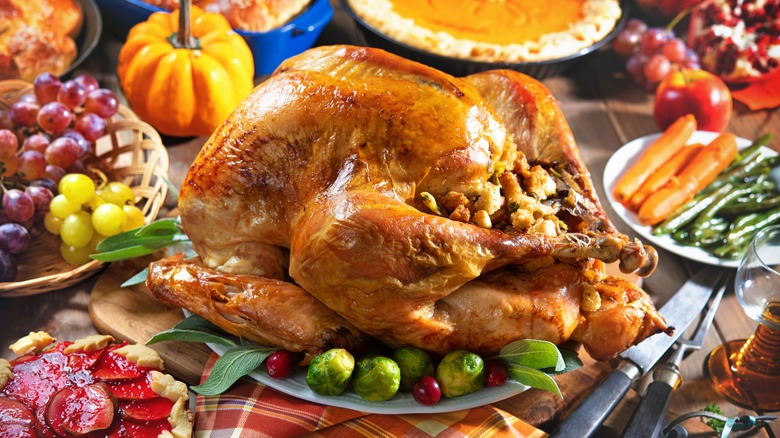 'Tis the season of giving thanks which means family gatherings, turkey feasts, and loose belts after the said feast. If you happen to be hosting this year, we know the pressure can be real. Cooking isn't the only daunting part of hosting Thanksgiving — you shop for grocery items and condiments, readjust your schedule to squeeze in the prep time and then some, try not to panic when things go south … the list goes on. And just when you're about to take that much-deserved break after dinner is done, a pile of dirty dishes stares at you from the sink. Sigh.
If you simply want to enjoy the holiday with your loved ones minus the hassle, there's nothing wrong with not cooking a Thanksgiving dinner at home. Besides, with the inflation and skyrocketing price of grocery items, more and more people have been wondering if it's more economical to eat out, per Wells Fargo. According to a USDA Economic Research Service report, consumers can expect to see up to a 23% rise in turkey prices compared to this time last year. If you were looking for a sign to eat out this year, this is it.
As for the "where" part, for your convenience, we have compiled a list of restaurant chains that will be serving Thanksgiving dinner this year.
Cracker Barrel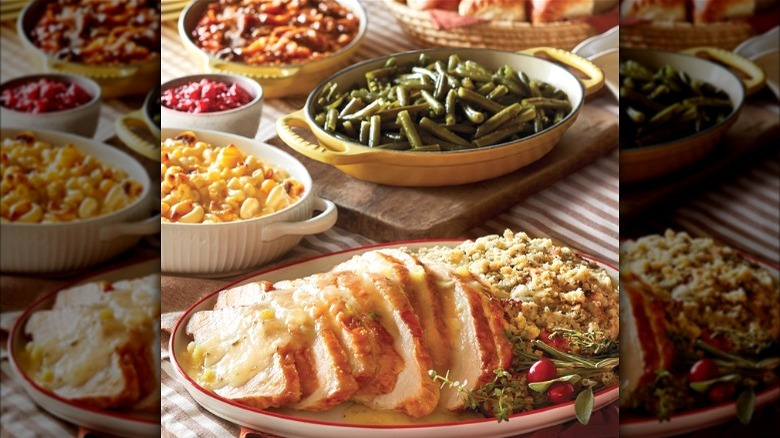 Cracker Barrel's extensive Thanksgiving menu offers everything to make your traditional dinner wholesome. Depending on your preferred menu, their offerings include turkey breast, sugar-cured ham, prime rib, desserts, casserole, loaded mashed potato, cranberry relish, fried apples, green beans, and mac and cheese. You can order the full menu or just the sides. Everything can be heated up and served right away and they also deliver hot and ready-to-serve meals. Thanksgiving Heat n' Serve meals are available for pickup November 19 to 26 while the Thanksgiving Hot and Ready Family Dinner is available for pickup November 19 to 27. A 24-hour notice is required for Heat n' Serve meals. The meals will be available while supplies last.
Metro Diner
Metro Diner's website promises to take care of the "Thanksgiving feast for stress-free holiday hosting" by delivering a traditional Thanksgiving meal enough for a large family, an intimate group, or even your Friendsgiving celebrations. You can order their heat-and-serve ham or turkey and your choice of sides including mashed potatoes, steamed green beans, roasted street corn, cornbread stuffing, mac and cheese, cranberry sauce, and Hawaiian dinner rolls. For dessert, they have pumpkin bread pudding. Per their website, all orders should be placed before 5 p.m. Monday, November 21. Pre-orders will not be available for pickup from November 23 to 25.
Boston Market
Boston Market offers three meal packages for all your Thanksgiving needs. You can pick up your choice of protein (i.e. ham or turkey) from their heat-and-serve menu and depending on the package, you get sides like mashed potato, gravy, spinach artichoke dip and crackers, vegetable stuffing, cranberry walnut relish, sweet potato casserole, dinner rolls, and cinnamon apples. They have apple pie and pumpkin pie for dessert. Alternatively, you can pick up Boston Market's warm buffet packages that start from $14.99 per person exclusive of tax. You can also order individual items that come in 32-ounce containers.
Boston Market recommends ordering everything before November 22 with a three-hour notice for same-day deliveries and a two-hour notice for same-day pickups.
Denny's
Denny's Thanksgiving turkey dinner package might not have a lot of options, but it makes for a hearty meal. In 2021, they offered tender carved turkey breast served with savory stuffing, mashed potatoes, gravy, cranberry sauce, and steamed corn or broccoli (via PR Newswire). Keep your eyes peeled for their Thanksgiving menu this year.
The Capital Grille
If classy is what you're going for this year, reserve your table at The Capital Grille. According to their website, they will be hosting Thanksgiving dinner at the restaurant for 47 adults and 17 children with a lavish spread of slow-roasted turkey with brioche stuffing, French green beans with Marcona almonds, cranberry-pear chutney, Sam's mashed potatoes, pecan-crusted mashed sweet potatoes with honey, and pumpkin cheesecake. You can also pre-order the sides for home.
Popeyes
In October, Popeyes announced they would bring back their spicy Cajun-style turkey for Thanksgiving (via New York Post). Their website says it has been sold out online, but you can still order the juicy Thanksgiving centerpiece at your local Popeyes location while the stock lasts. The turkey is fully cooked and chilled to heat and serve at home.
Bob Evans
Bob Evans' website says they will serve Thanksgiving dinner from 8 a.m. to 7 p.m. on turkey day, depending on your location. There are several packages to choose from including heat and serve, celebration platters, and hot family meals. Their signature turkey is slow-roasted with a "special nine-step process" and comes with sides including buttered corn, green beans and ham, house-made bread and celery dressing, cranberry relish, dinner rolls, and pumpkin pie. Turkey sandwich lovers can enjoy their Thanksgiving turkey sandwich which comes with a gravy dip and deli pickles.
Ruth's Chris Steak House
Book your table at Ruth's Chris Steak House for their three-course Thanksgiving feast of sliced oven-roasted turkey served with turkey gravy, cranberry relish, and sausage and herb stuffing. You can select one item from their starter menu that includes Caesar salad, steak house salad, and lobster bisque. There are four sides — garlic mashed potatoes, green beans with garlic, sweet potato casserole, and creamed spinach — to choose from. They have pumpkin cheesecake and vanilla ice cream for dessert. Their family-sized feast can also be ordered online for a limited time.
Have a non-traditional Thanksgiving meal at these restaurants
Thanksgiving doesn't necessarily have to be a turkey day. If you're willing to switch it up with non-traditional meals, several restaurants will keep their doors open in select locations, including Applebee's, IHOP, Sonic Drive-In, Waffle House, Burger King, Dunkin' Donuts, and McDonald's. Just make sure to check if they're open before making the trip.