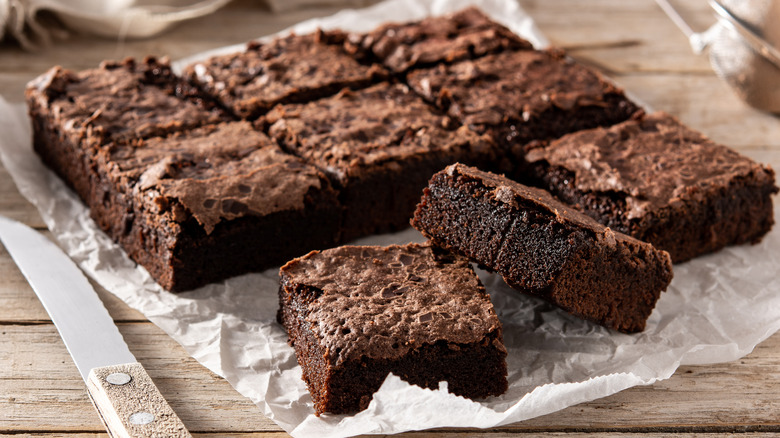 We may receive a commission on purchases made from links.
It's always a good day to bake a batch of brownies. Everyone loves them, they don't take too long to bake, and they're simple to mix together — whether from scratch or a boxed mix. Our round-up of brownie recipes has so many ways to enjoy these simple, homemade, baked goodies.
If you love a classic, try a straightforward recipe for brownies that are chocolaty and rich, no matter if you prefer a cakey texture or fudgy brownies. Or, mix it up a little by adding interesting ingredients, like stout beer in our Guinness Brownies and chocolate-hazelnut spread in the recipe for 3-Ingredient Nutella Brownies. Blondie recipes are also included in this collection, and even though they aren't made with chocolate, they're still sweet and really indulgent.
Have you ever heard of brownie cookies? That's right: Cookies made from brownie batter. Or how about a literal cookie-brownie mash-up? Both of these recipes are included here. There are even brownies to celebrate the holidays, like Reindeer Brownies and Valentine's Day Brownies. If you or someone you know has a sweet tooth, there's a brownie recipe here for you!
1. Gooey Brownies
If you love a really fudgy brownie, this is the recipe to try. A blend of baking chocolate, butter, and cocoa powder gives these brownies a heavenly, gooey texture. Because the batter is baked in an 8-inch square pan, the brownies are also thick. If you prefer a more cake-like texture in your brownies, just give them a few more minutes in the oven. Serve them warm with a drizzle of chocolate sauce — and a scoop of vanilla ice cream wouldn't hurt!
2. Cinnamon Blondies
You don't always have to turn to the dark side for a delicious sweet, and these butterscotch and cinnamon blondies are proof of that. Unlike brownies, blondies don't contain any cocoa and yet are still soft and gooey, with lots of sweetness from brown sugar and white chocolate chips. The recipe makes 12 thick blondies that are ready in less than an hour. White chocolate drizzles over the top add a lovely, final flourish.
3. Copycat Papa John's Brownies
It's tempting to tack on a pan of brownies to your Papa John's pizza order, but this recipe makes it easy to make a batch at home. The best part is that they taste so much better than any brownies rushed through a fast food pizza oven ever could. The from-scratch batter comes together in only five minutes and is loaded inside and out with chocolate chips. Once cool, you'll have nine, thick and gooey brownies to share or savor throughout the week.
4. Frosted Irish Cream Brownies
If you have a bottle of Irish Cream (Baileys or otherwise) and a box of brownie mix on hand, you have all you need to make some of the most decadent brownies ever. The mix is prepared as usual, except with a splash of Baileys (or any Irish cream) in the batter. Then, the brownies get frosted with a simple powdered sugar frosting that also has some Irish cream in it, because of course it does. This recipe, which takes less than an hour, is great for a late-night dessert or a St. Patrick's Day party.
5. Red Velvet Brownies
Red velvet isn't just for cakes! You can get that decadent flavor in your brownies, too. The batter has just a little cocoa powder for a hint of chocolate flavor, plus brown sugar, red food coloring, and white chocolate chips. One unexpected ingredient is white vinegar, but just a splash. It's there to give the brownies a bit of tang, just like you'd find in classic red velvet cake. From start to finish the brownies take less than an hour, and you'll have nine sweet and gooey pieces to enjoy however you please.
6. Rocky Road Brownies
Rocky road ice cream was first invented during the appropriately rocky period of the 1929 stock market crash. Incredibly, it was the first time someone thought to add mix-ins like nuts and marshmallows to ice cream. This recipe honors that groundbreaking dessert moment by topping easy, homemade brownies with a thick layer of chocolate ganache, mini marshmallows, cherries, and almonds. They're wonderfully decadent. Make them for your best friend's birthday or bring them to a potluck. If you don't have a 10×6-inch pan, a 9-inch square pan can be used instead (via Sally's Baking Addiction).
7. Brownie Mix Cookies
The next time you pick up a box of brownie mix, use it to make something besides plain old brownies. This recipe makes the brownies even richer by using melted butter in place of oil, as well as stirring in a whole cup of chocolate chips. Instead of pouring the batter into a pan, you'll learn how to use it to make soft, fudgy cookies. They're ready in as little as 20 minutes, and instead of getting a few brownie squares, you'll have a batch of 24 chocolaty cookies.
8. Valentine's Day Brownies
Here's a really sweet way to upgrade a basic box of brownie mix! Along with the ingredients to make your brownies, pick up some white chocolate chips, food coloring, and the cutest Valentine's Day/heart-shaped sprinkles you can find. The brownies are easy to make and really fun to decorate, especially for kids or teens who are looking for a baking project. Make them for Valentine's Day or any day of the year to celebrate the ones you love.
9. Mug Brownie
Brownie for one? Coming right up! Stock your pantry with baking staples like cocoa powder, chocolate chips, flour, and brown sugar, and you'll have everything you need to make a brownie in a mug anytime you wish. It only takes a couple of minutes to mix the ingredients in your cup, and then one minute to bake it in the microwave. Add a dollop of whipped cream, a scoop of ice cream, or a drizzle of caramel, then grab a spoon and dig in.
10. Rosanna Pansino's Instagram Brownies
This recipe was inspired by the brownies created by actress and YouTube star Rosanna Pansino. According to her website, this recipe for Instagram Brownies appears in her 2015 cookbook "Nerdy Nummies," and they're decorated to look like the old-school Instagram logo. Our twist on Pansino's recipe adds even more chocolate to the batter in the form of chocolate chips. Once baked and cooled, the brownie squares are decorated with pink, orange, and white frostings to resemble the updated logo. Everyone will love these pretty brownies — especially any budding social media influencers.
11. Guinness Brownies
If you haven't yet tried using Guinness Stout beer in your baking, these brownies are a great place to start — even if you don't like beer. Why? According to the company's "The Official Guinness Cookbook," "the dark, roasted malts in stouts enhance the flavors of coffee and cocoa." This homemade brownie batter has plenty of cocoa and chocolate chips, as well as butter for a rich, tender crumb. Make these thick Guinness Brownies any time of the year, but for St. Patrick's Day you can add a few green sprinkles to the tops.
12. Black Bean Brownies
Why add black beans to brownie batter? According to recipe developer Kristen Carli, black beans are an easy way to add protein and fiber to your chocolaty treat. And don't worry: There's still plenty of chocolate in the batter, in the form of cocoa powder and chocolate chips, plus a little honey for added sweetness. We bet your family won't even notice that their favorite dessert just got a little healthier.
13. Instant Pot Brownies
Your Instant Pot can do more than just cook rice and one-pot dinners: It can also create a wonderfully moist batch of brownies. This is a terrific option for warm weather months when no one wants the oven turned on, or for small apartments and dorms without an oven. Find a 6-inch round cake pan that will fit inside the appliance, then mix up the brownie batter using cocoa powder, Greek yogurt, and chocolate chips. In about a half hour, you'll have a beautiful round to slice into wedges and serve with chocolate sauce, ice cream, or whipped cream.
14. Blondies
Though they don't contain any chocolate, blondies can be just as decadent and delicious as brownies. Made with butter and brown sugar, these blondies have a delectable butterscotch flavor throughout, and extra sweetness and texture from white chocolate chunks. They need only 30 minutes to bake, and emerge with a soft and fudgy texture. You'll get 12 blondies from a small, rectangular baking dish or nine bars if you use a square baking dish.
15. Classic Brownies
Sometimes you don't want over-the-top variations. Sometimes, you just want a tasty, chocolaty brownie. This is the recipe for you. They get a rich chocolate flavor from melted chocolate chips stirred into the batter, plus a few whole chocolate chips mixed in before baking. Because they're made with butter instead of oil, the brownies will be soft, chewy, and have a more cake-like texture. Of course, if you do want to get creative, you can always try adding chopped nuts, white chocolate chips, or a swirl of peanut butter to the batter.
16. Sweet Potato Brownies
According to Greatist, adding healthful ingredients to your brownies is a great way to enjoy an indulgent treat with a little less guilt. Sweet potatoes are especially well-suited for brownies, since they're naturally sweet and provide a lot of moisture once cooked. The batter is rich with cocoa powder and chocolate chips, and there's a little extra indulgence in the form of peanut butter. The recipe makes eight thick brownies that everyone will love — and they'll never guess the secret ingredient!
17. Brookies
Brookies … that's an unusual name. Maybe we should have gone with "crownies?" Either way, you are going to absolutely love this mash-up of a brownie and a cookie! The recipe starts by showing you how to make a simple chocolate chip cookie dough that then is spread throughout the bottom of a baking dish. Top it with an easy from-scratch brownie batter, then bake. What you get are squares of cookie-bottom brownies, and the two flavors are so delicious together. Make them for celebrations or to cheer up someone you love.
18. Halloween Ghost Brownies
We love to make these spooky little ghost brownies at Halloween time, but those ghost faces are so cute — and the brownies so delicious — they're actually a fun treat to create any time of the year. The from-scratch brownie batter includes cocoa powder for a rich, chocolaty taste as well as white chocolate chips for more sweetness and a little texture. Once they're baked, cooled, and cut, create your ghosts using big marshmallows and a simple glaze. Use black gel frosting or food-safe markers to draw the faces. A fun one to do with kids!
19. Olive Oil Brownies
According to Foodsguy, there are great reasons to make your brownies with olive oil instead of butter. For one, brownies made with oil have a wonderful gooey and fudgy texture. Second, it's considered to be more healthy than other types of vegetable oils. Finally, the distinctive flavor of olive oil, with its bitter and fruity notes, accentuates the chocolaty flavor of your brownies. From start to finish, these olive oil brownies are ready in about 45 minutes, and make up to 12 servings.
20. Cookies 'N' Creme Stuffed Brownies
On its website, Hershey's says that anyone who likes cookies 'n cream ice cream will love its Cookies 'N' Creme candy bar, made with white chocolate and bits of chocolate cookies. If you also love brownies, then this recipe will really blow your mind: There's a candy bar layer running through every piece. Start by making a brownie batter using two kinds of sugar, cocoa, and chocolate chips. Add the candy bars to the batter in the pan before baking. The brownies are easy to make and so delicious.
21. Lemon Brownies
Lemon in a brownie? Absolutely! These treats are like a cross between classic lemon bars and cakey blondies. The recipe makes up to 12 pieces that are perfect to enjoy with tea, bring to a friend, or treat your family for dessert. From start to finish, the lemon brownies take about 35 minutes to prepare using ingredients like eggs, butter, and lemon juice. Once baked and cooled, the bars get an extra dose of sweetness from a glaze made from lemon juice and powdered sugar.
22. 3-Ingredient Nutella Brownies
The hazelnut and chocolate flavor of Nutella is scrumptious when baked into this batch of homemade brownies — and you only need three ingredients to make it happen. One of those is the Nutella, of course — a whole jar of it. Next, you'll need some eggs and flour to give the spread some structure during baking. Baked in a square pan, the recipe makes nine servings of gooey and decadent brownies.
23. Reindeer Brownies
We have the perfect brownie recipe to make for the holidays (or for anyone who really loves reindeer.) With candy eyes, pretzel antlers, and red candy noses, these playfully festive brownies look just like Rudolph the red-nosed reindeer. To get the triangular shapes, bake a boxed brownie mix in a round cake pan. Once sliced, a little melted chocolate will hold your decorations in place. They're really fun for a party or to give as a tasty food gift.