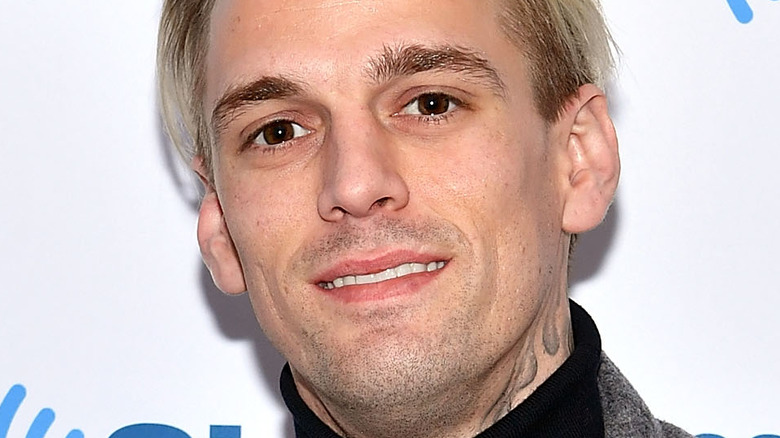 In the Y2K era, there was no bigger solo male pop star than Aaron Carter. The younger brother of Backstreet Boys member Nick Carter, Aaron captured the hearts of tween girls all over the country when he dropped "Aaron's Party (Come Get It)" in 2000. Like many other child stars, his moment in the spotlight was fleeting, and he struggled to remain relevant as trends changed. Still, he never truly left the limelight, and in the two decades since his first big record, he stayed booked and busy with smaller projects and reality show stints.
Which is why, in November 2022, folks were shocked to learn that the 34-year-old had died. Sure, he had struggled with addiction previously, but he seemed to be healthy and thriving, with a new project set to drop in the final weeks of the year. His death, therefore, was a surprise, to say the least. Below, we're taking a look back at the too-short life and career of Aaron Carter, one of Hollywood's most famous little brothers. It sure was a party.
1997: Career beginnings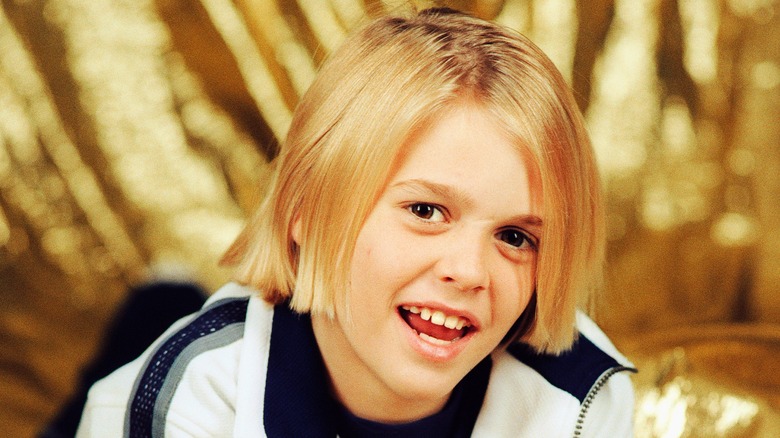 The way Aaron Carter told it, he always knew he wanted to be a performer. In an interview quoted by Billboard, the 10-year-old crooner told a reporter, "I wanted to be a singer since I was very, very little. The first thing I did is I asked my mom and she said 'I'll take you to lessons.' So she started taking me to lessons." Those lessons, as far as we can tell, took place at a "rock school" in his native Tampa, Florida, where a young Carter studied voice, music, and dance. It was here that he landed his first professional opportunity, becoming the lead singer of an alt-rock band called Dead End.
Unfortunately, that musical partnership didn't last all that long. In an issue of "Biography Today," Carter said that Dead End wasn't a good fit for him as they wanted to do more head-banging type music, and he wanted to be a pop star like his big brother, Nick Carter. So the group parted ways, and Aaron kept pursuing his next big break. He found it in 1997 when he was invited to open for the Backstreet Boys during the Germany leg of their European tour. The 10-year-old performed a cover of The Jets' song "Crush on You," an upbeat track that would go on to be his first single.
1998: Making a name for himself
Aaron Carter's energetic cover of "Crush on You" inspired Jive Records (the same label that Nick Carter was signed to) to offer him a record deal. His debut record, simply titled "Aaron Carter," was released in Europe near the end of 1997. It was a pretty instantaneous hit in that market, selling more than 1 million copies. Having tested the water overseas, Jive Records felt confident that Carter could be just as popular with American audiences, so they remixed the album and released it in the United States in 1998. The American version of the record had two additional songs on it, "Crazy Little Party Girl" and "I'm Gonna Love You Forever." While it wasn't as big of a success in the U.S. as it had been across the pond (it only sold around 100,000 copies), it did well enough that the studio greenlit a sophomore effort.
"Aaron Carter" was also enough of a success that other major pop artists began to take notice of the preteen. Even before his second record was released, both Britney Spears and the Backstreet Boys had secured Carter as an opening act for legs of their American tours. That level of exposure was exactly what he needed to go from promising up-and-comer to international superstar.
2000: The party arrives
When Aaron Carter's second studio album, "Aaron's Party (Come Get It)," hit the shelves, he became something of a household name overnight. At least, that is, in all the households that had tween and teen girls. Critical reviews of the record were mixed. Entertainment Weekly, for example, wrote that the record was made for the preteen market and that the young artist had released a track list full of "ultradisposable jingles delivered in the chirpy voice of a … tyke." But its intended audience was not nearly as split in their opinion, as they bought enough copies of the record that it was certified triple platinum by the RIAA.
The runaway success of "Aaron's Party" helped Carter land a string of guest roles on several Disney and Nickelodeon series. One of the most memorable of these appearances was on "Lizzie McGuire." In the episode, Hilary Duff's character has a 30-second run-in with Carter (who plays himself), and the two kiss under a bough of mistletoe. This would not be the only time the teenage icons would meet (more on that later), but it was the first. Following Carter's death, Duff wrote a sweet tribute to her former co-star on Instagram that read, "For Aaron -– I'm deeply sorry that life was so hard for you and that you had to struggle in — front of the whole world. You had a charm that was absolutely effervescent … boy did my teenage self love you deeply. Sending love to your family at this time. Rest easy."
2001-2005: New opportunities
Having proven his acting chops on series like "Lizzie McGuire" and "Sabrina the Teenage Witch," Aaron Carter found that more highbrow productions were now interested in him. In 2001, it was announced that Carter would be joining the cast of Broadway's "Seussical" for a five-week run. The musical's director, Barry Weissler, told Billboard, "For six- to twelve-year-old girls, Aaron is like Mick Jagger. Our show is for children and their families and what could be better than having a performer kids love?"
After wrapping up that project, Carter went back into the studio and completed his third album, "Oh Aaron," which is most notable for its title track, a duet with Arron's brother Nick Cannon. The record wasn't as successful as "Aaron's Party," but it still managed to sell over a million copies, earning a platinum certification by the RIAA. The following year, he released his fourth album "Another Earthquake!," which, by all accounts, was his least successful album. Surprisingly, Carter told VladTV, "It was my favorite album I ever did as a child."
Carter capped off this season of his career by starring in his first feature film, "Popstar." Much like Britney Spears' "Crossroads," the film had been written expressly with the intention of helping Carter to be taken more seriously as an actor. The direct-to-video project mirrors Carter's own life and follows a high school girl who discovers that the new kid in town, who she's crushing on, is actually a pop star. Again, much like "Crossroads," "Popstar" was a critical and commercial failure.
2005: The love triangle that rocked a fandom
Okay, so back to the relationship between Hilary Duff and Aaron Carter. Though nothing beyond a chaste mistletoe kiss happened between them on "Lizzie McGuire," they remained in touch and began dating around the time of Carter's 13th birthday, according to Popsugar. The pair spent about two years together, appearing frequently in tabloids and at events. Then, in 2002, photos of Carter began surfacing with another teen queen, Lindsay Lohan. Fans were understandably confused, seeing as how neither Carter nor Duff had made any announcement regarding a split.
Turns out, Duff and Carter hadn't split — the popstar had just started seeing Lohan as well. In an interview with CNBC, via Us Weekly, the towheaded artist explained his actions thusly: "I was dating [Duff] for like a year-and-a-half and then I just got a little bored so I went and I started getting to know Lindsay, dating Lindsay." Well! Unsurprisingly, Duff dumped Carter (though they did get back together briefly, later on). Much like deciding whether you favored N*Sync fan or the Backstreet Boys, fans had to decide whether they were a Hilary supporter or a Lindsay supporter.
Like Duff, Lohan paid tribute to her ex-boyfriend after his death in 2022, telling Access Hollywood she shared so many sweet memories with him and that her thoughts and prayers were with both him and his family during the difficult time. It's good to see that for both women, the teenage drama is all water under the bridge.
2006-2012: The reality era
Perhaps all that drama surrounding his love life is what inspired Aaron Carter to take his career in a new direction in the mid-'00s. After releasing his fourth album, he took a break from music, shifting his focus to reality TV. In 2006, "House of Carters" hit the airwaves. The premise was simple: All five Carter siblings — Nick, BJ, Leslie, Aaron, and Angel — would move into one house in order to try and work through their issues (they'd been feuding publicly for quite some time). The series only lasted a single season, but the drama that came out of it was enough to sever some of those relationships for good.
Next, Carter appeared on "Dancing with the Stars" where he placed a respectable fifth. Judge Carrie Ann Inaba remembered him to Page Six, saying, "I will always remember Aaron as this beautiful heart and light," and she appreciated the energy he had on set. After the dance show, he tried his hand at another competition, this time cooking on "Rachel vs. Guy: Celebrity Cook-Off." Unfortunately for him, he was a much better dancer than chef and he got the boot after one season.
While he may never have found lasting success in the reality TV world, Carter did find plenty of success in theater. In 2011, he joined the cast of "The Fantasticks" as Matt. He was so popular that the dates for his run were extended multiple times in order to ensure that everyone who wanted to see him on stage would have the chance.
2011: A brief time-out
After his run on "The Fantasticks" ended, Aaron Carter shocked fans by checking into a rehab center. It wasn't the first time potential addictions had been brought up — folks had been speculating for years due to his changed appearance and dramatic weight loss, and then there was that 2008 arrest for marijuana possession — but it was the first time Carter, or anyone in his camp, admitted that something more serious was actually going on.
Speaking to People magazine, Carter's manager, Johnny Wright, said that the singer was taking some time "to heal some emotional and spiritual issues he's dealing with." Continuing, "He has chosen to enter a facility where he feels he will get the guidance and cleansing he needs. Which in turn will help him on the music journey he's about to take." Carter himself sent out a vague tweet addressing the situation that read, "The main thing in life is not to be afraid of being human."
This stint in rehab wouldn't be the only time Carter sought help for his addiction issues. In total, he entered five programs before his death in 2022. His last appeared to be in September 2002, when he checked into Lionrock Recovery, not, he said, because he had relapsed but because he wanted help dealing with some of his triggers in order to avoid a relapse.
If you or anyone you know needs help with addiction issues, help is available. Visit the Substance Abuse and Mental Health Services Administration website or contact SAMHSA's National Helpline at 1-800-662-HELP (4357).
2014-2022: Returning to his roots
In the years leading up to his death, Aaron Carter spent much of his time attempting to revive his music career. He kicked things off with a Canadian tour in 2014, followed by U.S. and global tours in 2015. While he wasn't playing stadiums, these shows were decently attended by fans excited to see their teenage crush play some of their favorite childhood songs.
Then, in 2015, Carter dropped his first new song in a decade. As he was no longer signed to a label (Jive had dropped him after "Another Earthquake!"), the song "Fools Gold" was released via SoundCloud. In an interview with Billboard, the pop star expressed how hyped he was about the return to his roots: "I've been working on new music for the last 10 years, and I'm beyond excited that I'm in a position where I can release my new album soon." He followed the single up with an EP, also released via SoundCloud, called "The Music Never Stopped," then a second independently produced EP called "Love" which eventually became a full studio album released by Sony. These later offerings have more of an EDM feel to them, a directional shift Carter was excited about as he felt it was the first time he was really able to put his own touch on his work.
Sadly, Carter wouldn't get to see how his final album "Blacklisted" resonated with fans. The hip-hop/pop album was set to drop on his 35th birthday but was released early in memory of the late singer.
2017: Opening up about his health issues
Fans who had followed Aaron Carter's career from its early days were often shocked by his appearance as an adult. He dropped a significant amount of weight beginning in his early 20s, and simply looked less vibrant in a way that had many worried about him. Finally, in 2017, he began to open up about some of his health struggles on "The Doctors." On the show, Carter revealed that he didn't have any serious illnesses (rumors had long circulated that he may have been diagnosed with cancer or HIV/AIDS), but that he was struggling with addiction. In one drug panel that he allowed to be read out, testing showed that he had marijuana, benzodiazepines, opiates, and hydrocodone in his system. Those medications in the combinations and quantities that he was taking, have been known to cause deadly overdoses.
On another episode of the series, Carter revealed that he had been diagnosed with bipolar disorder, schizophrenia, manic depression, and anxiety. He attributed some of his addictions to these mental health issues, saying that he first got hooked on many of the medications that had been found in his system after being prescribed them for the treatment of these illnesses.
While opening up about his struggles on such a major stage couldn't have been easy, there was one silver lining in it all — Carter checked into a rehab center in Malibu, got his life back on track, and entered perhaps the healthiest period of his adult life.
If you or someone you know needs help with mental health, please contact the Crisis Text Line by texting HOME to 741741, call the National Alliance on Mental Illness helpline at 1-800-950-NAMI (6264), or visit the National Institute of Mental Health website.
If you or anyone you know needs help with addiction issues, help is available. Visit the Substance Abuse and Mental Health Services Administration website or contact SAMHSA's National Helpline at 1-800-662-HELP (4357).
2019: Family squabbles
The Carter family is arguably just as famous for their interpersonal issues as they are for their musical talent. Throughout Nick and Aaron Carter's time in the spotlight, familial drama followed them. But things really came to a head in 2019 when Aaron alleged his several of his siblings had abused him. In a series of tweets captured by Entertainment Tonight, the singer alleged that he was sexually abused by his sister Leslie as well as backup dancers, all when he was a child. He also accused Nicki of abusing him.
Aaron Carter's claims came just days after the brother in question filed a restraining order against him. Once again, Entertainment Tonight captured Nick Carter's tweeted explanation as to why he felt such drastic measures were necessary. He wrote, "In light of Aaron's increasingly alarming behavior and his recent confession that he harbors thoughts and intentions of killing my pregnant wife and unborn child, we were left with no choice but to take every measure possible to protect ourselves and our family. We love our brother and truly hope he gets the proper treatment he needs before any harm comes to himself or anyone else." Aaron vehemently denied having ever made such threats.
As far as we know, the family was still estranged when Aaron died. Given the tragic nature of the entire situation, it's unlikely that we'll ever really know what happened behind closed doors. We can only hope all members of the Carter family were able to make peace with whatever traumas they endured.
If you or anyone you know has been a victim of sexual assault, help is available. Visit the Rape, Abuse & Incest National Network website or contact RAINN's National Helpline at 1-800-656-HOPE (4673).
2020: A final love
Aaron Carter had a tumultuous dating history over the years. From his teenage love triangle to his adult relationships, it seems that finding love never came easily to the singer.
In 2006, Carter proposed to former Playboy model Kari Ann Peniche (his brother's ex-girlfriend) just five days after meeting her. She accepted, but, unsurprisingly perhaps, their relationship didn't last and they called off the engagement just six days later. Then there was Madison Parker, who left Carter when he came out as bisexual, because, as a source told Us Weekly, she wasn't really supportive of his sexuality and didn't understand it. Next, there was model Lina Valentina, who Carter was granted a restraining order against after she threatened to stab him. We told you it was dramatic.
However, things seem to have taken somewhat of a turn when Carter met his last love, Melanie Martin. Don't get us wrong — it wasn't all rainbows and butterflies. The pair dated on and off for three years, weathered domestic violence complaints, got engaged in 2020, and ended things in early 2022. But their relationship also brought Carter his only child, son Prince Carter, who was born in 2021. In a tribute post on her Instagram following Aaron's death, Martin wrote, "My life won't ever be the same without you in it. You brought so much joy into my life despite our troubles … We were in this for life. I'll never stop loving you or missing you."
If you or someone you know is dealing with domestic abuse, you can call the National Domestic Violence Hotline at 1−800−799−7233. You can also find more information, resources, and support at their website.
2022: A sudden death
On November 5, 2022, TMZ reported that Aaron Carter had been found dead in his California home. He was only 34. As of this writing, no official cause of death has been reported, though many theorize his unexpected passing may have something to do with his addiction battles. Whatever the cause, we can certainly say that Carter's was a life that ended too soon. He left behind various family members, including his 1-year-old son and older brother, Nick Carter.
On Instagram, Aaron's sister, Angel, wrote in part, "To my twin … I loved you beyond measure. You will be missed dearly. My funny, sweet Aaron, I have so many memories of you and I promise to cherish them. I know you're at peace now." Meanwhile, Nick wrote on Instagram, in part, "My heart is broken. Even though my brother and I have had a complicated relationship, my love for him has never ever faded … addiction and mental illness is the real villain here. I love you Chizz. Now you can finally have the peace you could never find here on earth … God, please take care of my baby brother."
In the month before his death, Aaron worked on the pilot for a sitcom. Despite his death, the project will go on, with the writer-director of "Group" telling Deadline, "Aaron was so excited about the show and helping raise awareness for mental health, a topic he was very passionate about … He said being a part of the show gave him something positive to work toward."
If you or someone you know needs help with mental health, please contact the Crisis Text Line by texting HOME to 741741, call the National Alliance on Mental Illness helpline at 1-800-950-NAMI (6264), or visit the National Institute of Mental Health website.