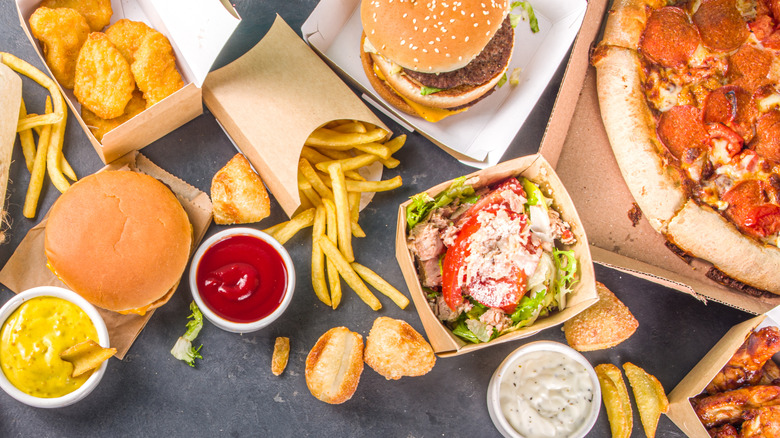 As is often the case, Boyz II Men was right: It is so hard to say goodbye to yesterday. Even if change is the only real constant (more or less), there's still something inherently difficult about accepting and processing the infinite number of endings and beginnings we encounter throughout life. Of course, not all losses are equal we shouldn't ignore those on the lower level, like the many fast food items that were discontinued during 2022.
Now, mourning a fast food item's discontinuation in modern culture is a bit like lamenting your favorite canceled television show. After all, can we really claim, with a straight face, that a canceled fast food item won't go the "Arrested Development" path and make intermittent returns down the line? Of course not — just ask Taco Bell's Mexican pizza. Yet even if the future is uncertain — and, therefore, open-ended — we're still left empty-handed with these fast food items heading into 2023.
A wide variety of fast food options took their final bow in 2022, including consumer-forward value menu items, under-the-radar cult favorites, and short-lived (and often overhyped) additions. Without further ado, let's take a look at the many fast food options we lost in 2022.
Burger King's salads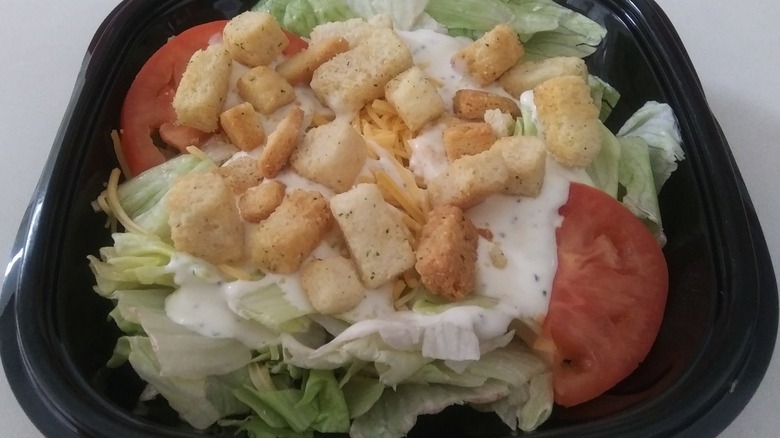 Most people aren't likely to prioritize a healthy meal when they visit a fast food restaurant like Burger King. But whatever their reasons, there are a select few customers who are eager to purchase a healthier meal than a standard, flame-broiled cheeseburger and fries. Unfortunately, if you're searching for a salad to consume from Burger King after 2022, you'll be out of luck, because the restaurant chain quietly confirmed it would no longer sell salads this year (via Eat This, Not That).
Frankly, despite our gentle teasing of any alleged fans of Burger King's now-discontinued salads, it's sort of ridiculous to consider the dearth of genuinely healthy options now available at the chain. After all, as one Burger King manager in New York jokingly noted to Eat This, Not That in March 2022, with salads gone, "water is now the healthiest thing" offered by the restaurant.
Interestingly enough, Burger King wasn't the only fast food conglomerate to drop some unfortunate news regarding its salads in 2022. In fact, in an additional blow to health-conscious fast food seekers, McDonald's announced its intention to discontinue salads, as well, outside of a small number of restaurants scattered throughout the country (via Fortune).
Starbucks' chicken, maple butter, and egg sandwich … maybe
The chicken, maple butter, and egg sandwich from Starbucks may be the strangest fast food item lost in 2022. Not only that, but there's a decent chance it's the least-lamented loss among discontinued fast food menu options this year, as well. For one thing, it had an inherent disadvantage because, well, it was a chicken sandwich from Starbucks. But the lack of sadness emanating from consumers mainly stems from the fact Starbucks pulled its chicken-and-egg sandwich after just five days on the menu (via Food Business News).
Debuting on June 21, 2022, the sandwich was pulled on June 26 after rumors began trickling across social media that the item made customers sick. Since the company prefers to exercise "an abundance of caution whenever a product or quality issue is raised," as a Starbucks spokesperson told Food Business News, it chose to pull the sandwich. While no official complaints appeared to be made to the FDA regarding ill consumers (via NBC News), the company still seemed set in its decision.
We're actually uncertain whether this fast food item was a permanent casualty of 2022. Though it was undoubtedly pulled from menus in a very drastic, public manner, the chicken sandwich remains "available for order" on the company's website. It may be unavailable at any locations as of October 2022, but with a still-active page for it, the chicken, maple butter, and egg sandwich may be back sooner than later.
McDonald's Egg White Delight
In 2013, McDonald's may have thought it had the healthy fast food breakfast market cornered. After all, introducing the Egg White Delight alongside gold medal-winning gymnast Gabby Douglas (via McDonald's) likely seemed foolproof. Now, was the world clamoring for a lower-calorie companion to the classic Egg McMuffin? Maybe. But the severe simplification of the McDonald's menu in 2020, necessitated by the COVID-19 pandemic, demonstrated some healthier items weren't as sought-after as believed, including the Egg White Delight, which is no longer available as of 2022 (via The Columbian).
Actually, it's not entirely clear when the Egg White Delight was officially canceled. Like many other discontinued fast food items, McDonald's didn't eagerly announce it had killed off the egg white-based sandwich when the decision was made. In fact, according to The Takeout, the company quietly discontinued the sandwich nationally in 2018, and only appeared to confirm it was completely removed as of 2022.
Frankly, we aren't taking this loss too hard, though, and you shouldn't either. The sandwich was certainly tasty, but it was also fairly superfluous. The regular Egg McMuffin is almost exactly the same, tastes phenomenally better — and, all things considered, isn't all that unhealthy in the first place.
$1 any-size fountain drinks at McDonald's
We can't say that every fast food item lost in 2022 makes us all that sad, per se — Starbucks chicken, maple butter, and egg sandwich, we're looking at you. That being said, some of the discontinued items left us utterly devastated upon discovery. And of all the fast food items to join the dearly departed in 2022, none made us nearly as upset as McDonald's decision to stop offering its $1, any-size fountain drink deal (via Wall Street Journal).
Truth be told, we aren't exactly shocked to learn that the best-selling fast food chain in 2021 (via QSR) made such a business decision in the face of skyrocketing inflation. But it still hurts knowing we'll never again be able to take a quick trip to the McDonald's drive-thru for a cheap, fizzy beverage. In fact, perhaps because McDonald's quietly changed the price (hoping customers wouldn't notice), this may be the one lost fast food item that impacts the number of visits we make to the establishment after 2022.
Maybe we're overreacting, though. Maybe we simply took this last vestige from the heyday of McDonald's Dollar Menu for granted, assuming it would always be available. C'est la vie, we suppose.
Wendy's Hot Honey sauce
When it comes to fast food dipping sauces, it's always best to avoid growing too attached to new releases. The classic options, like sweet and sour or ranch, are here to stay, of course. But the speed with which a new, even highly-hyped dipping sauce may come and go can be downright dizzying — just as it's inevitably disappointing. Fans of the short-lived hot honey sauce from Wendy's discovered this in September 2022, when the chain confirmed it would no longer offer it once supplies ran out (via Thrillist).
Introduced as a standalone dipping sauce alongside the Hot Honey chicken sandwich in February 2022, the hot honey dipping sauce was an immediate hit, featuring a flavor amenable to a variety of Wendy's products, according to Foodsided. Despite this, by August 2022, rumors about the sauce's discontinuation began to swirl on Reddit, after some commenters noted their local Wendy's had already run out of the sweet heat concoction.
Several weeks after the late August speculation, Wendy's confirmed the unfortunate truth to Thrillist. As of October, hot honey is still listed on the restaurant's website among its other signature sauces. But that may just be because some restaurants' stock of the sauce packets is dwindling slower than others, rather than a sign that it won't be leaving the menu.
McDonald's fruit and yogurt parfaits
Along the same lines as Burger King's decision to nix salads from its menu (via Eat This, Not That), McDonald's wasn't afraid to incur the public's wrath by removing certain healthy choices from its menu in 2022. In fact, the former home of Ronald McDonald didn't just officially end its Egg White Delight, grilled chicken sandwiches, and salads in 2022; it also announced its intention to stop selling its breakfast-time product, the fruit and yogurt parfait (via Quartz).
McDonald's calculated decision to remove a number of legitimately healthier selections is certainly frustrating to a portion of the population. And while we're not thrilled with the idea of a McDonald's menu consisting solely of artery-clogging options, we can't really fault its relatively reasonable rationale for removing the fruit and yogurt parfait. Removing it (and other discontinued items) from the menu was expected to decrease drive-thru wait times, increase profit margins for franchise owners, and relieve pressure on individual restaurants dealing with sustained staff shortages (via Fortune).
While we can't envision a huge number of Mickey D's fans storming the restaurant each morning looking for a granola-enhanced yogurt, some consumers did decry the fruit and yogurt parfait's loss. A Change.org petition was even created in early 2022, encouraging the item's return.
Burger King's ice cream sundaes
Burger King's had a rough go of it in recent years. That's relatively speaking, of course, since it still stands head and shoulders above the vast majority of fast food restaurants. But in 2022, it's impossible to suggest its current prospects seem brighter than those of its chief rivals in McDonald's and Wendy's (via Wall Street Journal). In other words, it's clear why the establishment that lets you "have it your way" had big changes in mind in 2022, including its decision to stop serving ice cream sundaes this year (via Reuters).
For disappointed fans of the ice cream sundae, there's some solace to be found in Burger King's decision to leave regular ice cream on the menu. After all, if you enjoy the formerly-offered sundae's base, you can still craft yourself a self-completed sundae with Burger King's remaining ice cream.
While many consumers were undoubtedly displeased about some of the 2022 losses from Burger King's menu, we'd find it hard to believe many folks were crushed by the sundae's discontinuation. After all, if you really want a Burger King-style sundae after 2022, just add some hot fudge to a cup of its ice cream, and it'll be like it never left.
Subway's oven roasted chicken breast
Subway's been on a downward spiral of sorts in recent years, though the company seems quite aware of this. After all, why else would it have revamped its entire menu in 2022 to increase its efficiency and ease of service (via CNN)? But the end of endlessly-encouraged customization at Subway wasn't the only change to its menu this year. And while it didn't announce any discontinued products, one food item seems to have disappeared from locations in 2022: the oven-roasted chicken breast (via The Takeout).
While no particular announcement or confirmation was given from the restaurant chain regarding the oven-roasted chicken breast, by September, some Twitter users noticed it was no longer available. Now, to be clear, it's not that Subway no longer offers chicken (or even oven-roasted chicken) at its establishment, after all, sliced oven-roasted chicken pieces are still available. But the actual, full chicken breast — with its trademark, presumably-unnatural grill marks — was quietly removed, perhaps as early as July.
Subway may still dominate the restaurant industry through sheer ubiquity, with more worldwide locations than any other company as of 2019 (via Worldatlas.com). But its star has still fallen precipitously in the eye of the American consumer over the past decade. If it continues making decisions like discontinuing its oven-roasted chicken breast without consumer consideration, it may just continue sinking further.
Discount Whoppers at Burger King
Like any other American who bleeds red, white, and blue, we understand the nature of capitalism, and the virtues of a free market. So while we're not faulting Burger King for aiming to improve its profit margins by tweaking its menu offerings, we can't help but take issue with some of its 2022 business decisions to get there. After all, did it really need to eliminate some of its more customer-friendly promotions in the pursuit of the almighty dollar, like the decision to no longer offer discount Whoppers in any format amidst general price hikes in 2022 (via Reuters)?
Maybe we're just greedy as consumers in 2022, or perhaps the squeeze of historically-high inflation on our bank accounts is taking its toll. Either way, the news that a Whopper at any sort of slightly-reduced cost won't be happening after 2022 left us somewhat crestfallen. It's not like Restaurant Brands CEO, Jose Cil, left us any hope, either, flatly telling Yahoo, in August 2022, that there were no plans for a return of a discounted Whopper.
As with everything, hope springs eternal when it comes to lost fast food items. But in the immediate future, at least, a discounted Whopper is unlikely to make a comeback.
McDonald's McPlant burger
With more veggie-based items popping up on fast food menus, it's surprising to see the next item on our list. McDonald's discontinuation of the not-yet-nationally-sold McPlant burger in July 2022 was more a matter of dollars and cents than a dismissive attitude toward Americans' health, according to CNBC.
McDonald's and Beyond Burger signed a three-year deal in 2021 for the production of the McPlant burger. But the underwhelming test performance of the McPlant in select markets, starting in February 2022, led the company to pull the plug. McDonald's stated it ended the McPlant test launch as planned, but the undeniably chilly sales for the non-meat burger seem to have doomed its future prospects.
Perhaps the reason the McPlant failed was less a disdain for its non-carnivorous customers than a misunderstanding of who a non-meat burger was for. Either way, the decision to end the McPlant experiment falls in line with the rest of McDonald's seemingly anti-health actions in 2022.