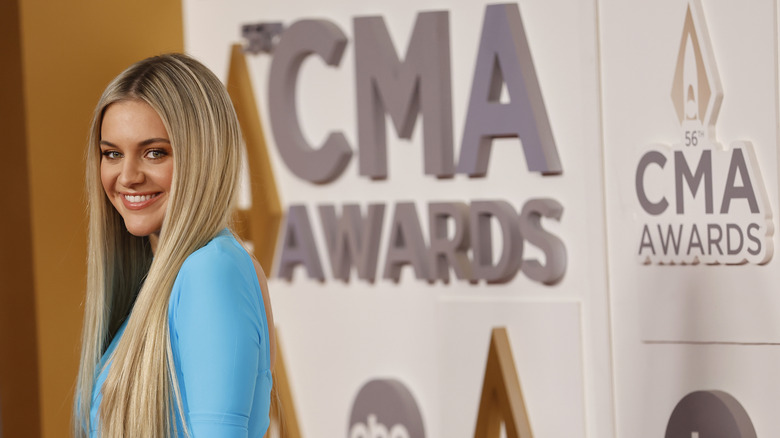 The stars pulled out all the stops for their looks at the 56th Country Music Association Awards – and, of course, there was more than enough country fringe and cowboy hats to go around.
The internet is loving Kelsea Ballerini's big swing with her outfit choice — a skin-tight, full-length blue Balenciaga dress, covering her all the way from the neck to the tips of her fingers. It was previously worn by none other than Kim Kardashian, per People. Carrie Underwood seems to have caused the most frenzy with her CMA look, a faux-flowy take on the jean dress popularized by Britney Spears at the 2001 American Music Awards.
The CMA's red carpet saw bold tones, like Reba McEntire's velvet blue jewel-tone dress and Elle King's pumpkin-colored silk number. However, not all of the risky choices for the 56th CMAs paid off.
Lainey Wilson did too much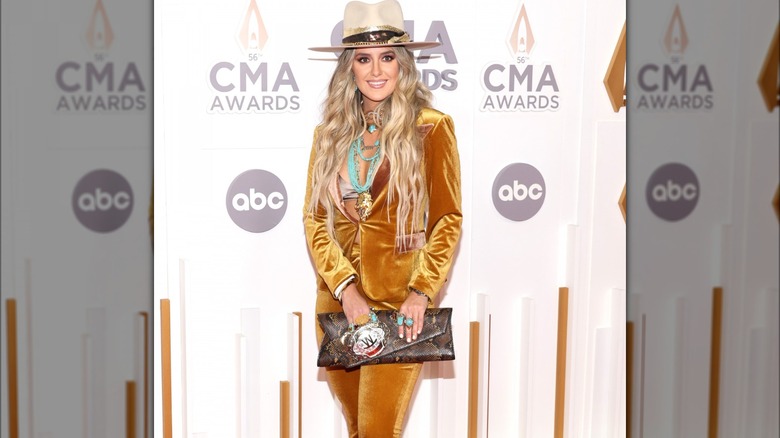 The country singer was nominated for a jaw-dropping six awards for her first year competing, so Lainey Wilson had plenty to look forward to on CMA night, per Entertainment Tonight. She's also due to make her acting debut on "Yellowstone," according to the outlet.
Unfortunately, her outfit didn't see the same success as the singer. She seemed to be combining several looks in one, missing the cohesion that makes for a great red carpet look. Though we'd steal her velvet pantsuit, the extra accessories, embellished hat, and bulky bag take this look from chic to overwhelming.
Caroline Boyer came to support the co-host
Caroline Boyer met her now-husband Luke Bryan in college, per Us Weekly, and she celebrated the biggest night in country music alongside her long-time beau as he co-hosted the CMAs. Animal prints were a repeat offender of the night, though some updated the look better than others.
Boyer's flowing cheetah print dress could have served as a relaxed cover-up, or at least a beachy vacation look for a night out. However, the bulky belt and matching bag doomed an already dated look. Styles from the mid-2000s have been coming back in a big way, but Boyer's dark under eyeliner and halter top may have gone too far.
This star went from Ariel to Ursula
One of the night's performers, Caylee Hammack, gushed about having the opportunity to sing alongside Ashley McBride, Pillbox Patti, Brandy Clark, and John Osborne, and she rocked the house with these talented musicians. Sadly, Hammack underperformed on the red carpet, though it wasn't for a lack of trying.
Long gloves and feathers were a fixture of the night, but when paired with a black velvet dress, the singer's look took a turn for the macabre. The outfit seemed stuck between vibes, leaving us unsure whether it was more Disney Princess Ariel or sea witch Ursula. Though either of these energies would have been iconic looks all on their own, when paired with a gold fan and the singer's fiery locks and smile, there seemed to be some kind of miscommunication.
Reyna Roberts did it better on Instagram
Country singer Reyna Roberts is known for her bold looks and red hair, but her Instagram-ready aesthetic missed its mark at the CMAs. Roberts has rocked corseted pink leotards and cowboy hats, as well as structured sheer bodices, but her CMA look substituted her usual cute cut-outs with an excess of lacy sleeves and bellbottoms in her one-piece look.
She nailed the color matching between her hair and outfit, plus her cowboy hat is spot-on. But the see-through look didn't work as well for her here as we know it could've — examples include her People photo shoot's black semi-sheer unitard and her 2020 Rolling Stone look.
Runaway June ran with a color scheme
The girl band Runaway June was going for the mermaid look at the CMAs, though their red carpet outfits looked more like something caught in the tide. As Runaway June spoke about in an interview, the band has toured with one of the CMA's best-dressed stars, Carrie Underwood, so you'd think they might have gotten some style tips on the road.
Though none of their three looks are particularly offensive, in a group, fashion mistakes like busy jewelry and extraneous distractions add up quickly. They also lack cohesion as a group, a la Fifth Harmony at pretty much every event, per TikTok.