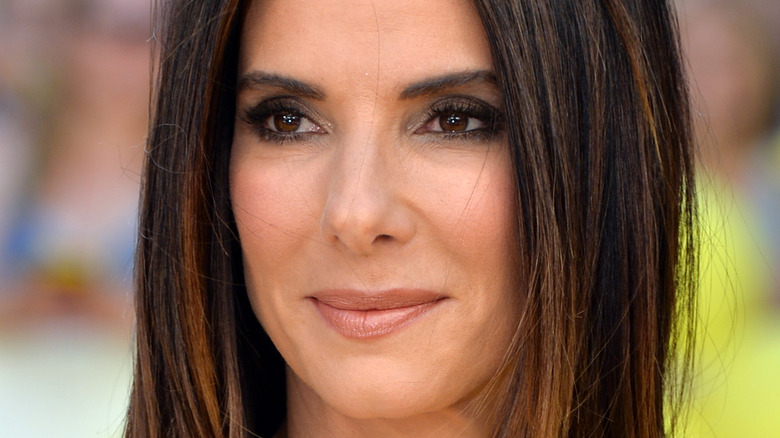 It's hard not to notice that Sandra Bullock seems ageless. In an industry that's known for scrutinizing every flaw, the 58-year-old actor appears to have very few of them. She is youthful, radiant — and darn it, she even seems genuinely down-to-earth and, well, nice.
How does this Hollywood star stay so fabulously glowing and trim? Besides having an eight-minute skincare regimen and occasionally dabbing on some hemorrhoid cream under her eyes (via Women's Health), Bullock seems to have very few tricks up her sleeve except for occasional aesthetic treatments, like the time she got what she called a penis facial (via "The Ellen DeGeneres Show").
Mainly though, the A-lister and mom of two has boundless energy. The star of "Gravity," "The Blind Side," "Speed," and the new adventure-comedy "The Lost City" (per IMDb) is constantly on the go, taking on acting roles, producing film projects, overseeing businesses (she owns a restaurant in Austin, Texas), and expanding her sizable real estate portfolio (17 properties and counting, per Architectural Digest). In 2022, Bullock's financial success even made Forbes' list of America's 100 Richest Self-Made Women.
Her busy schedule and great genes aside, Sandra Bullock does adhere to a healthy lifestyle which features practical diet and exercise routines that can be followed exactly or tailored to make your own. So without further delay, let's learn a little more about her and dive into the star's not-so-secret fitness secrets.
She was raised on locally grown, organic foods
Bullock once told Oprah during an interview that she grew up in a very environmentally conscious household where only pesticide-free fruits and vegetables and other organic macrobiotic foods were served — no junk food whatsoever. In fact, Bullock said that she and her sister used to go to neighbors for their fix of Cheetos and other forbidden snacks.
As we know now through science, Bullock's parents weren't off-base at all, but were just ahead of the curve. Organic diets have been proven to make a positive difference in health outcomes, as concluded by researchers in a 2020 review in the journal Nutrients. Researchers found reduced incidences of metabolic syndrome, hypertension, non-Hodgkin lymphoma, infertility, birth defects, and allergic sensitization, among other conditions, as the result of eating organic foods.
Though Bullock says she didn't appreciate her family's focus on clean eating as a child — and honestly, what child would? — the actor lives by it now, sharing that she routinely reads labels to know exactly what she's consuming. "If you can't pronounce it," Bullock told Oprah, "you probably shouldn't be putting it in your body or in your environment."
She's a stickler for portion control
Controlling portion sizes so you don't over-eat is a recognized way to keep your weight in check. Sandra Bullock says she certainly follows this tried-and-true advice. One way she makes it super easy on herself is by taking advantage of meal delivery services that deliver ready-to-prepare individual entrees to your door that are already the right size. She especially favors companies that offer healthy choices like gluten-free and sugar-free items, as well as hormone-free chicken, as reported by CBS News (per PopSugar).
The Mayo Clinic offers some easy-to-adopt tips for getting used to right-sized meals and avoiding overeating. For example, the next time you make dinner, dish it out on a salad plate instead of a large dinner plate. Doing so not only keeps sizes consistent, but also makes smaller portions look bigger and visually more satisfying! Their experts also recommend getting out of the habit of going back for second helpings. Instead, if you have any leftovers after cooking, immediately store them in single-serve containers and pop them in the fridge. This routine will make it less likely you'll dig in for a second dinner. Plus, you'll have quick meals ready for the next day.
Pilates gets her toned and fab
Pilates doesn't bulk you up. Instead, it tones and tightens bodies into strong, healthy, and lean silhouettes. Sandra Bullock is a devotee, and gets most of her Pilates work in by training with fitness expert Simone De La Rue, a well-known trainer to the stars. "[Sandra] puts in an hour a day, six times a week!" reveals her fitness coach to Radar Online. "She is extremely motivated and driven." The Body By Simone method (now available via app too) combines a mix of many disciplines, including Pilates, into dance-based moves that lengthen muscles and strengthen the core.
Physical therapist and author Alycea Ungaro, who runs New York City's Real Pilates studios, explains that "[i]f you're a celebrity working on a movie set, there's just not a lot of time." She says the appeal of Pilates for many of her A-list clients is you can target many areas of the body all at once in a short period of time. Pilates becomes a multitasking tool, meaning it can be done less frequently — even just a couple of times a week. However, clients still get a complete workout that addresses all the important goals. "It's a really efficient use of fitness," she told Oxygen.
She's a runner at heart
Sandra Bullock reportedly loves to go running, especially when she's at her pad in Austin, Texas, one of the many cities she calls home. With her affinity for high-energy dance workouts (via Radar Online) that lean heavily on cardio, it's not much of a stretch to think this celebrity would like to switch it up from time to time by hitting the pavement for a good heart-pounding run when she's in the mood.
Just 10 minutes of running a day can do absolutely amazing things for your well-being, according to WebMD. Not only does running improve your heart health, but it also reduces your resting heart rate and boosts mood and energy. In fact, a regular cardio routine of any kind can help you get a better night's rest, which is essential for overall health. Getting enough shuteye raises your levels of serotonin, brain chemicals that are needed for regulating circadian rhythm (per Insider). So no matter how you look at it, running checks off all the boxes for great cardiovascular exercise.
She's dedicated to daily workouts
If you're wondering how a 58-year-old can look nearly as youthful and glowy as she did a decade ago — fit, trim, and gorgeous — you don't have to keep guessing. Sandra Bullock did us the favor of sharing her fountain-of-youth secrets via Entertainment Tonight. "I'm sleeping in a container that is devoid of outside carcinogens," she joked — or was she? All jesting aside though, the actress is a known fitness fanatic. Her Bird Box co-star once said the Oscar winner would happily live in workout gear if she could.
With her background in dance and gymnastics (according to Biography), it's no surprise that the former cheerleader continues to enjoy putting in the time and effort to keep her body in top condition. "I love to dance… I don't like gyms," she said at the Venice International Film Festival. "I secretly want to be an athlete in my next lifetime."
She loves her kickboxing
Bullock gets her sweat on by regularly incorporating the Body By Simone method into her weekly routine. The technique, developed by Australian fitness trainer-to-the-stars Simone De La Rue, offers a lot of high-octane cardio that includes kickboxing among a variety of other disciplines in its one-hour sweat sessions, reports Women's Health.
According to WebMD, during one session alone, you can burn up to 450 calories an hour and reduce stress levels as you punch, jab, and kick your way to a better body. It's definitely not boring, and it can be pretty exhilarating too, says Well+Good. Kickboxing, which is a form of martial arts, is incredibly popular. It basically has it all: punching and fancy footwork that work together to build physical and mental strength and balance, per Healthline.
"When you really devote yourself to [kickboxing], it really teaches you failure, rethink, and reapply," explains Jamie Bryant, a coach at Devotion Kickboxing Club in Connellsville, Pennsylvania. "When you are throwing wrong, you have to forgive yourself every single time — and one time, it's not wrong," he told The Daily Courier.
Dance-cardio is how she gets her sweat on
With Sandra Bullock's background as a former gymnast and cheerleader, it's no surprise that she gravitates toward exercise with a strong component of music and dance-like moves. During her college days at East Carolina University in North Carolina, Bullock told Ellen DeGeneres that she even used to open for drag queen shows as a dancer.
Consistency is important to an effective workout, so a great dance routine set to music can make exercise seem much more like fun than the hard work that it actually is, reports Everyday Health.
That love of dancing may be one reason Bullock really gets into hybrid exercise classes like those taught by her personal trainer Simone De La Rue, creator of the Body By Simone method that the actor swears by. "There's always cardio like dance, jump-roping, or rebounding," says her trainer. "Then we alternate between 10-minute intervals of high-intensity cardio and strength training moves that focus on different body parts (via Women's Health).
When in Austin, she rides her bike
Bullock readily admitted her aversion to gyms while talking to the press at the Venice International Film Festival. Instead, she loves to get outside on her bike, or go on a run when, of course, she's not rocking out in dance-cardio classes. One of her reportedly favorite cities to hit the bike trails, according to Livestrong, is in Austin, Texas, where Bullock has owned a house for many years and is also the proprietor of a cafe-bakery called Walton's Fancy and Staple (via the Austin American-Statesman).
It doesn't surprise us that the actor enjoys getting out in the fresh air to ride on two wheels. Cycling is an amazing low-impact way to fit in a lot of cardio, improve endurance and stability, and build muscle (per the Cleveland Clinic). Cycling is also a mood booster, and according to a study in The World Journal of Biological Psychiatry, the time spent outdoors really does make positive changes to the brain, too. "Our results show that our brain structure and mood improve when we spend time outdoors. This most likely also affects concentration, working memory, and the psyche as a whole," says lead author Simone Kühn, Ph.D. (via the Max Planck Institute for Human Development).
Resistance bands add to her fitness
When asked during a rapid-fire question session on "The Ellen DeGeneres Show" what she thinks is her best body feature, the Oscar winner didn't hesitate to name her shoulders — agreeing with host Ellen DeGeneres that they are indeed "Shoulders by Simone." The name refers to Bullock's personal fitness coach Simone De La Rue and the Body By Simone fitness method that she developed.
Popular with celebrities, the dance-based cardio technique that Bullock is a giant fan of is basically a fusion of several different disciplines that together provide a full-body workout that doesn't need specialized equipment except for resistance bands. The inexpensive elastic bands are easy to use for most people, and are also really effective for sculpting muscles. The bands can essentially take the place of bulky dumbbells or kettlebells, according to the Cleveland Clinic. De La Rue told Livestrong that band curlers are one of her go-to exercises because they're so effective in sculpting lean arms and shoulders.
Green tea is Sandra Bullock's go-to drink
Green tea, or more specifically, matcha, is right at the top of Sandra Bullock's preferred drinks — she even considers it a "gotta have" (via Parade). "Matcha has played an important role for a number of my clients," says Cynthia Pasquella, a Los Angeles nutritionist to Bullock and other Hollywood celebrities. She told Harper's Bazaar that as a nutritionist, she's a huge advocate for the green brew, which is a powdered whole-leaf green tea that's whisked with hot water. It's rich in antioxidants and can speed up metabolism and burn fat.
Consumed for hundreds of years in Japan and China, matcha is a special kind of tea. It offers a gentler caffeine pick-me-up than coffee. Some people describe the flavor of matcha as earthy or creamy, and it's boomed in popularity in the United States. It's now a mainstream menu item even in national chains like Starbucks. Matcha's high levels of antioxidants help prevent cell damage and also lower the risk of cardiovascular disease, cancer, and other chronic diseases, per Healthline.
She has fun with her diet 'cheat days'
Sandra Bullock admits to being a big-time sweets person (per CBS News). She once told "Good Morning America" anchor Michael Strahan that ice cream is her favorite food. While studying drama at East Carolina University in Greenville, North Carolina, Bullock reportedly even worked as an ice cream scooper at a local parlor (per Hello!). So it's not surprising that the A-lister really enjoys a scheduled break in her otherwise structured days for a weekly 'cheat day' to kick back and indulge in some decadent treats.
But treats don't have to come solely in sugary form for the "The Lost City" star. She's got a thing for good bacon, too, as revealed to comedian Stephen Colbert during a lightning-round Colbert Questionert segment on "The Late Show." Bullock told the host that her idea of a "best" sandwich is the BLT — an American classic — and said she especially loves it heavy on the bacon and lettuce. Maybe it's Bullock's affinity for cured meats that explains why her own eatery, Walton's Fancy and Staple, a foodie hangout in Austin, Texas, features its fair share of entrees with bacon. Its own version of the BLT, called the BFT, is an all-American stack with a layer of applewood-smoked bacon, tomato, frisee lettuce, and smashed avocado on sourdough bread. Yum!