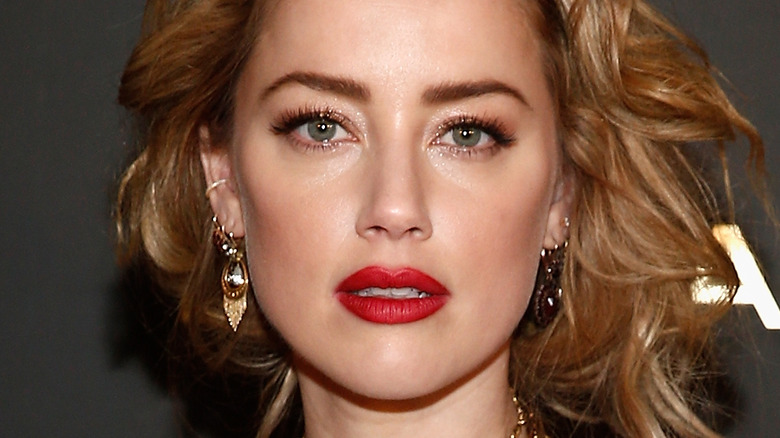 Actor Amber Heard left her home of Austin, Texas at 17 to pursue a career as a model in New York City, before heading off to Hollywood with dreams of movie superstardom.
Her talent shone through, and she booked guest-starring roles on multiple popular TV series, like "The O.C." Heard later made her big screen debut in the 2004 football film, "Friday Night Lights," followed by supporting roles in flicks like "Pineapple Express" and "Zombieland." When her lead role in the 2007 CW teen drama, "Hidden Palms," was cut short after disappearing from the air following just eight episodes, the show's failure freed the aspiring A-lister up for more movie roles, and Heard quickly nabbed gigs in "Machete Kills," "Magic Mike XXL," and others.
Then came a starring role opposite Johnny Depp in 2011's "The Rum Diary," which caused Heard's profile to rise significantly when the co-stars eventually got married and later divorced in one of Tinseltown's messiest, most drama-filled splits. While the actor has been a frequent tabloid target ever since, there's still much her fans may not know about her. Let's uncover the untold truth of Amber Heard.
Amber Heard owns 'several' guns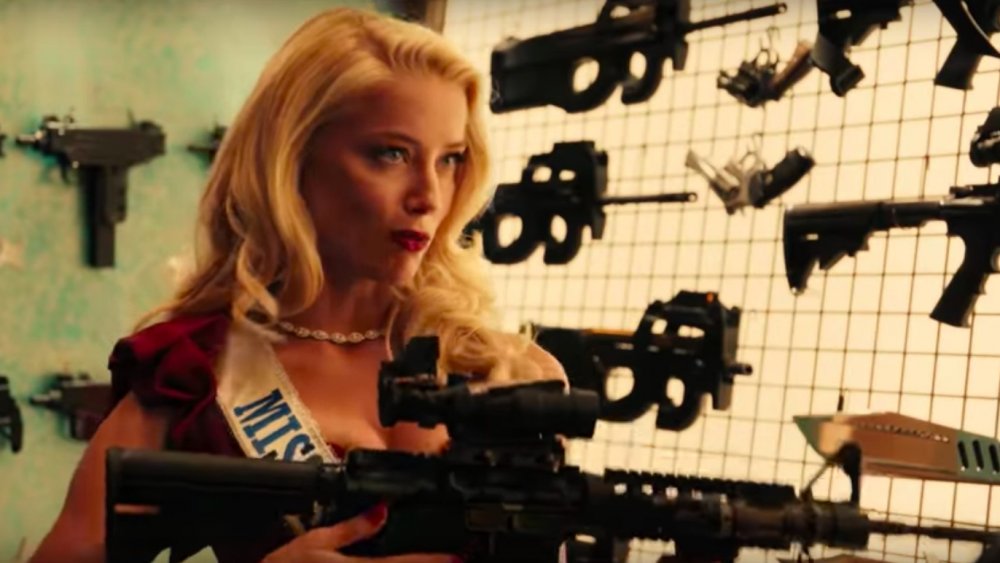 Amber Heard has played plenty of gun-toting characters on screen, and in real life, she's no stranger to firearms.
In fact, back in 2010, the actor told the Daily Mail that she's "a good shot," adding, "I love guns — I own several." She also issued a not-so-veiled warning to would-be burglars: "I sleep with my gun in a place that's close enough that if I needed to protect myself, I could. It's not in bed with me, though; it's in a safe location." Declaring that she's "fully trained" and had been maintaining an active membership at a gun club, Heard declared herself to be "definitely pro-gun" — a trait the Texas native inherited from her father.
As Heard recalled during a 2013 appearance on "Jimmy Kimmel Live!," she was mere minutes away from stepping on a plane to leave her hometown and pursue her Hollywood dreams when her father gave his then-teenage daughter a special parting gift (via "HuffPost"). "[He] took out a pearl-handled .38 special," Heard told the titular host, "and handed it to me and said, 'Hey baby girl, I got you a pretty one. It don't got a hammer. So you just pull it right out of your purse!'"
Amber Heard loves restoring classic cars
Amber Heard shared her love of muscle cars during a 2010 interview with the Daily Mail. "I love cars that have character, and I've had a number of them, including a '63 Checker and a '67 Mercedes," she revealed. "My dad taught me enough about cars so that I'd never have to ask a man on the side of the road for help: I hot-wire my own cars."
Need some proof? Nine years later, the actor picked up her Wonderland magazine interviewer in a fully-restored, cherry-red Mustang. "She's my baby," Heard gushed of her vintage vehicle. "When I found her she was for the scrap heap. She was un-drivable!"
Fans of TLC's "Overhaulin'" series may recognize this multi-talent's impressive ride from a 2015 episode, in which then-husband Johnny Depp surprised her by having the car completely restored to mint condition. When the time came for the big reveal, Heard opened her eyes and immediately covered her mouth in shock. "Holy s**t!" she declared, tearing up as she became overcome with emotion. "Oh my god, it's so beautiful!"
Amber Heard's legal battle over movie nudity
While speaking with the Daily Mail back in 2010, Amber Heard revealed that she was comfortable with stripping down for movie roles, noting that she'd performed nude in previous projects. Of course, there's nothing wrong with that, and it's well within a performer's right to be featured in such vulnerable scenes on their own terms. However, nudity was at the heart of the actor's legal battle surrounding the film, "London Fields."
According to The Hollywood Reporter, producers sued Heard for $10 million for alleged breach of contract in November 2016, claiming that she'd "disregarded contractual obligations by failing to render acting services in conformity with the shooting script," including boycotting the movie's 2015 premiere at the Toronto International Film Festival (which was ultimately canceled in the wake of other legal disputes).
For her part, Heard fired back with a counter-complaint in March 2017, telling a judge in her testimony (per THR) that the "case shines a spotlight on the dark underbelly of Hollywood." Her lawyer contended that Heard was victimized by producer Christopher Hanley and wife Roberta — describing them as a "lascivious and sexploitive couple" — after she insisted on "specific restrictions about nudity and sex scenes" that were conditional on her taking the role. She accused the producers of violating her "Nudity Rider" by hiring a body double of her character to film a "pornographic" scene without her knowledge or consent. A settlement was reached in 2018.
Her mixed feelings on playing a Playboy bunny
Back in 2011, Amber Heard was cast in "The Playboy Club," a short-lived NBC drama set in Hugh Hefner's Chicago nightclub during the early 1960s. Heard, who played a Bunny working at the club, described the show as "something that feels naughty, but nice," to NBC Los Angeles. "It feels edgy and cool and different," she added. "It's a lot of fun."
As you might guess from its premise, however, the show was controversial. Per Reuters, the Parents Television Council slammed "The Playboy Club" as "degrading and sexualizing," while feminist activist Gloria Steinem hoped viewers would boycott it entirely. Steinem got her wish when the series flopped, and was canceled after just three episodes.
Two years later, Heard opened up about the unenviable position she'd found herself in at the time by constantly facing questions about the backlash during interviews. "I became the show's default, unintentional spokesperson, which I wasn't capable of doing," the actor told Bullit magazine (via Express). "I wasn't the show's creator. I was stuck in front of the press and left to defend 'The Playboy Club' when, in fact, I can't stand for the integrity of the show. I wasn't in control of it by any means."
Amber Heard was charged with international dog smuggling
Four years after Amber Heard met Johnny Depp on the set of 2011's "The Rum Diary," the pair wed … but controversy ensued just a few months later. According to BBC News, the newlyweds flew to Australia in May 2015, but neglected to declare their two Yorkshire terriers, Pistol and Boo, to customs officials. Australia maintains strict quarantines over the importation of animals, and the country's agriculture minister, Barnaby Joyce, was simply not having it.
Joyce set an ultimatum, The Guardian reported: The dogs were to be sent back to the United States within 72 hours or they would be euthanized, declaring, "It's time that Pistol and Boo buggered off back to the United States." Just before the deadline expired, the pets were shipped stateside, and lived to wag another day.
But while Depp did not face repercussions from the incident, Heard did. According to CNN, she was hit with two charges of illegal import of animals and one charge of knowingly producing a false or misleading document. The following year, Heard pled guilty to the charges related to the false document, per USA Today, while the other charges were dropped.
Amber Heard's shocking allegations against Johnny Depp
Dog smuggling was far from the only scandal to emerge from the short-lived marriage of Johnny Depp and Amber Heard, which proved to be as tumultuous as it was brief.
According to E! News' timeline of their relationship, the couple — who were 22 years apart in age — split up in May 2016, with their acrimonious divorce being finalized that December. But days after filing for divorce, Heard sought a restraining order against Depp, alleging that she had been the victim of domestic violence. Appearing in court at the time, Heard claimed (via Variety), "I endured excessive emotional, verbal and physical abuse from Johnny [throughout the marriage]." Meanwhile, photos of her bruised face emerged, and Depp denied the allegations.
In December 2018, Heard penned an op-ed for The Washington Post, detailing her alleged experiences as a victim of domestic abuse, but never explicitly mentioned Depp by name. Her ex-husband later filed a $50 million lawsuit in response, leading Heard to file a motion to dismiss the case, in which she claimed she was shoved, choked, and hit by the "Pirates of the Caribbean" star during various alleged incidents. Alleging that Depp would undergo a Jekyll-and-Hyde personality shift and "become a totally different person," she added, "We called that version of Johnny, 'the Monster.'"
Johnny Depp fought back with a defamation suit and his own allegations
Johnny Depp has continually denied all allegations of domestic violence lodged against him by Amber Heard. As mentioned, he filed a defamation lawsuit against his ex, seeking a staggering $50 million in damages, in March 2019, in which he described Heard's op-ed in The Washington Post as part of her "elaborate hoax" (via E! News).
While Depp was not identified in the piece, the legal docs contended it "[depended] on the central premise that Ms. Heard was a domestic abuse victim and that Mr. Depp perpetrated domestic violence against her." Stating that Heard's motivation was to positively "advance her career," Depp claimed, "She hit, punched and kicked me. She also repeatedly and frequently threw objects into my body and head." The lawsuit also claimed Heard's allegations had been "conclusively refuted by two separate responding police officers, a litany of neutral third-party witnesses, and 87 newly obtained surveillance camera videos." In 2020, a 2015 audio recording was leaked through the Daily Mail that revealed Heard allegedly telling Depp, "I f***ing was hitting you … I did not punch you, I was hitting you." That March, Heard's motion to dismiss Depp's lawsuit was denied, and the case remains ongoing as of this writing.
Amid these conflicting accusations, fans siding with Depp have demanded Heard be removed from her role as Queen Mera in "Aquaman 2" through a Change.org petition with over 405,000 signatures. However, she's since remained attached to the flick.
Amber Heard donated her divorce settlement to charity
After Johnny Depp and Amber Heard finalized their divorce in late 2016, the actor received a reported $6.8 million in the settlement. At the time, the former couple issued a joint statement to TMZ. "Our relationship was intensely passionate and at times volatile, but always bound by love. Neither party has made false accusations for financial gains," the statement read in part, before announcing that Heard would "[donate] financial proceeds from the divorce to a charity."
While the announcement about her planned donation was met with skepticism, she made good on that pledge. According to the Children's Hospital Los Angeles roster of donors for 2018, Heard is listed in the "honor roll" of donors who contributed between $1 million and $5 million. The remainder of the nearly $7 million was reportedly divvied up to various charities focused on ending domestic violence, as well as the American Civil Liberties Union.
"My philanthropic efforts have always been centered around medical care, especially with women and children," Heard later told People. "Medical care always struck me as a basic human right and necessity. I have been doing this type of work for the last 14 years with children's hospitals and bringing, hopefully, laughs and alleviation and distraction to kids that are severely ill." After the dust had settled and the divorce was finalized, Heard had a reported $9 million to her name.
Amber Heard was arrested for alleged domestic violence
Long before her accusations against ex-husband Johnny Depp (and his own against her), Amber Heard had an earlier experience with domestic violence. In that previous incident, however, she was the alleged perpetrator, not the victim.
According to a 2016 report from USA Today, Heard was previously arrested in September 2009, when the actor and her then-girlfriend, artist Tasya van Ree, had a spat at the Seattle-Tacoma International Airport. Things supposedly became physical when Heard "allegedly grabbed and struck van Ree's arm," and was subsequently "arrested for misdemeanor assault in the fourth degree/domestic violence." However, prosecutors decided not to press charges when she appeared in court the following day.
When the story resurfaced seven years later, van Ree released a statement in defense of her famous ex, claiming Heard had been "wrongfully" accused when the officers who made the arrest "misinterpreted and over-sensationalized" their quarrel. She also alleged that the former couple experienced the arresting officers' "misogynistic attitudes toward us which later appeared to be homophobic when they found out we were domestic partners and not just 'friends.'" Van Ree continued, "It's disheartening that Amber's integrity and story are being questioned yet again. … We shared 5 wonderful years together and remain close to this day."
Amber Heard's short-lived rebound with Elon Musk
In the summer of 2016, shortly after her messy separation from Johnny Depp, reports emerged that Amber Heard was getting cozy with billionaire Tesla founder Elon Musk. While a source initially told People the two were just friends, they were subsequently spotted spending a lot of time together. Finally, in April 2017, they made their first public appearance as a couple, with Heard seemingly confirming the romance rumors by posting a photo of herself and Musk on Instagram. Heard, wearing bright red lipstick, had her arm on Musk's shoulder in the pic, with his head turned to the side to display a lipstick kiss on his cheek. "Cheeky," she simply wrote in the caption.
By August of that year, however, Us Weekly reported that they'd split up. According to a source cited by the magazine, the breakup was simply a matter of bad timing, with Musk "super busy" and Heard filming "Aquaman" in Australia. Both Musk and Heard subsequently confirmed they'd split — but then apparently got back together again after ringing in the New Year together in Chile.
By February 2018, however, People reported that they'd mutually decided to split up again, this time for good. "They both still care deeply for each other," an insider explained to the publication, "but the timing wasn't right."
Amber Heard doesn't want to label her sexuality
Amber Heard has been in romantic relationships with men and women throughout her life, but admitted she wasn't ready for the shockwaves and headlines that hit when she casually opened up about her sexuality with "After Ellen" at the 2010 GLAAD Awards. Years later, she recalled to reporters at The Economist's second annual Pride & Prejudice event (via E! News), "I just answered honestly. I could tell by the look on this person's face it was a big deal. My poor publicist. Then I realized the gravity of what I had done and why so many people — studio execs, agents, advisors — did not want this coming before my name."
However, Heard bristled at being labeled as bisexual. "I don't identify as anything," she explained in an interview with Allure in 2017. "I'm a person. I like who I like."
That said, she went on to reveal how she was cautioned that going public about her sexual fluidity would cause her career to nosedive: "Everyone said, 'You're throwing it all away. You can't do this to your career.' And I said, 'I cannot do this any other way. Watch me.'" The way Heard saw it, "I didn't come out. I was never in."
The X-rated prank she played on co-star Liam Hemsworth
When Amber Heard co-starred with Liam Hemsworth in the 2013 thriller "Paranoia," she decided to have a little fun while the two were filming a sex scene.
According to E! News, Heard described the practical joke she pulled on the "Hunger Games" star while speaking with reporters at the film's premiere. "It's not a little prank," she teased. "It was a big prank." As Heard explained, the scene called for Hemsworth to reach for her arm; what he ended up grabbing, however, was a ridiculously massive sex toy that Heard had borrowed from the prop department. She clued in the movie's director of her plans, telling him that once he got the shots he needed, she would ask for one more take. At that point, she'd covertly position the fake phallus where her arm had been.
Of course, Heard's prank worked like clockwork. "It was about that big, a black one," Hemsworth told reporters at the premiere, describing its size as about two feet in length. "And I pulled it out, and everyone was in on it … except me, yeah."
Amber Heard is tattooed with poetry
Move over, Post Malone — you're not the only star with an impressive set of ink. When Amber Heard made a 2015 appearance on "The Tonight Show Starring Jimmy Fallon," the titular host displayed her cover of Elle magazine, which prominently featured her body tattoos. "I couldn't help but staring at your tats," Fallon joked, before asking her about two sentences — one in red, one in blue — tattooed on the left side of her torso in foreign languages. "What do they say?"
"They're both poetry," Heard explained, revealing the one on the top is a Spanish verse from Chilean poet Pablo Neruda. The other one, she revealed, is a verse from 11th-century Persian poet Omar Khayyam. "It's in Farsi," she said, adding, "It's really beautiful, it's poetry — at least I think." Heard continued: "It was not the kind of tattoo you get after a wild night out, drinking. It's not a drunk tat."
According to analysis of the ink by Body Art Guru, the Neruda verse is translated as, "I love you as certain dark things are to be loved, in secret, between the shadow and the soul," while the Farsi translates to: "Since the fate of the world is non-existence, since you exist, be merry."
Amber Heard's net worth
Amber Heard has made an impressive income over the years, even if she may have had a hard time saving it. Celebrity Net Worth reports that, as of 2022, "The Stand" actor is worth $8 million, which isn't hard to believe since, per her IMDb, she's found steady acting work since 2004. According to court documents, via Celebrity Net Worth, by 2014, Heard had earned $250,000 from her career, with $27,000 being from royalties. Yet she apparently wasn't great at managing her money at the time, as those same court documents showed she spent $210,000 and was only left with $40,000 for that year.
Because of that, Heard had initially asked for $50,000 a month in spousal support from her ex-husband, Johnny Depp. When doing so, she shared her expenses of about $10,000 in rent, another $10,000 for pet supplies, and $2,000 a month for dining out. E! News reported that Heard eventually withdrew her request, reportedly to avoid the appearance that the divorce was about money.
Not much is known about Heard's other luxury purchases, aside from her previously mentioned collection of classic cars. In terms of real estate, Heard appears to have a home in Los Angeles, per the Daily Mail, but a quick scroll through her Instagram shows her seemingly spending a lot of her time, and probably money, traveling for work and play. Heard once explained to Shape, "I'm not in one place any longer than the next these days."
Amber Heard is a single mother
In April 2021, Amber Heard became a mother, welcoming daughter Oonagh Paige via a surrogate. The "Her Smell" star announced the birth on Instagram and addressed her choice to be a single mom. In the caption of a photo of her holding her baby, Heard wrote, in part, "I decided I wanted to have a child. I wanted to do it on my own terms." She added, "I hope we arrive at a point in which it's normalized to not want a ring in order to have a crib."
It seems Heard is happier than ever these days, thanks to her "mini me." Not only did she gush that, "The six best months of my life [were] the first six months of hers," but on Oonagh's first birthday, Heard shared, in part, "I still can't believe you're here. The greatest year." She's shared other glimpses into her life with Oonagh as well. In a photo of them in front of a computer, Heard joked in the caption, "I'm just the mom and the dad. She's the boss." She's also posted about being a "multitasking mama" when working out and apparently even when juicing.
Heard seemingly named her daughter after her beloved late mother, Paige Heard, whom she lost in May 2020. Heard had described her mom as "a beautiful, gentle soul" and "the most beautiful woman I had ever known." As for Oonagh, according to The Bump, the Scottish name sweetly means "lamb."
Johnny Depp's ex dated someone behind-the-scenes
Despite her usually high-profile love life, Amber Heard had a brief relationship with someone behind-the-scenes of Hollywood during the COVID-19 pandemic. According to the Daily Mail, the "Aquaman" star was first linked to cinematographer Bianca Butti in January 2020, after they were spotted kissing in Palm Springs and then strolling arm-in-arm in San Diego. Days later, they apparently even attended the Women's March together. A source told Us Weekly they had started out as friends before it turned romantic. "Amber and Bianca are dating and hooking up. Amber is not trying to be low-key about it," they dished.
Two months later, Heard suggested that she was quarantining with Butti. She posted a video seemingly taken by the cinematographer in her yard, and mentioned social distancing in the caption. People reported that the former couple was even often spotted side-by-side at grocery and flower stores, making it clear they were a full on quarantine couple.
The exes were also together for major life moments, since during their romance, Heard became a mother. Butti was also battling breast cancer again at the time, sharing on her GoFundMe page, via People, "I was beyond devastated. A new tumor appeared in my right breast, almost 3 years since I was declared 'cancer free.'" Despite their shared experiences, by December 2021, the couple had split. Like a lot of celebrities, The Mirror reported it was due to their busy schedules with filming keeping them apart.
Amber Heard's former assistant accused her of abuse
If you ask one of Amber Heard's former assistants, the "Justice League" actor may not treat others well. In fact, Kate James, a woman who worked as Heard's personal assistant from 2012 to 2015, testified at Johnny Depp's 2022 defamation trial that Heard was actually quite abusive, according to the Daily Mail. James gave the court an example by recollecting a time when she didn't do what Heard had asked. She alleged, "[Heard] went absolutely ballistic. Screaming, yelling, abuse … blind rage." James also claimed Heard would call her in the middle of the night to incoherently yell and would often send her offensive text messages.
James also revealed that Heard paid her abysmally, at half her usual rate. "She … put her face four inches from my face, telling me how dare I ask the salary I was asking for. She felt that gave her the right to spit in my face," James detailed.
Yet it wasn't just her former employee whom Heard was accused of abusing. USA Today reported that James claimed, "Her poor sister was treated like a dog that you kicked, basically." That wasn't the first time Heard was accused of mistreating her sister, Whitney Henriquez, either. Per Variety, in 2020, Depp's lawyers exposed footage of Henriquez suggesting to friends that Heard had beat her up. Henriquez later denied the claims, but regardless, all the allegations from James will probably be damaging to Heard's reputation.
Amber Heard values activism over fame
Although she's a movie star, Amber Heard apparently has no interest in being famous. The "Gully" actor told Flare Magazine, via Female First, "I want to be an artist. I don't want to be a celebrity." Heard acknowledged that — while there's interest in her personal life — she doesn't face nearly as much scrutiny as other celebrities. "Can you ever imagine yourself in a situation like Brad Pitt and Angelina Jolie … where the world feels like they have a stake in your private life? I would never want it," she dished.
It appears Heard would rather use her platform to help others. She explained to Mashable, "For me … it's not good enough just to be an actor. It's not good enough to just change my life. … I really want to see the world a little bit better." And Heard appears to be doing just that. She's working with the United Nations Human Rights Office and Amnesty International, traveled to the Mexican border to give aid — as well as to Jordan to visit Syrian refugees — and spends her time volunteering at children's hospitals and with organizations like Planned Parenthood.
"It's so important to me to help others. I focus on human rights. … There's a lot to do, and a lot that can be done," Heard told Shape. "I want to use my platform to speak up on behalf of those people who don't have the ability to do so for themselves," she said.
The Aquaman star trains hard
From the looks of her Instagram, it seems that working out is a major part of Amber Heard's life, especially when she's preparing for a movie role. When it came to getting ready for her action scenes in 2018's "Aquaman" in particular, Heard told Shape, "I did six months of rigorous training." She added, "It was a lot of weight and strength training, as well as special martial arts training. … I was working out for five hours a day."
It appears her training for the upcoming sequel hasn't been much easier, and Heard often shares her workouts with her fans on social media. Whether it's through cardio, yoga, or the different moves she does to get those tight abs, Heard shows that she definitely goes hard. She's also showed off her martial arts skills and what her home workouts as a single mom look like.
Additionally, Heard is refreshingly honest with how brutal training and dieting for a film can be. She's not only posted about being exhausted post-sweat session, but she's also joked about foods she's had to eliminate. In one video, she quipped, "I've gotten to the point in my life where I'm like, 'I can't even have a banana!? Banana!? It's a fruit!!" However, when she's not preparing for a film, Heard has a more casual approach to fitness. She told Shape, "I incorporate my workout into my life so that I enjoy it and it doesn't feel like an obligation."