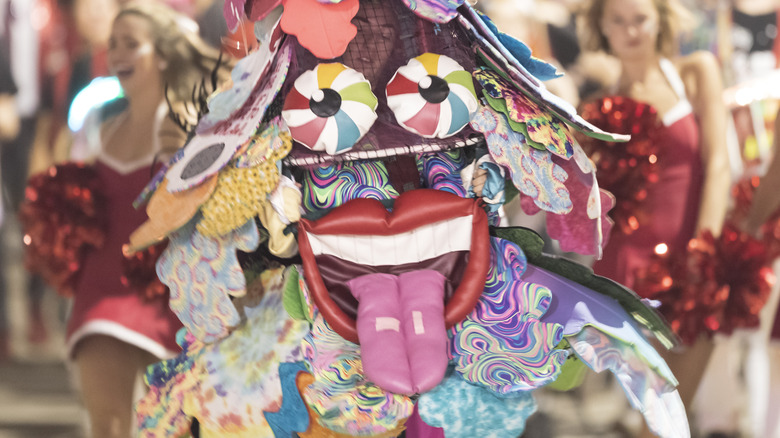 College life, or the time spent living on campus and doing the usual and traditional college things in the United States, is a unique experience, representing a crossroads between youth and adulthood. College campuses are almost entirely populated by people in their late teens and early twenties living away from home and beyond the influence of their parents for the first time — young adults who can cut loose, figure out their identity, and get goofy, just before the onset and onslaught of adulthood makes them have to get serious.
This pervading vibe can make college a very weird place, particularly in the unifying experience of sports. Students may show pride for their team by attending games with their bodies painted team colors, engaging in strange old game day rituals, and wildly celebrating wins and rioting after losses. And through it all, they're cheered on by their mascot, a fellow student wearing a colorful costume that's the living embodiment of the team's nickname. Generally, these are imposing things, like Tigers, Lions, or Bears. And sometimes, they're as silly as college itself can be. Here are the worst — by which we mean the funniest, strangest, and most baffling — college mascots in America.
Western Kentucky University's mascot is a big and red thing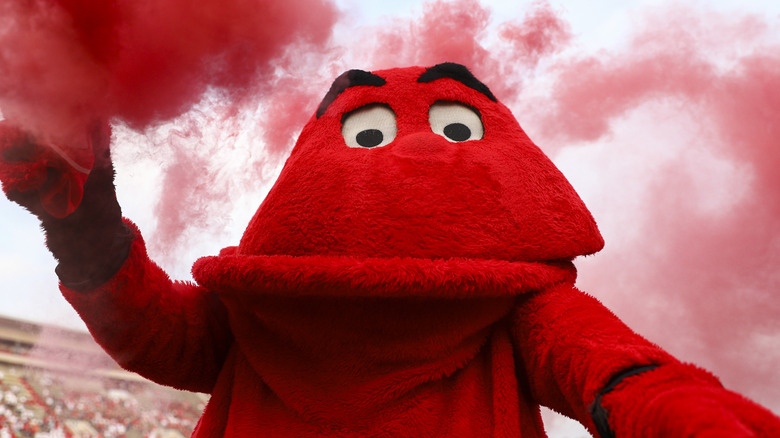 Based in Bowling Green, Kentucky, Western Kentucky University competes in many intercollegiate athletics under the names the Hilltoppers (for men) and the Lady Toppers (for women). But its mascot isn't a brave, hill-scaling mountaineer, or anything like that. Western Kentucky University's mascot isn't like anything, really, except maybe a Muppet or two. Its name is Big Red, and that's both an apt and vague name — the thing is indeed large, and crimson-colored, but that's about all that's clear about the mascot character. Even the university itself doesn't seem to have a clue. "Big Red can be best described as the Spirit of Western!" the school's traditions page touts.
During the fall semester of 1979, WKU student Ralph Carey created and built the original Big Red suit for use at men's basketball games. Over time, he developed crowd-pleasing dance moves like the "belly slide" and the "belly shake," as the character suit features a noticeably round and protruding stomach. Other than that, its most notable traits are a big head that hinges in the middle, like Kermit the Frog, and tremendously bushy eyebrows.
Artie the Artichoke reps hard for Scottsdale Community College
If a mascot is supposed to intimidate opponents and/or get fans on its own team's side fired up, it stands to reason that a vegetable won't get the job done, particularly one as polarizing and prohibitive as the artichoke, with its hearts dug out and used as a pizza topping or an entry on an antipasti platter, or its leaves individually torn off and dipped in butter. Not many schools have a vegetable, let alone an artichoke, at the center of its mascot lore, but then they don't have the history of Arizona's Scottsdale Community College.
In the early 1970s, the campus of SCC was rocked by ideological clashes between students and the administration. Intending to embarrass the institution and call attention to what it saw as unwise budget decisions, the student body officially installed Artie the Artichoke as the SCC mascot. Over the years, the controversy surrounding his creation softened, and now Artie is as beloved by students and staff as any other college's mascot.
Hats off to Puckman of the Rensselaer Polytechnic Institute
According to the Rensselaer Polytechnic Institute, a technology-focused research university established in Troy, New York, in the 1820s, the school's 23 sports teams, including the men's hockey team, officially compete under the name the Engineers. While RPI's squads have employed various live mascots over the years, including a horse named Otis who'd show up during football games in the 1940s, the hockey team has its own costumed character: Puckman. Debuting in printed college materials in the 1970s and as a costumed mascot in 1998, Puckman is literally that: a puck man, or that primary piece of hockey equipment rendered human-sized, and able to walk around. Unlike other non-human or even non-living college and pro sports team mascots, Puckman hasn't been completely anthropomorphized. He's got legs, but no arms, and no eyes, nose, or smiling mouth. He's literally just a giant hockey puck with "RPI" written on its front, and he wears a hard hat in the school's official shade of red up on top, which is notably not a hockey helmet.
Rhode Island School of Design's mascot is anatomically correct and a big joke
The Rhode Island School of Design is an art school, which means its students are almost guaranteed to get extra creative when it comes to naming the institution's few sports teams and its mascots. According to Mel Magazine, the fencing team is the Pricks, and the basketball team bears the extremely tongue-in-cheek and double entendre moniker of Balls. (The cheerleaders, because they offer support to the Balls, are known as the Jockstraps.) Taking a cue from the Balls, the hockey team calls itself the Nads, adopting the name in 1961 so fans in the stands could shout "Go Nads!" — as in gonads, yet another name for the human testicles.
Despite the allure of the chant, attendance at hockey games fell off in the 1990s, and in 2001, team captain Brian Chesky (who would later co-create Airbnb) helped create and adopt a team mascot. Taking the whole male-genitalia concept to an absurd and literal height, the mascot for the Nads is Scrotie, an anthropomorphized warrior who is also the complete package of penis and testicles, rendered very realistically. (Scrotie is a play on "scrotum.")
Of course SUNY's forestry school would have an acorn for a mascot
The State University of New York, or SUNY, is a vast network of 64 schools, colleges, and research institutions, some of which get pretty specific in their mission — particularly SUNY ESF, or the College of Environmental Science and Forestry, which claims to be the United States' oldest and most respected school for environmental studies. Any study of that subject is necessarily going to involve trees, and SUNY ESF's mascot goes all in on that concept. According to The Daily Orange, a grand old Robin Hood Oak tree grows on and looms over the campus of SUNY ESF. In deference to this iconic part of school lore and campus life, the institution adopted the name Mighty Oaks for its athletic teams in 2009. A year later, realizing they needed some kind of creature-type mascot to attend games and get crowds excited, SUNY ESF devised and unveiled Oakie the Acorn, a personified version of the compact little nuts produced by oak trees. Oakie, a huge acorn with arms, legs, and a naturally occurring cap, wears a permanent, toothy grin.
Syracuse University's Otto is both kinds of orange
"Orange" is a word with two primary meanings, and they're often interchangeable. It refers to a common color as well as to the citrus fruit that inspired the color's name. This linguistic flexibility benefited Syracuse University, where the sports teams play under the name the Orange. Per its website, the school was founded in New York State in 1870, and that athletic name is quite old-fashioned. Adopted in 1890, according to the school's traditions page, the Orange is akin to the Cincinnati Reds or the Cleveland Browns — a name that's also a color, and Syracuse's one and only official color at that.
So when the time came to represent the Orange as a mascot that could appear at sports events as a costumed creature, it was a quick mental jump for Syracuse's organizers to come up with an orange Orange orange. Syracuse's chief rallying agent is a character named Otto the Orange, and he's a big, fuzzy orange Orange, decked out in a blue baseball cap bearing a big orange "S" for Syracuse.
Get eutectic with Morty McPestle of the St. Louis College of Pharmacy
As it's a school that focuses on the specific scientific discipline of medicinal creation and dosing, it makes sense that the St. Louis College of Pharmacy (SLCOP) would choose a mascot that reflects its deep reliance on chemistry. How that idea was executed is complicated and amusing. The 6-foot-tall, furry, yellow creature who wears a lab coat like one a pharmacist would is the Eutectic, and according to ESPN, that's also the name of the chemical process by which solids combine to form a liquid. Adopted as the SLCOP's official athletics mascot in 1993, the character developed into a mythical creature because it was nearly impossible to render a chemical reaction as a sentient being. That's why he just looks like a friendly cartoon monster in a white lab coat.
"It has no connection at all to what eutectic actually means," SLCOP student and one-time mascot costume wearer Tyler Edwards said. "Most people pretty much embrace the weirdness of it and love it." The Eutectic mascot even has a full name. Slyly named after the ancient pharmaceutical mixing tools of the mortal and pestle, he's known as Mortarmer "Morty" McPestle.
Don't clam up for the Evergreen State College's Speedy the Geoduck
The Evergreen State College, founded in Olympia, Washington, in the countercultural-dominant era of the late 1960s, proudly boasts a contrarian streak. The school doesn't issue letter grades, but rather written evaluations, and encourages students to design their own academic major. To that end, the school's mascot is the geoduck — specifically, a character named Speedy the Geoduck. Found commonly in Puget Sound near Olympia's campus, the geoduck (pronounced "gooey-duck") is the largest burrowing clam in the world, its name deriving from a Lushootseed word that means "dig deep" (per the school's website). The clam, a two-pounder that just so happens to strike a phallic image, sticks its siphons down as much as 3 feet into the sand. Once they're down there, they stay put, making the nickname "Speedy" particularly funny and ironic.
According to the college, Speedy, and the geoduck itself, represent the school's inherent and self-proclaimed revolutionary values. The geoduck is reportedly vulnerable and not at all aggressive, and thus "the opposite of big sports obsession at traditional college," as the college explains. Speedy, a student in a costume that features Muppet-like bug eyes, a green shell, and gloves, can often be spotted goofing off at Evergreen's very casual club sporting events.
UC Santa Cruz's mascot is the silly, slimy Sammy the Slug
According to The Evergreen State College, only two college mascots in the United States are non-insect invertebrates: Evergreen's Geoduck, and the Banana Slug that represents the University of California's school in Santa Cruz.
Per UC Santa Cruz, the slimy creature came to be the campus poster animal in 1980. The university joined the NCAA's Division III to allow five sports to compete with other schools in low-stakes, intramural play. The NCAA application asked for a team name, and UC Santa Cruz's chancellor, Robert Sinsheimer, suggested Sea Lions, beating out the heavily favored pick of students, the Banana Slugs. Even after the Sea Lions was chosen, and an image of those doughy ocean creatures painted on the floor of the basketball court, students insisted that their team was the Banana Slugs, and after a campus vote in 1986, that animal became the official team mascot. A costumed character runs around UC Santa Cruz sports and campus events: a figure named Sammy, who is much speedier, more buoyant, and larger than a real banana slug.
Kaboom! really blew up for Bradley University
While gargoyles often appear as monstrous, toothy, pointy-eared, troll-like dragons perched atop old, tall buildings, they're actually just a decorative and creative way to keep rainwater from damaging exterior walls. Before contemporary gutter systems were developed, gargoyles were used to reroute rain, preventing it from running right down a building's stone walls and causing erosion, according to Wonderopolis.
An architectural feature that helpfully stops water erosion from ruining a structure, rendered as a silent, immovable beast, doesn't evoke the usual qualities of a mascot: fierce and active. And yet there exists Kaboom!, the explosively named mascot for Bradley University. When the Illinois institution started building its campus in 1897, founder Lydia Moss Bradley hired collegiate architect Henry Ives Cobb, who employed the gothic style, which uses a lot of gargoyles. They became a distinctive part of Bradley, leading to their adoption as a mascot for its Bradley Braves sports teams. The stationary creature got its name, Kaboom!, from basketball announcer Dave Snell, who emphasized big moments in the school's basketball games with that exclamation.
At Stanford, the mascot is the wildest tree of all time
Ranked #3 in U.S. News and World Report's best colleges in the country, Stanford University is as confusing and obtuse with its sports iconography as it is prestigious. The official team name is the Stanford Cardinal — singular, not plural like that of the NFL's Arizona Cardinals or Major League Baseball's St. Louis Cardinals. Nor does the nickname refer to the bird — it's just a particular shade of red, used in college business and on the uniforms of its athletic teams.
Rather than just have something red serve as its athletics mascot, however, Stanford came up with something else. The traditionally brainy institution devised a character to make fun of the whole notion of collegiate athletic mascots: a tree. According to Stanford, its Stanford Tree character came into existence in 1975 as a joke by the college's marching band. The costumes worn by students playing the Stanford Tree change every few years, with silliness and outlandishness encouraged to make them as colorful, artistic, and out-there as possible.
Georgia Tech University's mascot is a very old car
The Georgia Institute of Technology, more commonly known as Georgia Tech, is a major research and study institution in the fields of science and machinery. And while its official team name is the Yellow Jackets, the Georgia Tech mascot is the Ramblin' Reck — a non-living, mechanical example of the kind of ingenuity they display at the university, albeit a misspelled one. The Ramblin' Reck is a very old car. Since 1961, according to the Georgia Tech traditions page, a 1930 Ford Model A Sport Coupe, flanked by cheerleaders, has preceded the school's football team onto the field for home games.
The original Ramblin' Reck (which rhymes nicely with "Georgia Tech") was a 1914 Model T from the personal collection of a Georgia Tech dean, Professor Floyd Field. Floyd had driven the car regularly and been hard on it, and students working in a campus auto body shop restored it in 1926, leading to a series of cars that also took part in races and parades.
All aboard the Boilermaker Special at Purdue University
Purdue University's official team name is the Boilermakers, which, according to the International Brotherhood of Boilermakers, are tradespeople who work in the forging of metal, such as ship builders, blacksmiths, and railroad workers. The school acquired the nickname in the late 19th century, following an 1891 blowout of rival Wabash College's football team by a score of 44 to 0. "Wabash Snowed Completely Under by the Burly Boiler Makers from Purdue," a reporter wrote at the time, nodding to Purdue's many blacksmiths-in-training. By the time the 1892 football season began, the name "Boilermakers" had caught on.
Since metal forgers help make trains, the Boilermakers adopted a train as their mascot in 1939 after a student suggested it, according to The Purdue Reamer Club. The Boilermaker Special, currently in its seventh incarnation, is used for away games, while a smaller version, known as the Boilermaker Xtra Special, leads Purdue's football team onto the field for home games.