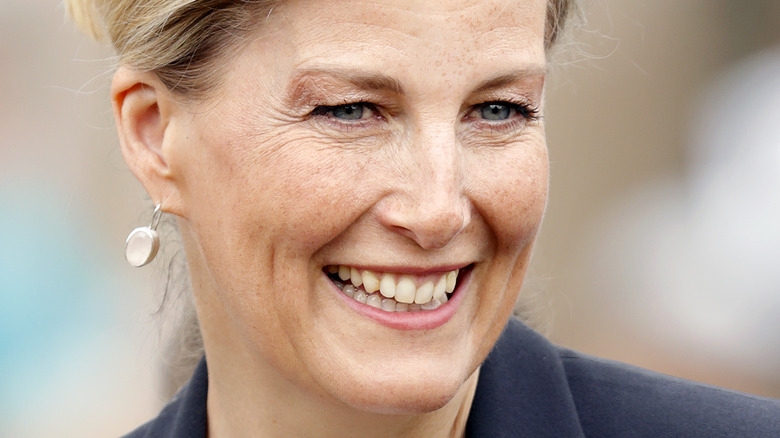 Queen Elizabeth II's youngest child Prince Edward, Earl of Wessex, is arguably one of the more low-key members of the British royal family. Per the royal family's official website, Edward is 13th in line to the throne. In the late '90s, he married to Sophie Rhys-Jones, now known as the Countess of Wessex, with whom he shares two children, daughter Lady Louise and son James, Viscount Severn.
Much like Catherine, Princess of Wales, and Meghan Markle, the Duchess of Sussex, Sophie was born a commoner. The countess was born in Oxford, England in 1965. She would go on to meet the queen and Prince Philip's youngest son, Prince Edward, in 1993 while attending an event. Six years later, the Earl of Wessex proposed to Sophie, and the couple wed shortly thereafter (via Showbiz Cheat Sheet).
But what else is there to know about his wife the Countess of Wessex, and what is her role within the royal family?
She's a PR expert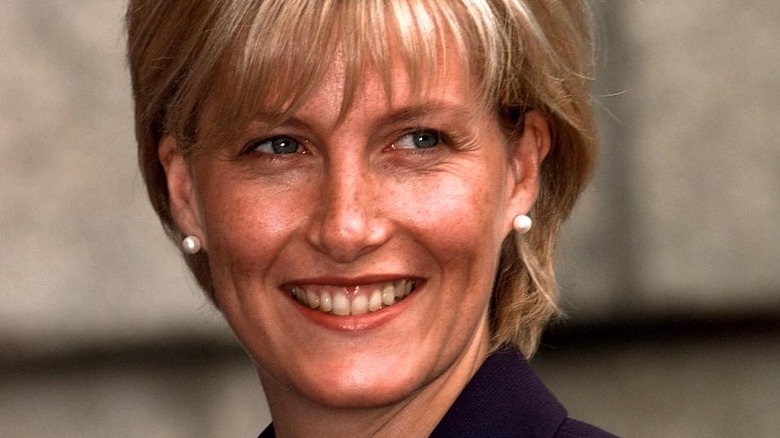 After her formal education, the Countess of Wessex, then known as Sophie Rhys-Jones, began her career working for a variety of PR firms. WalesOnline reports she launched her own PR firm, RJH, with her business partner Murray Harkin, in 1996. She maintained her career even after she married Prince Edward in 1999. However, in 2001, several taped conversations between Sophie, her partner Harkin, and a potential client were leaked by the News of the World (via The Guardian).
While the Countess of Wessex was roundly condemned for revealing what she thought about politics (a royal family no-no) and some of the royal family, it was her partner's unsavory conversation and promises that caused the partnership to end. In consultation with the queen, Sophie announced her intention to take on a more full-time role with the royal family, according to The Washington Post.
Prince Edward also suffered some career embarrassments around the same time, according to Vanity Fair, so the Earl and Countess of Wessex retreated together into their royal roles.
Her wedding was low-key for a royal
As far as royal weddings go, the marriage of Prince Edward and Sophie, the Countess of Wessex, was relatively low-key. They were wed in June 1999 at St. George's Chapel in Windsor. Though this is the same chapel where Prince Harry married Meghan, the Duchess of Sussex, there was none of the ceremonial pomp attached to the day.
As Tatler reported, there were no official state ceremonial or military activities as part of the festivities. The bride's gown appeared simple and elegant — much less fluffy than the other recent royal brides. In truth, though, her Samantha Keswick creation was silk organza ornamented with 325,000 crystals and pearls. The designer told Tatler that the fabric was dyed to match exactly the color of the stone steps of St. George's chapel.
And while the wedding was a decidedly less lavish affair than those of heirs closer to the throne, the number of television viewers was a staggering 200 million.
She chose not to be a duchess
Traditionally, when a royal prince marries, he and his bride are given a duchy and the titles that come with it. When Prince Andrew married Sarah Ferguson, she became the Duchess of York. Prince William and his bride became the Duke and Duchess of Cambridge, and Prince Harry and Meghan Markle became the Duke and Duchess of Sussex. However, when Prince Edward married his wife, Sophie, the two chose to become Earl and Countess of Wessex.
According to Express, Prince Edward reportedly liked the character of Lord Wessex in the film "Shakespeare in Love" and requested that name instead of an existing title. No Wessex property goes with the title, but the queen later named them the Earl and Countess of Forfar in Scotland, as well. Fox News says it was generally expected that Prince Edward would be given his father's title of Duke of Edinburgh when Prince Philip died, but with King Charles III's efforts to streamline the monarchy, that may not come to pass.
According to People, the couple realize that they and their children would not be major members of the royal family and would need to work for a living. Edward and Sophie's children did not receive HRH titles and are not known as "princess" or "prince." However, they may choose to exercise their right to the title when they turn 18, as dictated by the 1917 Letters Patent.
Her patronages are personal and sincere
When the couple's first daughter, Louise, was born, she was a month premature and was in a neo-natal unit after a traumatic delivery. Lady Louise developed an eye condition called esotropia, which was later corrected by surgery. Because of these two events early in her experience as a mother, the Countess of Wessex has chosen to offer her patronage to organizations that support maternal and baby nutrition and care. When visiting a hospital in India, she connected with the mothers who'd recently delivered premature children. "She spoke very openly about her own experience as a mother of a premature child," one of the countess' staff told People. "She understood why some women were quite traumatized by the experience. That connection was very beautiful."
Sophie has also worked tirelessly in support of World Sight Day to help fight trachoma. In October 2022, she appeared in Malawi to celebrate the announcement of a cure for trachoma, a disease that caused blindness. In 2019, she joined in International Women's Day to announce her commitment to champion women who have suffered from conflict-related sexual violence. As she is quoted on the royal family's website, "It's our duty to continue to do all we can to break down barriers, encourage society to embrace those who innocently fell victim to others brutality and create an understanding environment … to give people the confidence … to come forward and seek support."
Sophie's friend Mark Foster-Brown told the Evening Standard, "She is really good at helping people out and being empathetic and saying the right thing. She has a particular talent for hitting the right note and letting people feel that she really does care."
She's sporty and spry
Sophie, Countess of Wessex, doesn't just show up to make appearances in support of her charities. No, she puts in the legwork, too. In 2016, for example, she cycled 445 miles from Holyroodhouse to Buckingham Palace to raise money and awareness for The Duke of Edinburgh's Award. She blogged her cycling experiences and waxed rhapsodic about the scenery.
The countess was ready for such a challenge because she's generally considered athletic and a lover of sports. She met her future husband while playing tennis in 1993 (although the two didn't date until several years later). Like many members of the royal family, she shares a love of skiing and horses. She also shares a passion for parasports, much like Catherine, Princess of Wales, and the two work hard to bring attention to events and tournaments that disabled competitors can take part in, according to Hello! magazine.
Sophie had a great relationship with the queen
Though her relationship with the royals got off to an embarrassing start after the scandal of 2001, it was ultimately Buckingham Palace who came to the Countess of Wessex's aid and protected her in the press, according to The Washington Post. Over the years, Sophie developed a stronger relationship with Queen Elizabeth II and Prince Philip. The countess lost her own mother to cancer in 2005 and took to calling the queen "mama," People reported. Biographer Ingrid Seward wrote in her book, "Prince Philip Revealed: A Man of His Century," "She got on very well with Philip. She knew how to handle him. … She made him laugh, and was not fazed by his abruptness."
After his death, Sophie told the BBC that grieving his death would take a long time. "It's only when you would do the normal things that you would have done with them, and you suddenly realise that they are not there, that you really start to have an 'oh my goodness' moment.
Following the death of Prince Philip, Sophie grew even closer to the queen. The Evening Standard reported she was often the royal chosen to take his place next to the queen because she found Sophie's presence reassuring. During lockdown, Sophie made it her habit to drive within waving distance of the queen at Windsor every few days. The two would also watch old movies and documentaries. A royal source told The Sun "If some particular event or battle caught their imagination, the Queen would sometimes arrange for the Royal Archives — kept at Windsor — to be opened so the two could pore over any relevant documents. Sophie is very keen on history, she's proud of her knowledge of military campaigns, and she and the Queen could chunter on for hours about whether this general or that admiral made the right move in some battle or other."
She stepped up as the royal family's rock after the queen's death
During the queen's funeral, Sophie, Countess of Wessex, was thrust into the national eye as the rock of the royal family. People reported she was seen putting her arm around several key members of the family, including handing her own husband a handkerchief during the service. She hugged Prince George after the funeral service and was seen embracing Catherine, Princess of Wales. She even comforted a few bishops who wept at the sight of the queen's casket. A guest who attended the funeral said of Sophie, "She really seemed to be the person keeping the family together."
Just because she was the family's pillar of strength didn't mean she didn't personally desire to honor the queen. The designer of her funeral dress, Suzannah London, revealed on Instagram that the panels of the Countess's coat dress were embroidered with lilies of the valley, the queen's favorite flowers. It also included flowers that had been in her wedding bouquet, a touching tribute to the late monarch's love for her husband. The countess herself was seen crying during the funeral, but it didn't stop her from providing comfort and guidance to the rest of the family.
She understands royal style
When she married into the monarchy, Sophie, Countess of Wessex, admitted to Express that she chafed against the obsession with fashion and style among the royals. Coming from a PR background, she'd taught herself to blend into the background. So how did this fashion wallflower learn to embrace designer-wear enough to be named among Vanity Fair's most fashionable in 2015?
"It's about my charities but I recognise that I'm on display," she told Express. I remember having a chat with somebody and them saying, 'You know you've got to recognise that this is part and parcel of what you're doing. When you walk into a room, yes people are going to talk about what you're doing there, but they're also going to want to know what you're wearing.' I sort of wrestled with that one for a little while and slightly caved in at the end of the day."
Sophie admitted that, over the years, she has learned what she likes and dislikes and has her go-to designers. She's a regular fan of Oscar de la Renta, Emilia Wickstead, and Jane Taylor for her haberdashery.
She plays peacemaker for the royals
Given her background in public relations, it's no surprise that the Countess of Wessex has stepped into smooth ruffled feathers within the royal family a time or two. Author Katie Nicholl claims in her book "The New Royals: Queen Elizabeth's Legacy and the Future of the Crown" that Sophie worked with Camilla, Queen Consort, to cool tempers when Prince Harry and Meghan announced their withdrawal to North America (via The Mirror). According to Nicholls, Camilla and Sophie focused on soothing Meghan's hurt feelings while Catherine, Princess of Wales, focused on the relationship between brothers Harry and William. Sophie was able to relate to Meghan as a fellow outsider who married into the family.
After the death of Queen Elizabeth II, this bond was obvious when Sophie shared a car with Meghan in the funeral procession from Buckingham Palace to Westminster. She soothed many emotional royals on that day, but it seemed that her very presence was what Meghan required the most. The Sun reported that this appeared to settle Meghan's nerves on the very public day. Given that the queen found similar comfort in the countess, this isn't too surprising.