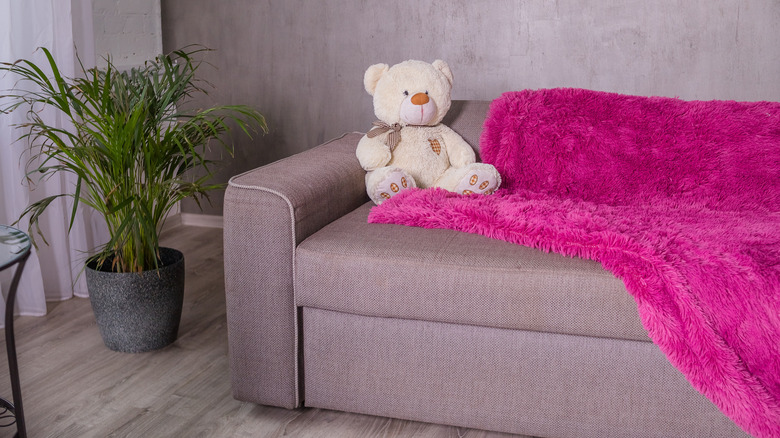 We may receive a commission on purchases made from links.
If you adore neutral and minimalistic designs, you probably think that the color fuchsia is too bold. It's true, fuchsia's vibrant appearance commands attention, and you probably wouldn't want to create a monochromatic space with just this hue (can you imagine?). However, there are plenty of ways to decorate with this eye-catching shade that won't feel overwhelming.
Originating from the vivid plant, fuchsia can either have purple or pink undertones, but generally, it's described as deep pink, per Decoist. This color is great for daring maximalists, as it will make a huge statement and pair well with other electrifying colors. However, even if you have a primarily neutral home, this accent shade could still be used to subtly enliven. While a risky choice, it will always work to brighten and invigorate.
Whether you're going for playful or sophisticated vibes, this vibrant tone could be added to your home. Below are 40 of the easiest ways to add fuchsia decorations to any room.
1. Start with the inspiration itself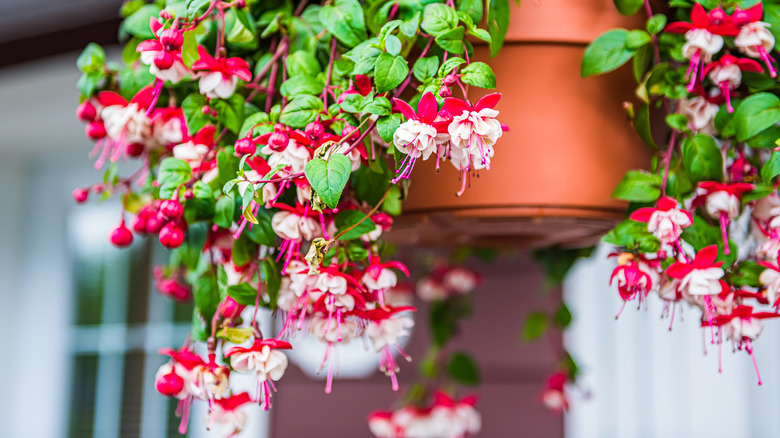 To embrace the origins of this alluring color, add a fuchsia plant to your front porch to brighten up the exterior of your home.
2. Incorporate faux florals
Or, if you want to bring the plant inside, use faux florals that display the flashy color. These could be placed in a vase, attached to the wall, or sprawled out on a countertop.
3. Include an accent chair
A fuchsia accent chair in your living room or bedroom could become the focal point of the space. As displayed in the above image, this showy shade pairs well with subtle pastel tones.
4. Energize the room with a neon sign
If you really want to amp up the flashy nature of this color, hang a neon sign on the wall. This could either be used as a focal point or combined with other pieces on a gallery wall.
5. Display bold curtains
To emphasize a gorgeous view, surround your windows with this captivating shade. To really make the window coverings stand out, choose to keep the walls a neutral tone.
6. Refresh a bedroom
Covering a bed with a fuchsia comforter would completely transform a bedroom. This is typically done in children's spaces but could also be added to an adult's room as well.
7. Lay down a rug
If you're really fearless, utilize a captivating area rug. Or, if you don't want the color to overpower the space, layer on additional rugs in more muted or neutral shades.
8. Make a statement with a tufted couch
No matter the color, tufted couches always have a glamorous appearance. If you chose one in fuchsia, the luxurious vibes would be amplified. This couch has more purple undertones than pink ones.
9. Use a bold loveseat
This bold loveseat with bright pink undertones from Home Depot would definitely draw attention. This piece could either be paired with a neutral couch in the living room or added to a cozy reading nook.
10. Place florals in a vibrant vase
If you're not completely sold on using fuchsia in your decorations, this small vase from Amazon could be an easy way to dip your toe in the water.
11. Illuminate the space with a lamp
To cast a warm glow over your space, choose a fuchsia lamp and shade, such as this one from Target.
12. Add abstract art to a gallery wall
If you have a maximalist gallery wall that displays many bold tones, enliven it even more with abstract fuchsia art, like this piece from Minted.
13. Choose a floral wallpaper design
Those who love adding patterns or illustrations to their walls would adore the showy wallpaper above, which is sold by Fancy Walls.
14. Hang a funky mirror
Many maximalists also love using pieces with soft, flowy lines, such as the above mirror sold by Dormify.
15. Bring in playfulness with a macrame piece
If you're a boho lover, incorporate fuchsia through a macrame wall piece. This could easily be added to a gallery wall or an empty space in a bedroom or nursery.
16. Use silk materials
To really embrace the glamorous vibes of this striking color, use something made out of silk. To create a more subtle appearance, add silk sheets underneath a neutral comforter in the bedroom.
17. Add a velvet texture
A velvet pillow, headboard, or blanket would also add an extra luxurious feel to your bedroom, especially if the piece included clear jewels.
18. Cover all the walls
To really make a statement, cover all your walls in fuchsia paint. However, this could feel overwhelming and may hinder relaxation, so make sure you truly love the look before wielding your brush.
19. Create a focal point
If you want a less bold approach, limit the striking shade to just one wall to create a clear focal point.
20. Paint behind a desk
If you work from home and often feel tired, you could paint the wall behind your desk with this exciting hue. However, make sure it won't distract you from your tasks.
21. Layer with other pink shades
Fuchsia may look more purposeful if layered with blush, mauve, and other pink tones. An easy way to do this is by arranging throw pillows in these shades on the couch or the bed.
22. Pair with cool tones
To create contrast, add fuchsia elements to a cool-toned space, such as the primarily blue and purple room above.
23. Mix with warm shades
When paired with warm tones like yellow, fuchsia will appear cozier while still having an enchantingly bold appearance.
24. Emphasize with deep tones
Adding this flashy tone to a room that's mostly black or dark gray would make the color stand out. When doing this, add fuchsia pieces in different areas of your space to make the design feel complete.
25. Add to a neutral space
If you have a completely neutral space and are looking for a captivating accent tone, fuchsia could be a perfect choice. Add multiple elements to carry the tone throughout the room.
26. Create contrast with cool gray
This shade could look especially beautiful in a room filled with light gray tones, as the two opposite colors will create an interesting contrast.
27. Enhance with jewel tones
Mixing fuchsia with deep blue, rich purple, or emerald green will provide your space with a sophisticated appearance. As displayed in this image, these tones could create a unique design during the holiday season.
28. Pair with purple
Because fuchsia has purple undertones, pairing it with violet shades will create a purposeful design, and mixing in additional pink or red shades like blush or maroon could add dimension.
29. Glamorize with golden elements
For an extra glam space, place golden pieces next to fuchsia elements. You could also choose a chair or couch with gold legs in this vibrant tone.
30. Enliven with a bean bag chair
To emphasize the playful nature of this dramatic tone, add a fuchsia bean bag chair. This could look especially good in a nursery or a child's playroom.
31. Create ambiance with neon lighting
If you don't want to commit completely to fuchsia walls, try out a neon pink light. This would pair the energetic nature of the color with a soothing ambiance.
32. Embrace a spa-like feel with candles
Another way to create a relaxing feel while using this tone is through colored candles or towels, which would transform your bathroom into a spa.
33. Go subtle with a small element
As demonstrated in the above bedroom, while this color is sometimes electrifying, it doesn't always have to make a huge statement. Instead, pair it with other bright colors and use it in a small area of the room.
34. Surround a mirror with fun floral decals
To bring a lively vibe to your space, surround a mirror with fun fuchsia floral decals. This could look charming in the bedroom, bathroom, or above a vanity.
35. Include an ottoman
A tufted ottoman would give your space the extra luxurious vibe it deserves, especially if the rest of the area is decked out in glam elements.
36. Add bold paint to the bathroom
Because bathrooms are typically small, they are a great place to try out a riskier design choice, such as painting all the walls with this vitalizing tone.
37. Enchant a princess room
If your child loves princesses, incorporate this bold shade into their bedroom to give it an extra vivid look.
38. Animate the nursery
Or, you could include this color in the nursery, which would be the perfect place to mix fuchsia with pastel tones.
39. Upholster a chair
If you have an old chair you want to revitalize, choose a fuchsia-colored fabric. Your new furniture piece could electrify the living room, bedroom, or bathroom.
40. Throw a blanket on the bed
No matter what color bedding you have, a fuchsia throw blanket could add a flashy accent shade to your bedroom.