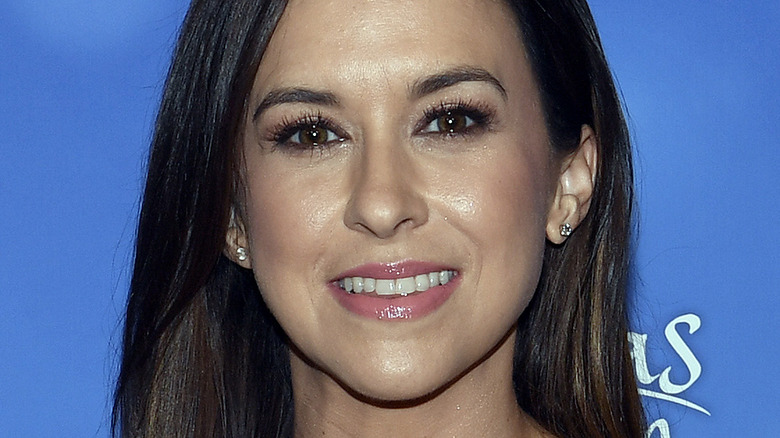 Even if you don't know her name or tune into her TV movies, Lacey Chabert is a familiar face to most people. After all, it is hard to find someone who hasn't seen at least some of the Lindsay Lohan classic "Mean Girls."
Chabert rose to fame with her role on "Party of Five," where she played the youngest Salinger sister, Claudia. She remained on the show for all six seasons, while at the same time guesting on other series and voicing characters in films and TV shows. Much of Chabert's post-"Party of Five" CV was voiceover work — and a lot of it! — before she found her groove as a Hallmark staple. She has appeared in dozens of films for the channel and is the face of some of its biggest franchises.
Over the years, Chabert has balanced her TV films and voice acting with guest spots on everything from "Baby Daddy" to "Teachers" and a fair number of big-screen projects. In addition to "Mean Girls," her feature films have included "Lost in Space," "Ghosts of Girlfriends Past," and "Slightly Single in L.A." Chabert's personal life is quiet, as she has never been a tabloid staple, and the mom's squeaky-clean image appears to be legit. But just because her life is PG-rated does not mean it is not interesting. Take a look at some facts about Lacey Chabert's life and career.
She was born in the South
Lacey Chabert was born in Purvis, Mississippi, where she spent nearly a decade before moving to pursue show business. According to Southern Living, Chabert's family lived next door to her grandmother, with whom she was very close. They were so tight-knit that she even carries around her grandma's watch in her purse on a daily basis, per Us Weekly. "One of my favorite childhood memories is baking with my grandmother in her kitchen," Chabert told Southern Living, adding, "She was one of my very best friends and my biggest cheerleader, so her passing was heartbreaking but I love that I have those memories with her of cooking in her kitchen."
Chabert lives in California, like most actors, but her family is still rooted in the South — though they have changed states. Most of her family now lives in Texas, and they also share a very strong connection with Louisiana. Chabert's father is Cajun and from Louisiana originally, which appears to have had lasting effects on her family's traditions. "There are a lot of differences in the food and culture between Texas and Louisiana but, at the same time, I feel like — especially around the holidays — there's such a focus on family and being with the ones you love, whether that's friends or family. I think those are definitely the same in both places," she told Southern Living. Chabert is incredibly close with her family and was shattered when one of her siblings, older sister Wendy, died in 2022, she shared on Instagram.
Lacey Chabert got her big break on Broadway
Many people falsely assume that Lacey Chabert got her start on "Party of Five," given that she was only 11 years old when the show began. In actuality, Chabert began working a few years earlier, and she had a couple of pretty big gigs along the way. According to an interview she did with Tinseltown Mom, Chabert's family moved to New York so that her sister could try out show business, which led the younger Chabert to also go out for auditions. After scoring a part in a commercial, she landed on Broadway, which was her first giant break. Chabert had a starring role in "Les Misérables" as Cosette when she was only nine. "I had the absolute best memories from being a part of that show. I still listen to the music all the time," she told Tinseltown Mom.
After "Les Mis," Chabert landed another plush role when she was cast as Bianca Montgomery on "All My Children" in 1992. While she only did 10 episodes of the soap opera, this was followed by a number of voice roles in 1993 and 1994, and then her breakout part as Claudia Salinger on "Party of Five." Chabert played Claudia from 1994 to 2000, becoming a teen idol in the process. "Party of Five" was never a ratings juggernaut, but it gained viewers after it won a Golden Globe for drama series in 1996. AV Club has called the show "the great forgotten drama of the '90s."
She had her first kiss on Party of Five
Lacey Chabert started working on "Party of Five" at age 11, and she spent the majority of her teenage years playing Claudia Salinger. By the time she finished, she was nearly an official adult — which means that she saw a lot of her teenage milestones in the "Party of Five" timeframe. "Everything a young lady could go through happened to me during that show. I loved it. You know, all the things," she said on "Strahan & Sara." This included having her first kiss and getting her first bra, both for storylines she had to film as Claudia, she shared on "Access Live."
In a 1998 interview with Vibe magazine — in which she was for some inexplicable reason interviewed by the comedian Sinbad — Chabert detailed the awkwardness of smooching in front of roughly a hundred people. "It was my first kiss, yeah. I didn't know what to do," she said in the interview. "So my sisters told me to, like, practice on a pillow, you know? But it didn't kiss me back so I didn't know what to expect. But it was good practice I guess."
Unfortunately for Chabert, it would have been impossible for her first kiss to be with her actual on-set crush, who at the time was Scott Wolf. Not only was Wolf a grown man, being 14 years older than Chabert, but he also played her brother, Bailey Salinger, on "Party of Five" (per "Access") — and this was not "Game of Thrones."
Lacey Chabert is a very successful voice actor
Lacey Chabert originated the voice of Meg on "Family Guy," and there have been a lot of rumors over the years about why exactly she left after the first season. Mila Kunis, who replaced Chabert, suggested in a Vanity Fair video that it was because of Chabert's dislike of the raunchy content, though Chabert has said it was because she was too busy with her school work and "Party of Five" (as she told GameSpy in 2006, also saying, "I think the show is hilarious"). Creator Seth MacFarlane does not even know. "We never really quite understood what went down there," he told UGO.com. "It was some kind of contractual mix-up. She had not meant to commit to an extended number of seasons."
But don't let her "Family Guy" debacle confuse you, because Chabert is a wildly popular voice actor. She has served as the voice of Eliza Thornberry on "The Wild Thornberrys" and as the voice of Kaycee in the "Bratz" television series, TV movie, and video games. Chabert has also voiced characters on "Young Justice," "Shimmer and Shine,""Rugrats Go Wild!," and "Transformers: Rescue Bots." She has similarly done voice acting in many straight-to-video titles, and for popular video games, from "Sonic the Hedgehog" to "Star Wars: The Old Republic." "I like that in voice acting you can play different characters than you can when you're on camera and you're limited by your physical being," she told Entertainment Weekly in 2014.
She is up for a Mean Girls 2 and has ideas for Gretchen
"Mean Girls" is one of those movies that defined a generation, and it has truly become a classic. The film came out in 2004, but has stood the test of time — and if you are not convinced, just look for the requisite memes every October 3rd. Lacey Chabert was one of the main stars of the film, appearing as gossipy Gretchen Wieners, heir to the Toaster Strudel empire. On numerous occasions, she has said that she would be up for reprising her role in a sequel, though the closest we have gotten to a sequel is a Zoom reunion during the pandemic, hosted by Katie Couric.
"Of course, I'd love to revisit that character. But for now, catching up on the Zoom was awesome," Chabert told "Access" shortly after the reunion, which was done to promote voting. And even though there is no "Mean Girls 2" in the pipeline, Chabert has spent time thinking about where Gretchen would be today. "Oh, she's running the Toaster Strudel empire, obviously! I think that she and Jason worked it out, they got married — they were each other's high school loves and they have lots of little babies," Chabert said in a Forbes interview. She shared a similar vision for the character when ET asked, telling the outlet, "…Gretchen was one of the most fun characters I've ever played. I would love to see what she's doing now."
Motherhood is her number one priority
For those who remember Lacey Chabert primarily from "Party of Five," it might be hard to believe, but the actor is now past the 40-year mark. In her 30s, Chabert both married and became a parent. While she is quite private about her love life, Chabert did make a social media announcement shortly after marrying David Nehdar in December 2013 (though she did not note his name at the time, People magazine did). They had their daughter, Julia Mimi Bella Nehdar, in September 2016, per Access. "Julia, you are my heart's deepest dream come true. I love you more than I could ever say. Welcome to this big beautiful world sweet girl!," Chabert posted on Instagram a week after her birth.
Chabert has been candid about the stresses of being a working mother in Hollywood. For instance, she admitted on Instagram to struggling when she could not be in town for her daughter's first ever day of school. In general, however, Chabert schedules life around her daughter and sees motherhood as her first job. "When they say the juggle is real, I feel it. She is my #1 priority, and she is the light of my life, and I just couldn't love her more, but I try and balance it all, and some days are easier than others, but I've learned to really ask for help and support," she told Tinseltown Mom. "And my husband is wonderful in providing that and I have a great group of friends and family who also help."
Lacey Chabert has been called the Queen of Hallmark
If you are a fan of Hallmark movies, you have probably noticed that the same actors tend to appear in many of the films. People like Alicia Witt, Danica McKellar, and Andrew Walker are staples on the network, but Lacey Chabert just may be its queen (or co-queen with Candace Cameron Bure). And don't take our word for it, because the numbers speak for themselves. According to her IMDb, Chabert has appeared in some 30 Hallmark original films, and that number can be expected to keep climbing, since she signed a big deal with Crown Media Family Networks (which owns Hallmark) in February 2022, per Variety.
Not only has Chabert been doing Hallmark movies for over a decade, but she typically films four to five each year, per Tinseltown Mom. Her specialty is the Christmas movie genre — TVLine has done the math and Bure is also up there — but she has appeared in everything from "All of My Heart," about a woman who falls for the co-owner of a house she inherits, to "Love on Safari," which is about exactly what it sounds like. Chabert is also the star of the popular "Crossword Mysteries" movies and was one of the headliners for the channel's "The Wedding Veil" trilogy. "Lacey's warmth, talent, relatability and creative sensibilities have endeared her to millions of Hallmark viewers for more than ten years, making her one of our most in-demand stars," EVP of programming Lisa Hamilton Daly said in a statement (via Variety).
She is proud of her family-friendly work
Some celebrities might not love being primarily associated with fluffy TV movies, but we genuinely believe Lacey Chabert when she says that she is proud of the work she has done for Hallmark. "I think the thing that has become the most rewarding for me and being a part of these movies is when I meet people, the common thread is always, 'Thanks for doing something that's uplifting,'" Chabert told Forbes. "… At this point, I kind of consider it an honor to be a part of bringing some goodness into the world." According to Forbes, their Christmas movies alone reach up to 80 million people during the holiday season, so it is not surprising that Chabert gets lots of love from fans wherever she goes.
Key to Chabert feeling good about her work with Hallmark is that the content is very family-friendly. She has made dozens of films since her first Hallmark movie, 2010's "Elevator Girl," and though many find them formulaic and cheesy, Chabert is proud to make content that is suitable for all ages. "It has become growingly important to me to be a part of stuff that my daughter can also watch," she articulated to Tinseltown Mom. "I'm an actress and I want to play all types of different characters and different types of stories … but I'm really proud of the fact that all of the work that I've done with Hallmark is something that my little girl can also enjoy."
Lacey Chabert loves Christmas
In 2019, TVLine noted that Lacey Chabert had starred in eight Christmas movies for the Hallmark Channel, tied with Candace Cameron Bure for the most of any actor. But she is now on top alone, as Bure has since appeared in three while Chabert has filmed four more holiday films, per IMDb. These include "Haul out the Holly" and the very poorly named "Time For Us to Come Home for Christmas" (seriously, is that title long enough?). Though these films all generally contain similar tropes, they differ in terms of the plots, characters, and settings. "Christmas at Castle Hart" was filmed at an actual castle in Ireland, for instance, while "The Christmas Waltz" required Chabert to take dance lessons (per Tinseltown Mom and "Access").
Many of us might get sick of the holiday cheer, especially if we had to film these movies in the summer and fall. Luckily for Chabert, she is a massive fan of the holiday and finds tremendous joy in the films. So, too, do fans, as Forbes has noted that the Hallmark Channel is generally number one with females ages 18-49 and 25-54 in November and December.
For Chabert, it is easy to get into the Christmas spirit, as she is "obsessed" with the holiday, according to an interview she did with Southern Living. "I like to draw it out as long as possible, so it makes sense that I would enjoy making these movies. You would think I would be tired of Christmas, but no," she said.
She sneaks pieces of her life into her movies
You don't get to star in over 30 projects for a network unless they really, really like you, which must be the case with Lacey Chabert and the Hallmark Channel. And not only do they like it when Chabert headlines their TV movies, but they also seem to appreciate her behind-the-scenes contributions as well. Chabert has been an executive producer on 15 of her Hallmark films, including five of the six "The Crossword Mystery" installments and all three films in "The Wedding Veil" series. One perk to having power on set is that Chabert has been able to sneak in pieces of her own life into multiple films.
"I like a good luck charm," Chabert said when she was interviewed on "The Kelly Clarkson Show." "In all of the movies, I always try to put something personal of mine in the movie." In "The Wedding Veil" series, that meant having her grandparents' wedding photo placed in her character Avery Morrison's apartment. "Sometimes people notice, sometimes they don't, but I know it's there," she told Clarkson. In another instance, Chabert said that she wore her own wedding dress in a film shortly after marrying — though she did not disclose in which film she wore it, and she's had far too many TV weddings for us to try and guess!
Her famous friends love her
Lacey Chabert has been in Hollywood for about three decades and, as such, has acquired more than a few famous faces as friends. Her rolodex includes everyone from Kaley Cuoco (per People) to fellow Hallmark staples Autumn Reeser and Alison Sweeney, both of whom starred alongside Chabert in "The Wedding Veil" and its sequels. When she had her baby shower back in 2016, more of Chabert's inner circle was revealed. Guests included celebrities Ali Fedotowsky, Amy Davidson, Haylie Duff, Beverly Mitchell, and Willa Ford, per People. That same year, she was seen amongst Cuoco and others at Davidson's own baby shower, via Instagram.
In addition to her Hallmark friends, Chabert has grown close to other co-stars over the years. The "Party of Five" cast is still in touch, and according to a 2022 Marie Claire article on Amanda Seyfried — who played Karen in "Mean Girls" — the two actors remain very chummy. Seyfried crocheted a baby blanket for Chabert's daughter. In fact, they are so close that Chabert was interviewed for the piece.
Chabert is also tight with her "Mean Girls" co-star Jonathan Bennett, who played Aaron Samuels and with whom she has since appeared in three other projects. "16 years ago this beautiful girl went shopping with me at the mall, and I was awestruck by her heart and her beauty. Little did I know that she would be a rock for me throughout the next 16 years and see me through the ups and downs of life and show business," Bennett wrote in a September 2020 Instagram tribute to Chabert.
Lacey Chabert has an HSN clothing line
Lacey Chabert is not known for her showiness, and she is certainly not the type of celebrity you see out and about in the gossip mags flashing her looks at Fashion Week. But that does not mean that she is not stylish, and she has taken her interest in clothing and turned it into a business opportunity. In September 2022, Chabert debuted a fashion line, the Lacey Chabert Collection, on the Home Shopping Network (HSN). "I was doing some research, and everybody told me, 'Oh, Lacey is 100% involved in every single aspect of this collection,'" said HSN host Suzanne Runyan.
The collection is very much in tune with Chabert's family-first image. It includes matching dresses for moms and daughters, as well as a bunch of loungewear like leggings and pajama sets, per PR News Wire. "I've always dreamed of having a clothing line. Growing up, my sisters and I would personalize our clothes — we'd iron on patches and alter them to the way that we wanted them to be, and we'd sketch out designs for fun," Chabert told InStyle. She also commented on the connection between her acting and her HSN collection. "There are things that are hopefully conveyed in the films I'm a part of that are also a part of this clothing brand," she said, speaking of a comfy, feel-good spirit.
Her family helped her avoid the pitfalls of child stardom
In January 2022, The U.S. Sun ran an article with the headline "Curse of the Child Actor" and cited Shia LaBeouf, Lindsay Lohan, and Demi Lovato as examples of child stars whose lives went off the rails at one point or another. While we would not go so far as to call it a full-blown curse, it is hard to argue that there has not been an issue with many kid actors having struggles once they reach their teenage years. Some have died far too young — like Brad Renfro and River Phoenix — while others like Drew Barrymore, Jason Bateman, and Mackenzie Phillips had many years of instability but eventually turned their lives around.
But there are people who have been able to transition from childhood to adulthood without heading down a problematic path, and Lacey Chabert is one example. She rose to fame before she even hit puberty, but she has remained level-headed, humble, and out of the Hollywood party scene. She has credited this to her family and friends and, in particular, her parents. "Looking back now as an adult, I'm incredibly grateful that my parents were so protective and did their best to always put my well being above any career decision," she told Fox 411 in 2013. "Navigating the transition from child actor to an adult actor isn't easy. The judgment, criticism, and rejection you face as an actor can be overwhelming."