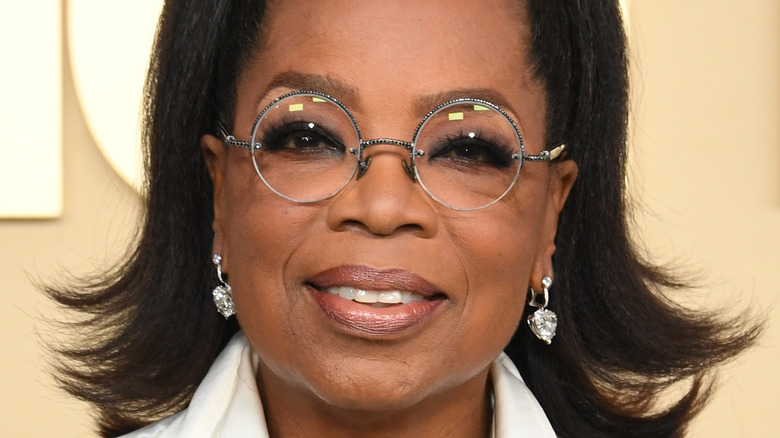 We may receive a commission on purchases made from links.
When the holidays roll around and you find yourself with a list of people who are more than deserving of some great gifts, it can prove a real pain to come up with something that's not just meaningful, but useful, as well. We all have so much stuff, so you want to avoid gifting something that's just going to end up collecting dust in storage. So, if you're in a pickle trying to come up with gift ideas, look no further than to Oprah Winfrey for some answers.
As we know, Oprah Winfrey has no shortage of great ideas for practically every aspect of life. So, she put together a big list of her favorite things of 2022, which means you have plenty of options to choose from when searching for a great idea for a present. Leave it to Oprah to swoop in like the superhero she is and make our holiday season a bit less stressful. Your holiday shopping list starts and ends here with Oprah's top food items.
TRUFF Starter Pack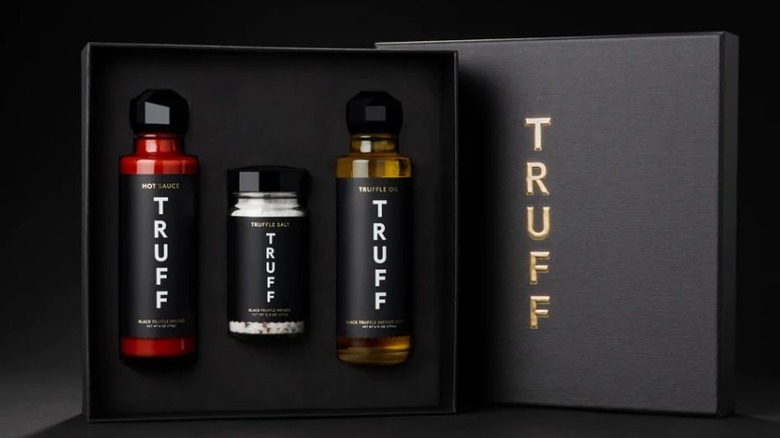 When it comes time to truly impress people you're cooking for, you gotta break out the truffles. Truffles have such a unique savory, earthy flavor profile that really takes a dish to another level. The company TRUFF offers a bunch of products that are infused with the flavor of truffles, and the starter pack they sell is a great kit to kick off your truffle experience.
You get three truffle-infused products in the pack: hot sauce, salt, and olive oil. Oprah herself couldn't say enough good things about this three-piece set: "I dare you to find a better hot sauce. Truff's black truffle hot sauce is one of the most used condiments in my house. It's been on my list many times! This set includes my go-to, along with black truffle oil and truffle salt. Yum!"
You can purchase the TRUFF Starter Pack on the company's website for $59.99.
1pt Cocktail Infusion Master Kit
Are you throwing a party and want to impress guests with different flavored vodkas for extra-fun cocktails? Well, look no further than the Cocktail Infusion Master Kit from One Part Co. The kit comes with seven different infusion flavors (citrus, mint, chili, floral, cinnamon, chocolate, and smoky) and a lab glass for the infusion procedure. This is what your party needs.
The ease of use and flavorful drinks have plenty of customers clamoring over this great party product. One said, "This product is very easy to use and makes great tasting cocktails." Another raved, "Don't hesitate … everything you make will be fantastic!"
You can purchase the Cocktail Infusion Master Kit from the One Part Co. website for $85.
Mr. P's Pantry Hudson Valley Jam Trio Gift Set
Spreading a little schmear of jam on a piece of toast is a quick and tasty way to get some nutrition in you. But, it's easy to get bored with your basic berry jam. So, the company Mr. P's Place Card Co. created a jam set with three awesomely unique flavors to take your toast to another level. You get Hot Pepper Jelly, Lemon Curd, and Strawberry-Rhubarb.
The great thing about these flavors is that they pair well with way more than just bread. You can put them on cheese, mix them in with yogurt, and even layer them into a savory crepe for a little sweet-and-savory action.
You can purchase the Hudson Valley Jam Trio Gift Set on Mr. P's website for $55.
De'Longhi Magnifica Evo Espresso Machine
A delicious espresso can kick off your morning in the best way possible. You get that boost of energy you need, and c'mon, you feel a little fancy sipping it. And who doesn't like feeling that way? Now you can start off every morning with a perfectly brewed espresso with the Magnifica Evo Espresso Machine from De-Longhi.
This machine sits beautifully perched on your kitchen counter and can crank out seven different drinks (espresso, cappuccino, latte macchiato, iced coffee, coffee, hot water, and My Latte) using one of 13 different bean-grinding settings. One satisfied customer doesn't even bother with coffee shops anymore after this purchase. They said, "I have saved so much money on my lattes and teas. No more coffee shops for me."
You can purchase the Magnifica Evo Espresso Machine from the De'Longhi website for $899.95.
Bona Furtuna Taste of Trapani
Who wouldn't want to whip up a meal that mentally whisked you away to the beautiful Sicilian coast? Well, now you can with the Taste of Trapani set from Bona Furtuna. This boxed gift set comes with everything you need to crank out an awesome pasta meal with super authentic flavors from the area of the world where pasta reigns supreme.
The organic artisanal set comes with Ancient Grain Busiate Pasta, Bona Fortuna Marinara Sauce, a sea salt and herb blend, and a jar of dried basil. The pasta has a "touch of sweetness, herbal hints, sunkissed grain, and accents of cinnamon."
You can purchase the Taste of Trapani gift set from Bona Furtuna's website for $80.
Glitterville Papa Noel Cookie Jar
A fun cookie jar makes grabbing for a cookie extra enjoyable, right? Well, the company Glitterville Studios knows this all too well, so it created a trio of adorable cookie jars called the Papa Noel Cookie Jar set. Each ceramic Santa head has a one-gallon capacity and can house any number of holiday treats or goodies.
The jars come in three different skin tones (black, brown, cream), and they're hand painted and glazed so they all have a gorgeous sheen that twinkles from across the room. And who doesn't want things twinkling to help ramp up the festive spirit of the season? Papa Noel needs a place on your counter.
You can purchase the Papa Noel Cookie Jar on the Glitterville Studios website for $148.
Laurel & Ash Farm Limited-Edition Maple Syrup Gift Box
If you're going to get someone syrup as a gift, you better make sure you're getting some top-notch stuff. You don't want it to seem like you walked through the grocery store and scooped up the first bottle you saw because you were too lazy to research artisanal syrup.
Well, you can really knock the socks off of someone who enjoys great quality syrup with the Laurel & Ash Farm Limited-Edition Maple Syrup Gift Box. This maple syrup comes packaged in a beautiful pine box that's branded with the company logo and filled with shaved aspen wood to cradle the glass bottle.
You can purchase this Limited-Edition Maple Syrup Gift Box on the Laurel & Ash Farm website for $65.
Montes Doggett Oil & Vinegar No. 6
The thought of oil and vinegar may not strike you as fancy, but when you put both the liquids in specially crafted bottles, suddenly you're upping your fancy game tenfold. That's why you should strive to impress people with the Oil & Vinegar No. 6 set from Montes Doggett.
Two simple ingredients seamlessly take on a fancier form. The ceramic bottles are all handmade in Peru using an extensive method that can take up to 15 days to complete. There's a level of care to these bottles you rarely see elsewhere, which is what makes them so special.
You can purchase the Oil & Vinegar No. 6 set on the Montes Doggett website for $130.
The Cravory's Best Seller's Mix
The person who brings an assorted platter of delicious cookies to a party is always welcomed back the next time. Who can resist the temptation of an artisanal cookie after a savory meal? Well, if you're a cookie addict, or know someone who is, the Best Seller's Mix from Cravory Cookies is exactly what you need.
This Best Seller's Mix includes awesome flavors like Birthday Cake, Chocolate Chip, Cookie Monster, Lemon Bar, Salted Caramel Cream, and Red Velvet. With a total of 369 five-star reviews on the company website, this is a selection of cookies more than worth your attention.
You can purchase two dozen of the Best Seller's Mix cookies on the Cravory website for $49.95.
Plate & Pattern Woven Plates and Parchment Paper Liners Bundle
Nowadays, any chance we get to help the environment is one we should take advantage of. So many companies have implemented ways to eliminate so much unwanted and harmful waste, and if you're on board with their mission, then you should invest in the Woven Seagrass Plates and Parchment Paper Liners Bundle from Plate & Pattern.
The eco-friendly plates that come with the bundle are made from either metal or woven seagrass, and they come with biodegradable paper liners so after you're done eating you can simply remove the paper liner and avoid having to use soap and water to clean them afterward. Do the environment a solid and snag these plates.
You can purchase the Plate & Pattern Woven Plates and Parchment Paper Liners Bundle on Amazon for $98.
Pepper Creek Farms Hot Chocolate Gift Crate
A cold winter day just wouldn't be the same without a steamy mug of hot chocolate to stave off the cold discomfort of Old Man Winter. Luckily the good people at Pepper Creek make the cold a bit more bearable with the Hot Chocolate Gift Crate. Customers get three different delicious hot chocolate options: Deep Dark, Toasted Marshmallow, and Salted Caramel.
Whichever flavor you make will certainly impress. The Deep Dark is definitely for intense chocolate lovers. The Toasted Marshmallow has a sweet creaminess to it. The salted caramel has a subtly salty flavor that complements the sweetness of the chocolate perfectly.
You can purchase the Hot Cocoa Gift Crate from the Pepper Creek Farms website for $40.
Midnight Kitchen Tools Set
If you know someone who loves making pizza and eating ice cream, then there are few more perfect gifts than the Midnight Kitchen Tools Set from the company Midnight Kitchen. These stainless steel tools — the Midnight Scoop and the Midnight Slice — will add a whole lotta pizzazz to your kitchen utensil collection, and who doesn't want that?
The handles of both tools are ergonomically designed so they fit in your palm perfectly and it takes minimal effort to scoop and slice. The products come with a lifetime guarantee, too. These are kitchen tools that not only stand out, but they make you feel like a real chef every time you use them.
You can purchase the Midnight Kitchen Tools Set on the Midnight Kitchen website for $84.95.
Boarderie Arte Cheese & Charcuterie Board
It takes some skill to put together a masterful charcuterie board. You want to mix and match flavors and textures that'll slap people across the palate in deliciously unique ways. This is why the Arte Cheese & Charcuterie Board from Boarderie is a must-have gift for anyone who enjoys throwing parties.
This board is chock-full of awesome ingredients. It comes with 35 different artisan cheeses, meats, dried fruits, nuts, chocolates, and spreads. You also get three full boxes of crackers: Rosemary and Olive Oil, Tart Cherry and Cacao, and Everything Spice. The boards ship chilled so everything is fresh.
You can purchase the Arte Cheese & Charcuterie Board from the Boarderie website for $239.
VoChill Stemless Wine Chiller
One of the worst parts about buying room temperature wine is, if you don't have time to chill it before drinking, you have to toss in ice cubes that inevitably water it down as time passes. No one wants watered-down wine. That's why products like the Stemless Wine Chiller from VoChill are so necessary.
This product is basically a cradle for your wine glass that contains a thermal fluid you freeze before setting your glass in so your wine always stays cold. And, it seems like wine lovers totally love this product. One wrote, "We are big wine drinkers — particularly white wine. We love to sit outside in the evenings for a little happy hour! These keep our wine chilled to perfection! [Love] them!" Do you and your wine a favor and snag a few before your next get-together.
You can purchase the Stemless Wine Chiller on the VoChill website for $44.95.
Caroline's Cakes Sweet Potato Cake
While sweet potato may not immediately spring into your mind as an awesome dessert food, a little digging around lets you know just how versatile the root vegetable is when it comes to satisfying a sweet tooth. Just ask the company Caroline's Cakes. They offer customers an amazing Sweet Potato Cake ready to dazzle the appetite of anyone who orders it.
This four-layered cake is covered in thick cream cheese icing and has the flavors of nutmeg and cinnamon. Oprah said of this cake, "The Southern classic is surprisingly light and not too sweet, and the cream cheese frosting adds just enough tang." One customer totally agreed, saying, "Didn't think Caroline's Cakes could do any better but the Sweet Potato cake is fabulous!! I served it at a dinner party last week and the crowd loved it! Nothing left on the plates!"
You can purchase the Sweet Potato Cake on the Caroline's Cakes website for $70.
Revolution Toaster with Panini Press & Warming Rack
Customers love gadgets that can accomplish more than one task. It saves them money on additional kitchen items, and it saves counter space, as well. That's exactly what the Revolution InstaGLO R270 Toaster with Panini Press & Warming Rack from Revolution Cooking does. Not only is it a state-of-the-art toaster with a digital screen to ensure toasting perfection, but the panini press it comes with allows you to make grilled cheese and other pressed sandwiches in it also.
How amazing can a toaster get? Just read what some satisfied customers had to say about this. One wrote, "This thing toasts EVERYTHING, and it toasts it all perfectly and at lightning speed. … It's all phenomenal. The panini press is an amazing addition too. I have literally never enjoyed a toaster before this one. … I genuinely can't imagine living without it now. It's that good. Just buy it."
You can purchase the Revolution Toaster with Panini Press & Warming Rack for the Revolution Cooking website for $399.95.
Salty Seattle Crocchi
When you eat something aesthetically pleasing, it almost seems like the visual appeal makes it taste better. Well, that's probably why so many people are obsessed with the new Crocchi pasta from the company Salty Seattle. This gnocchi pasta is shaped like miniature croissants and comes in six vibrant colors for a visually entertaining pasta meal.
Customers who've tried the pasta had amazing things to say like, "I am not sure I have ever seen anything as beautiful as Crocchi. … I am so glad I discovered this product — it makes me the hero at every dinner party I bring it to." Be the kitchen hero you've always wanted to become.
You can purchase the Crocchi pasta on Salty Seattle's website for $69.
FinaMill Pepper Mill & Spice Grinder in One
A meal that lacks the proper seasoning just isn't really a meal at all. You gotta add those spices to enhance the flavor profiles of the ingredients, and the Pepper Mill & Spice Grinder in One from FinaMill helps you season your dishes with ease. Spice up your kitchen life with just one product.
This battery-operated gadget grinds down whole spices with the simple push of a button, and it comes with several swappable grinding pods so you don't have to keep refilling the same one with different spices. It scored four-and-a-half stars out of five from 193 reviews, as noted on the company website, which means you should hop aboard the FinaMill train.
You can purchase the Pepper Mill & Spice Grinder in One on the FinaMill website for $44.99.
From Roy Panettone
When your food product gets a write-up in lots of prestigious publications like Bon Appetit and The New York Times, you know you're onto something special. Chef Roy Schvartzapel spent years traveling the world and perfecting his pastry skills, eventually launching a standout bakery in Houston called Common Bond. And his panettone is to die for.
The chef's company, From Roy, offers four different flavors of the sweet bread: Pumpkin Maple Pecan, Pistachio Amarena Cherry, Candied Orange Raisin, and Chocolate. Every loaf of the bread is airy and light, so it doesn't hit your stomach like a ton of bricks. The flavors are loud and vibrant, but never overwhelmingly so.
You can purchase any one of Chef Roy's Panettone from the chef's website for $85.
Bloomhouse 12-Piece Stainless Steel Cookware Set
If you're someone who does a lot of home cooking, then you know just how important having reliable cookware is. A great collection of pans isn't easy to find, and when you end up with a cabinet full of subpar cookware, you know you're bound to run into a hiccup or two while making a meal. This is where the 12-Piece Stainless Steel Cookware Set from Bloomhouse comes in.
All of the pieces of cookware in the set have non-toxic ceramic nonstick interiors that work on any kind of stovetop, including induction stoves. One customer left a raving review on Amazon. They said, "Not only am I beyond impressed with the quality and substantial weight of this cookware set, but you can really tell no detail was missed! … Would highly recommend for anyone looking to level up their cookware."
You can purchase the 12-Piece Stainless Steel Cookware Set from Bloomhouse on Amazon for $280.
Stone Hollow Farmstead Movie Night Trio Popcorn Box
Movie night is always an exciting and special evening. You snuggle up in a warm blanket and fire up a flick with your loved ones or friends and you all take a 90-minute adventure together. And, of course, no movie night is complete without a big bowl of popcorn. That's what makes the Movie Night Trio Gift Box from Stone Hollow Farmstead a movie-night necessity.
The box set comes with a bag of Lady Finger Heirloom Popcorn, a bottle of rosemary, bay, and peppercorn-infused cooking oil, and rosemary and thyme-flavored sea salt. This is some deliciously fancy popcorn that'll have everyone reaching for more.
You can purchase the Movie Night Trio Gift Box on the Stone Hollow Farmstead website for $75.
Casafina Oak Baguette Board with Bread Knife
If you're looking for a tool to help you slice a baguette into perfectly even pieces, then you have to get your hands on the Oak Baguette Board with Bread Knife from the company Casafina. This oak kitchen item comes with a stainless steel serrated blade to slice through even the firmest bread crust with ease.
Just listen to Oprah Winfrey rave about this item: "Lay a baguette on this board, and the notches tell you exactly where to cut for even slices. I'd put this out next to a nice creamy Brie, so guests can take a piece of bread and slather it with cheese. It'd also be great for a family-style meal."
You can purchase the Oak Baguette Board with Knife on the Casafina website for $130.
Brightland The Artist Capsule
When you start adding ingredients to infuse your olive oil with different flavors, you can really up the flavor of a dish to an amazing degree. This is exactly what the company Brightland did with its product The Artist Capsule. Customers who purchase the set receive four incredible olive oils ready to take a meal to new heights.
The Ardor oil is infused with red chili peppers, jalapeno peppers, chipotle peppers, and paprika. The Rosette oil is infused with garlic. The Lucid oil is infused with lemon. And, finally, the Arise oil contains the essence of basil. One customer raved about them, saying, "I have many of their products and love them all. The olive oils … are so good you could drink them But I do use them on almost everything I cook."
You can purchase The Artist Capsule on the Brightland website for $150.
Sophistiplate Acacia Wood Féte Set Charcuterie Tray
The word "fete" means "party" in French, so when it comes time to party with a great charcuterie board that'll house all your meats, cheeses, and other fixings comfortably, you should look towards the Acacia Wood Féte Set Charcuterie Tray from Sophistiplate. Sophistiplate wants your party to be as epic as possible, and this item proves it.
One of the coolest aspects of this wooden tray is that the word "gather" is engraved in the center, which gives it the warm feeling of home, friends, and family. Oprah said of this product, "Put this perfect charcuterie tray out for a party, and you'll get lots of oohs and aahs."
Kitchens of Africa East Meets West sauce collection
If you've never had the chance to indulge in the vibrant flavors that are prevalent in so many places of Africa, don't fret, because now you can thanks to the company Kitchens of Africa. It offers customers a four-sauce set called East Meets West that combines the tastes of east and west Africa.
The flavors come from Zanzibar Island, Somalia, The Gambia, and Senegal. The Zanzibar Island sauce offers a curry flavor packed with spices and coconut cream. Another offers a sweet tamarind-date sauce inspired by a popular Somali chutney. The Maffé sauce brings the bright and peanutty flavor of its national dish. Finally, the Seneglase sauce mimics the flavors of Yassa, a vibrantly spicy dish made with marinated meats or seafood.
You can purchase the East Meets West sauce collection on the Kitchens of Africa website for $85.
Citrine Monterey Prep Bowls
Whether you do a lot of cooking or a lot of baking, one thing's for sure: You can never have enough bowls. So, if you're someone who's always in need of additional bowls to keep your ingredients organized (or if you know someone who needs more bowls), then you should look into the Monterey Prep Bowls Set from Citrine.
The three ceramic bowls included in this set nest inside each other, so you can save some room in your cabinets. And, as Oprah Winfrey pointed out, "The neutral color will go in any kitchen. They even come with a handy spout to make pouring pancake batter (or anything else) easy to do without drips or spills."
You can purchase the Monterey Prep Bowls Set from the Citrine website for $52.
Compartés Treasures of the Orchard Chocolate Gift Box
"A bite of our chocolate transports you to dazzling California sunsets over the hills, magical palm trees swaying overhead on a warm summer night," states the Compartés website. Well, that statement is certainly enough to capture the attention of chocolate lovers everywhere. The company offers a Treasures of the Orchard Chocolate Fruit Gift Box that contains chocolate-dipped orchard-fresh fruit that erupts with sweet, decadent flavors.
The box includes fresh fruit like dates, apricots, peaches, pears, and pineapples, to name a few. One enthusiastic customer raved about this item: "Box is HUGE. Chocolates are [super] fresh, with juicy fruits. It has a mixture of dark and milk chocolate which I have enjoyed going back and forth between. Going to be sending this as holiday gifts this year I think!" Maybe you should, too.
You can purchase the Treasures of the Orchard Chocolate Fruit Gift Box from the Compartés website for $59.95.
Solo Stove Pi Pizza Oven
It's one thing inviting a group of friends over for a pizza party, but it's a whole other thing to have them arrive only to watch you crank out pizza from your own oven. Pull out those pies and watch guests swoon over your pizza-making skills. The Pi Pizza Oven from Solo Stove makes that proud night possible.
This oven uses either wood or gas to fire up some 'za. It gives any pizza night an added layer of excitement because you're the pizza chef. Pizza lovers all over commented on how much they loved this product. One said, "I love having a pizza oven that works anywhere and didn't require a massive construction project or commercial kitchen!" Another said, "Makes the best pizzas ever. Some nearby restaurants charge $15-$20 for similar pizzas."
You can purchase the Solo Stove Pi Pizza Oven on Amazon for $699.99.
Coravin Timeless Three+ Wine Preservation System
As great as wine is, you always wish a bottle would last longer once you pop the cork out of it. Sometimes you don't want to have to polish off a bottle every few days, but once that cork leaves its home, the countdown begins. But, it doesn't have to with the Timeless Three+ Wine Preservation System from Coravin.
This unique item allows open wine bottles to stay fresh for much longer than average. How? This item fits over a bottle's cork and inserts a needle through the cork to tap into the wine without the cork ever leaving the bottle neck. Then once the needle is pulled out the small hole in the cork plugs back up. Boom! No aeration.
You can purchase the Timeless Three+ Wine Preservation System on Coravin's website for $199.
Leeway The Full Way 44-Piece Set
You can't throw a party if you don't have the right tools, and many times, people don't have an array of matching dishware and cutlery to make for an aesthetically pleasing presentation. All that changes now with The Full Way 44-Piece Dinnerware Set from Leeway. With this, you'll look like a party-throwing professional, and that's never a bad thing.
This set breaks down as follows: four large plates, four small plates, four bowls, four mugs, four wine glasses, four short glasses, and 20 pieces of flatware. The Leeway has plenty of happy customers who didn't hesitate to share their enthusiasm with the set. One wrote, "Everything looks so pretty on our table, we always get compliments and I am just in love with having the table set, it makes the house feel so good!"
You can purchase The Full Way 44-Piece Set on Amazon for $220.
Totally Bamboo Family Tree Carving Board
Now, you may not think of a cutting board as something that ever needs to look ornate. You're simply using it to cut apart food after all. However, when you take a look at this Family Tree Carving Board from Totally Bamboo, you realize that having a carving board with some personality is exactly what the doctor ordered.
This beautifully crafted board has an intricate tree carved into it, but the tree serves a purpose far more important than just looking nice: The etched picture collects juices from any meat you're carving and directs it to the outer ring, so it's visually enticing and functional at the same time. As one Amazon customer put it, "This is a work of art. A lovely board. … Although it just might be TOO pretty to use … LOL!"
You can purchase the Family Tree Carving Board from the Totally Bamboo website for $89.99.