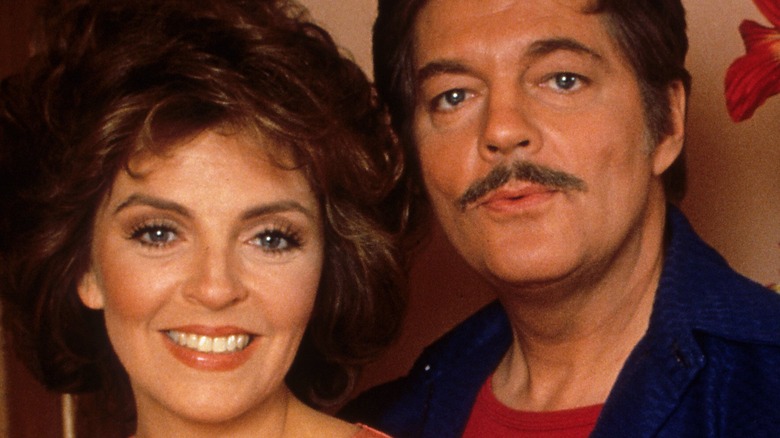 "Days of Our Lives" has given television some of its most iconic pairings. From Julie and Bill to Patch and Kayla, couples on the long-running daytime soap have been the pinnacle of relationship goals for decades — quite literally! "DOOL," as the show is popularly known, premiered in 1965 and has been an NBC fixture for almost six decades. In 2022, it was announced that the Salem residents would be migrating from daytime television to the network's online streaming platform (via Reader's Digest). But our beloved pairs aren't going anywhere!
Though it may be hard to imagine them with anyone other than their on-screen partners, many fan-favorite "DOOL" stars have actually been going strong with partners in real life. And given that they're well-versed in the ropes of dreamy daytime romance, these couples sure know how to love. As Patrika Darbo, "DOOL"'s Nancy Wesley, put it — she celebrates Valentine's Day with her husband of 50 years everyday! Let's swoon through the days of the lives of some celebrated soap stars and their better halves!
Carson Boatman married Julana Dizon shortly before his DOOL debut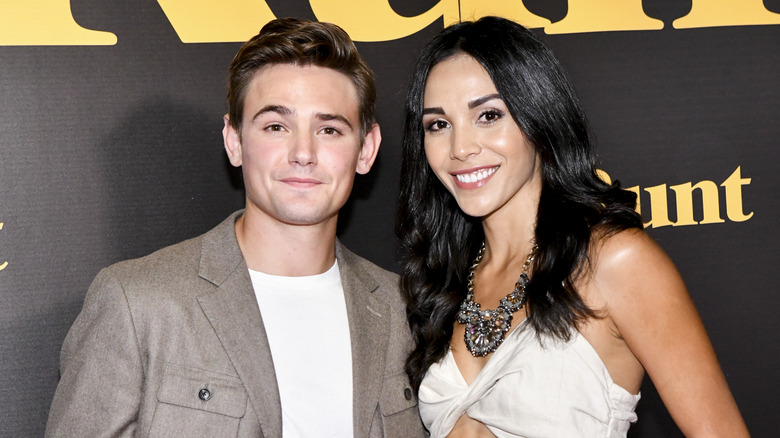 Weeks before making his debut on "Days of Our Lives," Carson Boatman debuted as a husband. The actor, who plays a grownup Johnny DiMera on the daytime soap, tied the knot with his partner of five years Julana Dizon in July 2021 (per People). The quaint celebration in Iowa had a unique touch, with the bride and bridesmaids all sporting boots, while the ring ceremony was overseen by the couple's dog! "This entire weekend was magical in every way and more than we could have ever hoped or planned for," Dizon gushed on Instagram, where her PDA-filled posts leave fans heart-eyed. A model and wildlife educator, Julana runs a YouTube travel show that often features her beau as the two adventure out in the great outdoors.
The duo met in Los Angeles in 2016, set up by their common gym trainer. Boatman was previously part of the boy band Citizen Four but left to pursue a career as a solo country singer. The decision to fly solo was significant for Boatman and apparently influenced Dizon's presence in his life. "I would not have met or certainly might not have stayed with my beautiful, beautiful wife Julana," he told Lewis magazine. Boatman's proposal to Dizon was apparently as dreamy as the couple's wedding, with the star popping the question at the end of a self-composed song.
Bill and Susan Hayes fell in love on the sets of Days 50 years ago
The golden couple of daytime television, Bill and Susan Hayes, have been living parallel lives as a reel and real couple for half a century. The "Days of Our Lives" veterans, and the OG soap super couple, have been living and loving it up together on and off set for some 50-odd years.
Susan first joined "DOOL" in 1968; however, as she told Variety, "I was no more important to it than anyone else until Bill came onto the show and into my life." As longtime Salem resident Julie Williams, she was joined by Bill as Doug Williams in 1970. It was love at first sight. In Bill's own words: "Everybody in the country watched Bill and Susan fall in love and Doug and Julie fall in love all at the same time" (via Soap Opera Digest).
Julie and Bill's first onscreen kiss was also Susan and Bill's first ever! The pair wed in 1974 and then again in 1976, when their characters did too. For the show, they recited the same vows they had exchanged at their own wedding, Bill recalled. From being the first soap actors to grace the cover of Time magazine in 1976 to jointly receiving the Lifetime Achievement Award in 2018, life together for Bill and Susan has been a series of iconic milestones. And guess what? Per Susan: "We haven't even thought about stopping" (via Mansfield News Journal).