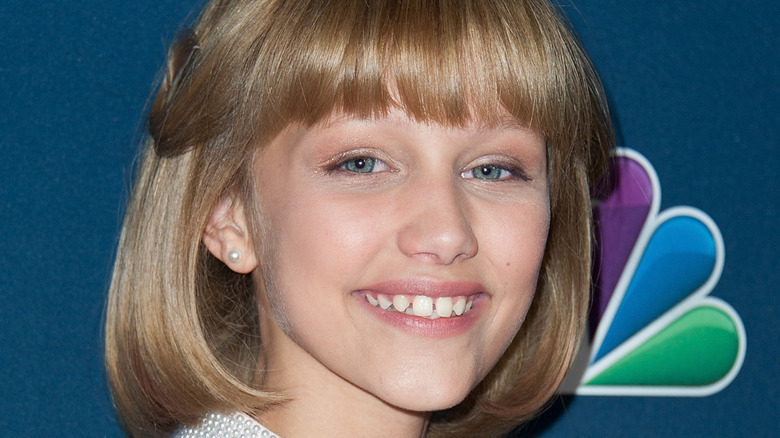 This article includes references to mental health issues and suicide.
When Grace VanderWaal appeared on Season 11 of "America's Got Talent" in 2016, she belted out an original song that included a message about who she is as a performer. "I don't play by the rules of the game," the 12-year-old crooned in her distinctive, raspy voice. This was the beginning of a journey that would see the entertainer reach for the stars. "I want to do an album of every single genre before I like, die," she told LadyGunn.
Setting such a lofty goal for herself was just one demonstration of VanderWaal's determination to live life on her own terms, refusing to be stuck in a box or told that she has to do things a certain way to be a successful music artist. As she navigated the entertainment industry, her winding path wouldn't always take her exactly where she wanted to go, but it would include a few extraordinary stops — including one in Hollywood. There would also be changes that wouldn't be embraced by all of her fans, but as VanderWaal told Nylon, "New and fresh comes with negativity and positivity."
VanderWaal's star shone so brightly on the "AGT" stage that judge Simon Cowell made a bold prediction about her future. "I think she's going to be around for a long time, I really do," he said in an interview with "On Air with Ryan Seacrest" (via iHeartRadio). Throughout her transformation from a tween to a young adult, VanderWaal would prove him right.
Grace VanderWaal was a lyrically talented toddler
While growing up in Suffern, New York, Grace VanderWaal discovered her gift for turning her thoughts and feelings into songs at a very young age. She was just 3 when she grabbed a "Camp Rock" microphone and poured her heart out about an empty fridge and a friend who was ignoring her. VanderWaal's parents shared a video of the adorable performance on the budding artist's Facebook page. "She was constantly wanting to perform little concerts for us," the post read.
VanderWaal told "The Elvis Duran Show" that she didn't start writing songs that she considered decent until she got her ukulele. She wanted one of the small string instruments for her 11th birthday, but her mother turned down her gift request because she didn't believe that VanderWaal would actually play it. However, the ambitious aspiring musician told The Journal News that she did receive $50 in birthday money — which she proceeded to spend on a ukulele. VanderWaal explained to The Daily Beast that she became enamored with the instrument after hearing two people play it: a friend who was visiting her family and Twenty One Pilots singer Tyler Joseph.
Per her Facebook page, VanderWaal had already been taking piano lessons since age 5, so she knew how to read music when she started strumming. The next step was getting in front of a crowd, and, according to her YouTube channel, she found one at the Bean Runner Café in Peekskill, New York.
She got the golden buzzer on America's Got Talent
"American Idol" was the reality show Grace VanderWaal really wanted to appear on. However, as she explained to Teen Vogue, no one younger than 15 was allowed to audition for the singing competition, so she planned on waiting to share her musical gift with the world. "And then one day my mom just called me downstairs and she had her laptop out and was like, 'I signed you up for 'America's Got Talent.' Just like that,'" VanderWaal recalled.
The then-12-year-old considered performing the instantly recognizable Florence + the Machine hit "The Dog Days Are Over" for her audition but made the bold move to sing an original song, "I Don't Know My Name," instead. She was rewarded with a shower of glittering confetti when judge Howie Mandel hit the golden buzzer, sending her straight on to the live shows.
Years later, judge Simon Cowell admitted in a video on the "AGT" YouTube channel that VanderWaal's song choice worried him a bit because he feared that it might end up being a dud, but by the time the musician was finished, he was comparing VanderWaal to Taylor Swift. While VanderWaal later tweeted her amusement that she and Swift were hair twins at the time (they were both rocking the Anna Wintour bob), she told Rolling Stone that she's a bigger fan of Swift's nemesis, Katy Perry. VanderWaal explained that she looks up to the singer because she stays true to herself no matter what.
After winning AGT, Grace VanderWaal dropped her first EP ASAP
Grace VanderWaal stuck to her guns by continuing to perform original songs on "America's Got Talent." One of them, "Beautiful Thing," was a sweet ode to her sister, and another, "Clay," was about bullying. For the finale, VanderWaal rocked a headband with bejeweled cat ears, and she revealed that she had to beg the show's producers to let her wear them because Ariana Grande used to sport similar accessories on the reg, per the Mirror.
After going her own way on "AGT," VanderWaal won the competition and was awarded with the ultimate compliment from "Go Your Own Way" singer Stevie Nicks, who performed during the finale. "She reminds me a lot of me," Nicks said, adding, "We like to be quirky, and we like to be a little weird and different and not exactly like everybody else." VanderWaal also walked away with the promise of her own Vegas show and a million dollars, and judge Simon Cowell soon added to her prize haul by offering her the opportunity to sign with his record label, Syco Music, per Billboard.
Less than three months after her victory, VanderWaal dropped her debut EP, "Perfectly Imperfect," which included the original songs that she performed on the show. "I never really understood how you made a song, because I never really thought about it," VanderWaal told USA Today of her first experience recording music. "But it was really cool to see the process. It was like watching your baby grow." According to Variety, the album was 2016's top-selling EP.
She fulfilled some big dreams in 2017
After Grace VanderWaal won "America's Got Talent," the music industry took notice of the rapidly rising star. On her Twitter page, she revealed that she had received a bouquet of flowers from Taylor Swift and a guitar from Shawn Mendes. But when the Recording Academy asked VanderWaal which musician she would most like to meet in 2017, she revealed that she'd already performed with her top choice: Jason Mraz. "I've grown up with his music, and he inspires me so, so much. And I got to sing with him before the Special Olympics," VanderWaal said. She also got the chance to visit Austria, where the event was being held that year.
Back home in New York, VanderWaal watched another dream come true. She'd previously told People that she planned on donating part of her $1 million winnings from "AGT" to a charity, and she also wanted to use some of the money to treat herself to her own backyard retreat: a top-of-the-line treehouse built by Pete Nelson, the star of the Animal Planet series "Treehouse Masters." Nelson granted her wish in 2017, and her treehouse build was featured on an episode of the show. Nelson constructed not one, but two raised buildings between the sturdy trees in VanderWaal's backyard, adding a rope bridge to make it easier to go back and forth between the cozy cabins. "I asked for a boho kind of vibe, and it looked just how I wanted it to be," VanderWaal said.
The singer landed a modeling contract and dropped an album
When Grace VanderWaal released her first full-length album, aptly titled "Just the Beginning," in 2017, she made a confession to People. "Most of my songs never happened to me," she said. "I've never been in love, I've never, you know, sneaked out and did crazy, rebellious things." Years later, she would tell Marie Claire that she found it difficult to speak up about what she wanted to say in her songs early in her career.
VanderWaal was also learning that being in the music industry didn't just mean that more ears were hearing her; more eyes were on her as well, prompting her to think about her physical appearance a lot more. Her looks landed her a contract with IMG Models, per WWD – and maybe going through a growth spurt helped. "I grew 5 inches!" she told USA Today in August 2017. This made her 5 feet 3 inches tall.
VanderWaal got a taste of the nomadic life of a musician when she embarked on her "Just the Beginning" tour, and as her star continued to rise, she made sure to let her fans know that she doesn't wake up looking ready for the runway or the stage. Per Just Jared Jr., she shared a since-deleted makeup-free selfie on Instagram and wrote, "I'm just like you. I get pimples and acne on my face, I have tired eyes in the morning, I definitely have my fair share of awkward moments."
A terrible tragedy cast a shadow over her big modeling campaign
One of Grace VanderWaal's earliest modeling gigs was appearing in a campaign for Kate Spade in February 2018. After starring in an ad for a smartwatch from the luxury label, she detailed the experience in an interview with USA Today. "I was told to 'play with the watch' and 'be fascinated by the watch.' I had to spin in the chair I was sitting in 50 times. I thought I was gonna throw up," VanderWaal recalled. She also got to showcase her acting skills by speaking to and interacting with her talented co-stars, fellow musicians Chaka Khan and Kelsey Lu.
Four months after the ad aired, the fashion world found itself mourning the loss of Kate Spade. Per CNN, the designer committed suicide after struggling with anxiety and depression. When the tragedy came up during an interview with ET Canada, VanderWaal pointed out that everyone's experience with depression is different, but suggested that one of the best ways to help those struggling with mental illness is to encourage them to talk about their problems. She also stressed the importance of teaching young kids how to communicate what they're feeling when they experience mental health issues. "I think that our generation now is pretty sad and damaged. I don't think I'm going to ignore that," she said. "I think we'll be the learning point because we don't want other generations to be sad. We should be happy; we should love life."
If you or anyone you know is having suicidal thoughts, please call the National Suicide Prevention Lifeline by dialing 988 or by calling 1-800-273-TALK (8255)​.
If you or someone you know needs help with mental health, please contact the Crisis Text Line by texting HOME to 741741, call the National Alliance on Mental Illness helpline at 1-800-950-NAMI (6264), or visit the National Institute of Mental Health website.
Grace VanderWaal took a stand and toured with a popular band
In 2018, Grace VanderWaal decided to give back and get politically active. Per Girls' Life, she partnered with the Starkey Hearing Foundation to travel to Kenya and deliver hearing aids to villagers who needed them. "I saw a mother hear her daughter speak for the first time and she was so emotional about it. It was a very beautiful moment," VanderWaal recalled.
The singer also attended the March for Our Lives, an event organized by survivors of the Marjorie Stoneman Douglas High School shooting in Parkland, Florida. In a photo VanderWaal shared on Facebook, she held up a sign that read, "Protect kids not guns." The singer had just swapped homeschooling for public school when she decided to join the protestors calling for legislators to take action on gun control. "It's just bizarre and ridiculous that we've let it escalate to this point where students are afraid for their safety," VanderWaal told Billboard.
In addition to starting to take a stand on issues that were important to her, VanderWaal took a big step in her career: She joined Imagine Dragons on tour, which turned out to be a pleasant experience. "They truly are kind to everyone they work with, and I don't think they realize what that means to their opener…" VanderWaal told Billboard of the group. The 14-year-old hit yet another high note in November 2018 when she became the youngest artist ever on Forbes' 30 Under 30 Music list.
She was her own stylist for her Ur So Beautiful tour
Grace VanderWaal kept the new music coming in 2019 with the release of "Ur So Beautiful," and the track's title doubled as the name of her next tour. She told Fashionista that she was responsible for picking out the outfits that she rocked on stage. "I love '70s colors, colorful things and homemade things, ripped pieces and ribbons," she said of her style at the time. And while she wore designs by the likes of Marc Jacobs and Gucci, she insisted that she paid no mind to the names on her clothing labels. However, the more otherworldly, the better. "I just want to look like an alien. Always alien vibes with me," she told Who What Wear. VanderWaal also said that she was becoming more comfortable wearing haute couture pieces.
VanderWaal's music evolved along with her style. While promoting her EP "Letters: Vol. 1," she told Music Week that she felt like she was getting much better at successfully expressing her thoughts and feelings in her songs. "I'm proud of it because I really am excited for people to hear what I hear," she said of the record. In addition to advocating for artists not to compromise their art for the sake of success, VanderWaal continued embracing her role as a budding activist, speaking out on Twitter against legislation that would restrict access to abortion and showing her support for the LGBTQ+ community by participating in the Trevor Project's TrevorLIVE event.
Grace VanderWaal appeared in her first movie
In 2020, Grace VanderWaal made her movie debut in the Disney+ film "Stargirl," which is based on the popular YA book of the same name by author Jerry Spinelli. VanderWaal plays the titular character, a whimsical girl whose uniqueness shakes things up at her new school and helps a fellow student learn that there's nothing wrong with nonconformity.
VanderWaal was 16 when "Stargirl" came out, and she suggested that the cast being played by actual teenagers was an excellent selling point for the film. "I think it's really good for children to see someone their age who looks [their age]," she told Teen Vogue. In an interview with The Strategist, VanderWaal revealed that she actually read the "Stargirl" book while she was filming "America's Got Talent" and immediately became a fan. "The only books I've finished are 'Twilight' and this," she said. However, she told Marie Claire that she didn't really have any interest in being an actor when she was presented with the opportunity to star in the movie — it was offered, so she took it.
"Stargirl" provided VanderWaal with a new platform to share her music with the world: The original tune "Today and Tomorrow" was just one of her contributions to the movie's soundtrack. She also discovered just how different acting is from songwriting. "It's easy to hide behind poetry and music and still say what you want to the world," she told Entertainment Weekly. "But with movies, you can't hide."
She debuted a new look and sound
Grace VanderWaal told The Strategist that she's always been a fan of DIY haircuts, snipping her bangs with a pair of multi-purpose scissors when needed. But in 2021, she gave herself a lot more than a trim. Speaking to Nylon, VanderWaal revealed that shaving her hair off was something she'd thought about doing often, but she didn't take the plunge until she had a eureka moment. "When guys shave their heads, it's literally not a big deal," she recalled thinking. She revealed that some fans didn't react positively to the change, even theorizing that it was the result of drug use or mental issues. But she simply shrugged them off.
With VanderWaal's edgy new look came new music with a new sound: an alt-pop song about the dark side of Hollywood titled "Don't Assume What You Don't Know." In the music video, VanderWaal channels her inner rock star, trading her cute cat ear headbands for tiny horns fashioned from her bleached hair and replacing her ukulele with a bass guitar. However, she told LadyGunn, "I don't know how to play the bass. Myth shattered."
VanderWaal revealed that the start of the pandemic was tough for her because the studio is where she really thrives, but it didn't stifle her creativity or dim her positive outlook. After releasing another song titled "Repeat," she spoke to ET Canada about its inspiration, saying, "My life is fairly happy, and I have never written a really happy, extravagant, thrilling song."
Grace VanderWaal returned as Stargirl and charted a new course
In May 2022, Grace VanderWaal attended the Los Angeles premiere of her second major motion picture, "Hollywood Stargirl," a sequel with a plot that could almost be based on her own life: The musically gifted protagonist tries acting for the first time. While her character found herself navigating the entertainment industry as a newcomer, VanderWaal was already at a place where she could reflect back on her career in the spotlight, and she had the perfect outlet for her retrospective musings. "I'm making new music, and it's all about my kind of filtered experience that I've never really been able to talk about," she told ET.
In her 2022 single "Lion's Den," the 18-year-old worked through some of her feelings about the direction her career took after "America's Got Talent." She told V Magazine, "I'm young and I'm able to do art for living, but I'm also struggling a lot of the time like a lot of people around me." In an interview with E! News, VanderWaal recalled how hurtful it was to be a target of hateful internet trolls as a child but said that the vitriol helped her develop a thick skin. And she certainly hasn't let her critics stop her from dreaming big. "I feel like I'm really going to make some big changes," she told V Magazine of her future goals. "I hope that I have a great work ethic and I get a lot of art out there."