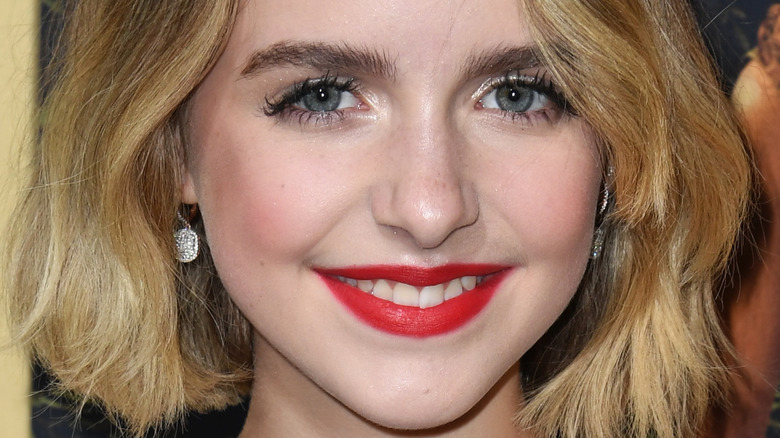 Mckenna Grace is one of the most prolific actors in Hollywood, and she's only just getting started. By 2022, the star had already achieved ten successful years in the industry. Born in 2006, Grace has spent most of her life performing on screen — and she's just as amazed at how fast time has gone by as the rest of us who have been watching her act for all these years. "I got inspired by watching Shirley Temple and [I] begged my mom for acting classes," she told sbjct, "I final[ly] got her to agree and somehow now I'm in LA doing films 10 years later!"
The young star has an impressive range, equally at home on television in thrillers like "Designated Survivor" as she is in quirky family films like "Troop Zero." She spent years acting as Faith Newman in fifty episodes of "The Young and the Restless," popped in for an arc on "Once Upon a Time," and has played the younger version of countless older, more famous actors. In other words, you've definitely seen her act, but who is she, really? Read on for the untold truth of Mckenna Grace.
Don't tell her to be a kid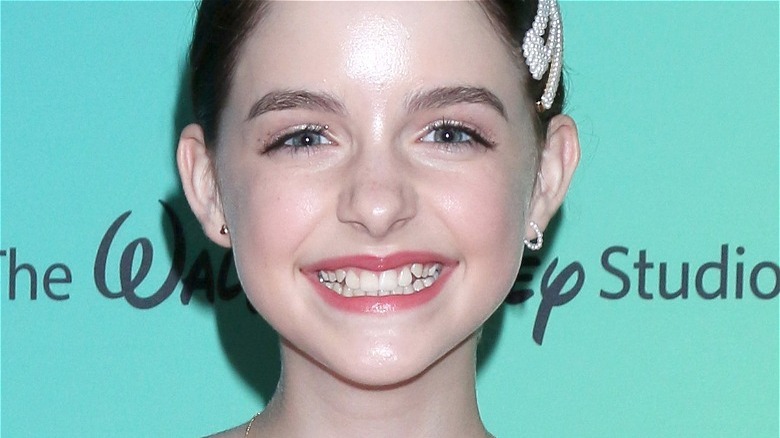 Mckenna Grace has been acting since she was very young, and she has grown up in front of the cameras on projects that range from prestige streaming shows and Disney Channel sitcoms to terrifying horror films and even the Marvel Cinematic Universe. It can be surprising to realize just how young the star still is, and fans on Twitter often express their concern that she's not getting to have a normal childhood.
Grace doesn't appreciate that type of feedback. "Those are the stupidest comments," she told Collider, noting that she's perfectly happy with what she's doing. Besides, she says, she does normal kid things too … she just doesn't always post them on social media. However, there was one major exception. When IMDb posted a tweet noting that the actor had already amassed an impressive 58 acting credits, a fan replied with the plea, "Please let this girl go ride a bike or something." Grace couldn't hold back, replying with a selfie of herself and her friends on bicycles which she captioned, "Riding a bike or something."
Speaking to Teen Vogue, she reiterated her feelings on the matter, insisting, "This is my preferred career path, my preferred childhood. I love what I do. I'm so happy."
She's not Kiernan Shipka, but she did play her on TV
When film directors need a girl to play a younger version of an older actor, it seems like Mckenna Grace is the one everyone calls. She played the child version of Margot Robbie's Tonya Harding in "I, Tonya," starred as the younger Brie Larson in "Captain Marvel," and had a certain growth on the back of her head in flashback footage of Annabelle Wallis' "Malignant" character. When a fan tweeted a collage of Grace with her older counterparts and said they think often about how she's Hollywood's go-to "younger version" actor, Grace quote-tweeted the observation and wrote, "Same."
Fans have frequently compared her to "Mad Men" star Kiernan Shipka, who also began as a child actor before graduating to more grown-up roles. The online chatter was so strong, in fact, that when they met and posed together in 2018, Grace shared the snap on Instagram with the caption, "Finally!" She even joked to Seventeen that Shipka should be the one to play her in a movie about her life.
Fittingly, Grace got her chance to play a younger version of the star, starring as Li'l Sabrina in a holiday episode of "The Chilling Adventures of Sabrina." Series creator Roberto Aguirre-Sacasa told The Wrap, "When Kiernan heard we were doing Li'l Sabrina, she texted me a picture of her with Mckenna and said, 'You have to get Mckenna … we're dead ringers.'"
She's already something of a style icon
Off the red carpet, Mckenna Grace says she doesn't care much about fashion. "I'm definitely not the person to ask for style tips, because I really don't put a lot of thought into what I wear," she told Girls' Life. "If it looks cute and feels comfortable I'll wear it!" Sounds like sound advice to us, but the life of a bonafide movie star sometimes requires a more intentional approach to clothing.
To that end, Grace has a longtime stylist who has worked with the star since at least 2017. At the time, she was promoting "Gifted," a film where she played a young math prodigy being raised by Captain America himself, Chris Evans. "McKenna's style can be best described as Jackie O in never-never land," her stylist, Enrique Melendez told Yahoo! about her fashion sense. He even noted that the young star was the one who suggested she wear a suit to an early screening of the movie at Lincoln Center. "She was like, 'I really want to wear a suit at some point,' and I pulled it out, and it was instantaneously a hit," he told the outlet.
According to Melendez's Instagram, where his work with Mckenna is highlighted, the duo worked together as recently as November 2021.
Mckenna doesn't like being asked about crushes
Mckenna Grace has been doing interviews for most of her life, and there are some questions she's tired of being asked. Mainly, she really wishes people would stop asking about her celebrity crushes. Or, as J-14 put it, which fellow stars she wants to "kiss under the mistletoe" — startled, Grace responded, "Ma'am…!"
She told Seventeen that the question was an intimidating one to answer because she frequently worries that if she were to name someone, she might end up working with that person someday. Like many teenagers, Grace doesn't want to set herself up for future awkwardness. "Especially if they're playing my dad or my brother, or something," She stated. "That would make it so awkward!"
In addition, Grace has a good point about how invasive many celebrity interviews are. A problem that becomes amplified when the celebrity is a child. "I … look back and think it was really inappropriate for people to be asking me that when I was like 9 years old," she told sbjct. Hear that, Hollywood? Let the girl have (or not have) her crushes in peace!
She gets anxious around industry people
Mckenna Grace has been acting for a long time, but she can still gets nervous about doing big events. "I have such bad stage fright," she told Seventeen, recalling that she felt terrified when she had to present at the Emmys. "I did it, but the entire time I was shaking!" she said. "I don't have any hacks, can somebody tell me some? I just tell myself it's just acting, trying to look all calm."
Thankfully, Grace channels her anxiety into her art. She told Paper, "I went to a couple of parties for work and I felt like the biggest loser in the room." She cried in the car after the party, and from those experiences, her single, "Post Party Trauma," was born. As she told Under the Radar, the song is inspired by feeling out of place around massive celebrities at industry events, "It's anxiety-inducing to talk to people when everyone is dressed up fancy and they're well-known actors." She added that she feels extra pressure because she's so young — she doesn't want people around her thinking, "Why is this kid here?"
However, Grace stold Paper she was afraid that someone will get completely the wrong impression from the track. "This song isn't a way for me to … be like, 'Oh, poor me, I'm sad and I have anxiety. Feel bad for me,'" she said. "… It's really so that people have something to listen to and relate to."
Mckenna Grace is a budding scream queen
For such a young actor, Mckenna Grace has already shown an impressive range. However, one of the most common genres she works in is horror. She's been in "Amityville: The Awakening," starred in James Wan's "Malignant," led the cast of "The Conjuring" spinoff "Annabelle Comes Home," and appeared in a remake of classic horror film "The Bad Seed," amongst others.
"I'm a big fan of horror movies and I watch them all the time," she told The Knockturnal, professing that her favorite horror film of all time is "The Shining." When she starred in "Annabelle Comes Home," she joked that she grew up with her own haunted doll, which had once been her mother's. "Jenny, that was my mom's doll from whenever she was a little girl, oh goodness gracious it is frightening!" she said. "…It's like our own little Annabelle who lives in our garage."
In 2018, Grace starred as the younger version of Theo in Netflix's acclaimed miniseries "The Haunting of Hill House." She told Collider that she was very excited to sign on for the role because she was a huge fan of director Mike Flanagan's films, which include "Oculus," "Ouija: Origin of Evil," and "Doctor Sleep." Showering praise on the director, she proclaimed, "Mike Flanagan is like the Wes Craven of his generation. He is amazing!"
She's an Emmy nominee
Mckenna Grace joined the cast of "The Handmaid's Tale" for the show's fourth season, playing a child bride named Esther Keyes. "I feel honored to have been a part of the show," she told Women's Wear Daily, adding that she wanted to use the opportunity to bring awareness to the very real problem of child marriage. "… Hopefully it will make people uncomfortable and upset for the girls who have actually gone through what she has gone through," Grace said. In Teen Vogue, the actor noted that sparking a conversation only goes so far, and she called for lawmakers to take up the slack. "Talking about it is a step in the right direction, moving to actually doing things about it more than just raising awareness," she said.
Her performance on the show was well-received, and in 2021 she was nominated for an Emmy for Outstanding Guest Actress In A Drama Series. Understandably, the young star was very excited about the news. On Instagram, she wrote, "I spent an hour this morning crying and just feeling the most insane amount of happiness and joy. Today was genuinely one of the coolest days of my life."
She likes learning from her costars
One of the best things about being a young actor on set with mega-stars is getting to learn from the best of the best. Mckenna Grace has worked with some of the most famous people in Hollywood, and she likes soaking up as much knowledge about her craft as she can. "I learned a lot from being on [the "Handmaid's Tale"] set just from watching how everyone got into character, how they acted," she told Women's Wear Daily. "It was a really great learning experience for me."
Occasionally, the advice she soaks up is more personalized than just observational. While acting opposite Elisabeth Moss on the critically-acclaimed Hulu series, Grace told Elle that her co-star gave her tips on how to realistically smoke a stage cigarette on camera, with the "Mad Men" star joking, "Never use this knowledge for anything else." When the young actor starred opposite Oscar-winner Octavia Spencer in "Gifted," she was cautioned against giving too much energy to critics. "She told me, 'If you read all the good reviews and believe them, then you have to read the bad reviews and believe them, too. So just don't pay attention to them that much,'" Grace told Teen Vogue.
Now that she's been around a while, Grace has given her own advice to younger actors, too. "One door closes and another one opens, or you find a key, or a window," she told Seventeen. "You find a way when you put your heart into it."
She loves music
Though Mckenna Grace's primary passion is acting, the young star also has her eye on a different aspect of the entertainment industry: music. She can play a number of instruments, including the ukulele and piano, and she told Out Loud Culture that her lyrics are confessional. "For me writing songs is like therapy," she reflected, adding that she particularly leaned on her love of music during the early days of the COVID-19 pandemic. "It's really helped me get through some tough times, and so I've just grown a deep love for music. I love creating it, I love listening, I just love it."
Her debut single, "Haunted House," was used in the end credits of her film "Ghostbusters: Afterlife." Reminiscent of Bonnie Tyler's "Total Eclipse of the Heart," the music video sees the pint-sized singer walking dramatically through a mansion full of billowing curtains and flickering candles. She didn't tell her friends and co-stars the track was being featured in the film until they watched it together. "It felt so cool to surprise everyone and exclaim: 'Everybody! That's mine!'" she told Under the Radar.
She discussed her influences with Los Angeles Confidential, telling the magazine that her mother likes Taylor Swift while her father is into metal. "I'm stuck somewhere in the middle," she claimed, adding that more music is to come. "I'm really excited for the world to be able to see and hear everything that I've been up to behind the scenes," she teased.
Mckenna Grace is a huge Minecraft fan
Mckenna Grace may be a world-famous film and television star with a list of credits that would make any Hollywood vet jealous — but she's also a teenager, and teenagers love "Minecraft." The star told Teen Vogue that she spends her free time watching videos of people playing the block-building game on YouTube, rattling off a list of her favorite creators that included Wilbur Soot, TommyInnit, and Dream. When the latter YouTube star followed her back on Instagram, she posted a video on TikTok to highlight her delight. Set to an edit of Taylor Swift's "Blank Space" in which the lyrics "screaming, crying" are isolated and emphasized, Grace looks shocked and elated.
According to a room tour she posted on TikTok, she's such a huge fan of the game that her bedroom is decked out in "Minecraft" gear — including bed sheets, trinkets, and several items of furniture featuring a "Minecraft" bee. Additionally, in 2022, she shared an Instagram post that revealed her 16th birthday was also "Minecraft" themed, with her "A Friend of the Family" co-star Ella Jay Basco commenting, "My favorite 'Minecraft' lover on the planet!'" According to Teen Vogue, people often don't believe her when she tells them how much she loves the game. If you ask us, the evidence is clear!
She's an animal rights activist
Mckenna Grace may be young, but she already knows the importance of the platform she's been given. Back in 2016, the "Designated Survivor" star appeared in a PSA for PETA about the dangers of leaving your pets in hot cars. While narrating important facts to the audience, Grace acted out the panic and pain that pets can experience when internal temperatures soar — gasping for air and desperately trying to escape. To emphasize her point, she finished the video by stating, "If you wouldn't leave me in a hot car, please don't leave your dog in a hot car."
Grace also visited an animal sanctuary with PETA, excitedly petting llamas and kissing pigs. "Animals are very sweet, and I don't think they deserve to be tortured," she said. Along those lines, Grace is also a vegetarian. She described meeting with PETA at an event when she was six years old, and she had an epiphany. "I was so disgusted at myself for not being a vegetarian," she recalled. "I was like, 'Ah! What have I been doing?! This is disgusting!'"
Mckenna loves bugs and critters
Mckenna Grace's love of animals is well-documented, but she also loves creepy-crawly critters, too. While promoting "I, Tonya," she became giddy when interviewers at Kidd Nation mentioned her interest in bugs. "I don't collect them and squash them and frame them," she clarified. "I like to play with them and love them and snuggle them." She added that her favorite bug is a roly-poly, and recalled that she once bonded with a daddy-long-legs on set who she named Gerald.
Years later, on the set of "The Handmaid's Tale," it seems that her love of critters hadn't abated as she aged. She told the Television Academy, "I'm usually outside somewhere trying to find some sort of animal … On this season of 'Handmaid's Tale,' we worked on a farm, so I got to find a lot of things." She recalled catching frogs and walking around set showing them off, adding, "I even caught, like, a baby snake on a hike with the cast!"
Why was The Bad Seed Returns delayed?
In 2018, Mckenna Grace starred in a Lifetime remake of the classic horror film, "The Bad Seed." The star played an evil young girl who may be responsible for the death of someone at her school. While promoting the film, she told Collider, "I've always wanted to play a horror movie bad guy."
A few years later, Grace tried her hand behind the scenes and co-wrote the script to "The Bad Seed Returns," a sequel that she also produced. She told Teen Vogue that she was eager to learn every aspect of the film business, explaining, "I plan on doing this until the day I die, and if I cannot continue in acting, then I would love to continue somewhere else in the creative industry, like directing, producing, writing, or SFX."
In 2022, Lifetime delayed the release of the film following the tragedy in Ulvdale, TX, when a gunman killed 19 children and two adults. Grace, who grew up in Texas, announced the film's postponement on Twitter. As part of a longer statement, she wrote, "I was in first grade when Sandy Hook happened … and it feels like not much has changed since then." She added that she wanted everyone to encourage change in the nation's gun laws to prevent future situations like this, advising her followers, "If you're feeling helpless or like you want to do something but don't know where to start, I found everytown.org to be really informational."
Her older costars are fans
Over the course of her already-illustrious career, Mckenna Grace has worked with some of Hollywood's biggest names, and her co-stars have given nothing but glowing reviews of their young screen cohort. For instance, on the set of "Gifted" her much older, more experienced cast mates showered her with praise. "When you have talent that big, you give it room and allow it to bloom," Oscar-winner Octavia Spencer told The Hollywood Reporter. Jenny Slate was particularly impressed with Grace's work ethic. "You are never too young to be prepared," she noted. "She was so prepared for work, and it made me want to really be on point." Meanwhile, Marvel star Chris Evans played Grace's uncle in the film, and he too was impressed by the girl he shared the screen with. In a behind-the-scenes featurette (via The Boston Globe), he said, "She really just has a life to her that I think is infectious."