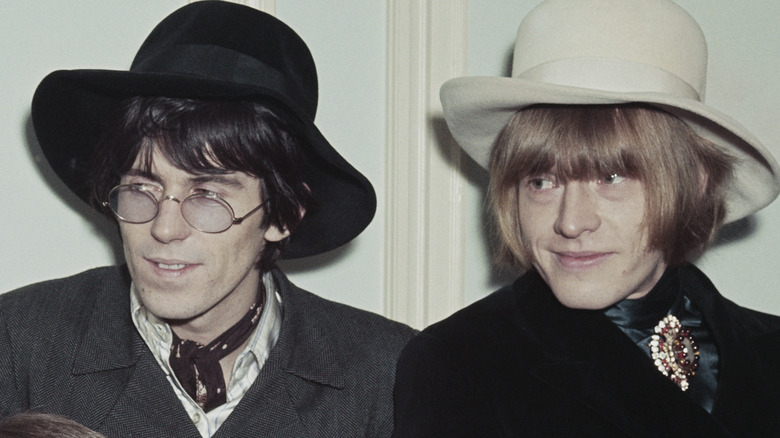 Rock bands are, by nature if not design, a tight-knit situation. Generally consisting of just three, four, or five people, a musical group offers a particular kind of intimacy, built on friendship and shared creative passion. If it's successful, it becomes a form of work and a source of fabulous fame and financial security. Bands evolve over time, and so do the individual relationships of the people in them. With growth come differences and conflict, and bands might split up forever, temporarily fracture, or just weather a very awkward personal storm over those problems.
It's an especially dicey time when romance gets involved. Being in a band exposes multiple musicians to the same handful of people, and two of them could fall in love with the same person, creating tension and even heartbreak. Or, for example, the lead singer marries or starts dating a partner, brings them into the inner circle and sanctum of band life, and they wind up more interested in the bass player. Not even massively popular and successful bands are immune to this. Here are some times when big acts broke up (or nearly broke up) because of an intra-band love triangle.
Linda Ramone dumped Joey Ramone and then married Johnny Ramone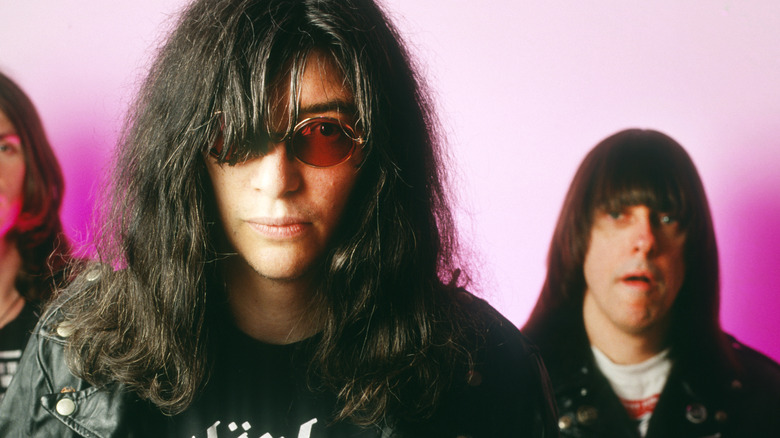 As one of the original 1970s New York punk bands, the Ramones helped define the sound of the burgeoning, provocative rock subgenre. They stripped down rock to its basics of guitar, bass, and drums, and played them all loudly and with abandon, all wearing matching outfits of jeans and leather jackets as lead singer Joey Ramone snottily wailed disaffectedly about the annoyances and problems of modern life. The Ramones had an extremely tight sound, with its members seemingly always on the same page musically for the bulk of its 22-year existence.
But offstage, they didn't get along. According to Marky Ramone (everybody picked a Ramonecr-ending stage name) in his memoir "Punk Rock Blitzkrieg" (via The Morning Call), Joey Ramone and guitarist Johnny Ramone entered a rift that wouldn't be resolved before the deaths of both men (per The New York Times). After Joey dated a woman named Linda for more than two years, Billboard notes that she left him to couple with Johnny, ultimately marrying him and taking on the name Linda Ramone. As Marky recalls in his memoir, the two didn't talk to each other after that and refused to sit near each other in the band's gig van.
Crosby, Stills, Nash, Young, and Joni Mitchell
In the late 1960s folk rock scene, a number of major stars of the time and form worked with each other in different permutations of bands — and also dated and fell in love with the same people. Take the orbit of Crosby, Stills, Nash, and Young. As noted by Far Out, David Crosby, once a member of the jangly hit-making guitar band the Byrds, produced "Song to a Seagull," the 1968 debut album by singer-songwriter Joni Mitchell, who was also his girlfriend at that time. Buffalo Springfield was recording music in an adjacent studio, and Mitchell insisted that Crosby meet her friend, Neil Young, a member of that group along with Stephen Stills.
Around that time, Mitchell met Graham Nash at one of the last shows of his band, the Hollies. And as Crosby, Stills, Nash, and Young came together, Mitchell and Crosby grew apart. Crosby got back together with an old partner, and Michell was so furious that she wrote the breakup tune "That Song About the Midway," and performed it at a party in front of Crosby and a bunch of other musicians at the home of the Monkees' Peter Tork, according to Far Out.
Soon thereafter, Mitchell attended a party hosted by Crosby, and reconnected with Nash. She reportedly told him, "Come to my house and I'll take care of you." Mitchell and Nash moved in together, and he wrote the CSNY song "Our House" about it.
Crosby, Stills, Nash, and Rita Coolidge
After striking it big with Buffalo Springfield and Crosby, Stills, Nash, and Young, Stephen Stills embarked on a solo career and scored a top 20 hit in 1970 with "Love the One You're With." Rita Coolidge, the sultry '70s soft rock songwriter with the tunes, "We're All Alone" and "(Your Love Has Lifted Me) Higher and Higher," sang backup, according to Coolidge's memoir "Delta Lady" (via the New York Post).
Stills' bandmate at the time, Graham Nash, was also hanging around the recording studio, and he and Coolidge casually chatted between takes. Nash invited her to come see a CSNY concert taking place the next night. Nash was staying with Stills, and he asked Coolidge to call him on the day of the concert to confirm the plans. When she did, Stills answered and told her Nash suddenly couldn't make it — he'd escort her to the show instead.
They began dating, but the relationship turned rocky, and after a while, Coolidge gave Nash a call, where she learned that Stills had swooped in to steal the concert date. Coolidge and Stills broke up, she began seeing Nash officially, and Stills, staying in a motel, wrote "Love Rita" on a bathroom mirror and took a potentially lethal amount of pills, landing him in a hospital. After he recovered, Coolidge and Nash went to see Stills at his home. As Coolidge wrote, "He just came out swinging … Somebody separated them and pulled Stephen off."
Mick Fleetwood's wife had a dalliance with his Fleetwood Mac bandmate
Before it found the soft-rock sound that would influence countless albums and become an iconic part of music in the '70s, Fleetwood Mac was part of the British blues band scene. As noted by AllMusic, it was founded in the late '60s by its namesake drummer Mick Fleetwood and bass player John McVie. The group brought in numerous guitarists in its early years, hiring Bob Weston in time for the 1973 album "Penguin."
According to Cosmic Magazine, it was 1970 when Fleetwood married model Jenny Boyd, the sister of model Pattie Boyd. (Pattie Boyd became involved in her own love triangle when she married the Beatles' George Harrison but left him for his close friend, Eric Clapton, according to Far Out.) Fleetwood and Jenny Boyd started a family, but the drummer was so busy with his recording and touring schedule — and otherwise preoccupied with prodigious cocaine use — that Jenny Boyd was left unhappy and unfulfilled. Along with dealing with her own addiction issues, Boyd began an extramarital affair with Bob Weston, from her husband's band. According to The Guardian, Fleetwood was so upset when he found out about the fling that he fired Weston from Fleetwood Mac. Jenny Boyd then broke things off with Weston and tried to make the marriage work. By the end of the '70s, they'd ultimately divorce, remarry, and divorce again.
Stevie Nicks stepped out on Lindsey Buckingham with another member of Fleetwood Mac
Mick Fleetwood was still married to Jenny Boyd in the mid-1970s, when the blues-oriented Fleetwood Mac reinvented itself as a radio-friendly pop-rock band, hiring the romantically attached duo Buckingham Nicks, comprised of guitarist Lindsey Buckingham and singer Stevie Nicks. A self-titled album in 1975 sold seven million copies (via RIAA), bringing the new Fleetwood Mac fame and fortune, as well as stress and the weight of expectation for their follow-up. That next album, 1977's "Rumours," would sell 20 million copies and become one of the top-selling LPs ever. Many of its songs are about the relationship crimes committed by the members of Fleetwood Mac against each other during the recording of "Rumours," according to Billboard.
By the time the band shot a cover photo for a March 1977 issue of Rolling Stone, Buckingham and Nicks had split up. Depicting the group all lying on a bed together, Nicks refused to lounge next to Buckingham. "So I curl up next to Mick for the next three hours," Nicks said. After the shoot, she and Buckingham reconnected. "We lay there for about two hours talking and making out," Nicks explained. But that regrouping didn't last. Nicks and Fleetwood felt pulled to one another and during a tour break in 1978, they had a brief romance.
Anita Pallenberg dated Brian Jones and had kids with another guy from the Rolling Stones
When they formed in the early 1960s, the Rolling Stones achieved their unique, hard rock-meets-R&B-meets-blues sound with a double rhythm guitar attack, provided by Brian Jones and Keith Richards, according to AllMusic. Not only would Jones and Richards play the same instrument on the same songs in the same style, but they'd find that they also shared the same taste in romantic partners.
In the early 1960s, 22-year-old Italian model Anita Pallenberg booked a job near Munich, Germany, and her photographer suggested she see an up-and-coming band that was playing (via Alain Elkann Interviews). That group was the Rolling Stones, and at the show, she met Jones, and they bonded over smoking hash. Later, when Pallenberg accompanied the guitarist on a Stones tour, they all took LSD together. Jones was prone to suffering waking nightmares from the drug and had a violent episode in Morocco: "Brian got sick and ended up in hospital. He had asthma," Pallenberg said. "So Keith and I drove on and left him there, and that was when we had a physical relationship."
That connection turned into a nearly 15-year relationship that produced two children. As noted by Far Out, it was around the time that Pallenberg dumped Jones in favor of Richards that the Rolling Stones fired him because of a problematic drug habit and numerous arrests. A year later in 1969, Jones was found dead in his swimming pool.
If you or anyone you know needs help with addiction issues, help is available. Visit the Substance Abuse and Mental Health Services Administration website or contact SAMHSA's National Helpline at 1-800-662-HELP (4357).
The complicated love lives of the Mamas and the Papas
One part vocal folk act from the early '60s, and one part hippie-based pop-rock from the late '60s, the Mamas and the Papas hit it big that decade, with the four-person group's powerful voices and intricate harmonies powering songs like "Monday Monday," and "California Dreamin'," to counterculture-era classic status and eternal runs on oldies radio (via Biography). The Mamas and the Papas' music was smooth, gentle, and calming, but the inner workings of the Mamas and the Papas themselves were chaotic and heartbreaking.
People notes that early in the band's existence, "Papa John" Phillips left his wife Sue for Holly Michelle Gilliam. Per Vanity Fair, he was almost 30, and she was 17. Phillips married the teenager and brought her into his vocal group, where she took on the name "Mama Michelle" Phillips. Meanwhile, romantic feelings swirled around the other half of the group. "Mama Cass" Elliot harbored a huge crush on "Papa Denny" Doherty, but he had strong feelings for "Mama Michelle," who decided to have an extramarital affair with her bandmate, according to CNN. Elliot then angrily confronted Philips about getting together with the man she liked.
Wilco only exists because Jeff Tweedy smelled a bandmate's wife's hair
In the late 1980s and early 1990s, Uncle Tupelo helped create new a movement in the alternative scene, a blend of rock and country that came to be known as country rock, roots rock, and Americana. Uncle Tupelo was an outlet for its two chief musical directors Jay Farrar and Jeff Tweedy until the band ended for good. The two musicians went their separate ways, with Farrar forming the folkier Son Volt and Tweedy leading the more mainstream and very successful Wilco.
That finish was the result of creative differences, but after the fact, Farrar revealed that Uncle Tupelo broke up when things got too personal and untoward. In 1993, Farrar claimed to have witnessed Tweedy stroke the hair of Farrar's girlfriend (and later wife) Monica Groth while she slept. "I found out later that he was telling her stuff, like, he loves her," Farrar said (via Pitchfork). Farrar immediately tried to quit Uncle Tupelo. Tweedy convinced him not to initially, but the damage was done and the group split up in early 1994.
Poison's guitarist was fired after taking up with the drummer's ex-fiancee
As the hair metal era was dying down in the early 1990s, guitarist Richie Kotzen joined one of the genre's biggest players, Poison. He replaced C.C. Deville, who was fired for his unreliability due to substance abuse issues, according to AllMusic. Kotzen played on just one Poison album, 1993's "Native Tongue," because he was also fired during the band's promotional concert tour in support of the LP. That was all well and good with the guitarist. "It was a great experience, but imagine you just turned 21 and now you're in a band that already sold 20 million albums," he told Radio Forrest (via Blabbermouth). "I was already signed to Interscope, and in my mind, I was just thinking, 'When am I gonna make my solo record?' So it was a weird situation for me coming in."
While Kotzen publicly makes it seem like he was happy to leave Poison, the rest of the band sees things a bit differently. Metal Edge (via Poison Fan Club) reported that right before Poison was supposed to play a July 1993 show in Sacramento, California, drummer Rikki Rockett found out that his former fiancée, who had called off their engagement and dumped him, had been seeing a new guy: Kotzen. "They'd been together behind my back," Rockett said. "I was getting over her, but this was a smack in the face."
If you or anyone you know needs help with addiction issues, help is available. Visit the Substance Abuse and Mental Health Services Administration website or contact SAMHSA's National Helpline at 1-800-662-HELP (4357).
Billy Joel's prog rock dup split up when he took up with the other guy's wife
Billy Joel would eventually become a solo pop superstar, but in the early 1970s, he was one-half of a psychedelic, jazz-inflected, metal-laced progressive rock duo called Attila. He played organ and keyboard, bandmate Jon Small played the drums, and on the cover of their debut self-titled LP released in 1970, they're dressed up like Huns (as in Attila the Hun) while surrounded by raw sides of beef. "Attila undoubtedly is the worst album released in the history of rock & roll," Stephen Thomas Erlewine of AllMusic said.
Attila never made another record and broke up later in 1970 amidst some tremendous band drama. That same year, according to The New York Times, Joel got close with Elizabeth Weber, who returned the singer's affections despite being already married to Jon Small. After divorcing Small, she and Joel married in 1973 and would divorce in 1982, but the former Attila bandmates would patch things up. Small went on to direct four of Joel's music videos and two of his concert films.
A romantic rift in Steppenwolf led to a member's departure
Fifty years after their commercial heyday, Steppenwolf is best remembered for a couple of classic rock staples that still frequently show up in movies and on TV shows: "Born to Be Wild" and "Magic Carpet Ride." Those vintage chestnuts are indicative of Steppenwolf, a Canadian-American band that combined pop sensibilities and bluesy riffs with the psychedelic sounds of the era. In 1969, three albums in, original guitarist Michael Monarch departed, and Larry Byrom came in to replace him. He also injected new songwriting energy into Steppenwolf, helping to compose six of the nine songs on the band's most successful album, "7."
As noted by Psychedelic Baby Magazine, Byrom would leave Steppenwolf after contributing to three albums like his predecessor. His exit was a predictable result of long-simmering tensions within the band, in which personal and professional problems overlapped. In the early 1970s, Byrom's wife left him and then moved in with a man she'd already been seeing. That man was Goldy McJohn — the keyboardist for Steppenwolf.
The wife of Japan's singer left him for his brother and bandmate
The artsy, brainy New Wave band Japan formed in the U.K. in the late 1970s and found some success in their native country with five albums released between 1978 and 1981, along with big top 40 hits like "Quiet Life," "Ghosts," "I Second That Emotion," and "Visions of China." They enjoyed only minor, cult-level fame in the U.S., splitting up in 1982.
According to an interview frontman David Sylvian gave to The Guardian, Japan ended because it had run its course creatively. But for bass guitarist Mick Karn, there were other signs it was time to leave the band behind: "For the first time I met a girl and we were living together for quite a while and it was absolutely perfect," Karn told ZigZag in 1982 (via JapanSylvian) about his partner at the time, photographer Yuka Fujii. Meanwhile, Karn wasn't enjoying the music so much, saying, "The day before the tour started was probably the worst day of my life."
The band bickered about their stage layout and discussed breaking up. But Fujii also informed Karn that while he was off on tour, she would be moving her things out of their home and moving them into the home of her new romantic partner, David Sylvian. In 1989, Japan reformed, but as a new band called Rain Tree Crow. Three of the four members of Japan's most successful lineup returned — everyone except Karn.