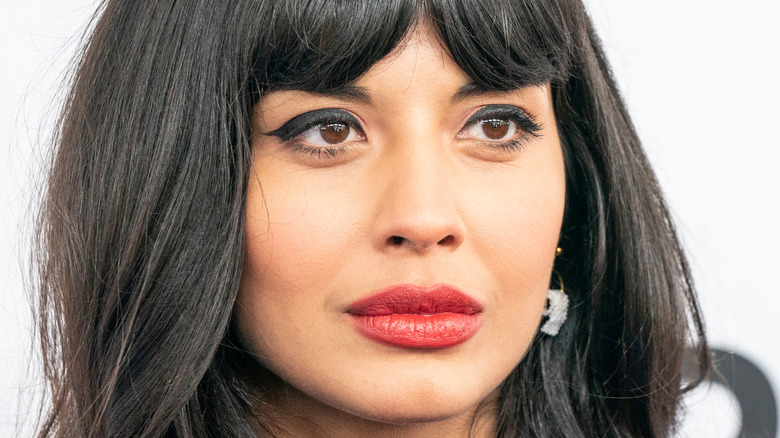 The following article contains references to eating disorders, mental illness, suicide, and sexual assault
When it comes to celebs' paths to fame, Jameela Jamil's ascension to the A-list has been unconventional, to say the least. Starting out as a teacher, Jamil began presenting British TV programs such as "Freshly Squeezed," a morning show aimed at teens and featuring live music performances, per CNBC. But it wasn't until she was 29 that she decided to head to sunny Los Angeles in pursuit of an acting career, as she revealed to The Guardian. It was there that she was first introduced to international audiences, first on "Parks and Recreation," and then, most famously, via her role as the name-dropping former it-girl Tahani on "The Good Place." Thereafter, she entered the highly coveted MCU with a main role in "She-Hulk."
Now mingling with A-listers and boasting an impressive net worth, Jamil could have taken the traditional route of launching a Hollywood career. Instead, she opted to use her newfound fame and power for good, cultivating an online persona as an outspoken activist. Unafraid to go where no other celeb dares, Jamil thinks nothing of taking on the likes of Kim K (she lambasted the reality star following her viral claims that people are too work-shy these days) and labeled Piers Morgan, ahem, England's biggest fecal stain.
In spite of her uber-confident and effervescent exterior, Jamil endured a lifetime of tragedy before she was barely out of her teens. Get the hankies ready as we give the rundown on the tragic details about Jameela Jamil.
Jameela Jamil suffered a life changing accident
At the age of 17, Jameela Jamil was attempting to fend off a bee when she ended up running into traffic, per Mirror. She was hit by a car, her spine severely damaged. Thereafter, she had to use a Zimmer frame and was bed bound for two years. Moreover, she was given steroid injections to aid her recovery, which resulted in her becoming severely bloated. Reflecting on this difficult period in her life, she acknowledged that things could have been a lot worse, as she narrowly escaped death.
Discussing the accident with The Belfast Telegraph, she explained that despite eventually recovering, her anguish was far from over, as she began suffering from health complications. "After the accident I was confined to the house for a year, used a wheelchair for a year and had to learn to walk again using a Zimmer frame," she recalled. "I got through all that … but as the time went on, it became obvious that my gut was in a terrible state. I just started to get sicker and sicker." In an interview with CNBC, she divulged that she was so incapacitated that she needed her brother to take her to the bathroom everyday. "There's something about that that sort of gifts you perspective … you shouldn't be taking life for granted," she reflected.
Tragically, she revealed to Glamour that no one from school visited her when she was recovering from her accident because she didn't have any friends.
The actor is estranged from her parents
When she was a child, Jameela Jamil's parents divorced. Per The Guardian, her parents had a toxic marriage and were extremely unhappy. Following the divorce, Jamil's mom, Shireen, met another man, who began abusing her.
In an interview with Express, Shireen opened up about being subjected to domestic violence by her new partner in front of her children. "The first incident came when my partner put his hands around my throat and throttled me for taking my son from a previous relationship to see his father, but that was only the start of it," she confided. "He twice broke my nose, the second time in front of my two children who were aged nine and 18 at the time, and I suffered a brain hemorrhage." As a result, Shireen became a domestic violence campaigner and new legislation, entitled "Shireen's Law," was put into place in the U.K.
Despite their shared trauma, Jamil and her mom are not on good terms. Speaking with The Times, the actor bitterly admitted that she no longer speaks to her parents, whom she deems overly critical and fatphobic. Subsequently, she blamed her parents for her eating disorder, explaining that they did not encourage her to seek treatment since they believed being underweight was something to be proud of. "Jutting hip bones were seen as a sign of peak brilliance both at home and at school," she said. "It didn't matter that I did well academically or was a good swimmer."
If you or someone you know is dealing with domestic abuse, you can call the National Domestic Violence Hotline at 1−800−799−7233. You can also find more information, resources, and support at their website.
Jameela Jamil faced racial abuse
Throughout her life, Jameela Jamil has been the victim of racial abuse. She said that the racially charged harassment worsened following the Brexit referendum, which has been blamed for an increase in hate crimes against ethnic minorities, as noted by the BBC. "I was in Notting Hill the day after the referendum and someone said, 'Go home, P***,'" she recalled to The Guardian. Jamil also highlighted the racist undertones of the entertainment industry, confiding that she prefers to do her own makeup for work because she is often made to look whiter.
On social media, she has been routinely targeted by racist trolls. After one such hater referred to her using an ethnic slur, Jamil dragged and exposed them on Instagram. Additionally, she called out colorism in her own community, arguing against whitecentric notions of beauty. "The discrimination in my own culture against our natural beautiful brown skin is disgusting," she tweeted (via Huffpost). "Bleaching and whitening creams should be banned."
Having faced intense scrutiny throughout her career as an activist, Jamil has attributed the actions of overzealous critics to racism, arguing that, as a South Asian woman, she faces greater backlash than white activists. "Watching able-bodied white women come for brown/black activists, that we aren't doing enough when it was twice as hard for us to even get our foot in the door to be heard in the first place, is becoming really problematic within activism," she once tweeted (via Stylist).
If you or a loved one has experienced a hate crime, contact the VictimConnect Hotline by phone at 1-855-4-VICTIM or by chat for more information or assistance in locating services to help. If you or a loved one are in immediate danger, call 911.
Jameela Jamil attempted suicide several times
Jameela Jamil has been open about her history of suicidal ideation. In an interview on "Red Table Talk" (via Daily Mail) in 2020, Jamil revealed that she had attempted suicide twice several years earlier. She attributed this despair to being overworked and burnout, as well having been conditioned to repress her rage. "[I] realized, after seeking help, I had very severe depression and that my depression was caused by repressed rage," she explained. "Upon realizing that, I was like 'Okay, I have to just completely change everything.'" Subsequently, she decided to stop trying to please people, regardless of what detractors think, and refused to filter her opinions on social media.
During an appearance on the "Thanks A Million" podcast, she said that she tried everything she could following her suicide attempts to live life to the fullest and see where her journey took her, rather than obsessing over trying to lead a perfect life. "It's not over until you're f***ing dead in the ground," she declared.
Additionally, she opened up about her recovery, revealing that EMDR therapy (eye movement desensitization and reprocessing) saved her life. According to a 2012 study, EMDR is effective in helping those who have suffered trauma. She explained that the treatment was helpful in treating her PTSD and had hopes of quitting acting at 40 to become an EMDR therapist herself. On Instagram, she elaborated on the treatment and her recovery, urging those with access to mental healthcare to utilize the therapy.
If you or anyone you know is having suicidal thoughts, please call the National Suicide Prevention Lifeline by dialing 988 or by calling 1-800-273-TALK (8255)​.
The actor struggled with anorexia
From a young age, Jameela Jamil struggled with body image. At the age of 11, she was put on her first diet, initiated by her math teacher, who decided to weigh all the girls in class to teach them about graphs, she explained to Stylist. The traumatic incident led to 21 years of Jamil weighing herself and obsessing about numbers. However, she now refuses to ever weigh herself. "What a horrifying waste of happiness. What a horrifying waste of time," she said. "What a sad thing for a bright girl … to keep as her deep, dark secret for so long."
As a teen, she developed an eating disorder and became seriously ill. She stopped menstruating, began having heart and thyroid issues, and her digestive system was severely damaged. "That's what the diet industry wants," she reflected. "They want us so distracted with self-hatred that we don't notice that there is a game being played here. A really sick, twisted one that is costing us a lot of time, money and happiness."
Then, when she found fame as a TV host, she was constantly scrutinized over supposedly being too thin, per The Guardian. Once she gained weight, she was criticized twofold, with paps snapping unflattering photos of her despite the fact that she was still very thin. Subsequently, Jamil started the anti-diet culture "I Weigh" initiative, which she describes as a "museum of self love," per Grazia. Accordingly, she has called out celebs for promoting diet culture, infamously dragging Kim Kardashian in 2018.
If you are struggling with an eating disorder, or know someone who is, help is available. Visit the National Eating Disorders Association website or contact NEDA's Live Helpline at 1-800-931-2237. You can also receive 24/7 Crisis Support via text (send NEDA to 741-741).
Jameela Jamil was sexually assaulted multiple times
Jameela Jamil has, unfortunately, been subjected to sexual violence throughout her life. This violence at the hands of men began at a young age. When she was 12, a man groped her in London, per The Guardian. At first, she couldn't stop the perpetrator from hounding her, but managed to seek refuge. Three years later, when she was 15, a man dragged her into a car, but she was thankfully rescued by a passerby. "I never considered those experiences traumatic until now, because I thought they happened to everyone and were normal," she explained. "And now I realize that maybe that's true, but it shouldn't be."
In an interview with Grazia, she recalled an incident when she was 19, in which she rejected a man who made a pass at her and he subsequently punched her in the face. "I've been groped maybe 20 times at rush hour, I've been raped. I've been followed," she revealed. "I've been stalked. I've been chased by groups of men I've had to outrun to save my life … I've been blackmailed in business in pursuit of sex." After she shared her story of sexual assault, there was an outpouring of responses from women who'd been subjected to similarly traumatic interactions with men.
Now, Jamil campaigns against sexual violence. In addition to her work highlighting abuse against women and girls in the West, she has used her platform to condemn femicide in Pakistan, per The Express Tribune.
If you or anyone you know has been a victim of sexual assault, help is available. Visit the Rape, Abuse & Incest National Network website or contact RAINN's National Helpline at 1-800-656-HOPE (4673).
In her 20s, Jameela Jamil had a cancer scare
When she was 28, Jameela Jamil had a cancer scare when she found lumps in her breasts, per The Guardian. She elaborated on her diagnosis in an interview with Belfast Telegraph, revealing that cancer had affected multiple women in her family, two of whom died from the disease. "With the arrogance of youth I thought … 'why would I get cancer?'" she admitted. "The week I spent waiting for the result of the biopsy to see if it was malignant felt like the longest of my life." Thankfully, the tumors were not malignant. Following the ordeal, she was motivated to pursue her dreams and headed to Los Angeles in the hope of becoming an actor, as she revealed to The Guardian.
In addition to her breast cancer scare, Jamil also had cervical cancer twice, once in 2016 and then in 2019 while filming "The Good Place," per Slate. On Twitter, her boyfriend, James Blake, confirmed that he nursed her throughout her cervical cancer treatment.
When trolls made ageist remarks about Jamil, she hit back on her own Twitter account (via Survivornet), explaining that due to her history of cancer, she views aging as a gift that many people are not afforded. "Aging is cool and I hope I'm lucky enough to be able to do that. Not everyone gets the luxury of getting older," she wrote. "And I think it's a sacred thing that I cherish every day. My lines are my souvenirs."
Jameela Jamil was severely bullied
Jameela Jamil attended the private girls' school Queen's College, but she was made to feel like an outsider throughout her time at the esteemed institution, per Daily Mail. "School was horrific for me, constantly an outcast for being a geek," she wrote in Company (via The Daily Mail). "I've been every kind of bullied – emotional, physical, racial. I've had my body battered."
When she was 12, she was already 5'10," weighed more than the other girls at school, and had acne, per The Guardian. Subsequently, she was teased and referred to by an ethnic slur by other girls, the overwhelming majority of whom were white. Speaking to Glamour, she opened up about the extent of the vicious bullying she was subjected to. "I was bullied from the age of like 6 until I was 17 … I was so traumatized from being bullied that I didn't go back to finish school," she said. "I was like no, I actually can't be in that situation ever again, it felt like prison to me."
Then, when she was 13, she suffered one of her most traumatic moments. A group of bullies showed up at her house; Jamil assumed that they wanted to hang out and she would finally make friends. Instead, the kids declared that they were heading out for a fun excursion and Jamil wasn't invited. Jamil reassured those in a similar situation that being bullied is not their fault, encouraging them to reject notions of embarrassment or shame.
If you or a loved one has experienced a hate crime, contact the VictimConnect Hotline by phone at 1-855-4-VICTIM or by chat for more information or assistance in locating services to help. If you or a loved one are in immediate danger, call 911.
The actor was blamed for Caroline Flack's suicide
Following the suicide of "Love Island" host Caroline Flack, Piers Morgan targeted Jameela Jamil for past posts she had made about the late star. Morgan shared messages that Flack sent to him in the lead-up to her death, lamenting that Jamil was bombaring her with hate. "I'm struggling with Jameela. The hate she aims at me," Flack told Morgan, as he revealed on Twitter. "What about the disgusting abuse & harassment your heroine Jameela Jamil spews at me & so many others? What about the damage SHE did to Caroline Flack's mental health?" he added in response to a supporter of Jamil.
Furious, Jamil slammed Morgan for exploiting the memory of a dead woman for Twitter clout, insisting that she had nothing to do with Flack's untimely death and merely disagreed with her about reality TV, per Metro. Due to Morgan's assertions, Jamil said that she was inundated with abusive messages. Moreover, she claimed that she became suicidal following Morgan's attack on her.
With regards to her past social media indiscretions, Jamil has been surprisingly forthright. During an appearance on "The Daily Show With Trevor Noah" (via Entertainment Tonight Canada) in 2019, she openly admitted to having problematic views a decade earlier, for which she had since atoned, and argued against cancel culture as a form of accountability. Speaking to The Guardian about her controversies, she confessed she has not "handled myself perfectly at all times, but I am a human, prone to error."
If you or anyone you know is having suicidal thoughts, please call the National Suicide Prevention Lifeline by dialing 988 or by calling 1-800-273-TALK (8255)​.
She suffers from several mental health conditions
Jameela Jamil has an anxiety disorder, obsessive compulsive disorder, depression, and PTSD, per Elle. Determined to seek help, she decided to save all her money so she could afford to go to therapy. Subsequently, she found it highly beneficial, calling the decision one of the best things she had ever done in life. "I also made the decision … that most of my money that I would spend on corrective or beauty items I'd save up for therapy," she explained. "I started doing that when I was 29, and that was probably the biggest act of self love I've ever done."
In an interview with Glamour, she lamented that mental illness is poorly understood and doesn't elicit the same sympathy as physical illness. Being unable to openly discuss her mental health issues in her teens and twenties led to her experiencing extreme loneliness and isolation. "I didn't tell anyone for ages and so it resulted in me sort of having a nervous breakdown at 26 because it just stored up in me," she explained, "I just exploded at one point because I hadn't had the chance to let that out until then and it's so vital that we do."
In contrast to fallacious notions that mental illness is a sign of weakness, Jamil has highlighted the resilience of those struggling with psychological disorders, noting that it takes strength to be able to get through the day while living with depression, anxiety, and other such issues.
If you or someone you know needs help with mental health, please contact the Crisis Text Line by texting HOME to 741741, call the National Alliance on Mental Illness helpline at 1-800-950-NAMI (6264), or visit the National Institute of Mental Health website.
Jameela Jamil has multiple chronic illnesses
Jameela Jamil was born partially deaf and had multiple ear operations before she reached her teens. Additionally, she struggled with various allergies as a child, as well as Coeliac Disease, a condition in which gluten negatively impacts the immune system. "Worse for me were allergies to shellfish and peanuts which often meant I'd end up in hospital as any contact with those would make my windpipe swell up," she told Belfast Telegraph. Speaking with the Mirror, she divulged that her childhood was blighted by recurrent illness, as she would frequently pass out, suffer from stomach bugs, and spent a large portion of her childhood in bed, unable to move.
Jamil also has Ehlers-Danlos Syndrome, a condition that affects connective tissue and can impact blood vessels and internal organs, per a 2013 study. Opening up about the illness to Parade, she explained that due to Ehlers-Danlos being an invisible disability, she has been met with skepticism and ableism. "You look like the absolute picture of health on the outside, and you're subjected to a lifetime of doubt cast on you by people who haven't lived with an invisible illness," she said.
The actor stated that she wanted to raise awareness of the chronic illness, so that others with invisible disabilities would open up and cease suffering in silence. She also lambasted society, and the workforce in particular, for still failing to accommodate those with disabilities. "This is the reality the disabled community has faced forever," she conceded.