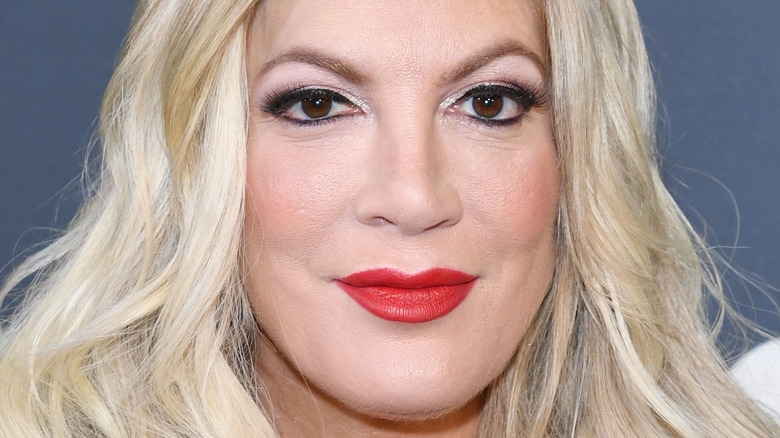 The following references abuse and mental health struggles.
At the age of 16, Tori Spelling shot into the limelight as Donna Martin on "Beverly Hills, 90210," a teen soap that was produced by her father. As someone who has been subjected to criticism ever since she was a kid, Spelling knows that limelight is not always so kind. "I have pretty thick skin at this point," she told Fox News. Though she did concede to ABC News that she was a nepotism hire, the actor insisted that she always did her best to build up the character and give her dimension, despite the criticism.
In a 2020 Instagram post, Spelling shared that the media attention that came along with being one of the stars of a hit primetime soap did a number on her self-esteem. "Being put under a microscope as a young girl in her formative years was hard," she wrote. "I would cry over my looks in the makeup trailer chair… a vulnerable innocent excited girl showed all of her face at 16 and was eaten alive." Her eyes were a particular target for online bullies, who compared the actor to a frog. But Spelling managed to overcome that insecurity and embrace her expressive eyes as an asset. "They make me uniquely me," she wrote.
Keep reading to find out more about the struggles that Tori Spelling has faced as an actor, author, and reality TV star.
She was in an abusive relationship during 90210
While Tori Spelling was the young star of "Beverly Hills, 90210," her life behind the scenes was more stressful than fans might have guessed.
She dated actor Nick Savalas, son of star Telly Savalas, for two years and later described that time as a "nightmare" that had her crying constantly. "He was never physically abusive, but he was verbally abusive, telling me 10 times a day how ugly I was," she said in Entertainment Weekly. "I've always been insecure about my looks." Spelling's parents were reportedly very concerned about how this relationship was affecting their conflict-averse daughter. "I wasn't pleasant to be around — for anyone," Nick told the outlet. "It was after my dad died, and she was the closest to me, so she got the worst of it."
After her "90210" co-star Luke Perry died in 2019, Spelling said that he had been there for her in her time of need. "You stood up for me fiercely," she wrote in a tribute to Perry on his birthday, noting their strong bond. "Went to brawl literally for me when I was in a verbally abusive relationship and sat and talked me thru the most insecure moments of a teen angst girl's life."
If you or someone you know is dealing with domestic abuse, you can call the National Domestic Violence Hotline at 1−800−799−7233. You can also find more information, resources, and support at their website.
She regretted cheating on her first husband
Tori Spelling had an explosive first meeting with her future husband Dean McDermott. The two initially crossed paths while making the Lifetime movie "Mind Over Murder." As she later recounted on her reality show "True Tori," per ET, the pair had sex the night they met even though they were both married. "It wasn't like, 'oh, just get your rocks off, have sex with someone just to have sex,' you know?" Spelling said. "It was a conscious decision, like, fell head over heels for you."
In a 2014 episode of their reality show, Spelling reunited with her first husband, Charlie Shanian. She had first fallen for the writer-actor while working on one of his plays in 2002, according to People, and the pair had a $1 million wedding in 2004. A year and some change after they exchanged vows, Shanian officially filed for divorce after his wife's relationship with McDermott hit the papers.
On the aforementioned episode of "True Tori," the emotional encounter with her ex left Spelling in tears. Discussing the meeting with McDermott, she compared Shanian to a member of her family and observed that he still knew so much about her. "I regret the way I handled things obviously," she told her second husband, confessing that cheating on Shanian had been a mistake. Spelling also admitted that she felt some resentment towards McDermott, since their marriage had been going through a rough patch at the time.
She's been estranged from her mother
In her book "Stori Telling," Tori Spelling dug into her complicated relationship with her mother. The TV star looked back on moments from her childhood that shaped her self-image, including the time Candy Spelling told her she'd be better off with a nose job. That mother-daughter relationship only became more difficult as the years went by, and the pair did not even reach out to one another the day Tori's father died. "I've tried to talk to her, but that doesn't work," Candy said in People in 2009. "She may not even know why she's angry." The matriarch of the Spelling family also shared that she hadn't yet met Tori and Dean's second eldest child.
"I love my mom. My mom loves me. We don't have an easy relationship," Tori said of the feud to ABC News in 2008. "I don't think we ever will, but I'd rather have a complicated, misunderstood relationship than have no relationship at all."
In recent years, however, Tori has said that their relationship is improving. As the "90210" alum revealed on a 2022 episode of Jeff Lewis' SiriusXM show, they started to make amends after "Million Dollar Listing" star Josh Flagg invited Tori over for a dinner at Candy's house. "It's like next level right now. I'm really really happy," Tori shared.
Dean McDermott cheated on her
Tori Spelling received a bombshell right after the difficult birth of her second son. In December 2013, Us Weekly broke the news that Dean McDermott had cheated on her while promoting "Chopped Canada" in Toronto. Spelling later reflected that this might have been inevitable, given how they got together. "Dean and I met when we were both married to other people, so now that this has happened to me, I know a lot of people are like, 'Well, karma's a b***h,'" she told a friend on "True Tori," per ET.
Dean McDermott told ET Canada that he found it hurtful to be targeted by the media over his infidelity. "I'm not a monster, I'm a human being and I messed up," the reality star insisted. "I messed up and I'm owning up to it and I'm getting help." He also admitted that it was his fault, rather than a reflection of anything Tori had done. "The affair was more about how I was feeling about myself than having an affair," McDermott continued, observing: "You know, I'm not the first person to ever cheat on his wife." Years later, a source would tell People that Spelling still struggles with trusting McDermott following his affair.
She's frequently faced financial trouble
Tori Spelling's problems with spending have become notorious over the years. As ET reported in 2016, American Express sued the actor for $38,000. That same year, also got in trouble with the state of California, along with husband Dean McDermott, when they failed to pay nearly $260,000 in taxes. "Even when I try to embrace a simpler lifestyle, I can't seem to let go of my expensive tastes," she wrote in her memoir "Spelling It Like It Is," recalling how her impulsive real estate decisions had sabotaged her family's finances. "Even when my tastes aren't fancy, they're still costly. I moved houses to simplify my life, but lost almost a million dollars along the way."
In a 2008 interview with ABC News, Spelling blamed her privileged upbringing as the daughter of an incredibly successful producer. "Bad shopping habits die hard," she explained. "In all honesty, I grew up a certain way. I never had to worry about money … that was my reality." The Hollywood princess had a rude awakening when "Beverly Hills, 90210" was canceled in 2000 and she fell into credit card debt for the first time. Spelling didn't want to ask her father for a loan, however. "That means, in my mind, I was what everyone thought I was, taking money from my dad, the rich little girl that he paid for everything. And I just refused to be that," the actor declared, adding that she would rather file for bankruptcy.
Tori Spelling's father died in 2006
Tori Spelling's father, the millionaire producer Aaron Spelling, died in 2006 at age 83. As his publicist confirmed, he had been experiencing complications following a stroke. "I was such a Daddy's girl and just adored this man beyond words," Tori later wrote in a tribute on Instagram, alongside an old picture of them together. "His dream was to make television that could help take people's minds off of their day-to-day lives and just completely unwind," she continued. "He did just that!"
The media was quick to notice when Tori received a surprisingly small payout in her dad's will: out of his estimated $600 million fortune, she was left with just $800,000. Candy Spelling, who received most of the inheritance, told The New York Times that Tori's shopping habit was the reason she wasn't trusted with more money. Tori later recalled having a difficult conversation with her dad over lunch and asking him about his plans. "I didn't want him to think that I was asking him for the money, or even talking about something so morbid as when he would pass," she admitted, explaining to ABC News that Aaron had reassured her that she would be fine with less than a million. "I think part of me, in the back of my head, maybe hoped it would be different?" Tori reflected. "But I hated myself… because I didn't want to take advantage."
Paparazzi made her crash into a school while pregnant
When Tori Spelling was pregnant in 2011, she was in a car accident that involved a particularly persistent cameraman. The actor had been dropping off her two children at the time and ended up crashing into a wall at their school while trying to escape. "Paparazzi chased me w/the kids 2school. I was trying to get away from him and had a pretty big accident," she tweeted afterward. "Took down whole wall of school. He thn STILL got out to try to get pics." Following the incident, she headed to the doctor to make sure she and the baby were okay.
"Tori is really shaken up but she and the kids are doing fine," a spokesperson for Spelling told People magazine after the news broke. A friend also clarified the order of events, telling People that Spelling's car had been closely followed into the school's driveway and that she hit the wall while trying to reverse away from the photographer. "She had minor damage to her car, and there's minor damage to the wall at the school," the friend added.
She was hospitalized while filming her reality show
Fans were concerned when Tori Spelling posted a vague update about her health after being hospitalized in 2014. "This sick in hospital I finally see how quickly life can take it all away frm you," she wrote, per E! News, adding that it was important to have friends there for you during the tough times. "Sadly I've finally faced truth that 1 person will never be there 4 me," Spelling added enigmatically.
E! News had reported that she was temporarily placed into quarantine during her hospital stay, sparking rumors that she had been exposed to the Ebola virus. Dean McDermott shut down that speculation entirely in an interview with ET Canada, however. He also hinted that the demands of shooting their reality show could have been the cause of Spelling's illness. "It's six days a week," he added. "It finally caught up with her and took its toll, so she has bronchitis, sinusitis, and pneumonia, and she's getting great care at the hospital."
Dean McDermott called the police on her
In 2018, Tori Spelling and Dean McDermott had several brushes with the law in one week. As TMZ reported, the cops were called out to their Los Angeles home two nights in a row. The first call happened after Spelling mistakenly thought McDermott letting himself into the home one evening was an intruder was trying to get into the house. The following evening, McDermott called authorities after he suspected that his wife was having a mental health crisis.
A week later, McDermott called the cops again after Spelling left the house with one of their kids. TMZ reported that he was worried about her mental health and wanted the police to perform a welfare check. Police cars quickly tracked Spelling down to her doctor's office, where both the actor and her child were found to be perfectly safe. "The last year has been really tough on Tori. She has a ton of pressure and stress, with the kids, work, and her marriage," a close source told People at the time, revealing that Spelling was going through a difficult time raising her five young kids. "She internalizes a lot of her anxiety and she knows it's not healthy for her," the insider added. "Of course she's going to get to a breaking point eventually."
If you or someone you know needs help with mental health, please contact the Crisis Text Line by texting HOME to 741741, call the National Alliance on Mental Illness helpline at 1-800-950-NAMI (6264), or visit the National Institute of Mental Health website.
The separate lives of Tori Spelling and Dean McDermott
Tori Spelling and Dean McDermott's relationship has faced some difficult obstacles over the years. In 2021, fans began to speculate that they might have split for good after Spelling was spotted without her wedding ring and McDermott was conspicuously absent from their family's Christmas photos. Insider sources told Us Weekly that the couple was considering a trial separation and suggested that they would only stay together for the kids. "They know divorce will be expensive and it's not something they're willing to go through right now. They both feel trapped," one source insisted, expressing sympathy for Spelling's situation. "Having kids makes it more difficult because they don't want their children to be unhappy."
Spelling added fuel to the speculation in 2021 when she told SiriusXM's Jeff Lewis that they weren't sharing a bed. "Right now, my kids and dogs sleep in my bed," she announced, revealing that four of her children had started regularly staying in her bed when McDermott left for six months on a work shoot.
As of this writing, Spelling and McDermott are still married. Per People, the two were spotted out together in September 2022.