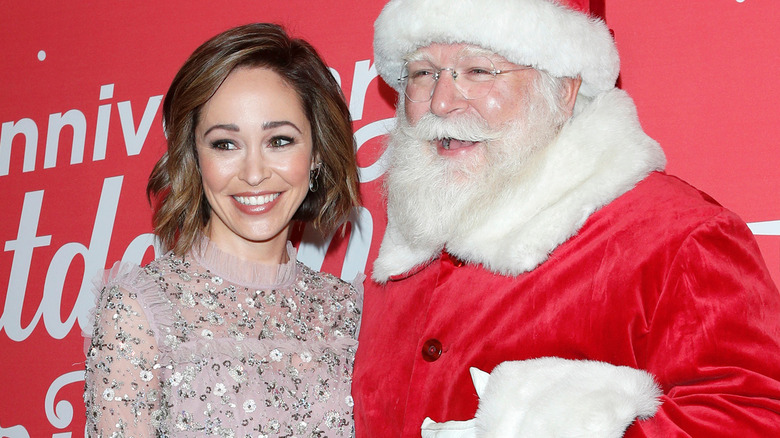 Some may find Hallmark Christmas movies to be corny or predictable, but there are some hidden gems you may not have seen yet that could completely change your mind. Yes, any Hallmark movie is going to include a level of sap that verges on ridiculous. The characters might be a bit too cheerful, and the music is going to swell dramatically at every major plot point. And the happy ending is definitely going to happen — even if, in the non-Hallmark universe, it never would.
But when it's Christmastime, and you're cozied up under the Christmas tree looking forward to a holiday movie, you don't really want to watch doom and gloom, do you? We're guessing you want something sweet and festive, and that's why we're here to give you the lowdown on some of the most fun, heartwarming, and underrated Hallmark Christmas movies to add to your must-watch list.
The Santa Incident (2010)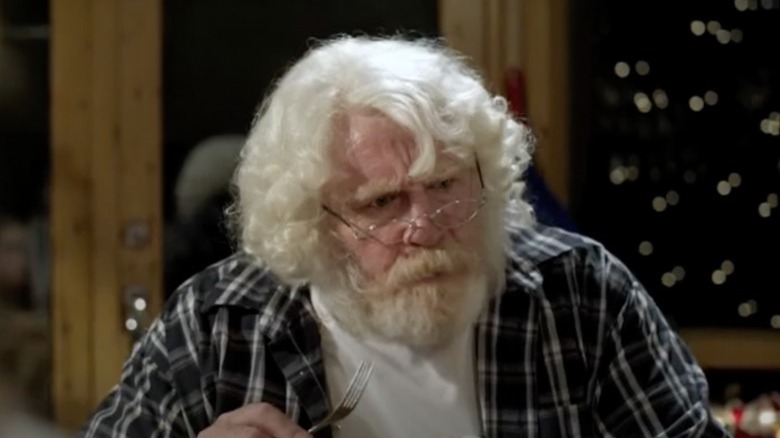 This is a list of underrated Hallmark movies, so we're starting with a truly underrated pick: With just a 4.8 rating on IMDb, it's clear that "The Santa Incident" is not a favorite for many. However, the plot is so ridiculous (UFOs? A trio of elves?) that it's 100% worth watching. Though the movie is geared toward children, adults with a sense of humor will enjoy this absurd Christmas movie.
Just keep in mind that "The Santa Incident" is a Christmas movie that's going to stick with you. Not because it's extremely well-acted, sentimental, or super festive and cheerful. No, "The Santa Incident" is a Christmas movie unlike any other due to the fact that Santa, on his way to deliver presents, gets shot down out of the sky by Homeland Security, has to go to the hospital, and is taken in for questioning. He then must convince two shockingly dense agents to set him free so he can get back to spreading Christmas joy. If it sounds like a train wreck, it's because it kind of is, but in the best way — this family-friendly flick is a fun watch overall.
A Kismet Christmas (2022)
"A Kismet Christmas" is a cozy, fun, and genuinely interesting Christmas movie about a children's book author named Sarah (played by "Parenthood" star Sarah Ramos) who returns to her hometown and reconnects with an old crush. All of that sounds pretty straightforward, but what sets "A Kismet Christmas" apart from other Hallmark Christmas movies is the "kismet" element: Sarah finds out that a family legend (which may or may not involve magical cookies) may be revealing itself in her life.
The plot is engaging and less predictable than some other Hallmark movies, and the acting is believable. IMDb reviewers loved Ramos' acting and appreciated the chemistry between the main character and her love interest, Travis (played by Carlo Marks), with one reviewer saying, "Snappy chemistry and dialogue … I really enjoyed the interaction between the two main characters."
Despite its average ratings, this movie will make a fun and heartwarming addition to your must-watch Christmas movies list.
A Dog Named Christmas (2009)
A Christmas movie with a dog as the main character? Immediately obsessed. "A Dog Named Christmas," which is based on the novel of the same name by Greg Kincaid, has a pretty self-explanatory title. The story centers around a dog named Christmas and a developmentally challenged teen, Todd (played by Noel Fisher), who loves animals and wants to help raise awareness about the local animal shelter's adoption program. What really makes this movie a winner is that it's emotional without veering into the cliché, and the actors do a great job of portraying real, believable characters. It's a Christmas movie, sure, but it's also a movie about family, community, and the special bond between people and their fur babies.
This Hallmark movie really checks all the boxes: It's festive, adorable, and wholesome, and will give you all the warm and fuzzy Christmas feelings. One IMDb reviewer called the movie "one of the most heartwarmingly beautiful movies I've ever watched," while another wrote, "This cast deserves an Oscar. Don't forget the dog, he can have two."
The Christmas House (2020)
"The Christmas House" is a movie that takes place at Christmastime and revolves around decking the family house in seasonal décor — but at the end of the day, it's really about family. Starring Robert Buckley, Ana Ayora, Treat Williams, Jonathan Bennett, and Brad Harder, the movie centers on a family that has to make some "difficult decisions," with the hope that "bringing the family together … will help them find resolution and make a memorable holiday for the entire family and community" (per Hallmark Channel).
The plot is sweet and sentimental, but what really stands out about this Christmas movie is that there are two gay leads (played by Jonathan Bennett and Brad Harder) who are in the process of adopting their first child. Their story is emotional and realistic, and it's great to see Hallmark — a network known for its traditional family values — giving some representation to the LGBTQ+ community.
"The Christmas House" does a great job of being a feel-good holiday movie with some fun and surprising touches, including humor. Hallmark isn't necessarily known for its humor, but several IMDb reviewers report laughing out loud at this movie. Diverse cast, lovable characters, Christmas cheer, and humor? Yep, we're calling this one a winner.
Christmas Under Wraps (2014)
"Christmas Under Wraps" is for the most dedicated Hallmark fans, the ones who know and love the Hallmark movie equation of small-town vibes + budding romance + solvable problems = happily ever after. Starring Candace Cameron Bure, the movie centers around a quirky, slightly neurotic doctor who moves to a small, homey Alaskan town for a job, and in the process learns how to let go, enjoy life … and fall in love, of course.
While it may sound a bit predictable on paper, the movie stands out as a Christmas classic due to the corny-but-perfect love story and picturesque scenery — there's really nothing better to watch at Christmastime than two people falling in love under the northern lights. While some IMDb reviewers found this Hallmark Christmas movie to be a little too predictable, others agreed that it is "sweet, amiable entertainment" and that it "did make me smile and feel warm inside." The ideal Hallmark movie-watching outcome!
Mr. Miracle (2014)
The first thing you should know about "Mr. Miracle" is that it's based on a novel of the same name by Debbie Macomber. If you like Hallmark, you probably know who Macomber is: She's written several bestselling books, and her popular series, "Cedar Cove," went on to become a hit TV series on Hallmark. According to Hallmark, her books center around "compelling relationships that embrace family and enduring friendships, uplifting her readers with stories of connection and hope."
So, knowing that, you can already guess that the vibe of "Mr. Miracle" is cheerful, uplifting, and focused on hope and family. But the movie has much more to it; the storyline focuses on a struggling young woman named Addie (Britt Irvin) who meets a quirky English teacher (played by Rob Morrow) who just so happens to secretly be a guardian angel. From there, the bumbling guardian angel helps Addie find her way in life — just in time for Christmas.
Morrow's acting is admittedly over the top, and some IMDb reviewers disliked his character, calling him "obnoxious" and "goofy," while others appreciated the movie's heartfelt message. Either way, if you're looking for a Hallmark Christmas movie that's a little different (but still full of festive vibes), this one is worth a watch.
Santa Jr. (2002)
Listen, "Santa Jr." is next-level. If you weren't aware, Santa has a son, and in this movie, he gets arrested on his way to deliver presents. With a tagline of "Christmas has never been this messed up," this movie is a departure from the usual sappy Hallmark Christmas movies, but that's exactly why you should give it a shot.
The movie has a lowish/average rating of 5.2 on IMDb, which is why it's on our underrated list. Despite the low ratings, it's a fun watch and has a plot like no other Christmas movie. Santa Jr. has to hire a public defender after he's caught "stealing" presents (though he's actually delivering presents), and from there, he has to work his way out of the mess he's gotten himself into. By the end of the movie, the classic Hallmark charm and holiday spirit come through, with themes of hope and family overshadowing Santa Jr.'s trials and tribulations. As one IMDb reviewer writes, this movie "has some laughs, some lessons, and a dash of romance. … At holiday time, you'll be glad you added this one to your wish list."
Jingle Bell Bride (2020)
It's a few days before Christmas. You're cozied up on the couch drinking some hot cocoa as snow falls lightly outside your window, and the only thing that's missing is a sweet, simple, and festive Christmas movie.
This Christmas movie stars Julie Gonzalo as a big-city, workaholic wedding planner named Jessica Perez. Perez has to make a quick trip to a remote town in Alaska (prime Christmas scenery) to find the perfect floral arrangement for one of her celebrity clients. While she's there, she meets a cutie at the flower shop named Matt (played by Ronnie Rowe), who helps her feel at home in the small Alaskan town. As the two get to know each other, a romance blooms.
Yes, it is another Hallmark Christmas movie centered around a small-town meet-cute, but the combination of the main characters' playful chemistry, the festive setting, and the diverse cast make this one a must-watch.
A Boyfriend for Christmas (2004)
I mean, the title alone gives you a great idea of what you're getting with this Hallmark Christmas movie. Let's not focus on the slightly problematic notion at the center of "A Boyfriend for Christmas" – which is that having a partner is the missing piece that will make you happy — and instead focus on the lovable characters and perfectly corny events that unfold throughout the movie.
The main character of "A Boyfriend for Christmas," Holly, is not having a great time. Her work is unrewarding, she's single and a little heartbroken, and she's going to have to show up to the family Christmas celebration alone, while her brother brings along his wife and kids. But then, a man named Douglas Firwood magically shows up on her doorstep, instantly becoming her boyfriend/Christmas present. Lots of drama (and romance) ensues.
The plot may sound a little ridiculous, but the movie is really well done. One IMDb reviewer writes, "the plot was superb, casting couldn't have been better. Production was excellent," and we have to agree.
A Christmas Tree Grows in Colorado (2020)
Starring Rochelle Aytes and Mark Taylor, "A Christmas Tree Grows in Colorado" focuses on Erin (Rochelle Aytes), who is the mayor's daughter and in charge of the town's Christmas festivities. She realizes that she needs a picture-perfect tree for the town celebration … and spots it in a handsome man's yard as he's building a snowman with his daughter. From there, Erin tracks the man down and finds out he's a firefighter named Kevin. Between snow angels and Christmas cookies, a magnetic romance begins to blossom between the two.
This festive movie doesn't have the highest ratings compared to some other Christmas classics, but the leading actors play convincing characters with chemistry, and the plot is as predictably cute as you'd expect from a Hallmark Christmas movie. Plus, there's plenty of gorgeous, Christmas-y mountain scenery to set the scene. IMDb reviewers also praise the "nostalgic" Christmas music that plays throughout and the "festive vibe."
Noel Next Door (2022)
"Noel Next Door" is great for several reasons, but a major one is that the storyline feels real and relatable. It's still a Hallmark movie, of course, so there's nothing too gritty about the plot, but it does focus on a single mom and waitress, Noelle (played by Natalie Hall), who wants to give her young son a good Christmas despite a difficult divorce, annoying neighbors, and other issues going on in life.
Not only is "Noel Next Door" a refreshingly real Hallmark Christmas movie, but there are also some twists and turns that may surprise you — no one can say the plot for this one is predictable. Additionally, the winter setting looks believable, with real snow and frosty air coming from the characters' mouths during outdoor conversations. These little details take Hallmark movies to the next level, as unrealistic settings can be distracting when you're trying to get in that holly-jolly Christmas headspace.
Overall, IMDb reviewers were very impressed with this one, with one person saying the movie has "an extremely well-written script with dialogue that is clever and true to life. … This may be the best of Hallmark's 2022 Christmas crop."
A Gingerbread Romance (2018)
We simply cannot pass up a Hallmark Christmas movie featuring Tia Mowry (of "Tia & Tamera"). In "A Gingerbread Romance," Tia plays the main character, Taylor, an architect who is looking to settle down and find her own home. She gets put on a team with a pastry chef, Annabelle, for her workplace's gingerbread-making contest, but the two do not get along. This leads to Annabelle quitting the contest altogether. Taylor panics and convinces a local baker, Adam, to join her team. As Taylor and Adam become closer, it's clear that the two make a great team and love is very much in the air.
"A Gingerbread Romance" may be a little corny, but there's a gingerbread house-making contest, a cute love interest, and plenty of wholesome family Christmas vibes. Though this one comes in with an average IMDb rating of 5.5, it's one of our favorite underrated Hallmark Christmas movies.
Switched for Christmas (2017)
We love a "Parent Trap" moment, and "Switched for Christmas" delivers: Two estranged twin sisters swap lives for the holidays, and all kinds of revelations ensue. The twins — both played by Candace Cameron Bure — are opposites. Kate is a type-A workaholic who works at a real estate firm; Chris is a warm but frazzled mom and teacher. The two are convinced that each is living an easier life, but when they swap places, they learn that the grass isn't always greener. And, since it's a Hallmark movie, they also find love interests.
The plot is fun and engaging, and there are plenty of Christmas elements throughout the film to keep you in the holiday spirit, including ugly Christmas sweaters and "Baby it's Cold Outside" sung by Avril Lavigne — an unexpected choice, but we're here for it. IMDb reviewers praised Bure's performance and noted that the movie is fast-paced, engaging, and ultimately "a great film about family."
Love, Lights, Hanukkah! (2020)
If you're looking for a cute, sentimental film that gives some representation to those who celebrate both Christmas and Hanukkah, we may have found it. In "Love, Lights, Hanukkah!," the main character, Christina (played by Mia Kirshner), is a restaurateur whose adoptive mother has recently died. Processing her grief, Christina wants to learn more about her background, so she takes a DNA test and finds out she's Jewish, leading her to discover more about her biological family — and herself.
Christina is a huge Christmas fan, but she also has the opportunity to learn more about Hanukkah as she connects with her biological family. People have not necessarily loved Hallmark's Hanukkah movies in the past, but it seems that "Love, Lights, Hanukkah!" has been much better received. A writer for Insider, Talia Lakritz, wrote about the movie and said that, overall, "… the Jewish aspects of the film feel authentic" and that "the film treats Hanukkah as more than just a foil to Christmas … the miraculous nature of the holiday is an overarching theme of the film."