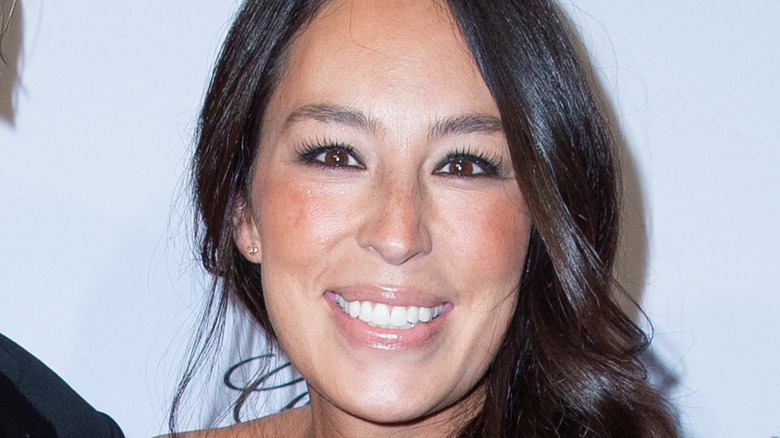 Opening the door to your child's bedroom is like entering through a portal of an alternate dimension. There are dinosaurs, princesses, aliens, and wild animals throughout, as well as fun colors and patterns most likely absent from the rest of your mature, aesthetically pleasing household. Designing a child's room can be a fun experience where you're unafraid to experiment with design tactics you're too scared of implementing in your living room or master bedroom.
However, it can also be an overwhelming dilemma when you're given so many options to mix and match. Luckily, we've found a few adorable kids' rooms designed by the experts behind "Fixer Upper." Hosted by married couple Chip and Joanna Gaines, they have renovated dozens of homes together and used their stardom to create Magnolia Network, where they've produced several other successful shows, such as "Magnolia Table" and "Fixer Upper: The Castle" (via Magnolia Network). Now, we urge you to take inspiration from some of their completed projects to create a fun yet stylish kids' room.
1. Scalloped decor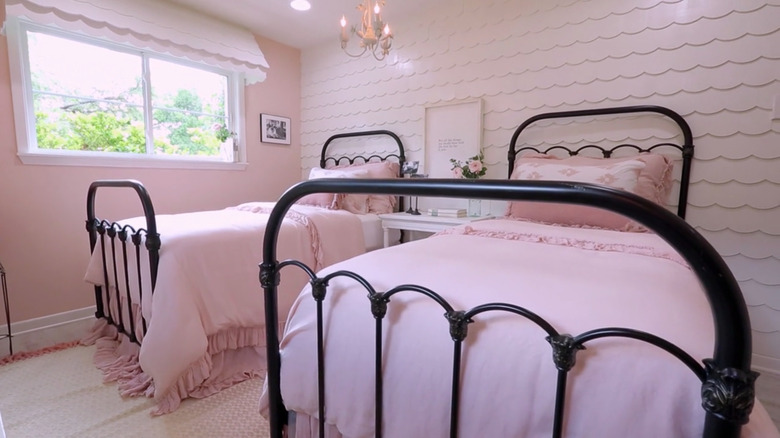 We adore this designed bedroom meant for two adopted girls. The scalloped feature wall and window treatment are an adorable yet creative tactic that complements both the frilly bedding and feminine theme of the room.
2. Cars and sleepovers
In the same episodes, the Gaines also designed the boys' bedroom with a car theme. They hung license plates on the walls and placed toy trucks on the shelves. They also installed a bunk bed to create the perfect space for a sleepover.
3. Lego wall
This Lego wall is a dream come true for any creative kid who loves to build things. There are several baskets hanging off the wall with different colored Legos to choose from and a ladder to encourage children to create as big of an image as they'd like.
4. Space saver
These built-in bunk beds are a great way to save space when you have several children. We also enjoy the texture of the wood panels and the interest it creates in the bedroom.
5. Craft room
Every child needs a good playroom to release their creative energy, and we love this space the Gaines built for a Texan family. The black and white striped painted flooring creates a whimsical feel, and the mixture of wood and metal adds some rustic charm.
6. Two-in-one
This isn't exactly a kids' bedroom, but it is a great option for parents who work from home. Here, they've put the mother's desk and a kids' play table in one space so the children can be watched while the mom gets some work done.
7. Comfy hangout space
Including a tent is sure to create a sense of coziness in a kids' hangout room. We also enjoy the addition of the chicken coup hanging over the sofa used to store books or any other types of materials. There is also a television with dark teal built-in cabinets surrounding the screen in this space.
8. Playful decor
Although this is considered the master bathroom in this episode, we also believe the playful elements of the tile on the floor could make it a great kids' bathroom.
9. Fun-shaped bedframes
The bed frame can lead the entire theme of a kids' bedroom. Here, they've chosen a farmhouse-themed bed frame and complemented it with a shiplap ceiling.
10. Farmhouse bunk bed
In the same episode, the Gaines also continued the farmhouse theme in the other bedroom. However, here they've exceeded expectations by installing barn doors on the top bunk to create a truly stunning and fun design.
11. Wheelchair accessible
This bedroom is not only creatively designed, but it is also wheelchair accessible! The Gaines made sure to install bars on the walls to make it easier for the children to enjoy activities, such as playing with Legos.