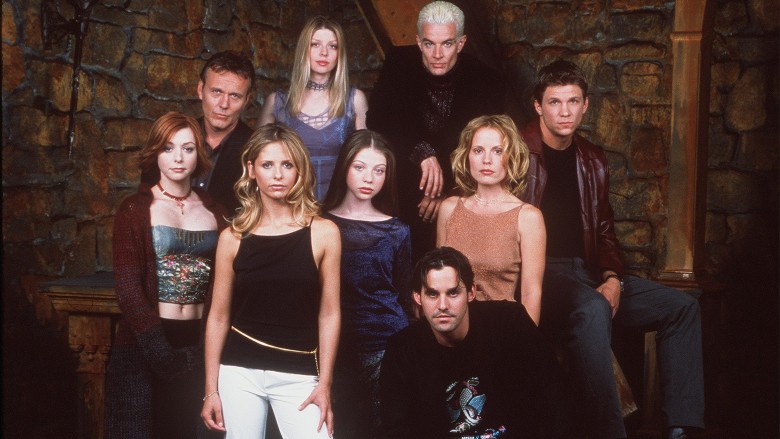 We may receive a commission on purchases made from links.
It's been over 20 years since Buffy the Vampire Slayer (1997-2003) first graced our TV screens. And in that time, a lot has happened. While some of the show's stars have continued working in Hollywood, others have traded in the spotlight for a less public career. Find out what your favorite Scooby gang member's been up to below.
Sarah Michelle Gellar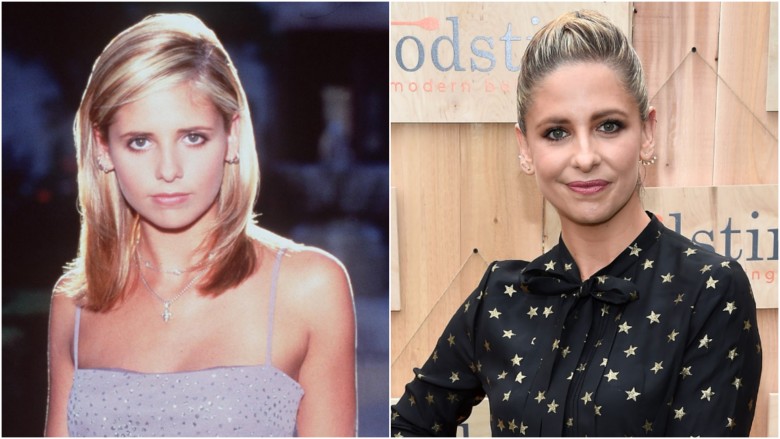 There'd be no Buffy if it weren't for Sarah Michelle Gellar. The blonde starlet made the show a hit with her fierce combat style and fiesty one-liners, but Gellar knows she got lucky. In a post to Instagram commemorating the show's 20th anniversary, Gellar thanked creator Joss Whedon "for trusting [her] to give life to one of the greatest female characters ever created."
Since Buffy ended, Gellar has enjoyed a successful acting career—though she's never really capped the success she attained in the early years. After her days as a vampire slayer were over, she starred on the big screen in movies like The Grudge (2004) and acted in TV shows like Ringer (2011-2012) and The Crazy Ones (2013-2014) alongside the late Robin Williams. The talented actress has even performed voice work for Robot Chicken (2005-) and Star Wars Rebels (2014-).
The actress, who has two children with husband Freddie Prinze, Jr., also founded the company Foodstirs in October of 2015, which delivers organic DIY baking kit subscriptions to families hoping to spend a little more quality time together in the kitchen. Gellar opened up about why she started the business to Popsugar in January of 2017. "The inspiration was really our children," the actress said. "You want your children to learn to love the food and also a respect for the earth and where ingredients come from and that food does not come out of a machine."
Alyson Hannigan
Since her days as the lovable geek-turned-witch Willow Rosenberg, Alyson Hannigan has continued working on TV. While we'd argue that she's still best known for her work on Buffy—though you could make the same argument for the character Michelle in the American Pie movie franchise—Hannigan gained a whole new following of fans who know her as Lily Aldren in the TV series How I Met Your Mother (2005-2014). Since 2016, the redheaded actress has also hosted the magician competition Penn & Teller: Fool Us.
In October of 2003, Hannigan married fellow Buffy alum (and Angel cast member) Alexis Denisof. Together, they have two daughters, Satyana Marie Denisof and Keeva Jane Denisof.
Nicholas Brendon
The man behind Xander Harris has hit some hard times since his demon-fighting days. In April 2004, the actor revealed he was entering himself into a rehabilitation facility for alcoholism. Unfortunately, his time in rehab didn't appear to offer him much help. In May 2010, Brendon was charged with felony vandalism, two counts of battery against a police officer, and one count of resisting arrest, was arrested, and later released from jail on $20,000 bail. A few months later, he entered rehab again in an effort to seek help for his addictions to both alcohol and sleeping pills. Sadly, that wouldn't be the only time he got into trouble with the law.
After being arrested in March 2015, Brendon opened up about his mental health to a Tallahassee, Fla. newspaper, explaining his absence from a local convention. "A lot of it has to do with my coming to terms with the stuff that I am having to deal with inside of my head which is not fun—and it's not funny, and people who make fun of it and make light of it, I wish that it doesn't happen to them," he stated, adding,"I hate how I feel right now. I hate how I have come off. This isn't who I am."
But luckily, after two trips to the Dr. Phil Show, another arrest, and a subsequent stint in rehab, Brendon, who's been married (and divorced) twice, seems to be on the up and up–as is his career. According to IMDb, Brendon has landed quite a few acting gigs, including a recurring role in Criminal Minds (2005-), with more roles in both TV and film lined up for the future. Fans of Buffy would be happy to know that he's also had a hand in the Buffy the Vampire Slayer comics, helping shape stories that center around Xander.
Anthony Stewart Head
Anthony Stewart Head, who played Buffy's watcher (and school librarian) Rupert Giles, has continued having a successful TV acting career. According to IMDb, he's enjoyed regular roles in shows like Little Britain (2003-2006), Merlin (2008-2012), and Dominion (2014-2015) as well as a few gigs in films like The Iron Lady (2011), Percy Jackson: Sea of Monsters (2013), and the cult-hit Repo! The Genetic Opera (2008). In 2014, Head released an album entitled Staring at the Sun, a followup to his 2002 record Music for Elevators.
He and his wife Sarah Fisher have two daughters, Emily and Daisy, who are both actresses. When he's not acting, Head also runs Tilley Farm, a 96-acre home to horses, ponies, and donkeys, with Fisher. The farm hosts various veterinary workshops and even hosts rescue dogs in need of a temporary home. Nice to know Giles is still out there doing good.
David Boreanaz
After David Boreanaz wrapped on Buffy and, of course, its spin-off Angel (1999-2004), he jumped right into another major TV role: Detective Seeley Booth on the crime comedy-drama Bones (2005-2017).
On the home front, Boreanaz married his second wife Jaime Bergman, a former Playboy playmate, in 2001. The pair have two children together, Jaden and Bella Boreanaz. But unfortunately, Boreanaz made a few bad decisions that no-doubt shook the foundation of his marriage. In 2010, the actor admitted to having an affair with Rachel Uchitel, a woman best known as golfer Tiger Woods' mistress. Luckily for Boreanaz, he and his wife have seemingly been able to move past his infidelity, going on to found the nail polish line Chrome Girl with two of their friends.
James Marsters
James Marsters is no stranger to the screen—big or small. After starring in Buffy and Angel, Marsters, who played Spike, the vampire you loved to hate, took on a few recurring roles in popular shows like Without a Trace (2002-2009), Smallville (2001-2011), and Witches of East End (2013-2014). He also played Gerard Butler's friend John in the 2007 hit film P.S. I Love You. He's currently slated to star in The Runaways, a Hulu show based on the Marvel comic book series of the same name. And everyone knows when Marvel's involved, you've struck gold.
Beyond acting, Marsters, who married his second wife in 2011, has pursued a music career as both a solo artist and as a part of his band, Shadow of the Robot. Today, he also stars in ViDiOTS, an online series following Marsters and actor Mark Devine as they travel and play video games. We only hope that one day soon Marsters will pick up a copy of Buffy the Vampire Slayer, the 2002 Xbox game. Why not mix nostalgia with your affinity for video games?
Oh, and FYI: Marsters is not actually British. He was born and raised in good old California. But damn, if he doesn't do a convincing accent.
Charisma Carpenter
With a name like Charisma, Carpenter was destined to be an actress. After starring as the sassy queen bee Cordelia Chase in Buffy and Angel, Carpenter, who gave birth to son Donovan Charle Hardy in 2003, enjoyed recurring roles in shows like Veronica Mars (2004-07) and The Lying Game (2011-13) as well as a gig in The Expendables films.
But Carpenter hasn't only faced off with evil forces on TV. In a 2013 interview with Collider, Carpenter reveals that she was once held at gunpoint by a crooked police officer, who shot two of her friends. She's used that experience to help others tell their stories of crime and abuse by hosting the TV series Surviving Evil (2013-) on Investigation Discovery.
Eliza Dushku
Eliza Dushku may have traded in her wooden stakes, but she's still tough as nails. While she hasn't been as present on TV or film as she used to be, she's still had her fair share of acting gigs. Soon after her days as Faith, Dushku snagged lead roles in shows like Tru Calling (2003-05) and Buffy creator Joss Whedon's other TV project, Dollhouse (2009-10). She's also done voice work for Hulk and the Agents of S.M.A.S.H. (2013-).
But things haven't always been fun and games for Dushku. In March 2017, Dushku revealed that she's battled alcoholism and drug addiction in the pastthough she's remained sober as of recent years. Speaking at the New Hampshire Youth Summit on Opioid Awareness, Dushku described how drug use quickly turned her life into a nightmare. "It was fun—and I loved it—until it wasn't," Dushku told the crowd of students. "Drugs didn't love me. They didn't love my family. They definitely didn't love my friends that died." Luckily, these days, Dushku is much more about self-improvement than self-medication. She's currently enrolled in Suffolk University, taking steps to achieve her bachelor's degree in Sociology.
Seth Green
Seth Green, who played the lovable werewolf Oz, hasn't slowed down since his days on the Buffy set. After his role as Dr. Evil's son in the Austin Powers series and his series Dads (2013-14), Green's mostly stuck to voice work, voicing characters like Chris Griffin on Family Guy (1999-) and Leonardo in Teenage Mutant Ninja Turtles (2012-). However, he's probably best known today for his work on Robot Chicken (2005-), a stop-motion sketch comedy show he co-created.
More than an actor, writer, and producer, Green's also a husband. He married actress Clare Grant in May 2010. The two apparently bonded over their shared love of comic books, TV shows, and video games. What more could you ask for?
Emma Caulfield
Emma Caulfield stole our hearts as the naive and money-hungry former vengeance demon Anya. But the actress is much more than her adorable bunny-fearing Buffy character. Caulfield's held down roles in shows like Gigantic (2010-11), Life Unexpected (2010-11), and Bandwagon: The Series (2010-), a comedy show she helped create. However, if you're a fan of the ABC series Once Upon a Time (2011-), you'll likely best know her today as the Blind Witch from the Hansel and Gretel storyline.
Caulfield, who gave birth to daughter Knightley Lake Ford in July 2016 with husband Mark Leslie Ford, has also pursued other ventures like co-writing the comic book Contropussy with IDW Publishing and writing a few "TV Diary" articles for Entertainment Weekly.
Michelle Trachtenberg
As a child actor who starred in movies like Harriet the Spy (1996) and Inspector Gadget (1999), Michelle Trachtenberg already achieved success before she joined Whedon's iconic show as Buffy's sister, Dawn (AKA The Key). After the series ended, Trachtenberg continued to appear in films, starring in movies like EuroTrip (2004), Ice Princess (2005), and 17 Again (2009). She's also acted in a number of TV shows, including Mercy (2009-10), Weeds (2005-12), and Gossip Girl (2007-12).
According to Adweek, Trachtenberg is also a writer. While discussing her preference for Blackberry over the iPhone in a 2013 interview, she said, "I'm also a writer, and I'm usually working on several projects at the same time—screenplays and pilots. Sometimes an idea will hit me and I'll sit and write half a scene on my BlackBerry while waiting for a meeting, and I don't know that I'd be able to type as quickly on an iPhone."
While we don't doubt that Trachtenberg's kept herself busy as a writer, she doesn't have any writing credits listed on her IMDBbpage. Maybe she uses a pseudonym, à la Taylor Swift's Nils Sjoberg.
Amber Benson
Amber Benson played Willow's first lady love Tara in Buffy, who left the show in one of the most heartbreaking TV death scenes we've seen in decades. Since her character's untimely end, Benson's taken on brief guest roles in popular shows like Supernatural (2005-), Grey's Anatomy (2005-), and Private Practice (2007-13). However, in recent years, she's focused more on working behind-the-scenes, writing, directing, and producing various projects. Like Brendon, she's also worked on the Buffy the Vampire Slayer comic books, focusing on stories with her witchy character.
Perhaps inspired by her work on Buffy, the actress has also written a number of books, including the Ghosts of Albion series and the Echo Park series–both of which focus on magic and demons.
Marc Blucas
After starring in Buffy as Riley, the military monster hunter, Marc Blucas went on to act in the 2004 film First Daughter alongside Katie Holmes. Blucas has also starred in the TV shows Necessary Roughness (2011-13), Killer Women (2014), and Underground (2016-). In July 2009, he married journalist Ryan Haddon and became stepfather to her two children, whom she had with her ex-husband Christian Slater.
In a 2011 interview with The Wrap, Blucas acknowledged why Buffy fans tend to hate his former character–and his acting. "Back then, I was so green. I was a business major in college and had no concept of what I was doing," Blucas said, adding, "Today, I can't watch Buffy because I just cringe. I suck so bad in it. I got really lucky to have the opportunity, but I genuinely had no clue what I was doing." Oh, Blucas, we didn't hate your acting or your character that much.
Kristine Sutherland
After she completed her role as Buffy's dear old mom, Kristine Sutherland acted in a few more TV and movie roles but has since mostly stayed under the radar. In fact, after Buffy, she reportedly attended Santa Monica College, taking a course in photography. Since then, she decided to pick up the camera professionally. On the topic, Sutherland told LegendaryWomen.org, "As an actor, you have to be invited to collaborate. As a photographer, you can wake up any morning, don the hat of a producer, a costume designer, a director, a set designer, a camera operator, or a cinematographer. You have a form of expression whereby you yourself have complete control over the process."
But don't think for a minute that Sutherland has forgotten all about her days on the supernatural show. She regularly attends conventions with her Buffy co-stars, meeting and speaking with fans around the world. In March 2017, she travelled to France for the Paris Manga and Sci-Fi Show with fellow Buffy alums Marsters, Brendon, and Carpenter. Seems like even the Buffy cast is nostalgic for their vampire-hunting days.