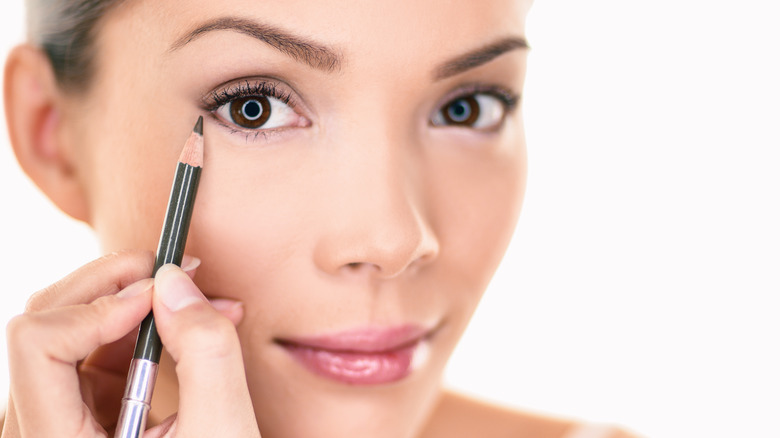 We may receive a commission on purchases made from links.
Have you tried brown eyeliner? If not, now might be time. While most people consider black eyeliner to be a makeup routine staple, switching out your go-to black liner for brown can actually give you much more freedom with your look. Many folks like the build-ability brown liner allows compared to black, and others love the warmer, softer, more subtle look it gives their makeup. Either way, if you've been swearing by a harsh black eyeliner since you first started wearing makeup, consider this your sign to embrace an upgrade.
As is true with any makeup, we all have different needs for our eyeliner. Some of us love striving to perfect that graphic cat eye, while others want something to smudge into the lash line for a smokey look. No matter what you may be searching for in your perfect brown eyeliner, we've got it.
How we selected the best brown eyeliners out there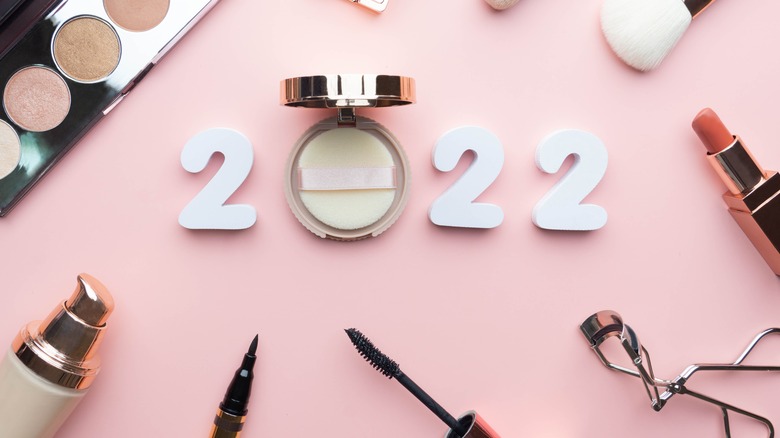 Brown eyeliners are like snowflakes: no two are exactly alike. However, all your needs must be met to consider one eyeliner your ride-or-die. Makeup wearers know that sometimes searching for "the one" when it comes to eyeliner is harder than finding "the one" IRL. Well, consider this list your eyeliner Tinder — we're ready to find you your match made in brown-liner heaven. No matter what you're looking for in a brown eyeliner, we've found the best one that's out there to meet your needs.
Once we determined the top traits folks are looking for in their liners, we got to work finding the holy grail for each category. We took a lot into consideration, from the formula to the applicator to how many shades of brown they offer. In the end, we're very confident that our list will allow you to skip a few steps in your eyeliner shopping process and save plenty of time and money along the way. Who doesn't want that? We've also made sure to include reviews from real people so we can be certain that our recommendations are real makeup-wearer-approved. We hope you're ready to give your makeup bag a makeover, because here come the recommendations.
Best overall
When it comes to something like eyeliner, it's not easy to pick a single best option (that's kind of why we narrowed it down to 17). There are lots of reasons why people have a favorite liner, and everyone's preferences are different. If there was an overall best option, though, we think this Rimmel liner would be it. The reason this one stands above the rest is because it really can fill in for pretty much any liner role you're looking for. It's a pencil, but it can be as bold, graphic, and precise as a liquid liner. It's also soft and smooth and has a built-in smudger for a softer, smokier look (via Amazon). It's even got a built-in sharpener, so you never have to worry about losing that precise tip. It's waterproof and long-lasting which we're looking for in pretty much any eyeliner. Plus, it's under $5, so on top of all of its plusses, it's also super budget-friendly.
One of this product's many five-star reviews says, "This is my favorite eyeliner! I've tried a few others, but this one goes on smoother and it's softer than other pencil type eyeliners. If you like to have less definition to the line, you can blend it using the other sponge end. Some eyeliners do not go on smoothly, they seem to be harder to apply than this one. I use the rich brown and is the perfect shade for me, not so harsh as black."
Type: Twistable pencil with smudger | Shades of brown: 1

Best budget
No matter how great your eyeliner is, if you're an avid wearer, you know you'll have to replace it all the time. So, why spend a lot of money on something that will run out in no time? E.l.f. Cosmetics has the answer for us with their $4 (yes –- you read that right; $4) No Budge Eyeliner. If you know e.l.f., you know that it's one of the best brands out there in terms of marrying great quality with a wallet-friendly price tag, and they've done it again with this liner.
It's waterproof and long-lasting. In fact, according to one review, you can even wear this out on the open road: "This is by far the best waterproof eyeliner I use. I ride on a motorcycle and my eyes tear and my make up does not smudge at all. It goes on smooth and color is perfect."
You can get the e.l.f, No Budge Retractable Eyeliner for $4 on Amazon.
Type: Twistable pencil | Shades of brown: 1

Best for every day
Most of us have makeup looks that we opt for on special occasions and then another look that we grab for everyday wear. When it comes to your everyday getting-ready routine, this Pacifica pencil is one you'll keep coming back to. One of the biggest pros of this option that's mentioned in many of the reviews is how smoothly it goes on (via Amazon). That way, you can swipe on your liner and won't have to worry about getting breaks in the line or having to trace over it more than once. Just draw and go.
And, if you do draw with this pencil every day, you don't have to worry about what it's doing to your skin over time, because it's made with shea butter and jojoba oil and also contains vitamins C and E. We love an easy-to-use makeup product that also does great things for our skin. According to one review, "This goes on sooooo easy and the colour is wonderful. Cannot get enough and I bought more."
You can get the Pacifica Beauty Natural Eye Pencil for $19.99 on Amazon.
Type: Pencil | Shades of brown: 1
Best bold
Pro tip: Bold liner isn't always black, and brown liner doesn't always have to be soft and subtle. Opting for a brown cat eye can make your dramatic, graphic eye look feel fresh and updated. Of course, to achieve a look like this, precision is key no matter the color. The best way to achieve this unique, modern look is with Fenty Beauty's Flyliner Longwear Liquid Eyeliner.
This liner has a flexible, super-pointy tip, which allows you to put your creativity to work however you want (via Sephora). It offers intense, saturated color that dries quickly and stays put all day through rain, shine, or whatever else you may need your cat eye to hold up against.
One longtime fan's review says, "This is the only liner I used since Fenty Beauty dropped. I buy several at a time. She is that GWORL. I always do a cat eye, and I always get compliments on my liner. She legit lasts all day." Another says, "This is my holy grail eyeliner. I have the oiliest of oily eyelids and this stuff stays on all day. I've tried so many other eyeliners recommend for oily lids and within 5 minutes I would always look like a raccoon. This stuff does not budge."
Type: Liquid | Shades of brown: 1
Best blendable
One core tenet of great makeup application: blend, blend, blend! While some makeup looks require sharp lines and bold contrast, other looks need to be a bit softer. For these moments, we need a blendable liner that smudges when we want it to and doesn't when we don't. Sure –- that sounds difficult to achieve, but not for Sephora. Sephora's retractable eyeliner has a built-in smudger that allows you to blend its smooth, creamy color until it sets (via Sephora). You won't get breaks in your line during application like you will with some other pencil liners. Once set, it's waterproof and stays in place. It also has a built-in sharpener, so you never have to deal with a dull line again.
One review says, "It's the perfect liner! Super easy to use with the angles of the liner and really easy to blend just the way you want it to look!" The perfect liner, you say? That's precisely what we're looking for.
You can get the SEPHORA COLLECTION Retractable Waterproof Eyeliner for $13 at Sephora.
Type: Twistable pencil with smudger and sharpener| Shades of brown: 2
Best pencil
This is a definitive "best eyeliner" list, so of course, we've got plenty of pencil options. In terms of getting the best of everything we want out of our pencil, though, one stands above the rest. It's got the smooth, smudge-ability that we all look for in a pencil liner while still being highly pigmented (via Sephora). It also allows you a bit of time to smudge and blur the liner to your heart's content before it sets and stays put, so you can really get the best of both worlds when it comes to smudging. Moreover, it comes in three shades of brown — which is pretty unique for most eyeliners — and has two matte shades and one shimmer, so it's got the brown for you no matter what you're looking for.
One reviewer said, "Love the dark brown. That perfect shade between black and brown. Glides on smoothly. Very creamy feel. Long wearing. I just don't get the wear time on other brands like I do with Pat McGrath eyeliners."
You can get the ​​PAT McGRATH LABS PermaGel Eyeliner Pencil for $29 at Sephora.
Type: Pencil | Shades of brown: 3
Best felt tip
If you haven't tried the NYX Epic Ink Liner, now is the time. It is truly a game-changer in terms of a felt tip liner. It feels like using a precise marker to draw on your cat eye, and the super-saturated color is bold and easy to draw with. Not only will this eyeliner last on your face, but the liner, itself, won't need to be replaced too often.
This product has over 50,000 five-star reviews on Amazon. One of them says, "I get raccoon eyes pretty easily. Trying new brands, my daily cat eye wings would usually feather out or droop down. This is usually why I would only use expensive stuff (even though some of those did it too). I was hesitant to try this because it's a 'cheap' brand, but I learned my lesson!! This stuff STICKS!! It is HIGHLY pigmented, too. The black is super black. I love the applicator end. I can get a tight line, and the thinner end makes it easy to do fine lines (like drawing your wings out). It sticks in place through workouts, crying, etc. and only comes off with makeup remover wipes."
Type: Felt Brush Tip| Shades of brown: 1
Best liquid
There are two types of eyeliner-wearers in this world: those of us who have a steady enough hand to apply a flawless liquid line and those of us who do not. If you're the former (AKA one of the universe's favorites,) this liquid liner is perfect for you. This option has a fine brush that you dip into liquid liner, rather than a felt tip (via Amazon). You can use this flexible, precise tip to get an extra clean, pointy, delicate line. It's also made with a formula of botanical ingredients and mineral pigments that will soothe and protect your skin while also having staying power, so your liquid line will last you all day and night.
One review says, "AMAZING! The applicator is [an] actual bristle brush. The eyeliner glides on smooth and you could create thin or thick eyeliner. I've used other non-toxic eyeliners, but this is seriously my favorite!!!"
You can get the Dr. Hauschka Liquid Eyeliner for $22 on Amazon.
Type: Liquid| Shades of brown: 1
Best gel
If you prefer a gel liner that you can apply with a brush, or maybe if you're just interested in trying a new approach to lining your eyes, Maybelline has the perfect option for you. This oil-free gel is both highly pigmented and safe for sensitive skin and eyes (via Amazon). You can use the skinny liner brush dipped into the gel to achieve a precise wing and an even line. It goes on smoothly and prevents smudges. Plus –– it's designed to last 24 hours, which is even more than we usually need.
One five-star review says "I can finally say, I have made the perfect cat eye lines when using this product." Don't we all aspire to be able to say that?
You can get the Maybelline New York Eye Studio Lasting Drama Gel Eyeliner for $7.36 on Amazon.
Type: Pot and brush| Shades of brown: 1
Best for a wide range of browns
If you love brown eyeliner and want a wide variety of options in your choice of color, this Urban Decay pencil is the pick for you. It has a whopping seven different shades of brown in both matte and shimmer. This pencil is called "glide-on" for a reason. It's both easy to apply and manipulate and long-lasting to keep on without smudging –– even in water.
One reviewer loves the shimmery brown shade, Rockstar, and says "Urban Decay 24/7 eyeliner pencil in Rockstar is my go to, looks so great with green eyes! I love these eyeliners so much, I do not want to even try a different one! Lasts a long time, and I wear it every day! I have several colors but always go towards the darker purple tones as they are much softer than black!"
You can get the Urban Decay 24/7 Glide-On Waterproof Eyeliner Pencil for $23 at Ulta.
Type: Pencil| Shades of brown: 7
Best for sensitive eyes
Plenty of us struggle with sensitive eyes, sensitive skin, or allergies that prevent us from using certain kinds of makeup. If this sounds like you, our pick is the Physicians Formula Liquid Eyeliner. Physicians Formula is a healthy beauty brand, and this liner is dermatologist-approved, hypoallergenic, fragrance and paraben-free, and formulated to be extra careful for folks with sensitive eyes or those of us who wear contact lenses (via Amazon). Additionally, this liner contains an eyelash serum, so when it's applied to the roots of your eyelashes, it actually conditions your lashes and makes them look fuller and healthier.
One review said, "This is hands down my favorite drugstore liner, and outperforms most of the high end liners I've tried as well. The brush is so good, I swear. It puts down the perfect amount of ink for an opaque line without having to do multiple passes, and the tip is fine/tapered enough to do small detail work. I especially find it good to do winged liner because it draws such a neat, clean line, and is easy to draw the tapered end of the flick and have it be small and pointy… I've tried probably 15 different brands of liquid liner in the past couple years and wear liquid liner daily, and this is one of my favorites- especially for the price."
Type: Liquid | Shades of brown: 1
Best for staying in place
No matter what you want out of your eyeliner, we all want our makeup to stay in place after we apply it. Once you apply this Dior eyeliner, it's not going anywhere. It's waterproof and long-lasting. It also has intense, pigmented color and a built-in smudger, so you'll have liner that stays put whether you want your makeup to be bold and graphic or natural and subtle.
One review says, "This is a great eyeliner. It lasts longer then [sic] all the other waterproof liners I've tried. It goes on smoothly. The foam tip at the end of the pencil makes smudging super easy and this creates more of a natural look. Bonus: It comes with a sharpener. I'm sure this will last for a long time. I tried the 'brun intense' shade, which is a lovely, rich, chocolate shade, perfect for me."
You can get the DIOR Long-Wear Waterproof Eyeliner Pencil for $30 at Nordstrom.
Type: Sharpen-able pencil with Smudger| Shades of brown: 1
Best for tightlining
No matter what your preferred eyeliner style is, the "tightlining" technique can be a helpful addition to your routine that will make your lashes look fuller and your eye makeup look more cohesive. If you're a fan of tightlining, we recommend this Charlotte Tilbury eyeliner pencil. This kohl pencil is formulated to go on smooth like a liquid liner while still being smudge-able and buildable like a kohl liner (via Sephora). This unique blend makes this pencil ideal for smudging into the lash line. It also contains collagen, which will help to keep your eyelids moisturized and smooth.
One review says, "I've been looking for a great pencil eyeliner I can smudge out but also one that stays in my waterline! I feel like this one does the exact job I was looking for! The black color itself is so rich and pigmented, I also bought the brown and am in love with it as well!"
You can get the Charlotte Tilbury Rock 'n' Kohl Eyeliner Pencil for $29 at Sephora.
Type: Pencil | Shades of brown: 1
Best for crafting the perfect cat eye
Ah –– the perfect cat eye. We all want it, but most of us have only actually achieved it once on a random Tuesday two years ago. The rest of the time, perfectly balanced, even wings are always slightly out of reach. For a tough but necessary undertaking like trying to achieve the perfect cat eye, we need the perfect tool that will aid us in our noble quest. Enter the stila All Day liquid eyeliner. It's got a fine, felt tip applicator and a smooth formula (via Amazon). When combined, this liner will make crafting that beautiful wing as easy as one simple swoop.
One reviewer says, "Stila All Day Liner is Like Oxygen to Me," which, although a tad dramatic, is really the kind of commitment to a liner that we're all striving for. Another said, "Drunk cried in my boyfriend's [employer's] for like an hour. Yeah, I know. Slept with my makeup on that night and when I woke up, looked like nothing even happened. 10/10." Talk about a cat eye that has nine lives.
You can get the stila Stay All Day Waterproof Liquid Eye Liner for $23 on Amazon.
Type: Liquid | Shades of brown: 2
Best for a smokey eye
No matter how you do your eyeliner day-to-day, many of us like to do a smokey eye every now and then. Most people go for a smokey eye in blacks and greys, but a brown smokey eye can put a warm, subtle twist on a classic makeup look (via L'Oréal Paris). For the perfect brown smokey eye, we recommend the Juvia's Place Nubian Eyeliner Pencil. It glides on smoothly and is easy to blend out with a brush or sponge to get that effortlessly put-together look.
One five-star review says, "I use this for my waterline almost everyday and it stays on like a dream. It does smudge throughout the day but a quick reapply will fix it. It's the only pencil eyeliner I use and I love it." Another called it "The best eyeliner I've ever purchased!!" which is exactly what we like to hear when we're about to add an eyeliner to our cart.
You can get the Juvia's Place Nubian Eyeliner Pencil for $6 at Ulta.
Type: Twistable pencil | Shades of brown: 1
Best for packing in your travel makeup bag
Do you prefer a liquid liner or a pencil? If you like having both for different makeup looks, you no longer have to choose. The Tarte Double Take Eyeliner is a pencil on one side and a felt tip liner on the other. The pencil side sharpens by itself and contains Amazonian clay to give you a precise, saturated line every time (via Sephora). Flip it over, and you've got a perfectly pointy felt tip liquid liner. Now, you can pop one liner in your makeup bag for travel instead of two. Who doesn't love some efficient packing?
One five-star review calls this their "holy grail liner" and says, "I've tried so many felt tip liquid eyeliners. I have very sensitive eyes that water all of the time, so it's difficult to have eyeliner that doesn't smudge or transfer. This is my all time favorite! Makes the perfect wings, very black, and it doesn't transfer!!! I've been through 3 of these in the past 6 months. I go through it quickly, however I do wear it almost every single day. The gel liner on the opposite side is quite nice as well!"
You can get the Tarte Double Take Eyeliner for $25 at Sephora.
Type: Double-sided | Shades of brown: 1

Best waterproof
There are so many occasions in which we need our makeup to be waterproof, and we need eyeliner that doesn't ruin the look. What's even better than an eyeliner that will stay put no matter the weather or whether or not we're shedding a tear or two is an eyeliner that stays graphic and bold through all occasions. The Maybelline Master Precise All Day lives up to its name, as it is precise and is sure to stay that way all day long. It's designed to stay put for twelve hours, and it'll be bold and saturated the whole time (via Amazon).
One reviewer calls it "perfect" and says, "This is the perfect liquid liner I've been searching for…it's easy to apply, glides on nicely, lasts for hours, and doesn't transfer. I like this even more than the high-end luxury beauty brands' liners I've tried."
You can get the Maybelline Eyestudio Master Precise All Day Waterproof Liquid Eyeliner for $6.24 on Amazon.
Type: Liquid | Shades of brown: 1