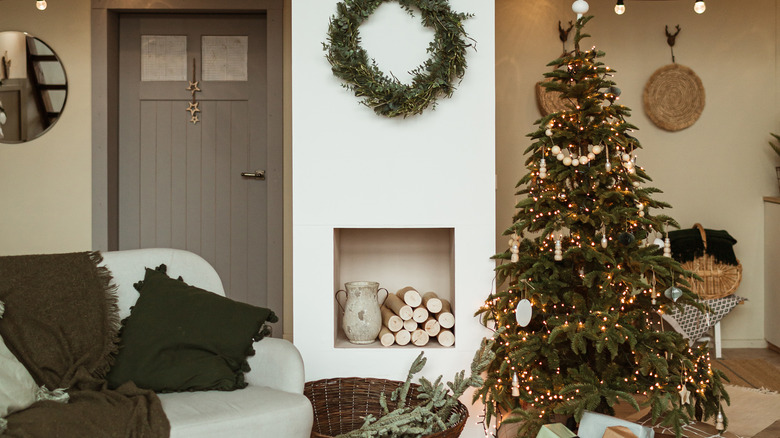 If you look at any holiday or home décor magazine, you'll probably notice that Scandinavian design is having a moment. Forbes posits that many folks fell for Scandi design during the pandemic due to its functional and stylish charms. Characterized by rustic but simple vignettes, it has a warm minimalism that many are drawn to. And because these northernmost areas stay dark and chilly for a number of months, Scandinavian home designs are made to be a wintery sanctuary, so the style already lends itself well to Christmas decorations.
Scandinavia is a large region made up of many nations, like Denmark, Norway, Sweden, and Iceland, to name a few. While we have condensed them down into one aesthetic known as Scandinavian, each country still has unique design traditions, even when it comes to the Christmas holidays. So if you're wondering how to dial your Christmas decorating in like a true Swede, follow our 5 Christmas decorating tips that will have you saying "God Jul" instead of Merry Christmas.
Candles, candles, everywhere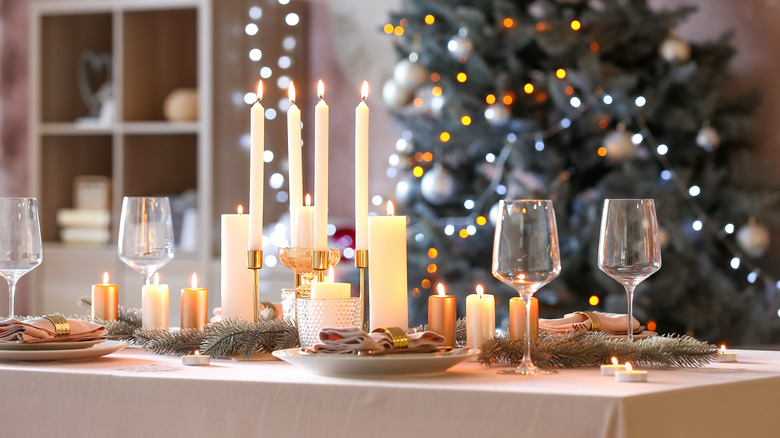 While many cultures bring out the candles in the wintertime, Swedish folks have two main candle traditions. The first is in honor of Saint Lucia, who serves as both a historical Christian and mythological secular figure, venerated as a martyr and, according to Swedish Institute, a symbol of bearing light in Sweden's harsh and dark winters. Saint Lucia Day is celebrated on December 13 and is also known as the festival of lights. Each year, a pageant is held as a town or family, and a young girl gets to play Lucia with a crown, or krona, of candles. Many Swedish homes also have a krona candelabra that they decorate with holly berries and string lights, then light it in the evening.
Then we have the advent calendar candelabra. Swedes love an advent calendar, but it differs from the cardboard 25-day calendars mostly seen in the US. Instead, they use 4-slot candle stick holders, lighting a candle each Sunday in December in the lead-up to Christmas (via The Local SE). Beyond these two candle traditions, Scandinavians generally like to have plenty of unscented candles around the house to light in winter evenings, opting for them over artificial lighting. So don't hold back on the candle budget if you really want to decorate for Christmas like a Swede.
Don't skimp on greenery
Keep the garland, tree, and wreaths as natural as possible to keep your Christmas décor in line with Swedish tradition. Nature Travels writes that Sweden receives just five and a half hours of sunlight daily, meaning folks spend much less time outside in nature. For this reason, Swedes try to bring in as many of the touches of nature into their winter and Christmas décor, so even if you're going with an artificial tree, skip the neon, white, and fully flocked trees and keep it classic with green branches. The pops of green are uplifting and calming, so when choosing your garland and wreath materials, go for evergreen materials.
According to The Local SE, some Swedes will buy and plant hyacinth flowers for Christmas, similar to the poinsettia tradition in the United States. The green stems and popcorn blossoms are hopeful nods that spring will come again and keep beautifully with traditional Christmas colors.
Stars in their eyes
The advent star is a huge part of Swedish Christmas lore. The star's origins lie in the biblical story of Jesus's birth, meant to represent the star of Bethlehem, which guided the magi to Mary and Joseph. And while Sweden is largely secular nowadays, according to a survey by Pew Research Center, Christian and non-Christian Swedes still hang advent stars, or adventsstjärnor. These are often made from either metal or paper and hung in the home or in the window.
Metal stars typically have lights in them so they can shine in the dark Swedish sky. You can find these in various Scandinavian home décor stores. Paper models are also a popular choice, and while you can buy them, it's more fun (and cheaper!) to make them as a holiday craft. Follow this extremely thorough tutorial from Creative Giant Hands (via YouTube) – all you'll need is some glue, paper, scissors, string, and some patience.
Stay classic with colors
When you search for Scandinavian or Swedish Christmas inspiration, you probably see a lot of white-washed, minimalist, and, dare we say, joyless designs. While Swedes try to keep décor functional and classic, their Christmas style is also warm, inviting, and classic. Red, green, and gold are heavily featured in Scandi Christmas, notes Scandinavia Standard. So don't feel like you need to toss out the classic holiday colors in search of a more sparse and modern holiday theme.
While multicolor lights probably won't overtake the classic warm white bulbs anytime soon, you can still have plenty of pops of color. For classic Christmas tree decorations, hang candy canes, red and green glass baubles, and cranberries. In addition to the traditional Christmas colors, add rustic touches with natural wood. This can come from wood furniture, wicker, woven baskets, trays, and other accent pieces. The balance between modern and traditional is key to an authentic Swedish Christmas.
Bake your decor
When the weather turns cold, and the countdown to Christmas begins, Swedes start baking up a storm, says Swedes in the States. But only some of it is for happily munching — Swedes, much like the U.S., love making gingerbread for the holidays, especially gingerbread houses (pepparkakshus) and pepparkaka hearts (heart-shaped gingerbread cookies). Gingerbread houses can be baked from scratch or made from kits, just like in the U.S., and are decorated with frosting and sometimes candy. Pepparkaka hearts are hung on a string and can be draped over a window or mantel or hung from the Christmas tree.
Swedes like their gingerbread to be very fragrant, so the whole house smells like Christmas. In addition to the gingerbread decorations, one of the big ways to really make your home into a Swedish holiday paradise is to get a big pot of mulled wine (glögg) on the stovetop or in your slow cooker. And if some pepparkaka makes its way onto the dessert plate, we won't tell.