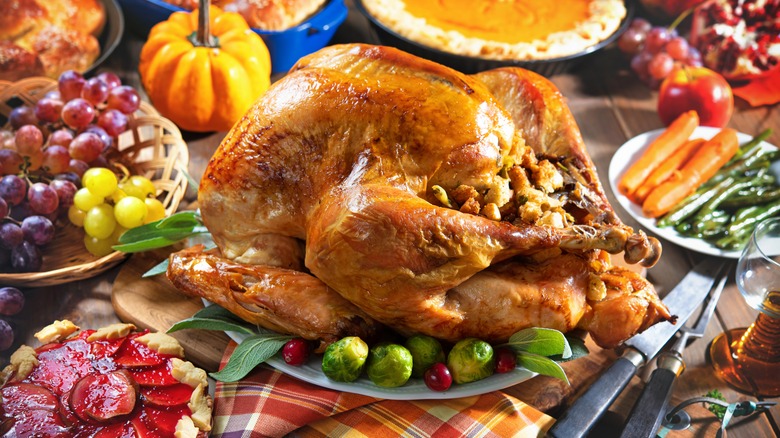 Anyone who has ever cooked a full Thanksgiving meal knows it's a massive undertaking to accomplish successfully. The turkey in and of itself is often a multi-day job in order to end up with juicy and flavorful meat, whether you roast or deep fry the bird. Then, there's all of the tasty sides that always make the best leftovers and festive desserts that take hours to prepare. It's fun if you like cooking, but it's often more of a stressor for those who prefer to eat rather than prepare a massive meal. Plus, we haven't even mentioned all of the cleanup after everyone clears their plates.
Thanksgiving may be all about traditions, but it also means making new memories by breaking the mold. It means that if you don't feel like cooking an entire meal for yourself and your loved ones, you don't have to. In fact, there are several restaurants that will do the cooking for you on Thanksgiving — even massive chains that have locations across the U.S. and beyond.
No two Thanksgiving takeout meals are alike, even if the staples like turkey, stuffing, and mashed potatoes are present and accounted for. We decided to take a look at some of the most popular Thanksgiving dinners from chain restaurants and see which are worth making a reservation for and which might put a damper on your holiday celebration.
11. Denny's
Denny's is one of those chains that is perfect for late-night subsistence or budget-friendly all-you-can-eat pancakes. Its Thanksgiving offerings may be kind on your wallet, but it might not even mildly compare to a tasty home-cooked meal. Denny's offers a turkey dinner with savory stuffing, gravy, and cranberry sauce. The feast is pretty massive, as it also comes with a dinner roll and two sides. Diners can choose between Denny's classics like wavy fries or hash browns. Or, they can go more traditionally Thanksgiving with sweet corn.
While the generous meal deal might sound tempting, those who have experience celebrating the holiday by eating at Denny's don't suggest that others try out the experience for themselves. One Trip Advisor review describes the meal as unappetizing, with unsatisfying portions and a dry turkey. Also, more than one review mentions that rather than a traditional dinner roll, their meal came with garlic bread. "In the description, it says roast turkey, and it was not really roasted at all — mostly fried," one Facebook review reads. "The dressing — gross. The only good thing that came out of it was the wavy-cut fries." For a similarly priced turkey dinner, Redditor u/Cat-attak suggests that diners opt for a Boston Market Thanksgiving meal instead. We can't disagree, which is why Denny's turkey dinner had to be put dead last on our list.
10. Golden Corral
Golden Corral is the place to go to when you have an insatiable hunger, and it's even open on Thanksgiving. In honor of the holiday, the buffet-centered restaurant chain sells a holiday sliced turkey meal that comes with gravy, cranberry sauce, yeast rolls, cookies, and two sides of the customer's choice. The list of sides offered at Golden Corral is extensive, but includes festive classics like buttered corn, green beans, macaroni and cheese, mashed potatoes, stuffing, and sweet potato casserole. The single-serve meal is listed for just $9.99 at Golden Corral, with family portions also available. The price is unbeatable, but it's another meal that just isn't a totally satisfying Thanksgiving feast.
One Trip Advisor review states the endless problems with the Thanksgiving options at the buffet. The review claims that the particular turkey that they were served wasn't cooked fully, the sweet potatoes were runny, and the flavors of the pumpkin pie were totally off. "It was so bad that I don't think I will ever go back there again — even for the usual choices. Completely ruined our holiday," the review reads. Another review on Reddit from u/goldenthanksgiving also claims the stuffing was also undercooked and under-seasoned.
It's important to point out that other Trip Advisor reviews boast the opposite experience, claiming they fully enjoyed the Thanksgiving offerings at the buffet. However, the overwhelming majority of negative reviews seems to indicate it's one of the chains to steer clear of on such a special day.
9. Marie Callender
Those of us who aren't skilled bakers might be familiar with Marie Callender's for its consistently good pies worthy to bring to any potluck or Friendsgiving celebration. The chain of restaurants and bakeries also offers a three-course single-serving meal on Thanksgiving for less than $30 that is tempting for its price and the fact that you don't have to clean up the dishes after eating it. The meal starts with a choice of a soup or salad, either a turkey or ham dinner with sides, and a slice of pie. The side offerings include apple-sage stuffing, yams, cranberry sauce, mashed potatoes and gravy, vegetables, and cornbread, and you can buy larger feasts to serve more than one person.
While the food itself isn't bad, those who have tried out the Thanksgiving feast don't believe it to be worth the money. "Everything was good, though honestly it seemed to be almost exactly like the Marie Callender's frozen food that you can buy at the store," one Trip Advisor user wrote in a review. That customer added that they probably would've been happier buying the frozen turkey dinners and microwaving them at home, making it sound like a less-than-festive experience.
Another Trip Advisor review agrees that the family pack Thanksgiving meal isn't worth the money, especially for the portions. "Food quality is almost as same as other local market Thanksgiving dinner package," the user wrote. "The side dishes are very small portion and not too flavorful too."
8. Sizzler
Sizzler is one of those places like Golden Corral where you can seemingly eat everything you could ever possibly want and in excessive quantities. The chain offers traditional Thanksgiving dishes, which include rotating items like sweet potato casserole or pumpkin spice cheesecake (via Instagram). They also offer heat-and-eat options to take home for the whole family, but those who have dined in for their Thanksgiving celebration say it's definitely not the best place to get holiday takeout.
One Yelp reviewer was seriously underwhelmed with their holiday meal. "The only thing we found redeeming were the rolls," the review reads. "The ham, turkey, Mac n cheese, yams and veggies were all just sitting in vats of water/liquid. It was gross. The mashed potatoes were gross. I'm not even sure they were instant and they still somehow were awful."
A Trip Advisor reviewer agreed that most of the food tasted like it was left sitting for too long and the meat options were tough. However, a different review on Trip Advisor claims it's a good value for the money, even if you only get the bare bones items like turkey and pie.
7. Cracker Barrel
Nearly the entire marketing ploy of Cracker Barrel is its menu full of comfort food. It is easy to assume that they have the market cornered when it comes to turkey smothered in gravy, mashed potatoes, and macaroni and cheese. The chain even has a turkey lunch special every week that comes with dressing, sweet potato casserole, cranberry sauce, and either a buttermilk biscuit or a corn muffin for about $10.
It's also available to enjoy on the turkey-centered holiday, but some Cracker Barrel enthusiasts claim that's actually the worst day of the year to order the dish. One Reddit user claims the chain was so busy it ran out of turkey, and the ham alternative wasn't satisfying. The sides didn't make up for it either. "Now, every business is different and the Cracker Barrel here is usually very good, just not that time," they wrote.
Others who got to enjoy the meal on a better day at their local Cracker Barrel were major fans of the meal. "I am not one to eat stuffing but theirs was so good. The entire meal was perfect," one Trip Advisor review reads. "Turkey, ham, stuffing, cranberry sauce, candy yams, mashed potatoes. A [truly] great dinner and service." The inconsistencies on Thanksgiving are the main reason Cracker Barrel isn't higher, but it's worth going on any given Thursday to try out the same plate regardless.
6. Boston Market
Boston Market is typically one of the first chains that comes to mind that you'd expect to serve a quality Thanksgiving meal. Every year for the holiday, the chain offers honey-glazed hams, roasted turkeys, and all of the fixings to go with it. Of course, you can opt for a traditional Boston Market rotisserie chicken if that's your preferred bird to eat. The general consensus among those who have purchased from the chain for Thanksgiving is that it's a solid pick, mainly for the sides rather than the uneventful meat options. "I like Boston Market mainly because of their sides," u/itsthekumar wrote in a review on Reddit. "Their chicken is only a little better than Supermarket rotisserie chicken but still pretty good."
U/JazzlikeCantaloupe53 wrote in a Reddit review that the creamed spinach, cornbread, mashed potatoes, and stuffing are some of the best sides offered at the holidays. "I usually bring some for thanksgiving at my parents house to take the load off my mom a bit and everyone always loves them," the review reads. Considering Boston Market is a popular Thanksgiving pick, one downfall might be that your location of choice might easily run out of the favorite dishes pretty quickly.
5. Ruth Chris Steak House
Ruth Chris Steak House is one of the more upscale chain restaurants out there. For Thanksgiving, they opt to make turkey the star of the show instead of beef on its massive menu. Oven-roasted turkey, sausage and herb stuffing, cranberry relish, garlic mashed potatoes, pumpkin cheesecake — it just keeps going. It's pretty much guaranteed that anything coming out of the kitchen at a Ruth's is going to be delicious. One Yelp reviewer who at the prix fixe menu was in awe at everything on their plate. "Roast turkey cooked to absolute perfection like no turkey we'd ever tasted before, a buttery brown gravy that blew our minds, perfectly tart and sweet cranberry relish, AMAZING herb stuffing with a bit of apple in it, and we opted for the mashed potatoes and sweet potato casserole on the side," the review reads. "All just tasted exquisite, perfectly cooked and so full of flavor."
As expected for a fine dining restaurant, you're expected to pay a high price tag to dine at Ruth Chris Steak House for Thanksgiving. "It's probably a little more expensive than it should be, but at the end of the day, it's fantastic food and a great experience," one Open Table user wrote in a review of their holiday meal. "We probably wouldn't come back every year, but it's certainly something we will do again."
4. Bob Evans
Bob Evans is another one of those reliable chains that you can enjoy a Thanksgiving meal at anytime of the year, including on the actual holiday. It's another super budget-friendly option that comes with a ton of food. For less than $20, Bob Evans serves up roasted turkey, dressing, cranberry relish, mashed potatoes, gravy, green beans with ham, buttered corn, dinner rolls, and pumpkin pie.
There's truly little else you could want from a Thanksgiving meal, and it takes an astonishingly small amount of cash or effort to enjoy it. "Couple years ago, wife and I went to Bob Evans and it was great, everyone was in a good mood, food was good, and no dishes to clean," u/CaesarManson wrote in a Reddit review of Bob Evans Thanksgiving feast. Another satisfied Bob Evans customer added in a Trip Advisor review that the portions of the turkey dinner are so large, two people could probably even split one plate. The only reason Bob Evans isn't the highest on the list is because while the food is good, it definitely wouldn't beat the homemade meal. Rather, it serves as a suitable substitute if you're looking to go out to eat on that special Thursday.
3. Buca di Beppo
Buca di Beppo is usually the kind of place you go to for family-sized portions of spaghetti, garlic bread, and other Italian-American classic dishes. It is one of the more underrated chain restaurants to enjoy a stellar Thanksgiving meal, even though it's not something they serve on a regular basis outside of November. They serve sharable portions of the basics like white meat turkey, roasted garlic mashed potatoes, gravy, spicy Italian sausage stuffing, and cranberry sauce. The added bonus is that they also still serve up their traditional Italian-inspired dishes like penne alla vodka, chicken carbonara, and meatballs to mix in with the Thanksgiving dishes. Leftover stuffing and spaghetti? We can't think of how it could get much better than that.
Buca lends itself naturally to a family-style dining experience, so it makes sense that the chain can seamlessly turn out a tasty Thanksgiving meal. "It's a very intimate family meal type dining experience, perfect for this occasion," u/MikoRiko, who previously worked at a Buca di Beppo, wrote in a review on Reddit. Additionally, as pointed out in a Trip Advisor review, it's a very affordable way to feed a lot of people on a budget, and you'll still probably end up taking home leftovers. "This made being away from the rest of my family on Thanksgiving not so bad after all," the review reads.
2. Metro Diner
Those lucky enough to live near a Metro Diner location know it's a chain restaurant experience like no other, and that's not even solely because of their mesmerizing loaded waffles. The chain serves up a roasted turkey plate as a regular menu item, complete with brown gravy, cornbread stuffing, mashed potatoes, green beans, and cranberry sauce for less than $15 a plate (via Metro Diner). In true Metro fashion, they also serve some festive breakfast options for Thanksgiving, like a waffle pressed from stuffing loaded with mashed potatoes, turkey, and gravy. The seasonal loaded waffle has been a fan-favorite for a long time, so there's a reason that the chain brings it back year after year.
Whether you're someone more prone to order the safe turkey dinner plate or the more adventurous Thanksgiving waffle, Metro Diner just knows how to make a comforting festive feast. "They really enjoyed all the food including: turkey (not dry at all), Mac and cheese, mashed potato, green bean casserole and the pumpkin bread pudding," one Yelp review reads. "Tasted very fresh (versus grocery store thanksgiving dinners) and could def tell they made the dish from scratch." Not only is every part of Metro Diner's dinner as delicious as it should be, but you also can't beat the reasonably priced meals that feed the whole family.
1. Fogo de Chão
Fogo de Chão is a high-end Brazilian steakhouse that knows a thing or two about perfectly executed grilled meats, and their take on a Thanksgiving dinner is no different. For the holiday, they serve the classics like roasted turkey au jus, sausage and apple dressing, sweet potato casserole, and cranberry relish. However, to add that Brazilian flare, you can add fan-favorites like pão de queijo or picanha steak to amp up the meal.
Fogo de Chão's quality is what undeniably earns it the top spot, but it is a high-end chain whose prices reflect that quality. "Have been to Fogo de Chao many times before the was my second time having Thanksgiving dinner there," one Trip Advisor user wrote in a review. "The turkey is moist and not dried out but the gravy is the real star. As for the rest of the meal the usual choice of meats all of them were moist and not over cooked." Fogo de Chão also has the added appeal of a dazzling dining experience that also makes it feel like you're celebrating a special occasion whenever you dine there, including during the Thanksgiving holiday.