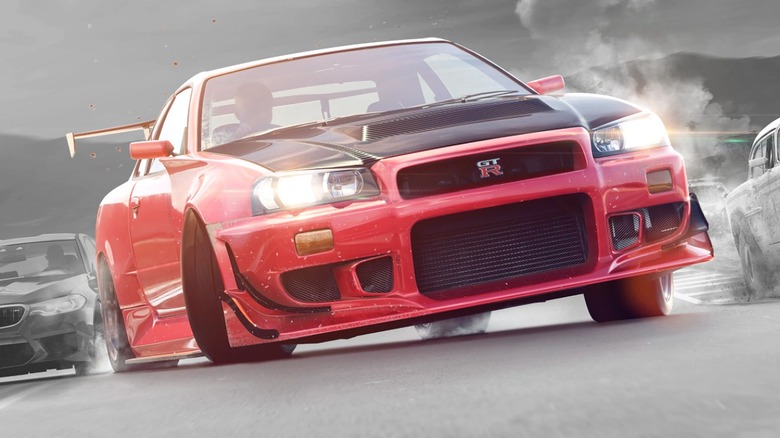 Publisher Electronic Arts has been thrilling gamers with its high-octane racing video game franchise "Need for Speed" since 1994, steadily updating and releasing new installments of the series across a variety of platforms. At its core, the franchise follows illegal street racers competing against each other in tracks around the world, all while eluding police looking to apprehend them. With dozens of titles in the series, "Need for Speed" has seen epic highs and lows in terms of quality as the developers have tried to keep the racing titles fresh and relevant to contemporary audiences.
With "Need for Speed Unbound" hitting shelves in December 2022, it seems like a good time to look back at the high octane racing series. For every six-cylinder hit, there are titles that haven't quite connected with its sweeping fanbase. Here are the six best and six worst games in the "Need for Speed" franchise.
WORST: Need for Speed: No Limits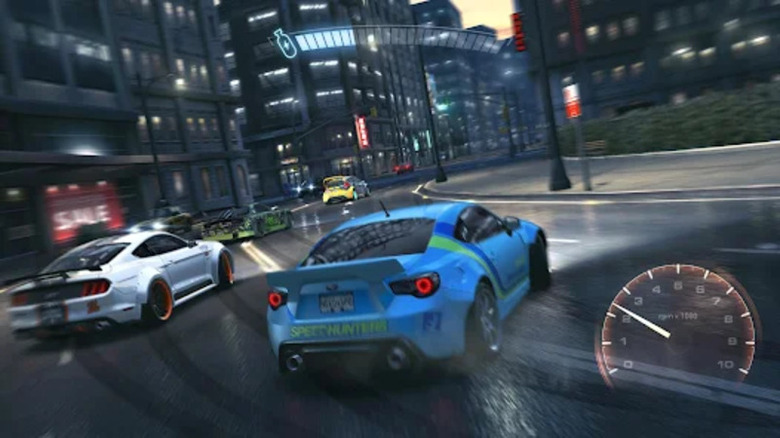 The "Need for Speed" franchise made the leap to mobile gaming with 2015's "Need for Speed: No Limits" for iOS and Android devices. "No Limits" features a story mode, car-specific racing challenges, unlockable challenge races, and the opportunity to race against "ghost" racers as a form of online multiplayer. In addition to unlocking a fleet of cars, players can customize and upgrade their growing number of rides as they progress in building an extensive garage.
Fans praised the graphical presentation, including day and night sequences, as well as the touch controls for "No Limits," but the freemium business model elements were derided by fans and critics alike. Though "No Limits" is a free-to-play game, fans were less than pleased with the game's microtransaction system, with players feeling like those who shelled out for upgrades received an unfair advantage.
Critical reception was similarly mixed, with reviewers feeling initially underwhelmed by the relatively short races, though some found those to be a plus. Though delivering a technically solid transition to mobile gaming, "No Limits" falls into the same freemium trap of many of its contemporaries.
BEST: Need for Speed: Most Wanted (2012)
Though "Need for Speed" has intermittently featured open-world gameplay since 2004's "Need for Speed: Underground 2," the title that perfected this aspect is 2012's "Need for Speed: Most Wanted." Released on a variety of consoles, the Wii U port of "Most Wanted" includes three secret vehicles for players to unlock patterned after Mario, Princess Peach, and Yoshi, marking a fun twist on the established franchise. It's also fun to see a Yoshi-branded vehicle attempting to evade the authorities during a race.
In its review for the game, The Guardian gave "Most Wanted" a perfect score, declaring the 2012 installment set "a new standard for arcade-style racing games." Fan response was also positive, complimenting the sheer amount of activities to undertake and content to unlock, as well as the sound design and rousing soundtrack. Fan and critical response to the port on the PlayStation Vita was also largely positive, with Pocket Gamer lauding it for cleanly translating the PlayStation 3 version to a handheld console. "Most Wanted" serves as the ultimate open-world racing experience, showcasing what "Need for Speed" does best.
WORST: Need for Speed (2015)
Over 20 years after the franchise's debut, Electronic Arts moved forward with a reboot of the series in 2015. Simply titled, "Need for Speed," the game is set in the Los Angeles-inspired city of Ventura Bay. The reboot features a story mode that follows the player as they join a group of street racers looking to make a name for themselves. Across these characters' intertwining storylines, players can race, customize their cars, and play cat-and-mouse with local law enforcement as they garner enough of a reputation to meet their racing heroes.
The biggest criticism levied at the "Need for Speed" reboot is that the game requires a constant internet connection for full access to its features, a complaint raised by critics and fans alike. This mechanic directly affects the game's performance, as potential connectivity issues can drag you down. Game Informer's review of 2015's "Need for Speed" admired the design of Ventura City and its myriad of gameplay and customization options, but found the entire experience hamstrung by its online performance requirements. These concerns were echoed by Trusted Reviews, which lambasted the reboot for its intrusive elements and live-action cutscenes, not to mention the online elements preventing the ability to even pause gameplay.
BEST: Need for Speed: Underground
2003's "Need for Speed: Underground" marked a franchise-defining leap forward for the racing game series, adding gameplay features that continue to endure and shape the experience. Rather than focus primarily on more traditional racing tropes and exotic automobiles, "Underground" revolves around a single-player career mode, a first for the franchise. Complementing this change in approach is a shift in types of automobiles, with "Underground" focusing more on import cars than its predecessors.
Thanks to its variety of gameplay modes incorporated into the single-player campaign and emphasis on car customization, "Underground" was well-received by fans and critics, selling over 15 million copies worldwide (per Polygon). IGN's review for "Underground" felt the drift and drag mechanics added a new layer of gameplay depth to the franchise and complimented the game's story mode. Fan response was also positive, comparing the shift in aesthetics to the "Fast and the Furious" films, though some criticism was leveled at the limited number of tracks.
An important milestone for the "Need for Speed" franchise, "Underground" brought more grounded sensibilities to series without compromising its high-octane premise.
WORST: Need for Speed: The Run
After numerous titles set in fictional locations, the "Need for Speed" franchise changed things up with 2011's "Need for Speed: The Run," a game featuring real-world locations for players to race around. The game's story mode follows an illegal street racer looking to make a name for themself as they take on competitors across the United States, from San Francisco to New York City, with plenty of spots in between. In another twist from previous "Need for Speed" games, "The Run" lived up to its title by allowing players to actually leave their cars and travel by foot, changing cars mid-race if desired.
Electronic Arts heavily hyped up the release of "The Run," going as far as to hire filmmaker Michael Bay to direct a commercial for the promotional campaign. Despite pulling out all the stops with its advertising, "The Run" received a decidedly mixed reception from critics, with Eurogamer's review of the game lambasting its frame rate issues and relatively short races. Fan response to "The Run" was also lukewarm, with criticism pointed at the game's bare-bones story mode and odd A.I. behavior during races. A middling attempt to shake-up what the "Need for Speed" franchise could be, "The Run" didn't quite live up to its own hype.
BEST: Need for Speed: High Stakes
When developing the fourth installment in the series, 1999's "Need for Speed: High Stakes," the team at EA Canada wanted to create a more palpable sense of risk and reward than other contemporary racing games (per VideoGames.com). This led to "High Stakes" introducing the idea of players potentially forfeiting their saved cars upon losing races, while players could also incur debt by repairing damages to existing cars. This heightened sense of consequence made players more interested in each race in "High Stakes," all while pushing the hardware capabilities of the original PlayStation as far as it could go.
Critics praised the gameplay additions and technical presentation of "High Stakes," with special attention paid to the game's heightened sense of realism. In its review of the game, Next Generation complimented "High Stakes" for its new features and for maintaining its accessibility for players who are new to the franchise. Though recognizing issues with the game's frame rate in Hot Pursuit mode, Official PlayStation Magazine observed the overall gameplay mechanics and handling are noticeably smooth. Fans lauded "High Stakes" as one of the best racing games on the PS1, not to mention a high point for the entire "Need for Speed" franchise.
WORST: Need for Speed: World
After years of local otherwise limited online multiplayer gameplay, the "Need for Speed" franchise ventured into the massive multiplayer online space with the PC-exclusive "Need for Speed: World" in 2010. Incorporating elements from "Need for Speed: Most Wanted" and "Need for Speed: Carbon," "World" has players race each other while exploring two interconnected cities. Along the way, players can unlock additional cars — with over 100 playable vehicles available — and new customization and upgrade options. As awesome as that sounds, the execution left a lot to be desired.
Critics were less than enthused about "Need for Speed" launching an MMO title, with Eurogamer's review of "World" dismissing its open world as little more than an elaborate lobby between races. By November 2012, "World" reached 20 million registered users (per BrowserGamez), but fan reception to the game proved even more mixed than its critical assessment (per Metacritic). Simply put, players weren't impressed by the online game's presentation or transaction systems. Nearly five years after its launch, Electronic Arts quietly shuttered "World" for good in July 2015, bring the franchise's MMO experience to an end for the foreseeable future.
BEST: Need for Speed: Hot Pursuit 2
The "Need for Speed" franchise made its leap to the PlayStation 2, Xbox, and GameCube with 2002's "Need for Speed: Hot Pursuit 2," taking advantage of the more advanced hardware capabilities. Players can participate in street races against other competitors or try out a separate mode that sees them pursued by the police. Taking cues from the first "Hot Pursuit" entry, "Hot Pursuit 2" flips the script by expanding upon mode that allows players to take on the role of the police officers trying to apprehend illegal street racers. In this installment, players are given way more gear and options for putting a stop to these races.
The PS2 version of "Hot Pursuit 2" was created by a separate development team (per GameSpot), and that release received noticeably more positive critical reception. AllGame's review of "Hot Pursuit 2" pointed out that the game omitted several gameplay features from previous entries, but lauded it for significantly improving the features and modes still available, as well as the overall presentation. Fans were similarly positive. With "Hot Pursuit 2," it became clear that the "Need for Speed" franchise maintained its relevance beyond its inaugural console generation. Not only that, but the series still had a few tricks up its sleeve.
WORST: Need for Speed Payback
After the criticism of the "Need for Speed" reboot's requirement for a constant online connection, its 2017 follow-up "Need for Speed Payback" omitted this, restoring the option for gamers to play offline. Set in Fortune Valley, a facsimile of Las Vegas, "Payback" follows three playable characters as they engage in high-octane action sequences with 74 vehicles to choose from. In addition to its extensive library of downloadable content, "Payback" also features an in-game day and night cycle as players explore the sunbaked environment and unlock more vehicles and customization options.
Though critics and fans appreciated "Payback" for correcting the most glaring issues from the 2015 reboot, particularly the restoration of offline gameplay, the game was still widely criticized. IGN's review of "Payback" lambasted the game's story mode, car handling mechanics, and its overall shift to action gameplay over racing. Fans were particularly incensed to see "Payback" incorporating in-game microtransactions to unlock additional customization options and vehicles. Not enough of a step in the right direction following the reboot, "Payback" saw the franchise continue to underwhelm its fanbase.
BEST: Need for Speed 3: Hot Pursuit
The "Need for Speed" series incorporated a police presence doggedly pursuing the player ever since the original 1994 game. This franchise mainstay plays a much more prominent role in the 1998 installment "Need for Speed 3: Hot Pursuit" in two major capacities. In addition to a racing mode during which police can interrupt street races and chase the participants across tracks, "Hot Pursuit" was the first game in the series with a mode where gamers can play as police stopping racers. This mode is exclusive to the PC port of the game, with additional police cars available to unlock.
"Need for Speed III" was widely acclaimed upon release, with AllGame's review of the PlayStation version lauding its improvement in technical presentation, as well as ith its pursuit and multiplayer modes. Next Generation's review of the PC version was similarly effusive, complimenting its intuitive controls and visible advancements in weather effects and terrain. Fan response to "Hot Pursuit" was largely positive, with the game maintaining its esteemed place among the fanbase as one of the best games in the franchise decades later. A stunning realization of what "Need for Speed" can be, the original "Hot Pursuit" remains a tour-de-force for the series.
WORST: Need for Speed: Undercover
By 2008, the narrative similarities between "Need for Speed" and the "Fast and Furious" movies became unmistakable, particularly when it came to the story mode to "Need for Speed: Undercover." Echoing the first "Fast and Furious" film, the single-player campaign follows an undercover cop in facsimile of Los Angeles posing as an illegal street racer, investigating the links between suspected racers and a high-speed ring of thieves. This mode includes an open-world map and RPG elements as players take on rivals and begin to systematically dismantle the crime syndicate.
"Undercover" faced criticism for its low difficulty level, emphasis on grinding to level up in the single-player mode, and intrusive cutscenes that break up the game's fun bits of gameplay. IGN's review of "Undercover" dismissed it as possessing "practically zero redeeming qualities" while GameSpot's review questioned the title for positioning itself as a largely single-player experience. Fan backlash towards "Undercover" was fairly severe, with some even declaring it to be the worst game in the entire franchise. A missed opportunity all-around, "Need for Speed: Undercover" failed to provide a more accessible and cinematic experience for newcomers and old fans alike.
BEST: Need for Speed: Hot Pursuit (2010)
Electronic Arts and developer Criterion Games took the "Need for Speed" franchise back to its basics with a return to the popular "Hot Pursuit" branding in 2010. Eschewing a fuller story mode in contrast to many of its predecessors, "Need for Speed: Hot Pursuit" focuses on a scaled-back career mode, but again gives players the option to proceed as illegal racers or the police. Players navigate an open world map, either participating in single-player races or online multiplayer between up to eight competitors. In time for the game's 10th anniversary, "Hot Pursuit" was remastered with additional features in 2020 for modern consoles.
Widely acclaimed upon its release, Destructoid declared "Hot Pursuit" provided a "near-perfect competitive experience" in its review. GameSpot praised the game, but observed that it felt more like a "Burnout" title than "Need for Speed." Fans were also complimentary of "Hot Pursuit," with the game's overall speed and smoothness of online play among the features to receive positive attention. "Hot Pursuit" became a strong sales success for Electronic Arts, exceeding the publisher's expectations and marking a resurgence for the franchise.