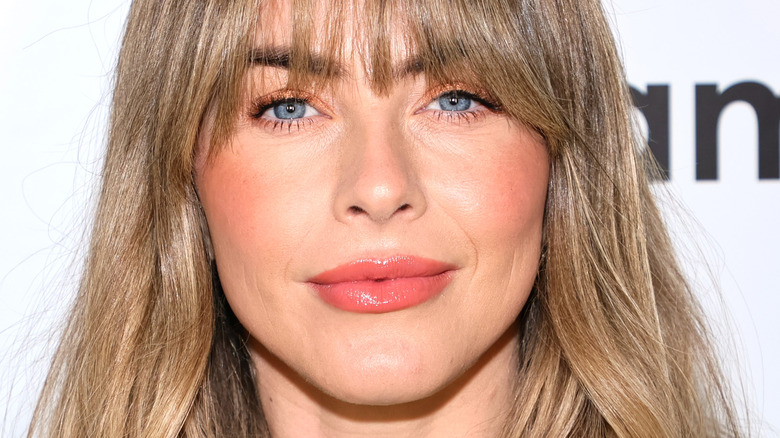 "Dancing with the Stars" quickly became one of the most beloved shows on television after its premiere on ABC over 15 years ago. The premise? A trained ballroom dancer is paired with a celebrity or public figure to compete in professional choreographed dance routines — even if the A-lister has zero dance training! The pair is then judged by a panel of professional dancers to see who will win the exclusive Mirror Ball trophy!
A-list celebrities, athletes, and musicians like Selma Blair, Evander Holyfield, Wayne Brady, Holly Madison, and more have made their "DWTS" debut to show the world their dancing skills — or lack thereof! The show also became the first live series to air on Disney+ in 2022. It's safe to say that, for many cast members, the show was a jumping off point for their careers.
Veteran judge Carrie Ann Inaba told People, "The thing about 'Dancing with the Stars' is, once you're on our show, you're in the family. That's so precious. We truly are family. Not many shows are as close as we are." Let's take a look at what the former cast of 'Dancing with the Stars' is doing today.
Trista Sutter has a podcast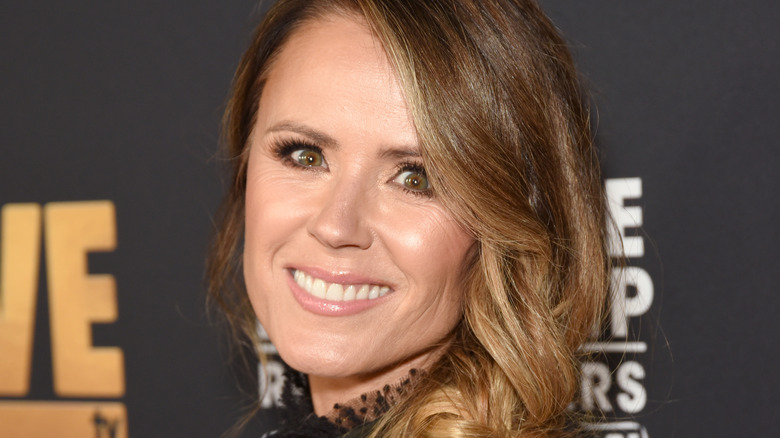 Trista Sutter (formerly Rehn) graced the screen and won our hearts as ABC's very first "Bachelorette." Sutter seems to have a knack for recognizing great new shows when they arrive, as she participated in Season 1 of "Dancing with the Stars." Although Sutter and her partner Louis Van Amstel were the first to be eliminated, she had and has a great attitude about it — even when speaking about it today. Sutter joked on "Behind the Velvet Rope" podcast, "I mean, I was a dancer and I lost a dancing competition to [boxer] Evander Holyfield! So awful … I really wanted to do my Tina. My next dance was going to be Tina Turner's 'Proud Mary' … It's one of those things that I really regret, I wish I could've done that dance. It was so much fun."
Trista Sutter and her husband Ryan Sutter are now focused on raising her teen children Maxwell and Blakesley. Sutter also has a lifestyle podcast called, "Better Etc.," where she provides tips and tricks on how to better manage family and work-life balance. Trista is also very active on social media, mainly showcasing her beautiful family and cozy Colorado lifestyle.
Anna Trebunskaya is busy being a mom
Russian-born beauty and world-famous ballroom dancer Anna Trebunskaya joined the cast of "Dancing With the Stars" as a dancer during Season 2, where she was partnered with Jerry Rice. Trebunskaya competed in 11 seasons between 2006-2015, taking a break from the show at one point to get married and start a family with actor Nevin Millan.
"Nevin and I got engaged before we even conceived Kaspyan," she told Us Weekly. "We just never really announced it or made a big deal about it because life is just so busy … Now that we had baby No. 2 [Amalya Millan] maybe we can start figuring out our own situation and concentrating on ourselves." It appears that's exactly what the pro dancer is doing today; focusing on her beautiful family. Speaking to People after the birth of Kaspyan, Trebunskaya shared that she wanted to keep her heritage alive in her son's life. "This baby is going to be surrounded by my Russian culture, but I want my child to have an option," she declared.
With Trebunskaya's brood her main focus, it doesn't mean she's given up on dance. As it turns out, the redhead and her mother own a ballroom dance studio in California. As for other professional milestones, there's still one aspiration that Trebunskaya is ready to tackle. "I've done stage. I've done TV," the dancer shared with Galo, adding, "I think it would be really fun … to do something in a feature film." We're patiently waiting for her big-screen debut!
Drew Lachey is busy with 98 Degrees and charity work
Drew Lachey, 1/4 of the beloved boy band 98 Degrees, is no stranger to the stage or performing. This could be why he and dance partner Cheryl Burke earned a perfect score in Season 2. The two were eventually crowned as the winners of Season 2, with Lachey returning as an 'All-Star' contestant for Season 15.
Hailing from Cincinnati, Ohio, Lachey touts himself as down-to-earth, hometown boy — most would argue that he and his famous brother Nick Lachey are national treasures! Today, Drew is still touring with the boyband, 98 Degrees, plus taking on other projects — like filmmaking and production, through his organization Lachey Arts. Lachey Arts is a non-profit organization based in Cincinnati, Ohio. Students can attend classes and camps, receiving training in vocal music, dance, and dramatic arts. They want to empower and inspire young people in the arts — Drew Lachey really is a national treasure!
Aside from his already-busy schedule, Drew has also appeared in Broadway shows like "Rent," "Hairspray," and "Monty Python's Spamalot."
Kym Johnson met her husband on the show
Blonde bombshell and Aussie native Kym Johnson got her start on the Australian version of "Dancing with the Stars." A few years later, Johnson moved to the United States to dazzle audiences for 17 seasons on the show.
On Season 20, Kym Johnson was partnered with Shark Tank's Robert Herjavec, placing 6th. The two didn't mind the loss – because they fell in love! According to ET, Johnson and Herjavec tied the knot with a lavish wedding ceremony that boasted "DWTS" castmates like Cheryl Burke and judge Carrie Ann Inaba. Shortly after, the newlyweds announced that they were expecting twins!
Since the birth of the twins in 2018, Johnson left the show to focus on raising her children. The couple can be spotted out and about in Sydney, Australia, (Johnson's hometown) with their twins, Haven and Hudson. Fans of Kym shouldn't rule out a return just yet, however. She told E News, "I'd love to go back and be a part of the show somehow, whether it is judging or doing something." Fingers crossed for the return of Kym Johnson!
Maksim Chmerkovskiy escaped Ukraine during the war
The internationally known ballroom dancer Maksim Chmerkovskiy joined "Dancing with the Stars" in Season 2, partnering with actress Tia Carrere, finishing in 6th place. In addition to being an incredibly skilled dancer with 18 seasons of the show under his belt, Chmerkovskiy was known for being a bit of a ladies man and bad boy. Before settling down with fellow "DWTS" alum Peta Murgatroyd, he was rumored to have dated A-listers like model Kate Upton, Jennifer Lopez, and was even engaged to Karina Smirnoff (who was also a dancer on the show).
The Ukrainian-American dancer has been very outspoken about the Russian-Ukrainian War, after being stuck in Ukraine (and eventually fleeing to LA, per Today) following the Russian invasion in 2022. He emotionally told ET after finally returning to the US, "I just don't want to resent peace somewhere else because of what I just saw, that's the reality. I don't know really what to say right this second."
Chmerkovskiy and his family eventually created Baranova 27, a charity organization working to help provide funds and aid to Ukrainians. It's clear that Chmerkovskiy's main focus right now is keeping his family safe.
Lil' Kim is doing her thing on the big screen
Known for her controversial past and amazing rap skills, rapper Lil' Kim was a fan favorite on Season 8 of "Dancing with the Stars." Partnered with Julianne Hough's brother Derek, they came in 5th place, getting eliminated over Ty Murray and Chelsie Hightower.
Born and raised in Brooklyn, Lil' Kim was born Kimberly Denise Jones. According to Exclaim, when she was 19, the late rapper Biggie Smalls invited her to join the rap group, "Junior M.A.F.I.A.," and the rest is history. Today, Lil' Kim is focusing on her acting career; even hiring Nick Cannon as her manager — that is, when he's not making babies.
"I just shot a movie with Nick Cannon," Lil' Kim told Complex Magazine. "People don't even know, like he's one of my best friends. We've been best friends for years … And we just shot a movie called 'Miracle Across 125th Street' … I really did that movie for Nick, but I love doing movies." We can't wait to see more of this rap legend on the big screen.
Karina Smirnoff says don't rule out her return
Karina Smirnoff wowed audiences as a dancer for Seasons 3 to 9; took a break, then returned for 9 consecutive seasons before taking another break, and returning for two more (via E! News). Whew! After leaving the show and famously breaking off her relationship with Mario Lopez, Smirnoff appeared on E!'s hit show "Famously Single." Like fellow alum Kym Johnson, Smirnoff also says we shouldn't rule out a return for her.
"I love dancing with celebrities on the show, but it's a different type of experience. You're not just their dance partner. You're their coach, their shrink, their cheerleader," she told Fox News in 2017. "But when you perform with your professional partner, they're as strong as you and it becomes a different type of performance. And I missed that when I wasn't doing it while I was on the show." Karina's famous dance partners on the show included Ralph Macchio, Gavin DeGraw, Billy Ray Cyrus, and more — not a bad line up!
Since the show, Karina Smirnoff became a mom to a baby boy in 2020. Like her other cast mate Anna Trebunskaya, she's opened a dance studio as well.
Melissa Joan Hart made history on Jeopardy
Melissa Joan Hart first won our hearts as a child actress with not one, but two title roles on hit television shows: "Clarissa Explains it All" and "Sabrina the Teenage Witch"! So, of course, it comes as no surprise that she was also a fan favorite on "Dancing with the Stars", when she joined the Season 9 cast. She was paired with former winner Mark Ballas, and the pair was eliminated from the competition in the 6th week — placing 9th. Not too shabby for a non-dancer!
Today, Melissa Joan Hart is still a successful actress and co-owns a production company with her mother, Hartbreak films. Hart also made history in 2021 on "Celebrity Wheel of Fortune" when she won a $1 million dollar prize for the charity of her choice, making her the first celebrity to ever win the large sum of prize money. Per USA Today, Hart said, "Vanna White's face turned white. Vanna looked at me and was like, 'You got it! You got it!' I hit the roof. She hit the roof. It was super exciting and pretty nerve-wracking. I rarely win game shows."
Edyta Sliwinska is raising a family
Polish-born ballroom dancer Edyta Sliwinska was introduced to the world when she appeared in the Season 1 of "Dancing with the Stars". She was the only female professional dancer to appear in the first ten seasons of the show and acted as the poster child for DWTS, appearing as the captivating headliner in most of the advertising upon the show's launch. Some of her famous dance partners included Geraldo Rivera, Lawrence Taylor, Jeffrey Ross, and Joey Lawrence. After an 11 season hiatus, she returned briefly for Season 22.
Today, Sliwinska owns and operates her own dance studio; plus she and her husband (former DWTS pro-champion Alec Mazo), are enjoying being parents to two little ones, Michael and Leia. Is there a third tiny dancer in the future?
"I think we're done. We're basically complete. And I will be very honest: I know that pregnancy is a beautiful thing and I embraced it completely, but I did not enjoy it," Sliwinska told ET. "I think it's the hardest thing in the world. It's like an alien takeover of your body; the things that are happening with your body are so weird and uncomfortable. I was so uncomfortable and basically I don't think I can go through it again, I really don't."
Julianne Hough is an A-lister now
"Dancing with the Stars" has provided opportunities for dancers like Julianne Hough to expand their careers beyond just dancing. Hough first rose to fame when she joined the show in 2007 as a dancer (she won Seasons 4 and 5). After leaving the show in 2009, she returned as a judge from 2014 to 2017, earning her an Emmy Award for Outstanding Choreography plus two additional nominations.
Hough had a famously high-profile relationship with talk-show host Ryan Seacrest (via Daily News), before tying the knot with Brooks Laich. According to People, Laich and Hough divorced in 2020 (after almost three years of marriage) and Hough is currently dating British-born actor Ben Barnes as of this writing, who many knew as her longtime pal. "Their friendship has gravitated into a full-blown romance," dished an insider to Life & Style.
Since "DWTS," Julianne Hough has starred in multiple musical films, and was even a judge on "America's Got Talent." In 2022, Julianne Hough starred in her Broadway debut in "POTUS: Or, Behind Every Great Dumbass Are Seven Women Trying to Keep Him Alive."
Mark Ballas actually came back in 2022
Emmy-nominated choreographer Mark Ballas Jr. joined the show in its 5th season; then secured 18 consecutive seasons of competing as a dancer! Ballas even partnered with Kim Kardashian on Season 7 of the show, before her career completely blew up (the two were eliminated by Week 3). Ballas took two seasons off to play Frank Valli in "Jersey Boys" on Broadway (much to the dismay of his "DWTS" fans), eventually returning to Season 25, his last season — or so we thought.
Surprise! Five years after exiting the show, Ballas returned for Season 31! After the premiere of his return, Ballas told US Weekly, "It felt great. It felt the same but new, fresh, [and] nostalgic … It was a good time." In addition to Broadway and returning to "Dancing with the Stars," Ballas has also been working on a music career with his wife, BC Jean (via People). As he told Riff, Ballas and Jean met at a party; he first fell in love with her voice as she sang in the next room, before even seeing her — ah, how sweet — Love at first "sound"!