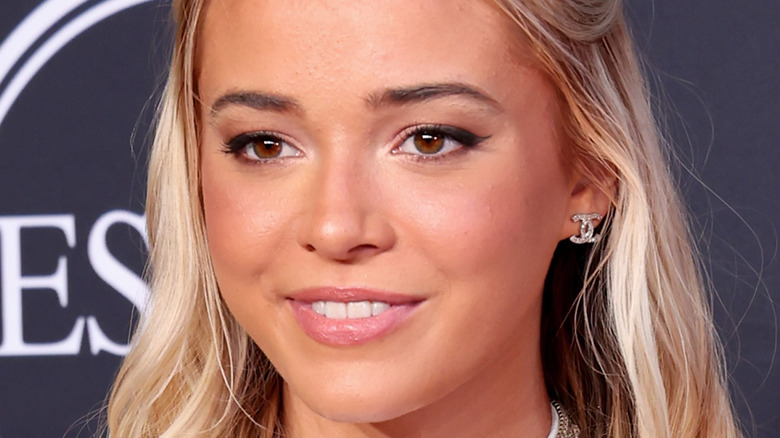 You don't have to be a college sports fan to know the name Olivia Dunne, the Louisiana State University student who is taking gymnastics and social media by storm. The New Jersey native had competed in gymnastics throughout her childhood before she made a name for herself in her early teens when she joined the U.S.A. National Team in 2017. When it came to representing the U.S. at international competitions, Dunne told WGNO ABC, "It was the most wild ride of my life. It was super hard but it was super rewarding."
By that time in 2020, Dunne decided to compete at the college level and joined the LSU gymnastics teams. She gushed to 225 Magazine, "I visited my freshman year and they had the best facilities and the best coaching staff, and the school spirit is the best." She added, "It was kind of like a no-brainer." Dunne even feels that LSU fans have contributed to her online popularity, too, since her followers have skyrocketed on both Instagram and TikTok. Because of that, Dunne has become a major influencer, though she admitted, "Sometimes the gymnasts can get overlooked because a lot of people know me through social media and TikTok."
While Olivia Dunne has shared a lot about her life with her followers, there's much to her than what's on her grid. So let's get to know the millionaire gymnast.
Olivia Dunne started gymnastics as a toddler
Olivia Dunne has basically been doing gymnastics since she could walk after something inspired her as a toddler. She revealed on her website, "I started gymnastics when I was three years old because I wanted a sparkly pink leotard." It quickly became more than just a means for a good outfit though, considering that Dunne's career pretty much took off from there. That's because, by age five, she had already joined her gym's gymnastics team, and by age nine, she was competing in regional competitions.
Dunne continued to rapidly work her way up in the sport by skipping several levels that rank gymnasts by skill. Her coach, Craig Zappa, explained to NorthJersey.com, "Most skills that take a lot of kids a couple of months sometimes she can just pick it up in two days or one practice." Dunne eventually became the youngest athlete to qualify for the Junior International Elite level during the 2013-2014 season and even trained at Texas' Olympic Development Center.
However, all that success did come with its sacrifices, like Dunne being homeschooled to keep up with her training. When it came to being away from school and her friends, she admitted to the Daily Voice in 2016, "I feel like I'm missing out." Yet, the star athlete added, "Not a lot of people get to do this. I try to cherish every moment." It also helped that she seemed to really enjoy her sport and even inspired others to try it. "It makes me happy," Dunne gushed to NorthJersey.com, "because gymnastics is fun."
The LSU gymnast is busier than your average college student
Olivia Dunne apparently knew that she was meant to be a Louisiana State University student. She even told WGNO ABC, "As soon as I walked on campus I just felt this love and this spirit and I knew I wanted to be a part of it." At the time of this writing, according to the New York Post, Dunne majors in interdisciplinary studies there, which she said folds the leadership, entrepreneurship, and international studies minors into one. Prioritizing time for her education in her schedule, the athlete explained, ​​"First, I wake up and go to the class. … I study [at the communications center] and get schoolwork done."
Of course, Dunne needs a lot of time for practicing with the gymnastics team, too, which she does after lunch. She dished, "[I] go right to the gym, where I train for hours. I have conditioning before or after practice." Her day isn't over after that either, considering that she has work to do as a social media influencer. "I'll come back to my dorm … and put on makeup to start filming to create content," she said.
When it comes to her jam-packed days, Dunne told Forbes in 2021, "It's all about trying to find a balance between school, social media, and gymnastics." Yet it looks like she also makes time for some normal college fun, like attending LSU football games or hanging out by the pool as a break from studying for finals. Dunne even took part in TikTok's "bama rush" in August 2022.
Olivia Dunne has a huge social media following
Olivia Dunne is one of the most-followed collegiate athletes on social media, with over 6 million followers on TikTok and 2 million on Instagram, as of this writing. Yet that didn't happen overnight, considering she started posting at the young age of 10. She recalled to the New York Post, "I took it so seriously and people were always like, 'Why are you doing this?' … It has benefited me in the end." While keeping up with it can still get overwhelming, it's apparently more second nature to her these days. "I don't feel too much pressure, because doing social media is always something that I've loved," she said.
This level of dedication, paired with filling up time with some fun during the COVID-19 pandemic, is what seemingly helped her get people's attention online. She dished, "I was quarantined in Florida and I just started making content at the beach, doing flips." She stumbled into TikTok fame similarly, telling WGNO ABC, "I was like you know what I'm going to post gymnastics and show my talent, and a little bit of my personality."
However, Dunne admitted that TikTok was initially more challenging. "TikTok, I feel is where you can express yourself more … and I'm still trying to open up more," she said. That may be why fans seemingly don't realize she's more than just a gymnast or a glamorous influencer until they actually meet her. "They're always surprised, like, … 'I didn't know you were this friendly,'" Dunne noted.
The college athlete makes tons of money off her image
It's safe to say that Olivia Dunne makes a lot of money from being a sports influencer. That's because the LSU student is among the first college athletes who are able to profit off their sports fame since the NCAA lifted their Name, Image, and Likeness (NIL) restrictions in June 2021, which had initially prohibited just that. As one of the faces of the movement, Dunne's Twitter account was even displayed on a billboard in Times Square after it was announced. She later gushed to the New York Post, "It's like I'm part of history, all of us student athletes are."
The change was especially helpful for Dunne's sport of choice, as she explained, "I think it's great for female student athletes in gymnastics like myself because there is really no professional league after college, so we can capitalize on our opportunities right now." And she's doing just that, too, considering that she was named "the most influential female college athlete" in 2022 by On3NIL with a valuation of $2.3 million.
Yet Dunne apparently isn't letting that get to her head, telling Forbes, "Nothing has changed at all with my social media stuff. I take it very seriously, and I keep it clean." She's also been making it a point to endorse brands that she personally believes in, noting, "I was trying to find a brand to work with that is authentic to me and that I would want to introduce to my audience to because they trust me."
Olivia Dunne is passionate about fashion
Fans may be surprised to learn that gymnastics isn't the only thing that Olivia Dunne is passionate about. In fact, she gushed to Forbes, "Fashion has always been a huge passion of mine." She has often combined the two, however, going on to explain, "Before college, my coach and I would design my own custom leotards for all my major competitions." It was something she had been very hands-on with, so the sports star was proud when these designs were recognized. "I get to work on everything from the original sketches to fabric selection," she shared on her website, adding, "It is so exciting when the finished designs win leotard contests and online polls."
That also may be why most of Dunne's business partnerships are with fashion brands. As of this writing, she's worked with American Eagle and Forever 21, in addition to her exclusive deal with Vuori. She even dished, "I love expressing myself through my style." It appears that Dunne's job entails showing off those fashion brands on her social media accounts, which she usually does by sharing photos of herself posing in different outfits. In addition to modeling the clothes on Instagram, she's also created TikToks about styling different looks. For example, she put together a video of outfit inspiration for a Vuori tennis skirt, as well as a how-to video on what to wear with the brand's boyfriend shorts.
Even if Dunne's not designing leotards as much these days, it seems she's still finding ways to get creative with fashion.
The gymnast is single but has admirers
As of November 2022, it appears that Olivia Dunne is living the single life. In the summer of 2021, the social media star told the "BFFs" podcast that she had a boyfriend, revealing that they began dating when she started school the previous fall. That November, Dunne posted a TikTok about wanting to cuddle with her boyfriend, which she did in the video without showing his entire face.
However, by June 2022, that relationship was apparently over, as Dunne posted another TikTok about how she looked when she had a boyfriend versus how she looked as said boyfriend's ex. She also talked about the short-lived romance on the "BFFs" podcast the following month, but dished, "I tried to keep the relationship more private." While the show allegedly received some incriminating DMs claiming her unnamed ex had cheated on her, Dunne said, "It wasn't like a messy breakup … but it just did not work out. He didn't really love me being in the public eye."
That said, it seems Dunne has other admirers who would love to date her, such as Mississippi State football player Jordan Morant. He seemingly tried to shoot his shot with Dunne in September 2022 before playing against her school by posting a TikTok, where he wrote, "When we play LSU tomorrow and Livy Dunne is out there somewhere." The video went viral, not only because Dunne responded by commenting, "Good luck but geaux tigahs," but also because his team ultimately lost that game. Morant later jokingly replied with, "Two Ls in one night."
The social media influencer has famous friends
From the looks of Olivia Dunne's TikTok and Instagram, she's made some celebrity friends, which makes sense considering the former USA Gymnastics team member is now quite famous herself. It appears that Dunne is close to social media influencer and "BFFs" podcast co-host Josh Richards in particular. The two have done multiple TikTok videos together, including one where she referred to him as "my frand" and another where they did the #tortillachallenge. But he's not the only influencer with whom Dunne has struck a friendship: In August 2022, she posted an Instagram photo of herself and TikTok star and singer Nessa Barrett hugging.
Dunne doesn't just hang out with influencers though — she's cool with other famous athletes, too. That includes fellow gymnast Suni Lee. According to The Things, the two grew up together through doing gymnastics and even accompanied one another at the 2022 ESPY Awards. They also teamed up for a TikTok video, in which Lee joked about people buying Dunne's bathwater. Then there's former LSU student-turned-NFL quarterback Joe Burrow, with whom Dunne posed for a photo in July 2021. Of course, that sparked some romance rumors, but Burrow already has a girlfriend, ironically also named Olivia.
It's also worth mentioning that Dunne is apparently friendly with rapper Yung Gravy. In August 2022, they too did a TikTok together while dancing to his song "Betty." He even commented on her post with, "Awh man don't let the mom community see this," seemingly suggesting that he was aware that dating gossip might follow.
Olivia Dunne lives lavishly
Between gymnastics and social media, and all while hitting the books, Olivia Dunne seemingly works more often than your average college student, so it shouldn't be surprising to learn that she can afford a lot more than just ramen noodles. Dunne isn't afraid to share glimpses into her glamorous lifestyle either, like posting videos of herself dancing on a boat or photos of herself in front of her presumedly expensive car. What's also notable is that she appears to frequently travel, having shared Instagram pics from trips to places like Malibu, Hawaii, Nashville, Las Vegas, and New York City, to name a few.
Dunne is also seemingly enjoying some of the perks of fame, which have included attending the MTV VMAs and the ESPY Awards in 2022. She even made a TikTok joking about living a normal teenage life as she posed on the ESPYs red carpet. Although it may appear on first glance that Dunne is all about flaunting her lavish lifestyle, it's important to her that her social media has a positive impact, as well. "Mostly I just want to be a role model to young girls," she told Forbes. "I want to set a good example, and I want to send out a message that we're more than just our sport."
The millionaire gymnast has even maintained a good attitude about her notoriety and success. "I don't try to put any pressure on myself, and I don't try to compare myself to other people," Dunne said, adding, "I'm kind of just going with the flow, and it's very exciting."