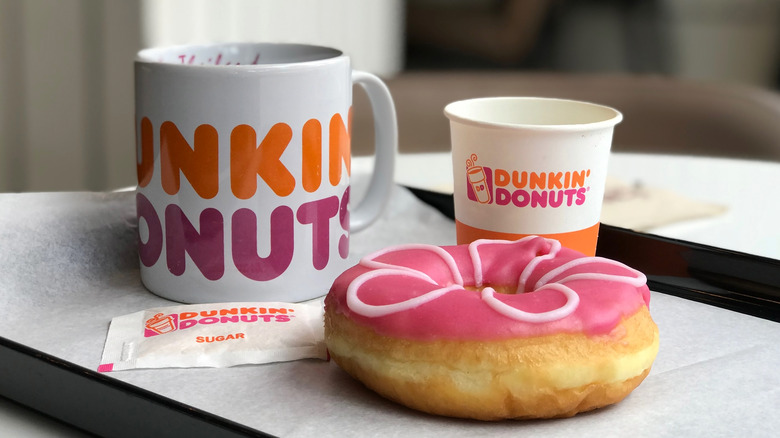 If your idea of a perfect breakfast sounds more like dessert than a savory meal, then you are probably a big fan of donuts. There is no shortage of donut options around the United States, with the industry juggernaut Dunkin' Donuts and its thousands of locations nationwide alone providing most customers with easy access to its assortment of glazed, frosted, or powdered sweets. However, if you have been on a mission to find the best donut out there, then you are likely familiar with Krispy Kreme.
Krispy Kreme may not have nearly as many locations as Dunkin', but it proves that good things come in small packages. Its signature glazed donut has a very loyal following, with freshly baked batches bringing in long lines of customers on a daily basis. But when compared to each other, is Dunkin' or Krispy Kreme the supreme breakfast chain?
There are many factors to consider outside of the two brands' donuts, such as price, variety of menu options, and rewards programs. Which donut chain ultimately comes out on top may depend on your own personal preferences, but there are a few metrics where they each score big points over the competition.
One company really knows its glazed donuts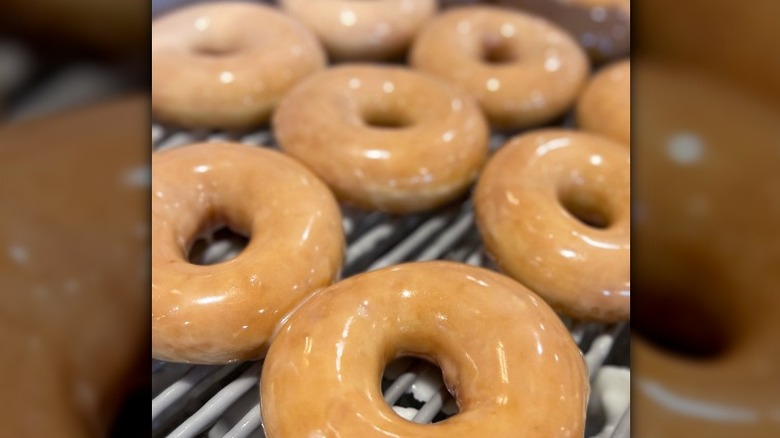 You can purchase a traditional glazed donut at either Dunkin' Donuts or Krispy Kreme, and most customers may not have strong feelings over which one they prefer. However, donut aficionados will likely say that there is a clear winner when the glazed donuts are put in a head-to-head matchup. It is widely agreed upon that Krispy Kreme sells the superior glazed donut, with fans in near-total agreement. One Redditor noted that when it came to glazed donuts, "Krispy Kreme knows what they're doing," with the chain besting Dunkin' Donuts in that one specific category. Another Redditor said that when it came to glazed donuts specifically, Krispy Kreme comes out on top.
Not all donuts are created equal, however, and your personal choice for which donut is better may come down to how you prefer your donuts in terms of texture. According to a writer for Insider, the glazed donuts at Dunkin' are more dense and cake-like than the ones at Krispy Kreme, which are a bit lighter. That said, Insider's choice overall was still the glazed donut from Krispy Kreme. Ultimately, Krispy Kreme's signature offering is its glazed donut, so if it is going to learn how to perfect anything, it is going to be that.
Both chains sell a variety of donut flavors
If glazed donuts are not your cup of tea, you need not fear. You will still find plenty of sweet options at both Dunkin' Donuts and Krispy Kreme. There are a number of classic donut flavors available, from frosted to jelly-filled to seasonal and holiday varieties. Dunkin' has even delved into more unique donut flavors over the years, with options listed on their menu that include guava, sour cream, coconut, Bavarian cream, and lemon.
Krispy Kreme also sells more than just its standard glazed donut. It sells the usual suspects on its menu like chocolate glazed, strawberry iced, and both raspberry and cream-filled donuts. They also like to mix things up throughout the year, adding seasonal donuts like pumpkin spice and pecan pie. But while Krispy Kreme seems to be the undisputed glazed donut champion, the same may not be said for its other flavors. We also listed out some of the menu items you may want to avoid ordering next time you stop by Krispy Kreme, and for the most part, any donut that is not their signature glazed is skippable. That is not to say that Dunkin' offers a better chocolate glazed donut, but while the choice of which chain sells a better glazed donut seems obvious, the choice of where to go for any other flavor is more up to personal preference.
When it comes down to it, Krispy Kreme's donuts are just fresher
Both donut shops offer a wide variety of flavors, so no one is going to come out on top when it comes to quantity. But what happens when the two brands are compared based on quality? Krispy Kreme's glazed donuts are tough to beat, since they are made fresh in-store throughout the day.
But it does not stop at its glazed donuts. Across the board, fans seem to be in agreement that Krispy Kreme's donuts are all around more fresh than the ones served at Dunkin'. One Redditor thinks that Krispy Kreme's donuts are superior all around purely based on the fact that Dunkin's never seem to be nearly as fresh. Another Redditor was quick to point out that Krispy Kreme's donuts are prepared fresh in-house, while Dunkin's are often delivered from an off-site facility. This observation was echoed on Quora, where commenters also mentioned that the donuts sold at Dunkin' are brought in from a factory, whereas Krispy Kreme donuts are made fresh in batches all day long in-store.
If fresh, hot donuts are important to you, then there seems to be no debate here: Krispy Kreme is where you will want to go.
It's easy to find free donuts at both locations
The good news is that no matter which chain you choose to eat at, you won't have to shell out a ton of cash if you are looking for donuts. Both Dunkin' and Krispy Kreme donuts are affordable, with a single donut costing $0.99 at both stores (via Fast Food Menu Prices and Fast Food Menu Prices). So, both are evenly matched when figuring out your budget. It is worth noting that, according to Fast Food Menu Prices, an assorted variety donut other than the traditional glazed at Krispy Kreme costs 10 cents more at $1.09.
Also evenly matched is the ability to score a free donut at either chain. Both companies offer a number of opportunities for customers to bite into one of their donuts at no cost. Dunkin' participates in National Donut Day each year in early June, with free donuts available to all customers who make a drink purchase (via Dunkin' Donuts). Krispy Kreme also takes advantage of various holidays throughout the year to give away free donuts, including National Donut Day, Election Day, Halloween, and even Ugly Sweater Day.
Any time Krispy Kreme offers free donuts, however, expect long lines, as one Redditor noticed during a time when the shop was giving away complimentary treats.
One is focused on providing more drink options
Donuts aside, there are many other data points to compare between Krispy Kreme and Dunkin'. For example, would you just go to either store and only purchase a single donut? Probably not (but if you do, we totally don't judge); however, you may want to add some sort of drink to pair with your breakfast. At Krispy Kreme, you will find a variety of both hot, iced, and frozen coffee beverages, including lattes, cappuccinos, and even seasonal drinks like pumpkin spice lattes.
Not to be outdone, Dunkin' also specializes in a ton of drink options, including all of the varieties we listed above for Krispy Kreme. On top of that, however, Dunkin' also sells teas, refreshers, matcha lattes, and other unique drink options you will not necessarily find at its competitor. So you do not need to worry, because your favorite coffee drink is likely available in both stores. But if you want a beverage that is perhaps a little more unique than your standard cup of joe, then you will probably find more options at Dunkin'.
The glazed donuts from one chain are slightly worse for you than the other
It might be hard to believe, but if you are counting calories, you might want to hedge your bets and choose one glazed donut over the other. Yes, in a battle for which donut has worse nutritional value, there is a clear winner. A quick glance at each of the donut's nutrition facts will show which of the two you may want to avoid.
Krispy Kreme's glazed donut has 190 calories, 22 grams of carbohydrates, and 10 grams of sugar. Those numbers seem high until you investigate Dunkin's glazed donuts. According to Dunkin's website, a single glazed donut contains a whopping 240 calories, 13 grams of sugar, and 33 grams of carbohydrates. Why the large jump in calories from one donut to another? It may have something to do with Insider's observations that the donuts sold at Dunkin' are more dense and cake-like. Though it is hard to make the argument that any glazed donut is good for you health-wise, you can perhaps win the argument that both companies' donuts are good for your soul.
Each chain has a different business strategy
Recently, Dunkin' Donuts went through a bit of a rebrand, dropping the word "Donuts" from its advertising to simply be known as "Dunkin'." The strategy came about, as one Redditor noticed, as a way to deviate from being known as a company whose core operation was selling donuts. Rather, Dunkin' likely wants to be known as a coffee shop that can compete with, say, Starbucks rather than have its baked goods go head-to-head with a company like Krispy Kreme.
As one former Krispy Kreme employee revealed on Reddit, the vast majority of the orders they see in a given day are donuts. Since they began to work at Dunkin', they noticed that the most popular item sold there is not any kind of donut, but iced coffee. For Krispy Kreme, however, being a donut shop does not seem to be as profitable a business model as a coffee shop, which might have been a contributing factor to Dunkin's recent rebrand. According to Restaurant Business Online, Krispy Kreme's profit margins have been thinning out and its stock price plummeted 25% in 2022. As tasty as its donuts may be, a single donut does not sell for as much as a coffee, and time will tell whether the donut-focused or coffee-focused business strategy will win out.
Each specializes in certain menu items
Choosing whether Dunkin' or Krispy Kreme is better may come down to what you are specifically looking for in a donut shop. Krispy Kreme serves up some stellar glazed donuts, but what if you want something a little less sweet and more savory? If breakfast sandwiches are how you like to start your day, then you are going to want to head to Dunkin', as its competitor does not sell those yummy bacon, egg, and cheese sandwiches.
Krispy Kreme does have an advantage over Dunkin', however, and it all comes down to desserts. Did you know Krispy Kreme sells ice cream? You can order soft serve in a cone or a milkshake when you visit, something that Dunkin' does not offer (though both shops sell a variety of frozen beverages).
Overall, the menu at Dunkin' is simply much bigger than the menu at Krispy Kreme. Dunkin' also sells a variety of food items like hash browns, muffins, sandwiches, and more, where Krispy Kreme sticks to the basics of donuts, coffee, and some desserts (via Fast Food Menu Prices). If you are traveling with a larger group of people who might want different things to eat, or if you are not in the mood for donuts, Dunkin' is likely the better option.
They both have rewards programs
Dunkin' and Krispy Kreme both want to reward their loyal customers who visit multiple times with various incentives. Whether it is one-off rewards like a free donut with any purchase or rewards you earn by gaining a certain number of points, both companies make the occasional free treat available. Krispy Kreme Rewards gives its users a free donut just by signing up, and the perks do not stop there. Users can even work their way up to a free box of one dozen donuts. Dunkin' Rewards went through a significant overhaul in 2022, introducing new ways to collect points and various monthly offers.
Not everyone is happy with the latest changes to Dunkin's rewards program, particularly the fact that it now takes longer (and costs more) to earn your way to a free coffee than it did previously. Dunkin' also introduced "boosted status," a new way for the most loyal customers to fast-track their way to free drinks and other rewards. It is also worth noting that Krispy Kreme's rewards are also not earned as quickly as you may think. According to its website, users will earn a free donut after they purchase twelve. No rewards program is without some setbacks, but there are certainly pros and cons to using the ones at Dunkin' and Krispy Kreme.
One is likely way more convenient for your morning commute
When you are on your way to the office in the morning, you might not care so much about which breakfast spot has the best glazed donuts or which one has the largest variety of beverages. For many commuters, the chain with the closest and most convenient location will likely win out over a location that is further away, or fewer and farther between. When strictly looking at the number of locations, odds are high that you will have an easier time finding a Dunkin'.
Just looking at how many locations can be found in the United States, there are plenty more Dunkin' shops than there are Krispy Kreme. In total, there are over 8,500 Dunkin' locations in the U.S., according to its website, but only approximately 350 Krispy Kreme locations. With over 20 times the number of locations, Dunkin' wants to make sure they are one of the first places people consider when choosing where to stop for breakfast in the morning.
Krispy Kreme is pairing with another fast food chain to expand its reach
With only 350 or so locations in the United States as of 2022, Krispy Kreme clearly does not have the same kind of reach that Dunkin' Donuts has with over 8,500 locations nationwide. Rather than open a ton of new stores (which can be rather costly), Krispy Kreme is instead looking to another fast food chain to partner with in order to bring its iconic donuts to more hungry customers.
In October 2022, Krispy Kreme announced in a press release it would partner with McDonald's at nine locations in the Louisville, Kentucky area for a test run, adding three of its donuts to the menu: Original Glazed, Chocolate Iced with Sprinkles, and Raspberry Filled. The best part? The donuts would not be limited to breakfast hours, so customers can pick them up all day long. If successful, it is possible the partnership can expand to additional locations. According to CBS News, there are roughly 13,500 McDonald's locations in the United States, which may be a big part in Krispy Kreme's strategy to "attain 50,000 points of access globally," per the press release.
If you live in New England, you don't really have a choice
Just like how In-N-Out Burger is synonymous with the West Coast and Buc-ee's is a southern staple, you will have a hard time driving more than 10 minutes in New England without passing a Dunkin'. The company, which originated in Quincy, Massachusetts, has a real stronghold in the northeast, where a daily commute to Dunkin' is just a way of life. According to Vinepair, out of the over 9,000 Dunkin' locations in the United States, there are 2,203 shops in New England as of 2021, with roughly half of that amount in Massachusetts alone. That is a staggering amount of shops when compared to Krispy Kreme, which is practically non-existent in the region.
In fact, if you were to look up the number of Krispy Kreme locations in New England, only one pops up. It is located inside the Mohegan Sun Casino in Uncasville, Connecticut. So, you likely do not even have a choice between the two donut chains if you call New England home. But, if you are from the region, you probably would not have it any other way.
So, which one is better?
Depending on which metric you choose, there seems to be a clear winner in the debate on whether Dunkin' or Krispy Kreme is better. Looking for the best of the best when it comes to glazed donuts? You'll want to search for your closest Krispy Kreme. Need a savory breakfast sandwich? The clear choice is Dunkin'. Need the perfect cup of coffee to kickstart your day? That is more of a toss-up, but you'll probably find more options at Dunkin' Donuts. Depending on where you live in the country, Dunkin' may be your only choice. But if you have both shops nearby, it can be a tough decision.
When asked to choose between the two, one Redditor chose Krispy Kreme for its donuts but Dunkin' for its coffee. Another user on Reddit voted for Dunkin' for everything except glazed donuts, where the vote would then go to Krispy Kreme. A third Reddit user offered a little more insight as to why Dunkin' may not need to come out on top with its glazed donuts and while they are probably fine to accept that loss. Simply put, Dunkin' as a company is so much larger in scale, so they don't need to concern themselves with perfecting the glazed donut as long as business keeps coming in other ways. Which is the best for you? That will likely come down to what's more important: your donuts or your coffee. It's a tough decision, we know.