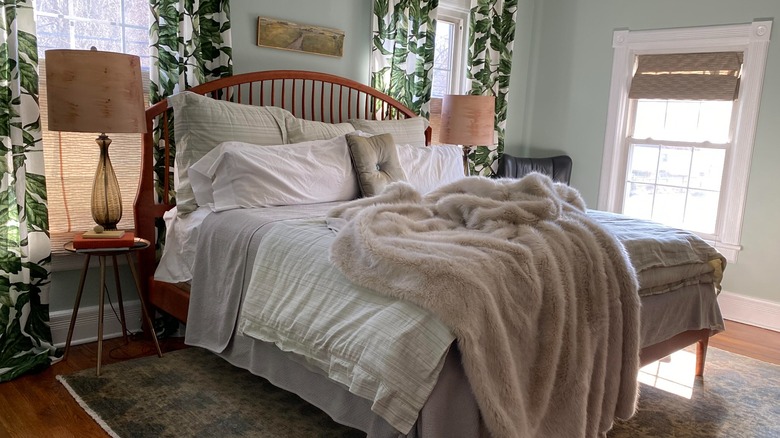 At the start of each season, most of us nest and assimilate or shed routines and habits. Spring cleaning, summer entertaining, fall yard prep, and winter cozying each bring energizing and comforting rituals. We revel in the journey from one to the next, wanting to step in at ease with and part of the coursing. Wouldn't it be great if there were a switch we could flip to make our homes abide by the exterior changes?
We've found there is a thing that takes little effort and makes a great impact: dressing the windows appropriately for the weather, the way we would for ourselves or our children. Per Sarah Wooldridge Design, this alteration has more than a visual effect — it works in tandem with light, temperature, and surrounding trees to veil the room in either brightness or a cocoon. In late fall, set to match the end of Daylight Saving Time, we swap filtering white cotton curtains that twine with summer leaves to blocking green-blue velvet, and it's an instant shift in mood — for the space, and us.
The curtain hardware remains. The height, length, and width of the drapes are the same. And yet, everything is new and different. Obviously, we're not the first to assert that a seasonal drapery change is a worthy endeavor, but we didn't think it was one we should afford either in time or money. Now we're convinced otherwise, and maybe we can convince you, too, that the rewards outweigh any investment.
Two looks for one room
According to Sarah Wooldridge Design, having summer and winter curtain options is an ideal way to give your space an aesthetic makeover. Furthermore, it's a practical change that makes our homes more comfortable and it's potentially budget-friendly. The bespoke curtain and blind company recommends lightweight and light-colored materials in summer and rich tones and heavy fabrics for winter.
After a bedroom makeover, we had neither. And the thing was — we needed curtains. We'd recently rearranged the room to accommodate a king-sized bed and the bed frame now encroached on the windows. From the outside, it would look atrocious, and inside it would be even worse. The first order of business was to find something ready-made that would complement the color scheme and be appealing to both room occupants. We shopped quite a bit online, but to be honest, found it fatiguing. There was a limitless selection, yet it was difficult to discern color. Plus, we weren't seeing anything we were wild about in our target price range.
Curtain shopping know-how
When shopping for off-the-shelf curtains, it's important to take into account how many panels are included in the cost; sometimes they're sold as pairs and other times singly. Our bedroom has three windows, so six panels at $125 each is $750. That's a reasonable price and quality curtains are worth budgeting for, yet we'd just bought a new mattress and bedding. Versions sell for far less, but textile and finish quality are often compromised. Keep in mind there will be light shining through the fabric, which tends to magnify every imperfection. Also, sunshine reduces thin material to a virtual film — a great effect if that's what you want.
Additionally, you'll need to decide on the dimensions. Generally, there are standard length and width options. Most designers suggest placing curtain hardware well above the window frame; Style by Emily Henderson says to aim for placement at least one-half to two-thirds of the way between the window and ceiling. It draws your eye up and makes the ceiling appear taller. The length is also contingent on the way the drapes present; the design blog calls them the float (just above the floor), the kiss (barely skimming it), and the puddle (pooling in excess). If the desired length is in the middle of two options, select the longer one; panels can be hemmed more easily than lengthened. However, if you love something on the short side, a coordinating bottom band can be added, with the resulting curtains looking custom-made.
Finding the right drapes
Drapes shouldn't seem skimpy — on the contrary, they should create a sense of luxury. Therefore, wide windows might require wider or multiple panels. By the same token, Style by Emily Henderson notes it's a good idea to extend hardware beyond the window molding. Doing so gives the impression of large, expansive windows and the drapes won't unintentionally block light — a priceless commodity. In summary, calculate the width and length that best suit the space and buy panels based on that determination.
A challenging aspect of our bedroom was the fact that our windows are different heights — a pair on one wall is the same, while a single on another wall is shorter. Additionally, we needed panels that were in between two standard lengths — 84 and 96 inches. We settled on searching for curtains in the longer measurement and figuring out later how to adjust. We also resolved to start looking in stores so that we could touch the fabrics and see the true colors in person.
On an autumn day trip to Boston, and in the same location, we unexpectedly found not one curtain option that ticked all the boxes, but two. They couldn't have been more different, yet they were the right length, width, and price. One was boldly patterned with a neutral light background, while the other was a solid, deep velvet in a color perfect for creating a calming monochromatic palette. How would we choose? We decided not to.
Making a curtain plan
We did, however, make a plan for how they would be used. We bought three pairs of summer-weight curtains, one for each window or in case we wanted to double up. Because the winter drapes were so dramatic and we thought they'd make a lush focal point behind the bed, we chose to purchase only two windows' worth. Scary, we know, but sometimes you just have to follow your gut (and hope you can order more). As you can see, the third pair of curtains were never hung; we felt the amount of pattern would be overpowering in the room.
For a clean and layered effect, as well as an additional means to insulate from light and noise, Curtain World says you can opt for blinds instead of sheers underneath curtains. We decided long ago not to add a lot of holes in our window moldings and discovered that suspending roman blinds on tension rods did the trick. (They were the thing that allowed us to skip drapes on the side window.) It's simple to adjust their height and placement — at times we put them at the top of the window frame, and other times in the center. The color ties in the area rug without contributing busyness, and additionally, they appear throughout our house, creating a cohesive scheme from room to room. If we could pass on one easy and budget-friendly tip, it would be ready-made roman blinds on tension rods.
Hanging onto an idea
Back in our space, we couldn't do a thing yet. We needed rods with brackets and decorative clip-on rings before the curtains could be installed. Ours had pole pockets but we prefer a more tailored look, so we attempted to mimic the undulation of more expensive, pleated drapes by hanging them from the pole on rings. The internet is full of inspiration and design cheats like that. Remember to factor the hardware into your final cost. Once again, as with curtains, there is a wide array of styles and pricing. We opted for inexpensive hardware, but the devil is in the details and we do have a bit of regret (though nothing to lose sleep over).
The drapes were too long, as we knew they would be, so we tried the puddle. It's not perfect but we don't mind. And we lucked out with three of four panels concealed at the bottom behind furniture. We thought they would be dust magnets, but they're fine provided the floor underneath is vacuumed regularly.
The only curtain maintenance is the twice-yearly switch-out, and a fix every morning after one of us has pulled them closed for the night, something we've grown to accept. We roll the off-season panels loosely around a shipping tube; Centurion Window Fashions says folding causes creasing, and they also suggest cleaning them before storing. While they're easily accessible, we might wash the windows. Or not. One step we can't neglect is marveling at the transformation.