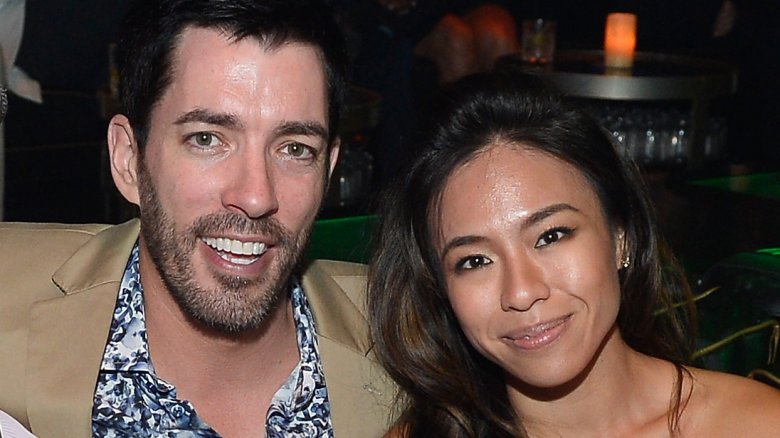 When Chip and Joanna Gaines abruptly announced they were quitting their popular HGTV series, Fixer Upper, their fans were left wondering who would replace the king and queen of home remodeling shows. Thankfully, the network already had a slew of beautiful, relatable, and down-to-earth couples in the pipeline, ready and willing to take over the Gaines' throne. These reality TV show couples work together seamlessly on their respective programs, but what's portrayed on the small screen isn't always as it seems.
Kortney and Dave Wilson of Masters of Flip and Aubrey and Bristol Marunde of Flip or Flop Vegas are just a couple of the stars who have unorthodox marriages that are barely covered by TV film crews. From the odd reason one couple is forced to sleep in their home's sitting room to one husband's over-the-top anniversary tradition, here are some of the strangest things about HGTV stars' marriages.
Andy and Ashley Williams once shared the tiniest house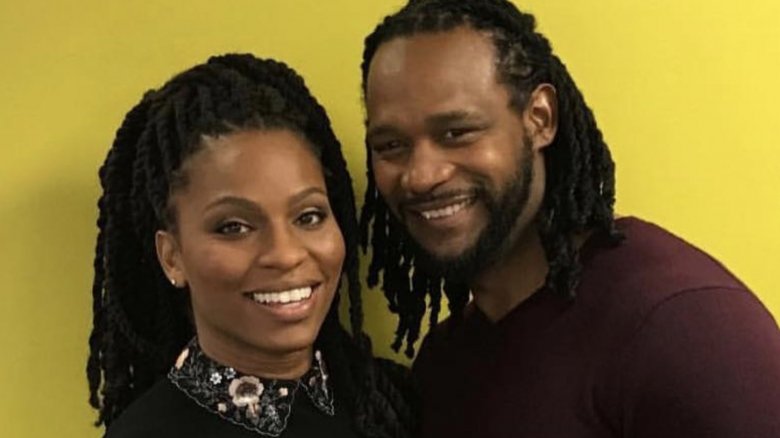 Andy Williams, a former Marine, and his wife, Ashley, who served in the United States Army, met while they were both stationed in Iraq. The war veterans have since left the battlefield behind to star in their series, Flip or Flop Fort Worth, where the husband and wife team buy, renovate, and sell real estate on a super-tight budget.
These days, we're sure the parents of two are living a comfortable lifestyle, but they didn't always have an idyllic home base. According to HGTV, while stationed in Iraq, they were one of the first couples to get permission to live in shared living quarters. Sounds pretty cool, right? Well, the downside was they were shacking up in very close quarters — we're talking about a 200-square-foot construction trailer!
For most couples, living in a cramped space would be a recipe for disaster, and we're not even sure how the Williams didn't let their minuscule abode put a crack in their relationship's foundation. But, obviously, they had other things on their mind, like putting it all on the line for their country.
Hats off to them!
Linda Phan and Drew Scott … and Jonathan, too!
Twins Drew and Jonathan Scott, the stars of HGTV shows like Property Brothers and Brother Vs. Brother, are two peas in a pod. But most people assumed their tight bond would be somewhat dismantled when Drew began dating his now-wife, Linda Phan, but Jonathan wasn't about to let that happen. No way, bro.
Instead of taking a backseat to his brother's budding romance, Jonathan became the third wheel. People magazine reported that, after Phan moved in with the twins in 2012, Jonathan still didn't budge. "People were always like, 'Isn't that weird?' But there's an ease to it," Phan, who works for Scott Brothers Entertainment, said of her living arrangements at the time. "You wake up and you go to work. It's nice and really convenient to be able to have meetings with the people you live with."
Linda Phan and Drew Scott eventually bought a place in Los Angeles and got hitched, while Jonathan stayed in Toronto with his then-girlfriend Jacinta Kuznetsov. Thank goodness.
Being close to a sibling is cool and all, but there's a reason why the saying "three's a crowd" exists.
Ben Napier's mushy gift for wife Erin
When Ben and Erin Napier's show, Home Town, first premiered, Erin was already a star of sorts, thanks, in part, to the personal blog she started in 2010.
Among the many personal moments she's shared online, Erin revealed that every single year — ever since the day they got engaged in 2007 — Ben makes her a book that pays homage to their journey through life.
In a blog entry dated Feb. 12, 2016, Erin shared that Ben had presented her with the seventh installment of their book series, which included "the sweetest love notes recounting each month's most important moments."
It's worth noting that these aren't some low-budget, raggedy books. Each one is handmade by Ben and compiled with materials based on that year's traditional anniversary gift. "One year the cover was paper, then cotton, leather, another year wood, another year flowers, then wool and copper," Erin wrote in an Instagram caption in celebration of the book's eighth installment.
No matter how busy they get, Erin's college sweetheart never forgets to crank out another book, and, don't get us wrong, these books are super romantic and very thoughtful. But this yearly tradition sounds like a lot of upkeep, especially now that their show is one of the most popular programs on HGTV. And that's without mentioning how their busy schedule also includes raising their daughter, Helen, and snagging a book deal.
Whatever happened to flowers and a card?
Kortney Wilson's unusual home project
Real estate guru Kortney Wilson and her construction aficionado husband, Dave Wilson, frequently lock horns on Masters of Flip, and we're convinced they're not pumping up the drama just for ratings.
Their relationship has had many hiccups throughout the years, starting with their really peculiar early days. According to a feature on PopSugar, after meeting, the two decided to share an apartment as roommates. (We're guessing it took a while for the pair to see fireworks.)
They eventually decided to tie the knot, have children, and live happily ever after … or maybe not. "Kortney converted our master bedroom into her own personal closet!" David told the website.
Kortney attempted to explain, saying, "I moved our bedroom to the sitting room. It was smaller than our bedroom, obviously. And then I made the bedroom my closet, and I gave David the closet off our master bathroom." Huh? We're all sorts of confused.
Kortney called the switcheroo "seriously awesome," before gloating about how her master bedroom-turned-closet is one of her favorite rooms in the house. "You can actually find me there drinking champagne on a Saturday afternoon reading a book," she said.
No word on what Dave thinks, but we can only imagine…
No dates for Aubrey and Bristol Marunde
On the heels of Flip or Flop stars Tarek and Christina El Moussa's messy divorce, HGTV brought in a couple to breathe new life into the network. And, when we were first introduced to Bristol and Aubrey Marunde, the stars of Flip or Flop Vegas, they seemed normal enough.
The parents of two sons, Kane and Kale, Bristol and Aubrey brought glitz and glam to the home improvement network, but it was what they were saying behind the scenes that made us give them side eye.
The MMA fighter and his real estate agent wife have combined business with pleasure. However, even though they literally spend all day, every day together, they don't often squeeze in a lot of quality moments. Aubrey explained it best when she told Entertainment Tonight, "We don't have a lot of time to go out and take a whole day to spend together and go to a dinner and do a movie, but our days are together all the time."
Instead, the two take 30-minute breaks to grab a cup of coffee and "regroup," and Bristol insists that their personal time together is "strong."
We really hope they can keep it together. Maybe they can ask Chip and Joanna for pointers on how to balance work and their personal lives.
A bad first impression
Before they became husband and wife and the parents of five kids — long before they brought their flair to Washington D.C.'s cookie-cutter homes on Best House on the Block — Lauren and David Liess were young college students who were grabbing a bite to eat at their campus' dining hall.
On her blog, Lauren recalled running into David after meeting him at a creative writing class. She said she was struggling to pull her dining card out of her "super-packed & unorganized wallet," and David stepped in to save the day. "He handed the dining guy his card & had him swipe it for me and shook his head at me," she wrote.
Then things got weird. Lauren wrote that David said to her, "You're such a mess." And no, she didn't deck him in the face. They actually somehow went on to live happily ever after.
Granted, Lauren was already aware of her messiness, so she wasn't that mad at her David for calling her out. Still, what a rude thing to say!
Ashley and Barrett Gilbreath aren't TV people
As of this writing, we've only seen Ashley and Barrett Gilbreath in action on the pilot episode of Sweet Home Renovation, where they infused modern Southern design elements into an Alabama beach house.
Ashley, an interior designer, told Country Living that running her business while raising three kids means she and Barrett, a healthcare professional who didn't mind doing some heavy lifting for the show, rarely had time to turn on the tube. This also meant that they were even clueless about their HGTV predecessors, Chip and Joanna Gaines!
"This sounds really silly, but when we were approached [to do a show], we sat down and were like, 'We need to know what's out there. What's that show? Fixer Upper-something? Turn that on, let me watch and see what these things are about,'" Ashley told the publication.
It's unclear as to why their one-and-done episode is all we've seen from them thus far, but we wouldn't be surprised if it was because no one — not even Ashley and Barrett themselves — tuned in!