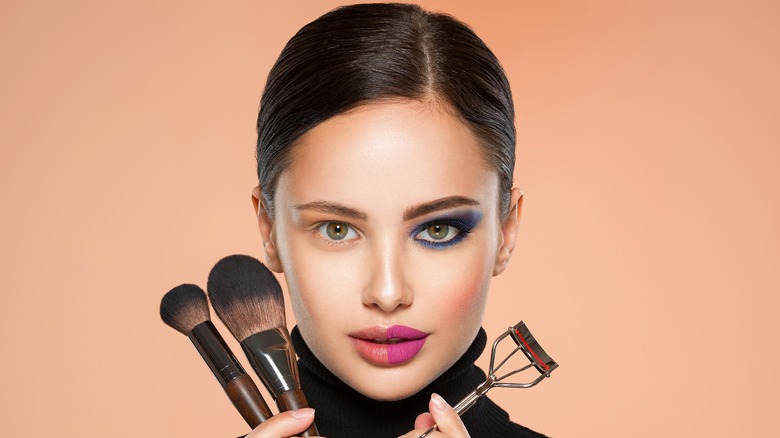 We may receive a commission on purchases made from links.
The final months of each year tend to call for a time of reflection and curiosity for change. The altering colors of the leaves and cool breezes brought on by Autumn remind us that change is quite literally in the air, inspiring many to think about their own thoughts of evolving. As many begin to ponder what they'd like to bring into the new year, physical change is among the more prominent of thoughts — from hair color to fashion, there's a shared inspiration to spruce up one's look. Luckily for those who follow makeup trends, fall brings in an abundance of inspiration.
As fashion month draws to a close for major cities such as London, New York, Milan, and Paris, many get a glimpse and first peek into what major makeup artists will strive to showcase for the upcoming 2023 season. Below, we'll be taking a look at what trending looks you can expect to see in 2023.
Minimal makeup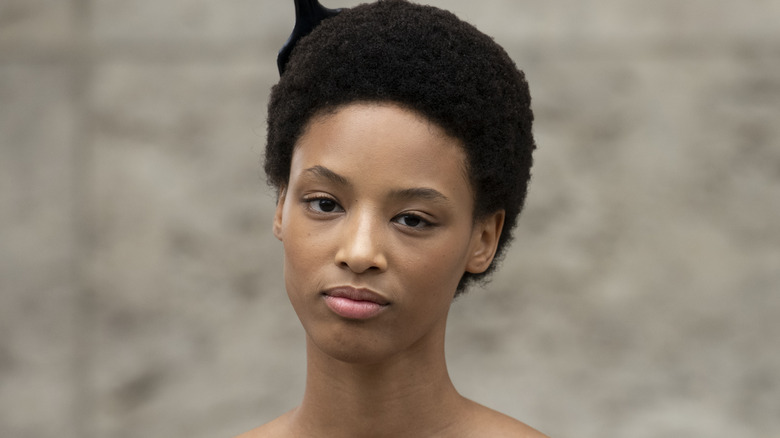 Several models featured in this latest runway season walked with near-barefaced skin. As the movement to embrace your natural beauty continues to grow, high fashion designers such as Altuzarra and Missoni highlighted the natural beauty of their models' faces with little. With a focus on subtle tinted blush, a classic rosy complexion will complete nearly any look one attempts to achieve. To achieve this look, makeup artists at Altuzarra use Merit Beauty's The Minimalist complexion stick. This light-to-medium coverage perfects the look of "no makeup" makeup that many strive for.
Global Director of Artistry and celebrity makeup artist Nick Lujan shared his preference for subtle blush with Ipsy. "There is a shift from bolder blush application to a soft, subdued blush-from-within look," he states. He explained how to achieve this look: "After your skin is prepped and primed, apply a sheer layer of skin tint or light foundation all over skin. Then, use a blush brush to pick up a bit of cream pigment and test it out on the back of your hand before applying to the cheek. After you apply your blush, stipple another layer of skin tint on top to create the 'blushed from within' look."
Of course, the best formula for dewy, moisture-kissed skin is in the skin itself, so it's important to stay hydrated to pull off your best fresh-faced look (via Pure Luxe Medical).
Skinimalism
This newly-coined phrase promotes a minimalistic approach to the beauty products we choose to consume. With a focus on sustainability in packaging and promoting all-in-one products, "skinimalism" has been predicted to become a 2023 trend since 2021, according to world-leading consumer trend forecaster WGSN. The prediction results yield that in 2023, consumers will more than likely reject the idea of a multi-step skin and makeup regimen and instead opt for more simple-step products, with a conscious awareness of what's best for both the environment and for the consumer's wallets. Leading brands of this forward-thinking trend include Skin + Me, Alpha-H, Lyma, and U Beauty.
"Many are now looking for simple routines as life gets increasingly busier and information can seem oversaturated/overwhelming on social media – aka the wild west, shared board-certified cosmetic dermatologist Dendy Engleman, M.D. (per the New York Post). "I believe more people will start to shift towards a minimalist skincare routine by including multitasking products that tackle multiple concerns within one formula."
Joanna Czech, celebrity esthetician, tells CNN that she has always endorsed the movement. "Skimimalism is what I have always supported," Czech says. "It is what I teach my clients, and the majority of them prescribe to it." Czech also says that hydration goes hand-in-hand with luxe skin and adds, "Make sure your skin is balanced and hydrated, and then address one condition at a time."
Bleached brows
This controversial but popular trend is here to stay for 2023, as indicated by this past season's fashion month. Well-known names who walk hand-in-hand with fashion have been seen with this look throughout this year. Names such as Kendall Jenner, Julia Fox, Lizzo, Bella and Gigi Hadid, and more have proven that bleached brows can be rocked with confidence and attention to the eyes. "In this world where we are trying to crawl out of the pandemic, people want to experiment with their looks and reinvent themselves with something fresh and new,"
Celebrity eyebrow specialist Joey Healy states, via Glamour. "It's also a very fashion-focused look, and while it can be difficult to pull off, people are ready to take a bold stride and really step outside the box." While many are opting to use bleach, others are taking another route with makeup. "You can use your concealer, so it kind of looks like your skin tone, and a mascara wand," Healy advises. "Do this at least before you bleach them, do that just to preview the look."
Metallic eyelids
As Y2K grunge and rave trends continue to make their rounds back into popularity, 2023 will likely be seeing lots of metallic. Several brands have had their models rock metallic lids on this past season's runaway, including fashion-forward power brand Chloe. Nick Lujan shared how to create that perfect edgy look. "After your complexion and brows are complete, use your finger to pick up a bit of your favorite metallic shadow shade," he shared with Ipsy. "Note, fingers are always the best application for metallic shadows. Dab and swipe the metallic shadow from the center of the upper lash line outward, stopping just shy of the crease. Finish the look with waterline eyeliner application and a healthy application of mascara."
Ipsy's recommended product to rock this look is Ciate London's Marbled Metals Eyeshadow. A dab of this product will complete the intended look and perfect balance of grunge and glitter.
Dewy, soft glaze face
The intended look for this trend is to get one's skin glowing in a subtle way akin to freshly-washed, deeply hydrated skin. This look can be achieved by applying a small amount of highlight on your temple instead of the cheekbone. This way, the natural light will reflect and capture your face at a particular angle that brings attention to the upper portion of your face.
Nick Lujan broke this look down for Ipsy, stating the glazed look directs others to focus on areas of the face that might otherwise be overlooked. The glazed look, Lujan said, "is an eye-catching, light-reflecting, flash of highlight on the temples. In essence, we are shifting all the cheek highlight to the temple and orbital bone, so when you angle your face or turn on your personal catwalk, the light reflects with a flash." To achieve this dewy look, Lujan recommends the Glass Glow Face and Body Gloss by Kevyn Aucoin. Retailed at a friendly $32, this product can be purchased in several neutral tones to flatter a variety of skin tones.
Red lips
Who doesn't love a striking red lip? Bold red lips will always remain a classic staple in attaining that timeless look that works on practically everyone. Captivating and bold, red — whether deep or bright — is a trusted go-to color for really any skin tone or shade. In 2023, expect to see more reds and corals with a soft gloss over to complete the look. According to The Zoe Report, cherry red seems to be the shade many will don on their pouts for the upcoming season. Cherry red provides a warm tone that assists in brightening up one's complexion, which works well if you do not want to wear much else in makeup.
According to trend prediction experts WGSN (via Sensient Beauty), in 2023, the color will be favored as a form of self-expression, balance, and optimism. With so many out there ready to operate day-to-day life in a post-pandemic world — and no more masks are exciting those wanting to express themselves with a bold lip color.
Bold Blue
Gone are the days of laughing at your mother's — or grandmother's — baby blue eyeshadow from the '80s. Blue was all in the spotlight during this latest season's fashion month. From mascara to eyeshadow, trend experts expect an uptick in consumers favoring the bold color of blue. "Blues can be intimidating; I would suggest starting with blue mascara for a subtle step into color," Nick Lujan shared with Ipsy. "If you are comfortable in blue mascara, you will be comfy with blue eyeliner in the waterline.
"These two tips can be partnered with any makeup look, natural to dramatic, just subbing in blue for your normal brown and black liner or mascara," Lujan added, and encouraged makeup enthusiasts to "try out a blue color wash eye." He explained, "Essentially, it is a smokey eye technique, subbing in blue in place of dark matte black. With so many variations of blue, you choose navy, royal, or brilliant blue."
Celebrity makeup artist Kale Teter echos these sentiments of a blue uprising, stating to InStyle. "I think one of the reasons we are seeing more blue at the moment is because right now, our pop culture trends are such a mix of the previous decades." With well-known faces such as Taylor Swift and her latest album cover donning blue eyelids, it's a safe bet that 2023 is blue's year.
Tinted sunscreen
In alignment with the "skinimalism" movement, expect to see many favoring two-in-one products such as tinted sunscreen. "I think for everyday makeup, spot concealing paired with a tinted sunscreen will be the 2023 trend, and then a medium coverage foundation that still looks like skin for going out," professional makeup artist Natalie Dresser shares with the New York Post. Additionally, she shares that her favorite tinted sunscreen at the moment is EltaMD. Lightweight and cost-friendly, this broad-spectrum sunscreen is mineral based and applies evenly on the skin to give one a subtle tinted glow while still protecting the skin from the sun.
"I think that in 2023 we will see cream products come even more forward but less layering and less emphasis on heavy glam on the skin," Dresher additionally shares while addressing this trend follows in the heels of the "simpler makeup" trends that have been prominent throughout 2022.
Creamy concealer in place of spot corrector
In 2023 expect to see fewer dry and dull spot correctors as more will use creamy concealers. "I think something that isn't so drying will definitely be the focus point of 2023," professional makeup artist Natalie Dresher predicts, per the New York Post. Dresser, who's skilled at bridal makeup, further shared her preferred concealer. "I love the Tarte Shape Tape Ultra Creamy Concealer," she states.
This Tarte product is a favorite for makeup lovers, as it acts as a two-in-one for an eye cream and all-around concealer for the face. For a roundup of the best concealers on the market according to consumers and reviews, Forbes has provided a list for those looking to make the switch from spot corrector to creamy concealer. Celebrity makeup artist Sarah Ulsan shared, "Concealer is a must-have for anyone over 30… By using a concealed,r you are brightening and waking up this very transparent part of the face.
Grunge makeup
With '90s trends coming back in full swing, many have already seen a favor to the grunge makeup look of the revered late '90s/early 2000s. Grunge was all the talk during this past fashion week in New York. "The beauty of this '90s look is that it's meant to be undone, meaning smudgy, smeared, looks-like-you've-been-at-a-rave-all-night makeup that looks better the more imperfect it is," Maria Del Russo of The Zoe Report shared. Del Russo added that even makeup newbies will be able to pull off coveted runway looks. "So while other beauty trends, like a perfect cat-eye or a gorgeously lined lip, may feel a little tough to pull off when you're a makeup novice, '90s makeup is much more democratic and accessible."
High fashion designer Rebecca Minkoff showcased just this, as their makeup team donned their models in bold black eyeliner, while Stila beauty director Charlie Riddle applied smokey eyes and shimmer to their models. Riddle shared how to achieve the smokey cat eye look reminiscent of '90s grunge, using the Stay All Day ArtiStix Graphic Liner. "These liners apply really well, so they're easy to use for a cat eye," he shared.
Brushed-up gelled brows
You can expect to see more of this trend in 2023, as brows are at the forefront of facial features. "Less is more — gone are the days of the pomade brows … Brushed-up, gel-ed eyebrows are definitely stealing the show," stated professional makeup artist Natalie Drescher to the New York Post.
The brushed-up gelled brow trend is an excellent addition to anyone's makeup routine, as it can be successfully achieved on any kind of brows, no matter the arch or thick/thinness of the hair. For those blessed with thicker brows, it's a great way to tame the hair to achieve a slick and smooth look while still drawing attention to the fullness of the brows. The gel also keeps the brows in place, so the end result is a highly polished and neat look.
Lead stylist at HD Brows Jaime Long states that the texture of the brushed-up brows is key to the look."Brushed-up brows are my absolute favorite brow style; I love the texture it gives. It's great for making your brows look bigger than they actually are, which is something that we all want." HD Brows — a cosmetic brand dedicated to all things brows — also breaks down the simple steps to achieve this look with their products. British model Chloe Lloyd further adds that "bushy brows" are in. "Bushy brows are my signature look," Lloyd says. "I loved the way HD Brows defined my brows perfectly whilst still keeping them soft and natural."
Super curled eyelashes
Full volume eyelashes have nearly always been in style, so you can absolutely expect to see more of this in 2023. "Really curled chunky lashes are going to be the go-to," professional makeup artist Natalie Dresher predicts to the New York Post. She goes on to add her favorite product as a recommendation. "I absolutely love the Shisheido Eyelash Curler paired with L'Oreal Paris Lash Paradise Mascara; they will give you the perfect curled chunky lash."
While the look may seem daunting to those with thinner or shorter eyelashes, Vogue India provides a fantastic breakdown for those doing their best to attain those sky-high lashes. "The Shiseido Eyelash Curlers are a good fit for most eye shapes. If you struggle to get all your lashes into the curler in one go, try curling them section by section instead," beauty expert journalist Nishita Fiji writes. She goes on to state that priming the lashes before applying the mascara. "If you haven't tried a lash primer before, you're missing out. They form a base coat on the lashes and add loads of volume and length … Although this may not be a step you want to add to your routine on a daily basis, it's perfect for special occasions." She recommends The Smashbox Photo Finish Lash Primer to achieve this look.