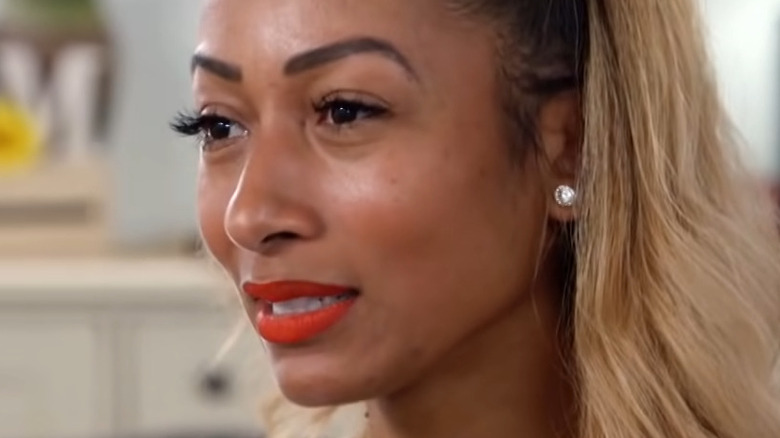 Content warning: The following article includes allegations of child abuse.
"Wife Swap" is a television show built on discomfort: Trading polar opposite spouses for two weeks and putting them in charge of new families isn't something coordinated for a relaxing experience. It's a cringe spectacular, with unflattering closeups, hokey music, and highlights of some of the world's most dysfunctional couples.
First, the swapped wives (or sometimes husbands) explore their new home to get a feel for who they'll be living with — usually a neat freak will be in a messy bus or a gothic woman will end up in a conventional home. Then, they meet their new families and adhere to their rules for the first week, no matter how disturbing they find it (although sometimes they refuse). Finally, at a rule-changing ceremony, the wives get to enforce their own values over the new home. So, conventional households go ghost-hunting, misogynistic husbands have to do the cooking, homophobic men dance at gay bars, choreless kids start cleaning bathrooms, etc., — and the changes don't always sit well with everybody. Buckle up, we're in for a cringey ride!
Parents neglecting the wants of their children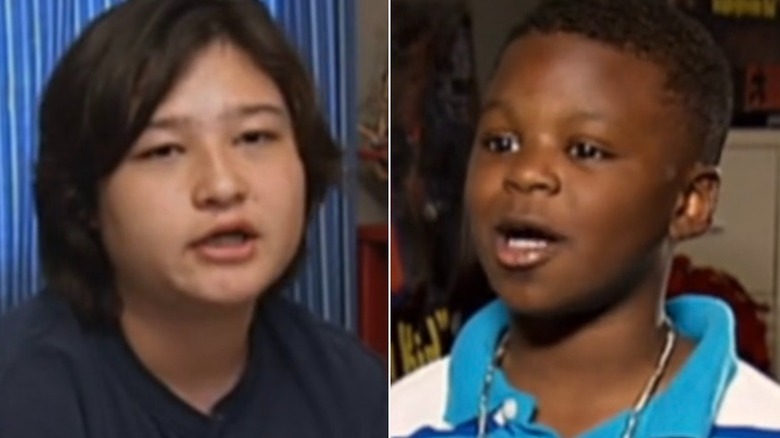 In Season 6, Episode 12, we see two examples of parents putting their dreams first, over their children. Andrea and Robert Parker dote on their son Lil Chris' rap career, and their four other children are required to help, which puts all of their interests on the back burner. Meanwhile, Rob and Tracy Robinson are a couple pursuing their own love of monster-hunting, which takes precedence over Rob's son Josh who has no interest in cryptozoology. Both couples' mindsets feel unbalanced and lead to uncomfortable moments.
Before each performance, Lil Chris gets what his mom calls a "Hollywood attitude" that can only be calmed down with candy. After swapped wife Mrs. Robinson brings him the candy, Mr. Parker sits down with his pouting son and asks, "You wanna be famous, right?" in an effort to get him to perform. It's upsetting and disheartening to see what looks like a parent putting fame over his child's wants and feelings. This brings into question how much of this dream is Chris' and how much it's his parents'.
At the Robinsons, swapped wife Andrea tries to get Rob to put his son's interests ahead of his own and asks him to sell some of his adult luxuries. Rob protests her rule changes with a childlike tantrum, including yelling, shouting, pouting, and storming off to his room. Rob even admits to not having faith in his son's abilities. He comes around, but it's still very cringey to see.
Kids suggest the new mom should sleep in their dad's bed
Kids are an important part of "Wife Swap." It's a show about not only swapping wives but swapping entire families and seeing how every member adapts to the new wife/mom. And sometimes it can make for some humorous, albeit uncomfortable, moments. In Season 1, Episode 5 of the "Wife Swap" 2019 reboot, we meet Melinda and Mikel Muffley, a wealthy pair of workaholics who base their lives around appearance and comfort. Their home is a spacious mansion with a pool, yard workers, a nanny for their also-alliterated daughter Madison, and expensive cars.
However, for the McCormicks, the only car they have is the one they live in: Nature lovers Justin and Kirsten transformed a 360-square-foot school bus into their home where they and their five kids travel as they please. The whole family pitches in for chores, including dumping out the solids from the composting toilet. These opposing lifestyles are a perfect imperfect pairing for "Wife Swap."
Two of Mrs. Muffley's concerns about the mobile home are where she will shower and where she will sleep. After Justin and the kids show her the outdoor shower, which she is quite discomfited by, she asks the very serious question of where she'll be sleeping. As if the moment isn't awkward enough, one of the McCormick's youngest sons shouts, "Daddy, she could stay in your bed!" Although a considerate thought, definitely not the answer they were looking for.
Mrs. Myers doesn't like kids and her children know it
Parenthood is not for everyone. And there's no shame in being a person who isn't interested in having kids. But once someone is a mother, it's pretty uncomfortable to watch them admit that they're not into it, especially when they have four children depending on them: The mom of a family of intelligent ghost hunters from Season 4, Episode 9, Samantha Myers, has openly admitted that she's no fan of motherhood.
When she's not out hunting spirits with the family, she's working full-time, and although her husband Shane is a stay-at-home dad, he mostly focuses on making sure his wife's clothes and house are to her liking and leaves the kids to take care of themselves. "I've been raised to be self-sufficient," said 16-year-old Cassie. Their oldest son Andrew is a college student who helps parent his 4-year-old brother Tom. Samantha says she'll "keep [Drew] around as long as he's an asset here." Eek.
And it's no secret that mom thinks that way. Drew himself described his mother as cold. Cassie flat out declared that their mother "hates children. I asked her why she had four of them she just said she liked sex." Super awkward for a kid to hear!
The show focuses too much on 14-year-old Blake's purity
In Season 1, Episode 7, we meet the Reimers and the BIttners. Devout Christian parents Melissa and Paul Reimers care that their five children are well-behaved, disciplined, and pure. They punish them with a leather belt called the "whacker" and homeschool them to keep them away from outside influences. Meanwhile, Cindy Bittner lets her two daughters run wild over her and their stepfather Steve, with no discipline and no limitations. For the Reimers', dating for their 14-year-old daughter Molly is prohibited, but for the Bittners, dating for their 14-year-old daughter Blake is highly encouraged.
The most uncomfortable moments revolve around Blake and her relationship with her 16-year-old boyfriend, Danny. After Mrs. Reimers moves in, she becomes upset because the girls are not what she deems pure. When Blake is getting ready to go on a date, Melissa gets heated over her low-cut top and says, "You can't dress like that and have purity." She becomes frustrated over Steve's lack of control over the girls and admits she wants to shake Steve and ask him, "Do you not see her breasts?" Yikes.
And it's not just Melissa that focuses on Blake's sexuality. While introducing the Bittners, the narrator emphasizes Blake's freedom by saying, "[Blake and Danny] spend a lot of time along together in her bedroom." Although the show is trying to demonstrate their differences, a minor's sexuality and body don't need to be honed in on.
Mr. Guastaferro spray tans his daughter
As we've learned from "Little Miss Sunshine" and "Toddlers in Tiaras," the world of child beauty pageants is a particularly polarizing one. But the Guastaferros adore it. The first episode of Season 4 introduces viewers to Alicia, a teenager who's been in pageants since she was 11 months old, thanks to her parents Ralph and Karen. According to Alicia, pageants are basically her life, but who knows if they're actually her own idea at this point.
Karen and Ralph have dedicated their lives to Alicia's pageantry career and believe everything must, as they say, "sparkle" — having the best smile, the best clothes, the best makeup and hair, and being the perfect popular girl are the values in their household. Ralph is particularly invested in his daughter's beauty and women's appearance in general. While re-watching Alicia's pageant videos, he defends his daughter's sex appeal to feminist swapped wife Angie Boss, who disagrees with pageantry. "[Her] body is beautiful!" he tells Angie. "If a person has a problem with sex, they'll get over it." Not a very kosher thing to hear a dad say about his daughter.
His passion for Alicia's beauty doesn't stop with admiring her figure. Mr. Guastaferro also spray tans his daughter's body. Alicia stands in a crop top and short shorts while her father sprays and points out to Angie how perfect his daughter's skin is. He's admiring his half-naked daughter and showing her off like a toy. Definitely an uncomfortable sight to see!
The Haigwoods eat raw meat
If you're particularly squeamish, we recommend you skip Episode 18 of Season 3! The Haigwoods are a family of doomsday preppers who live in the countryside of Iowa. Barbara and Mike Haigwood pride themselves on being self-sufficient, and try to unschool their children Lee and Aleesha by having them work on the farm and learn about the dangers of governmental misinformation. The whole episode is a squirm fest: There are close-ups on Barbara's legs as she shaves them at the Hess-Webbs' house and shots of the Haigwoods' uncleaned (maybe even filthy) home, but nothing compares to witnessing their unconventional diet.
The Haigwoods eat everything raw, including raw chicken or beef that ages over the course of several months before consumption. Watching Mike and Barbara take bites of what looks like wet, raw chicken, and Lee — a 15-year-old — chugging raw eggs to meet his quota of a dozen a day, is all very discomfiting. The diet leads to many disconcerting moments, including Barbara feeding Robert Hess-Webb's adolescent son raw meat, the Haigwoods sobbing after Mrs. Hess-Webb makes her rule changes, and an 11-second shot of Mike chewing four-month-old raw meat in silence.
It is important to note that Iowa's Department of Human Services investigated their home and a spokesperson said, "People who eat unusual food and feed it to their children are not abusive, nor are people whose houses are not tidy" (per The Netline).
If you or someone you know may be the victim of child abuse, please contact the Childhelp National Child Abuse Hotline at 1-800-4-A-Child (1-800-422-4453) or contact their live chat services.
Mr. Padovan-Hickman smells his wife's armpit
Overall, Season 5's 20th episode is unpleasant. We meet two extremes: The "modern pioneer" Padovan-Hickmans who live off the grid in a cabin, and the Burroughs who live near the city in a large mansion. Shannon Nicole, the Burroughs matriarch, is preoccupied with physical appearance and luxury. When she switches places with modest mother DeLaura, she starts insulting their lifestyle, saying things like "I've never seen as many losers and, like, poor people." At a thrift store the family frequents, she says, in front of the kids, "[There are] no good boob shirts here." Very unfortunate mindset to witness.
Although Mrs. Burroughs is a frustrating part of the episode, the most uncomfortable moment comes from Steve. Early in the episode, Steve admits he loves the smell of his wife's natural body odor and smells her unshaven armpit on camera. "My nightmare would be a woman that shaves every hair off of her body so I could never get a scent of anything human about it." Well, when Shannon Nicole comes into the picture, Steve's nightmare comes to life. After meeting her, Steve shares that while he won't sneak into the bathroom after she leaves to take a deep sniff — which he mimics doing — he admits to wondering what that would smell like. That may have been a better thought for him to keep to himself.
Mr. Smoak kisses his swapped wife, Amy
In this episode of "Wife Swap", Season 1, Episode 3, conservative hunter Glen Smoak has a crush on his temporary, liberal wife Amy Beaver. He and his wife Aletha haven't slept in the same bed for 11 years, so when he meets Amy, a thin blonde woman with a free spirit, he doesn't think twice about her opposing beliefs. Instead, he's completely smitten with her and says he wishes she was his real wife.
Per usual, Glen hosts a backyard gathering for his 30+ family members. And when Amy walks out to join them, all of the men stop and stare as sassy burlesque-like music plays in the background, thanks to the editing team. Glen's proud of his new housemate and brags on her to his family. It's a bit yucky.
Amy appreciates the attention, but shows no interest in having a relationship with Glen (she's happily married to her equally liberal husband Jeffrey). As if him showing her off like a toy wasn't enough, he kisses her on the cheek and hugs her throughout the episode, much to her quiet discomfort. She does play along with some of his desired roleplay, calling him "dear" before he goes hunting and doting on him, but she remains upset by his lifestyle. Watching anyone get touched without their consent is highly unpleasant. She stands her ground later in the episode, though, and it's beyond satisfying.
The Cyborans do not appreciate Shanti's super outfit
Shanti and Arjuna Owen-Ladino live their lives as a superhero couple in the "Wife Swap" Season 6 finale episode. They say their mission is to "save the planet from boring relationships." So, in their daily lives, the couple wears bright spandex super costumes, teach superhero-themed couples courses, and party at night to the chagrin of Shanti's daughter Savannah. Shanti switches lives with Claudia Cyboran, a much more conventional mother living in the country with six children and her husband John. The Owen-Ladinos' insistence that the rest of the world rejoice in regression could be cause for concern. There's nothing wrong with fun, but the two never turn it off, which is troubling to their daughter and to the Cyborans.
After Shanti explores the Cyboran home, she meets the family. The conservative bunch is shocked to find her in a super suit, which is, to say the least, not very modest. "She kind of looks like a stripper to me," 18-year-old daughter Brianne said. The encounter is awkward. The five of them watch Shanti from their seated positions, which makes her look even taller and out of place in her big shiny boots and bright red wig. After showing off her glowing weapon and outfit, John asks for Shanti to change into something more modest so that the family can be more comfortable. Shanti's upset they don't appreciate her outfit, but most viewers are probably very grateful she changed anyway.
Jack Moon believes cooking is for women
In the second episode of the "Wife Swap" reboot, domineering husband Jack Moon gets paired up with fire chief Halani Lobdell, who is anything but what he's looking for. Jack and Misty Moon adhere to traditional gender roles with Misty doing all of the housework/parenting and Jack doing as he pleases. He objectifies her by spanking her and supervising her while she cooks. Ick!
Halani is the complete opposite and goes against everything Moon believes in: She's a militant battalion chief ruling over a department of men and runs her home with the same intensity and vigor. She keeps both of her kids in sports, never cooks, and, in her own words, "can do a lot of things the average man can't do."
With all of the buildup, by the time Jack opens the door to meet Halani, it's a tense moment for the audience. The first question Jack asks is if she's part Indian, which she is, but starting with a question about racial identity is often pretty tone deaf. "Let's get right to the point," he says, "Do you cook?" She says no and asks if he does, to which he replies, "Cooking is for women." He admits to believing women should always wear makeup, and when Halani says she usually doesn't, he says, "Well, we'll see how you look tomorrow." This much misogyny is painful to see.
Matt Goss spanks his son in front of the first swapped dad
In Episode 4 of the reboot, we are introduced to the first ever homosexual couple on the show, Terrell and Jarius Joseph, who are dads to baby twins. Of course, per the show's objective, they get paired with the Gosses, a strict, Christian family of 10 with traditional gender roles.
It's obviously a shock to the Gosses when Terrell is standing in their home. Immediately, Goss patriarch Matt's face drops. He almost looks nauseated. "Everything me, [Terrell] is, at least, outwardly … opposite." The editors do an exceptional job of making this interaction as unappealing as possible. With eight kids, Matt is partially distracted while Terrell is trying to share about his same-sex marriage, with lots of cuts between the family staring at him and Terrell working to maintain a smile. At one point, Matt puts his young son over his knee and spanks him, to which Terrell responds with a verbal "Yikes." Matt then holds Gormon and prays that the Lord takes "the spirit of defiance out of [him]." And then there's a second spanking afterward. As a non-believer in corporal punishment, Terrell's discomfort is palpable through the screen.
Vicki Felix's time with the Wiggins is full of microaggressions
Just as in real life, racism and ignorance plague some reality shows. Should they? No. But what would "Wife Swap" be without some narrowmindedness? Episode 2 of Season 2 gives us the following: Neicey Wiggins is a Black mom who keeps her two teenaged sons on a tight leash and always makes sure the house is spic-and-span. Meanwhile, Vicki and Jeremy Felix's home has no rules, so their 5- and 9-year-old children cuss at their parents and don't do any chores. Pretty opposite families. But they are opposite in more ways than those.
While exploring the Wiggins home, Vicki sees a painting of Black women as décor, and makes a bold assumption, saying, "White people wouldn't have that hanging on their wall." When she walks into the boys' bedroom and sees its cleanliness, she's gobsmacked. "This is obviously a Black family, but they seem like they are clean."
Back in upstate New York, Mrs. Wiggins learns that her temporary husband Jeremy routinely uses racial slurs. It's not said on camera, but he does confess to it when she asks. She confronts him about his choice, but he makes fun of her by avoiding eye contact and repeating, "Take me to school." Seeing Neicey fight a pointless battle with so much passion is stressful, and his comfort with his ignorance feels abhorrent.
The most uncomfortable part of any episode: The intros!
As we've previously mentioned, the backbone of this show is cringe. But almost nothing in "Wife Swap" compares to the forced poses of the participants at the beginning of each episode.
"Wife Swap" families are positioned in front of their homes, usually in smiles they have to hold for an egregious number of seconds, while the narrator gives backstory on their dynamic. Then, the camera cuts to close-ups of each family member. Here we get a good view of the members trying to maintain their pose and expression like they're posing for a photo someone is never going to take.
Sometimes, the families are directed to stand in ways that tell the story of their household. For example, in Season 4, Episode 6, three of the LaBrie family members stand flashing the rock n' roll symbol and have massive smiles plastered on, while daughter Tuesday has her arms crossed and is staring at her phone. Or the Chis in Season 5, Episode 17 who have their black belt matriarch Myra standing in front of them as the father and two children pose in different karate moves. They literally put the families in uncomfortable positions from start to finish. But these openings, intentionally or unintentionally, demonstrate that there is definitely some staging behind the scenes, which is a healthy reminder for fans of reality TV. Either way, the squirms we feel are very real!