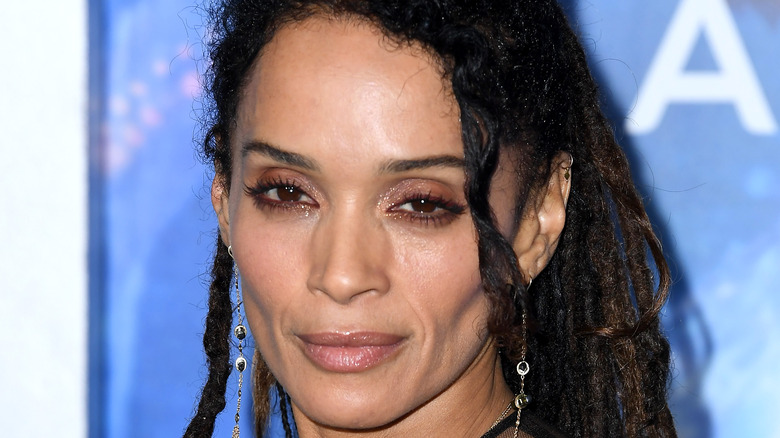 Lisa Bonet was born in 1967 in San Francisco, California. The actor is known for playing Denise, the second Huxtable kid, on "The Cosby Show" and "A Different World." Denise Huxtable is fashionable and cool, but so is Lisa Bonet. In 2008, People described her as "strikingly beautiful — a self-proclaimed 'hippie at heart,' with a laid-back appeal and a warm, throaty voice." Indeed, and Marcy Carsey — a producer of "The Cosby Show" — liked Bonet from the first time she met her. "I remember thinking, this is a kid who will not be anything else but herself," Carsey said to The Washington Post back in 1987.
The actor made waves in the late 1980s and established herself as a serious performer with a private personal life. In addition to taking part in one of the most important Black TV families of all time, Bonet became the matriarch of her own famous family: She was married to musician Lenny Kravitz and is mom to actor Zoë Kravitz, who could seriously be mistaken for her sister.
Throughout her career, Bonet has stepped in and out of the limelight. But while this enigmatic actor isn't always in the public eye, she's given hints as to why. Let's travel through the fascinating life and transformation of Lisa Bonet.
Lisa Bonet made her television debut on St. Elsewhere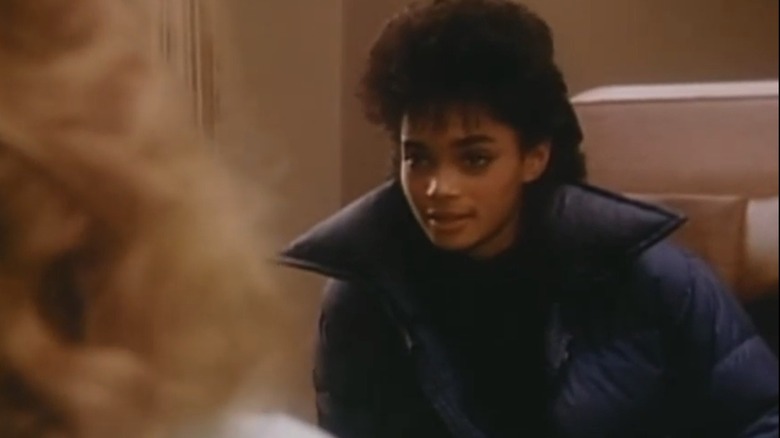 Before she began acting, Lisa Bonet felt out of place in a wealthy, white community in Los Angeles, California. She recalled her childhood in a 1987 interview with The Washington Post: "The black kids would call me 'Oreo,' and I just didn't feel totally at home and accepted with all these, you know, white rich people." Bonet said she went through an "identity crisis" and continued, "I was an only kid, too, so I really had no one to identify with, and I used to like beg my mom every day to have a kid, another one, but my parents were divorced."
Even if she wouldn't have another sibling, Bonet needed something else in her life. A friend invited her to an acting class, which Bonet liked enough to return. She would soon land a guest spot on "St. Elsewhere" in 1983. The actor was 16 years old when the episode aired, the same age she was when she auditioned for "The Cosby Show."
When Bonet made her first appearance on "Late Night with David Letterman" in April 1986, she acknowledged her "bit" part on "St. Elsewhere," saying, "I wasn't really into acting that much. It was just, I was going to school, and in Los Angeles, especially, when you're, you know, a minority, there's no work out there at all for you. So when the opportunity came up for this, I thought, 'Wow, a series. Fun.'"
The show that made Lisa Bonet a star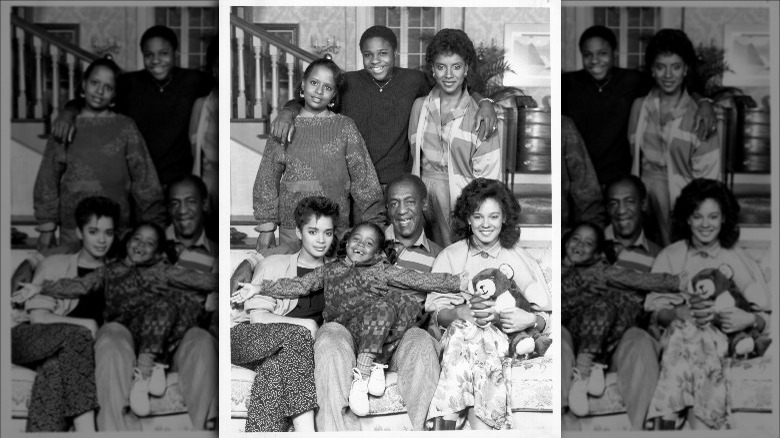 Lisa Bonet played Denise Huxtable on "The Cosby Show" from 1984 to 1991, and she began to spend more time in the spotlight as the series racked up awards and gained popularity. Bonet and her TV siblings were featured on special programs like "Night of 100 Stars II," a 1985 live entertainment marathon that benefitted The Actors' Fund of America.
In 1992, at the end of "The Cosby Show's" run, The New York Times reflected on the importance of the series: "When it first appeared, in 1984, television was barren of its traditional staple: great situation comedy. Viewers streamed to 'Cosby' because they could find laughs there every week." The outlet also revealed that the fan-favorite sitcom snagged the top spot in Nielsen ratings from 1985 to 1989.
Therefore, a lot of people were watching Lisa Bonet as Denise Huxtable week after week. A few years into the series, she was ready to shoot a feature film and helm her own spin-off sitcom. But neither venture would be without its struggles, one way or another.
Letting Denise Huxtable and Lisa Bonet grow up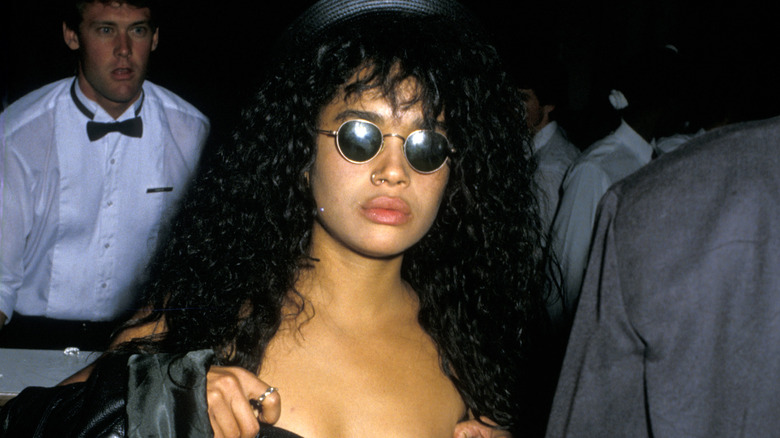 In 1986, Lisa Bonet was officially an adult at 18 years old, but she was still playing a big sister on a family show. Her next project during her years on "The Cosby Show" would be "Angel Heart," an R-rated Alan Parker film also starring Robert De Niro and Mickey Rourke. This work was controversial for Bonet given its nudity and sexual content. Per the Los Angeles Times, the rating was changed from X to R after opening in 1987, as the director cut out ten seconds of the film.
It seems that Bonet's greater investment in her acting career was the driving force behind her involvement in the project: "I'm glad that I did this film this year … Because no matter how much you do for television, like, actors in this business, they just, they look at you and it's like … that TV person … Like they can act and I can't, you know," she told The Washington Post. The actor further stood up against the backlash she received for "Angel Heart," telling the Los Angeles Times that she wasn't "concerned with how Denise was going to feel" and wasn't attempting "to destroy her reputation." Bonet boldly offered, "Instead, I felt obligated to my career and my (freedom of) artistic choice."
Despite her newfound film success, Lisa Bonet wasn't about to abandon television during this time. She still had more work to do in one of her most iconic roles.
Why Lisa Bonet left her own spin-off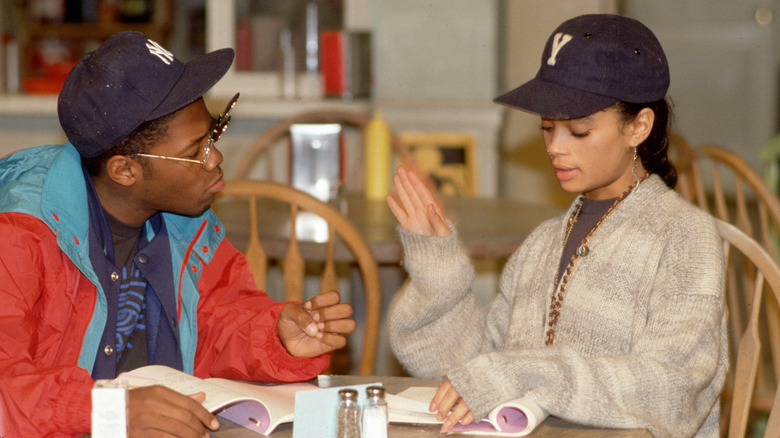 "The Cosby Show's" spinoff, "A Different World," is one of the most impactful Black sitcoms of all time. The original title character was Denise Huxtable, but Lisa Bonet left the series before the second season.
Years later, actor Darryl M. Bell honored Bonet in a Vanity Fair oral history, noting that his castmate didn't "get enough credit for" the series and highlighting Bonet's popularity as the reason Bill Cosby came up with "A Different World," which premiered in 1987 — not long before Bonet's marriage to Lenny Kravitz. "The amount of press and paparazzi that hounded and followed them … they were 20-year-old kids. Anyone who has suggested that Lisa was unprofessional or difficult to work with, it's just not true," Bell told Vanity Fair.
When Bonet became pregnant with daughter Zoë Kravitz, Cosby refused to write the pregnancy into the spin-off's storyline. Debbie Allen, who began producing and directing during the show's second season, later described the experience of bringing Bonet's situation to Cosby to The Television Academy. With the actor in tow, Allen outlined the possibilities available with a pregnant lead: "That would be a great thing. To see a girl who's [an] upper-class kid, having a baby, not married, because she didn't want to be married, and the girls could root for her." Despite Allen's strong argument, Cosby got back to her with a firm "no," reportedly saying, "Denise Huxtable is not pregnant. Lisa Bonet is pregnant." Thus, Bonet returned to "The Cosby Show" after childbirth.
Navigating motherhood, divorce, and her changing world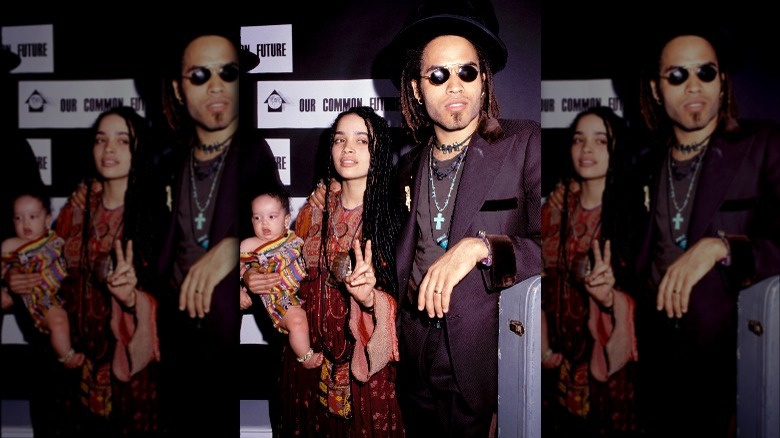 Zoë Kravitz was born to Lisa Bonet and Lenny Kravitz in 1988, but according to Rolling Stone, the younger actor "has no memories of them together." For many years, Zoë lived with her mother in Los Angeles County's Topanga Canyon, somewhat removed from Hollywood among chickens and dogs.
After separating from Lenny Kravitz, Bonet told Arsenio Hall in 1992, "I've been, I don't know, getting my life together … not working, spending time with my kid." She added, "I just have gone through lots of changes, so … I'm single again. That was a big change." Another huge change for Bonet in the early '90s was switching up her name. She legally became "Lilakoi Moon" in order "to honor my personal life outside of this," she told People in 2008.
Clearly in line with her mother's legal name, Zoë Kravitz attended a Waldorf school as Zoë Moon (via Rolling Stone). Lisa Bonet's life shifted again when Zoë went to Miami to live with her musician dad at age 11. "I think it was really hard for my mom," the future "Big Little Lies" star said of Bonet, adding, "But it was also important to her that I knew him, because she and her father aren't close at all."
Acting was still important to Lisa Bonet, though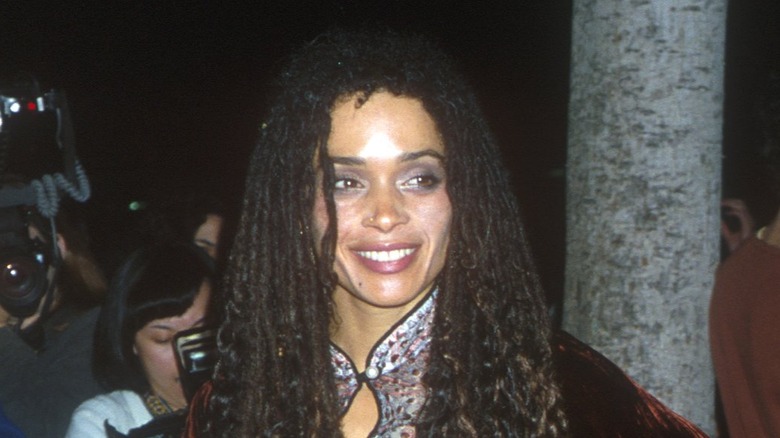 Lisa Bonet is an actor, through and through, even though she takes breaks from Hollywood. She went off the radar for a time in the '90s, and told Entertainment Weekly in 1998, "I haven't been working at all. I've just had a different way of living for a while — living in L.A., taking care of my kid, finding what interests me, doing some thinking, and lots of yoga." It sounds like Bonet had the right idea.
However, the actor took on many film projects when she returned to work toward the end of the decade, like "Enemy of the State" with Will Smith in 1998 and one of her most known works, 2000's "High Fidelity." The latter was even rebooted as a TV series starring daughter Zoë Kravitz in 2020.
In an interview with ScreenSlam to promote the original "High Fidelity" film, Bonet spoke of a "big life, big world that doesn't occur in front of the camera." By all accounts, the star was balancing her personal and professional lives in a way that worked for her, as she added, "Life is good. It's hard, but it's good. It's unpredictable, which I guess is what makes it exciting."
Things were smooth sailing with the future Aquaman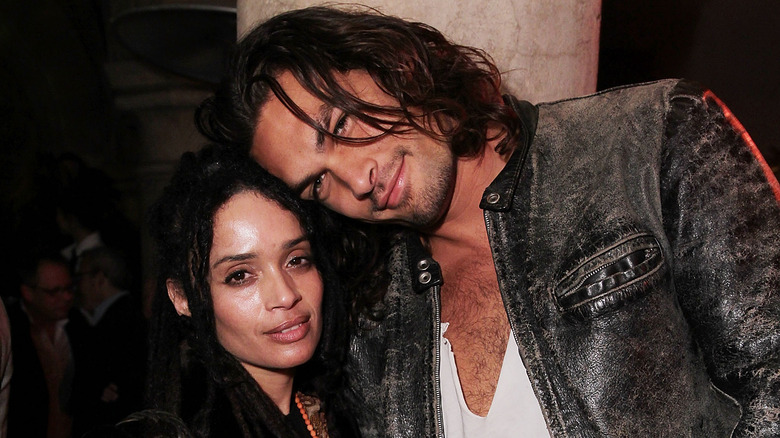 Several years after making her big-screen comeback in the entertainment industry, Lisa Bonet found a new love named Jason Momoa. It's hard to believe Momoa was once a newcomer fresh off of the "Baywatch" franchise, but he was still getting started in Hollywood when he found Bonet. Well, technically, the DCEU star previously told his mother he "want[ed]" Lisa Bonet when he watched her on television at age eight, as he revealed on "The Late Late Show With James Corden."
Long story short, the actors met at a Los Angeles jazz club in 2004, Momoa needed a ride home, and Bonet carted him around (with a pit stop for Guinness and grits). Bonet recalled in a Net-a-Porter interview, "I can't say it was full-on from the moment we saw each other, but we have been together from the day that we met … He did not run as I think a lot of men do." It's important to find someone who ultimately won't run away from love, and that's what Momoa and Bonet found in each other. However, Momoa admitted to Men's Health that he was "a mess" and "a nervous wreck" when asking her out.
While Momoa is over a decade younger than Bonet, these two are clearly in it for the long haul. Though their nuptials remain shrouded in secrecy, Us Weekly reported that the couple "officially" wed in 2017.
Returning to television acting while raising a family was 'an intense decision'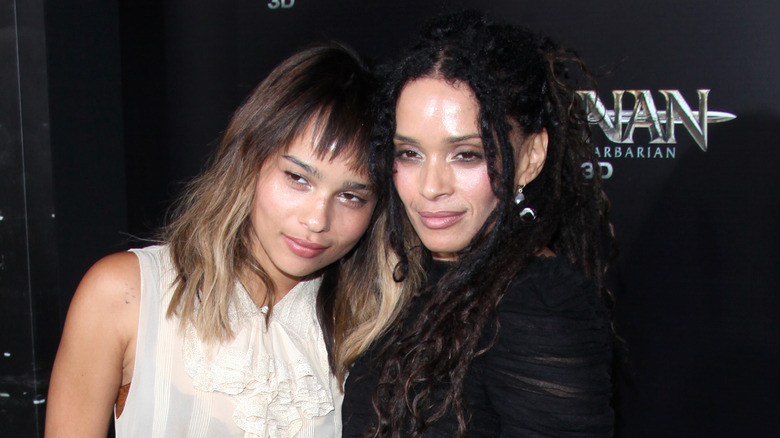 After appearing in several feature films in the 2000s, Lisa Bonet landed a recurring role on the series, "Life on Mars." As she told People in 2008, "To have my face reinstated in minds and homes once a week was an intense decision. I'm a shy person. I don't know if it's in my DNA to share with the world."
Thankfully, it helped the actor to have the support of her blended family. "Having a mate has given me that feeling of safety," Bonet told People, adding, "Jason [Momoa] is the love of my life. He's everything I hoped would come." While daughter Zoë Kravitz was already a young adult at the time, Bonet's first child with Momoa, Lola Iolani, was born in 2007. Their son, Nakoa-Wolf Manakauapo Namakaeha, followed in 2008.
Additional television credits were in store for Bonet throughout the next decade, including seven-episode arcs on "The Red Road" and "Ray Donovan." The actor played both Rosa Parks and Mary Ellen Pleasant on "Drunk History," too.
This low-key star loves her California lifestyle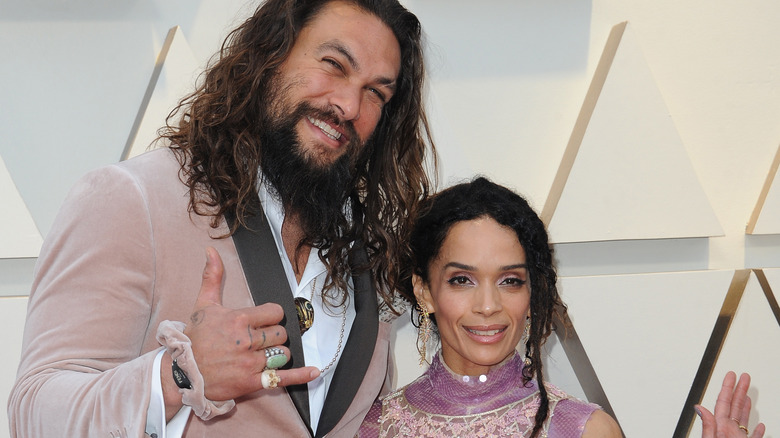 Though she lived in New York while filming "The Cosby Show," Lisa Bonet seems to be a Californian at her core. She told Net-a-Porter in 2018, "I know people give Southern California a bad rap, but I love it here. You can create the life you want." Living in the area also keeps Bonet close to her adult daughter. When prompted by Access to talk about Zoë Kravitz on the 2020 Golden Globes red carpet, Bonet praised her and said, "I think she's conquering life in a whole different way, and it's really inspiring, actually."
There's a striking resemblance between the famous mother-daughter duo, who were even in a Calvin Klein campaign together in 2016 (via Fashionista). And Zoë Kravitz will occasionally post photos of the two on Instagram with cute captions like, "My pal." Aww. But don't think dad Lenny Kravitz is left out.
Lisa Bonet's ex reflected on "Oprah's Master Class" in 2018, "Zoë's mom and I were incredibly and deeply in love. It was a magical, magical relationship and a magical time in my life. She really helped to bring out the best in me and inspired me." He added, "Zoë's mom and I now are best friends. It's interesting 'cause that's how the relationship started," before noting that he appreciates the family's new dynamic because "it makes you feel really good when you can do that, when we're all together now: Her man, her kids, Zoë, me." According to Lenny Kravitz, they're all "one big, happy family."
Lisa Bonet: a woman of mystery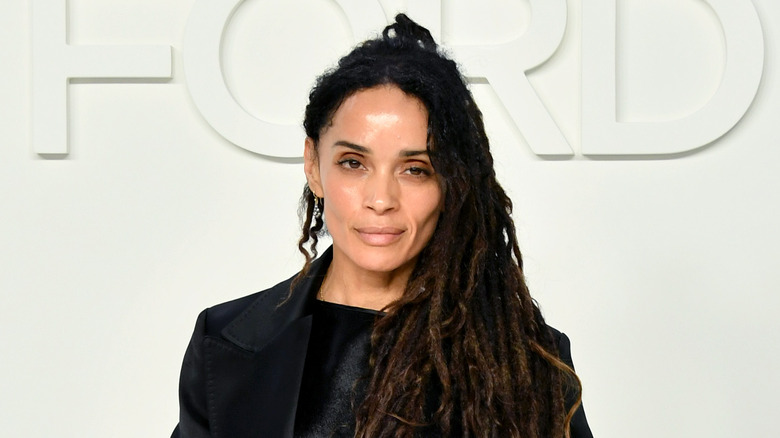 You won't find Lisa Bonet giving interviews or engaging with the media too often these days. According to her husband, the Bonet-Momoa home in Topanga, California is still television-free (via Men's Health). There are, however, enough amenities to keep everyone occupied, like "custom made electric guitars," a skate ramp, and pet donkey Freya, as InStyle discovered.
Unlike Jason Momoa, Bonet has slowed down on acting in more recent years. While she was spotted at the very end of Momoa's 2020 Super Bowl commercial, her last IMDb-credited roles were in 2016 and 2017, as of this writing. Of course, it's not uncommon for the screen star to take hiatuses from showbiz, but it also turns out that it's simply not a requirement for Bonet to work, considering she boasts an impressive $14 million fortune, per Celebrity Net Worth. As for the "Aquaman" star's earnings? Momoa also has at least $14 million.
Perhaps a young Lisa Bonet was on to something back in 1987: "I have every intention of finding a castle in Spain, buying a ranch in Montana and then just disappearing," she told The Washington Post. Fast forward over three decades, and the elusive Bonet can still be glimpsed on the red carpet with her rock star family. But, who knows? A castle or a ranch miles away might not be so far off.