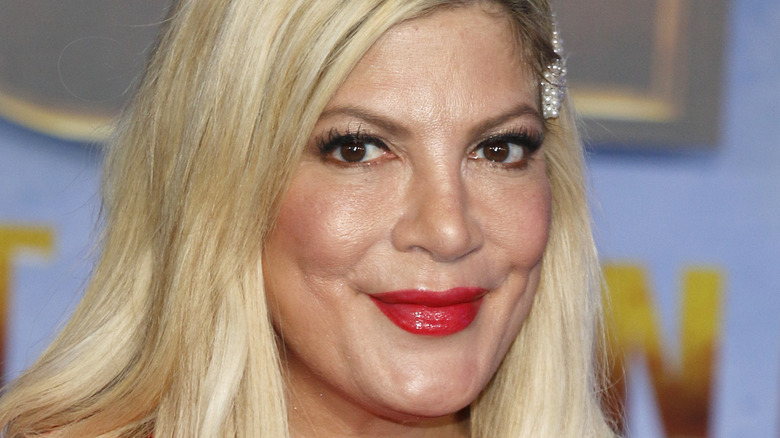 Tori Spelling is someone who has gone through a lot of transformations in her life, both personally and professionally. The Hollywood star became a household name thanks to her role as Donna Martin on "Beverly Hills 90210," bringing the character to life with her big blonde hair, iconic sunflower bra, and bright red pout.
Fast-forward through a series of television and movie roles, as well as a stint in reality television, and today, Spelling is a mother of five. And although she isn't the primetime television star that she once was, Spelling still makes headlines for her personal life, including speculation about her marriage to Dean McDermott, the state of her finances, and relationship with her mother Candy Spelling. She's also been candid about how she was once bullied for her looks.
Of course, a lot has happened from the airing of "Beverly Hills 90210" and who Spelling is today. So with that in mind, let's take a look back at her incredible transformation.
Tori Spelling had a charmed childhood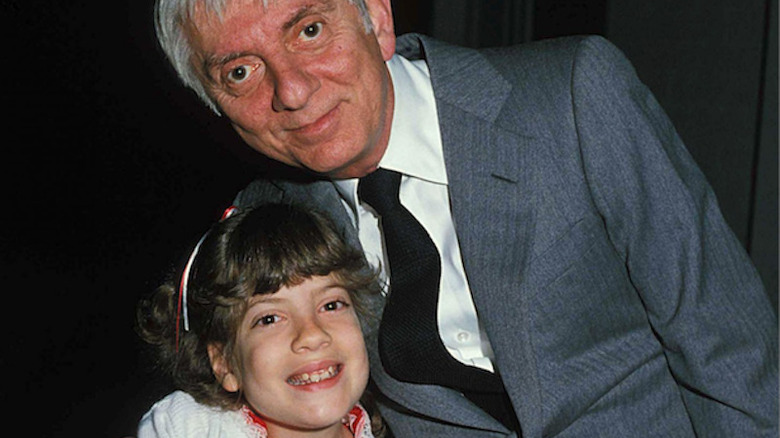 Tori Spelling had what some people would call a fairytale childhood. As the daughter of television producer Aaron Spelling, anything she wanted was at her fingertips. Back in 2008, Spelling recalled one particular Christmas morning in which her father managed to make magic happen with a little help from his Hollywood friends — and maybe a few expensive generators. "It was, you know, probably 80 degrees out in L.A., and my dad took me outside and there was snow," Spelling told ABC News. "At the time, I thought, 'Every kid doesn't have snow in their backyard on Christmas?'"
In other words, whatever Spelling wanted, she arguably got. When she was just 6 years old she took acting lessons and landed her first guest role on "The Love Boat," and Spelling has made it no secret that her famous last name certainly helped pave the way for a very successful television career.
Sadly, Spelling's dad died in 2006 due to complications from a stroke, and she still mourns him to this day. "My Dad worked so much that weekends with him were extra special," she gushed in a May 30 tribute. "We loved to swim together. We would spend hours in the pool on weekends."
Tori Spelling's family fortune couldn't help with her insecurity
Even though she was one of the biggest names in the industry and a style icon to many, Spelling admitted that she felt rather insecure while filming "Beverly Hills 90210," admitting that she adopted a "fake it till you make it" approach while on the show. "I was a young really insecure teenager that never thought I was good enough," she wrote on Instagram in 2019. "Yet, I was on a hugely successful TV show playing a beautiful popular teen that had it all together. A character that girls everywhere looked up too and boys adored. Off-camera I didn't feel at all beautiful or good about myself."
Still, it wasn't all bad. "I was just 16 years old when the original 90210 started filming and too young to really understand and appreciate the impact our show would have on our generation and generations to come," she wrote in another Instagram post. "And, the lifetime bond I would go on to have with all of these actors that became a family to me." Spelling is particularly close to Jenni Garth (Kelly Taylor), and they co-host a podcast together, "9021OMG Podcast."
Life for Tori Spelling and Dean McDermott hasn't been perfect
After "Beverly Hills 90210" ended, Spelling's life dramatically changed. While she did star in a number of successful made-for-television movies, she also started a new chapter in her life with her husband Dean McDermott, who she married in 2005. Together, they started a family, starred in several different reality shows about their lives, and have made plenty of headlines for McDermott's alleged cheating, their financial difficulties, and lawsuits.
Spelling almost pulled the plug on her marriage back in 2013 when it was alleged that McDermott had an affair with a woman named Emily Goodhand while he was working on a television project in Toronto. Amid the drama, the couple got hit with several lawsuits because of their alleged failure to pay their mounting credit card debt and personal loans. City National Bank sued Spelling and McDermott in 2016 for failing to fulfill payments on a $400,000 loan stemming from years earlier. In 2019, Spelling poked fun of her financial woes in an episode of "Tori Tried and True." Spelling said, according to People, "I am not great with money, and I know a lot of people read a lot of stuff about my financial things going on. I had a business manager since I was 18 years old, so I never handled any of my money."
Things got worse for Spelling in June 2021 when The Sun reported a debt collection company was after her and McDermott for an unpaid credit card bill that had racked up interest and fees.
Is Tori Spelling's marriage on the rocks?
Tori Spelling made headlines in June when she addressed her sleeping situation with Dean McDermott. "He's in a room," Spelling replied to friend Jeff Lewis during an appearance on SiriusXM's "Jeff Lewis Live" when he asked whether the two were sleeping in the same bedroom, per USA Today. Spelling revealed some of her kids had taken McDermott's spot in the bed while he was away for work, adding, "Since he left — this is not good, you guys — but since he left, he was gone for six months filming in another country, they all stayed with me. So, I currently still have four in the bedroom with me who have yet to go back to their rooms."
But it's not all bad — a source told OK! Magazine in February that McDermott and Spelling were in a good place trust-wise. "He [McDermott] worked hard to prove himself. Now, when he says he's going out for ice cream, she believes him."
Whatever the case may be, it's clear Spelling and McDermott remain committed to their five children.
Tori Spelling continues to rise above
These days, Tori Spelling is no longer paying attention to any of the tabloid headlines about her marriage or what the Internet trolls are saying about her looks. Instead, she's focused on her beautiful family, finances, and putting herself first.
Spelling discussed her positive mantra in a throwback Instagram post featuring her character Donna Martin. "Now, I look back at that young insecure girl and I give her HUGE props. She stepped up and went for it," she gushed. "I wish I could have off camera hugged her and told her she was good enough and was beautiful just the way she was." She also spoke about her daughters, continuing, "Bc of Donna Martin I tell my girls everyday they are good enough, smart, beautiful, and can be anyone they want to be. But never be who everyone expects you to be! Be you."
From privileged child actor to a mom of five, Tori Spelling has grown a lot — and it's obvious she's doing it on her own terms.