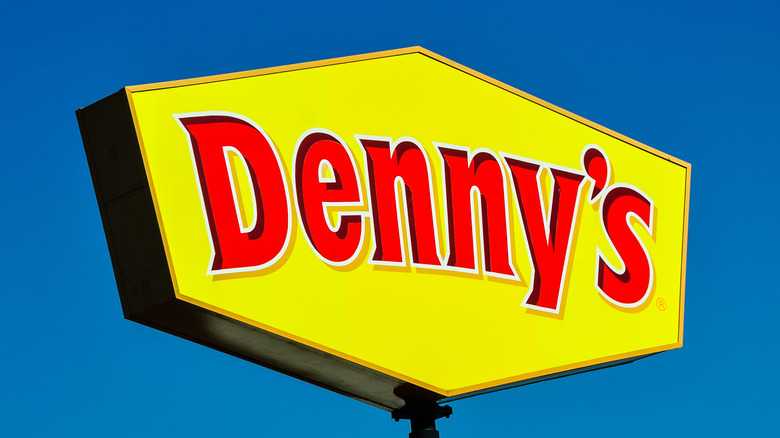 You'll be hard-pressed to find a fast food restaurant without a value menu. Sit-down restaurants, however, are another story. Even fast-casual chains known for low prices have long avoided the tactic. But, as we all know, Denny's isn't your average chain restaurant. As such, it's one of the few sit-down restaurants where you'll find a value menu.
Although Denny's value menu is just over a decade old, it's gone through quite a transformation (or, should we say, several transformations) over the years. What you'll get today looks much different from what you could get back in the day. Some items were added, others removed. Most recently, the entire format of the menu has changed.
So, what can you expect the next time you head to Denny's in search of a cheap meal? From the items, updates and reintroductions of the original to the latest version's newest creations and higher prices, here is your complete guide to Denny's value menu.
Denny's value menu was born in 2010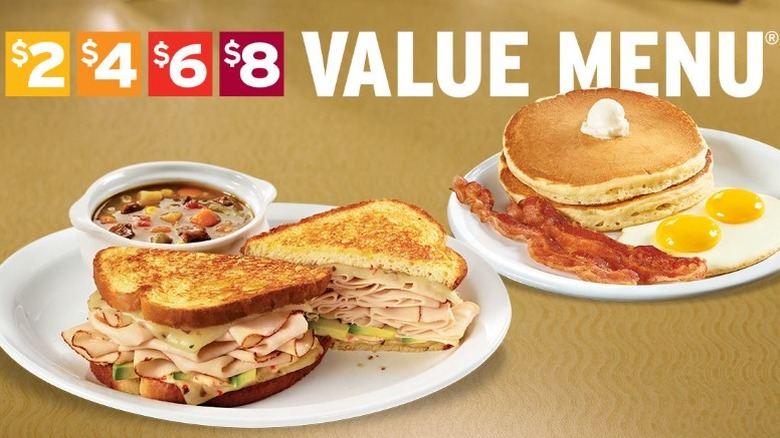 The value meal chapter is a fairly new addition to Denny's long and storied history. Although the restaurant chain has been around since 1953, it didn't introduce a value meal until 2010, according to Nation's Restaurant News. Why the change? At the time, Denny's claimed the new menu was the result of customer demand for hearty meals at fast food prices. It's likely, however, that executives also felt pressure from shareholders to shake things up. Denny's had been suffering from a significant drop in sales that cut its stock price in half in just five years.
Either way, a new idea was needed, and that idea was the very first Denny's value menu. Dubbed the $2 $4 $6 $8 menu, it included 16 items, four at each price level (via Nation's Restaurant News). "The new $2 $4 $6 $8 offering redefines the concept of traditional value menus, moving consumers beyond the idea that fast food is their only affordable option," Nelson Marchioli, Denny's president and chief executive, said at the time.
The menu featured breakfast, lunch, and dinner options. Some highlights included a stack of pancakes or cheese fries for $2, an Everyday Value Slam or all-you-can-eat pancakes for $4, a classic burger and fries, or endless soup and garden salad for $6, and a Grand Slam Slugger with coffee and juice or a spicy cowboy chopped steak complete with two sides, bread, and a drink for just $8.
Denny's updated its value menu just a few months after its debut
Denny's $2 $4 $6 $8 value menu was an immediate success. In August 2010, the chain stated that the menu had led to an increase customer growth every month since its arrival earlier that spring (via Nation's Restaurant News).
The news was good, but not good enough. On August 24, just four months after the value menu's debut, Denny's introduced a new version. The updated menu featured five new items chosen based on research and consumer feedback. "The $2 $4 $6 $8 menu changes are more about optimizing the menu versus expanding it," John Dillon, Denny's vice president of marketing, said at the time. "We are bringing … five new items, but the total [number of value menu offerings] will stay at 16" (via Nation's Restaurant News).
The five menu additions were a cheese quesadilla for $2, a fried cheese melt for $4, a nacho salad for $6, and a bacon chipotle skillet and fried shrimp platter, each costing diners $8. Denny's also seemingly left the door open to future changes to its value meal. "We will continue to utilize and promote our everyday affordability proposition … through a refreshed $2 $4 $6 $8 menu that will include new items as well as compelling new [limited time offers]," Denny's interim chief executive Debra Smithart-Oglesby said at the time.
The original value menu was reintroduced for a limited time in 2020
If nothing else, an anniversary provides a perfect excuse to celebrate, which is exactly what Denny's did to honor its original value menu. In 2020, the restaurant chain reintroduced the $2 $4 $6 $8 menu to commemorate its 10th anniversary (via PR Newswire).
The move was more of a promotion than a long-term strategy. The menu was available only for a limited time, and its reintroduction came months after COVID-19 forced most restaurants to close their dining rooms. "Now more than ever, we are pleased to bring back the $2 $4 $6 $8 menu on its 10th anniversary including bringing back some of the original guest favorites and all day values," John Dillon, Denny's chief brand officer and executive vice president, said at the time. "As we welcome guests back into our establishments and continue to service via Denny's on Demand, we're looking forward to delivering a great experience at an everyday affordable price, no matter what time of day or night."
With a total of eight items, this new value menu was only half the size of the original. Yet, breakfast, lunch, and dinner were all still accounted for. The eight dishes included a biscuit, gravy, and egg breakfast; a chocolate hazlenut crepe; Mozz & Tots (four mozzarella cheese sticks and six bacon cheddar tots served with tomato sauce), the Everyday Value Slam, a classic burger, a chorizo burrito, a cowboy chopped steak, and the Grand Slam Slugger.
Denny's unveiled its new All Day Diner Deals value menu in 2022
By the time the summer of 2022 rolled around, Denny's value meal had been gone from stores for two whole years. It would have been understandable for anxious diners craving an inexpensive meal to fear that they may never see the value menu again. Those hungry customers, however, had their worries soothed and appetites satiated in a big way once September rolled around. That's when Denny's announced it was rolling out a brand-new value menu in all of its restaurants nationwide.
"The time for value is now as more and more Americans across the country experience difficult moments and seek the ultimate bang for their buck," Denny's president John Dillon said in a statement. "Delighting guests with delicious meals and impeccable service is a hallmark of the Denny's brand, and with the launch of All Day Diner Deals, we're pleased to go all in on this next phase of delivering everyday value to our guests."
Dubbed the All Day Diner Deals, the value menu consists of breakfast, lunch, and dinner options, starting at just $5.99.
The All Day Diner Deals value menu has 10 items
The first thing Denny's customers might notice about the chain's new value menu is that it's not quite as extensive as the original. With a total of 10 items, the All Day Diner Deals menu offer six fewer dishes than its predecessor, the $2 $4 $6 $8 menu.
But hungry diners shouldn't fret too much. As its name implies, the value menu still has all the day's meals covered. Amongst the three breakfast offerings is the familiar Everyday Value Slam. This classic Denny's meal is the only original $2 $4 $6 $8 item that can be found on the current value menu. The other two breakfast choices are a scrambled eggs and cheddar breakfast, and the Two-Egg Moons Over My Hammy omelette (more on this delectable dish later). Four different handheld meals comprise the lunch offerings: a fried cheese melt, BLT, crispy chicken bacon ranch sandwich, and half of a turkey and Swiss cheese sandwich dubbed the Super Bird. Finally, for dinner, Denny's customers can choose from a classic cheeseburger, chicken fried chicken, and country fried steak.
Prices on the new value menu are higher than on the original
The second thing Denny's customers might notice about the chain's new value meal is that the prices aren't quite as low as the original's. (Apparently, even discounts aren't immune from inflation). Gone are the $2, $4, $6, and $8 tiers. In their place is a range of various "wallet-friendly prices," as Denny's refers to them, all starting below $10.
The cheapest item on the All Day Diner Deals menu is the Everyday Value Slam. For $5.99, guests can enjoy eggs, two strips of bacon or links of sausage, and a choice of two buttermilk pancakes, one slice of French toast, or a biscuit and gravy. On the opposite end of the spectrum are the crispy chicken bacon ranch sandwich, Plate Lickin' Chicken Fried Chicken dinner, and country-fried steak dinner. Each of these three meals starts at $8.99.
Denny's value menu features a new twist on a fan favorite
One of the highlights of Denny's All Day Diner Deals value menu is a new dish called Two-Egg Moons Over My Hammy omelette. Although it's never been offered before, the name might sound familiar to Denny's regulars. Moons Over My Hammy is an offering on the regular Denny's menu and, according to the restaurant chain, has long been a fan favorite. The dish is a breakfast sandwich of ham and scrambled eggs topped with Swiss and American cheeses, all stuffed between two slices of grilled bread.
The new value menu iteration removes the bread and adds another egg. Instead of a sandwich, Two-Egg Moons Over My Hammy is a two-egg ham omelette. Like its sister dish, the eggs and ham are covered in both American and Swiss cheeses.
The Two-Egg Moons Over My Hammy omelette starts at $7.59. The classic breakfast version, on the other hand, will set you back a few dollars more.
The new-and-improved value menu was Denny's second value promotion of the year
Unless you haven't left your house in two-plus years (and we wouldn't blame you if that was the case), you're well aware of how inflation has sent the price of seemingly every commodity under the sun skyrocketing. That Includes food. Denny's, in turn, has been trying to provide cost-friendly meals to its patrons.
In March 2022, just months before its introduction of the new value meals, Denny's launched an Endless Breakfast promotion (via PR Newswire). From March 22 through June 21, the breakfast chain offered diners all the fluffy buttermilk pancakes, cheesy scrambled eggs, and crispy hash browns they could eat starting at just $6.99. If that wasn't enough, guests could add to their meals unlimited amounts of crispy bacon or sausage for $0.99.
"As Americans are being impacted by a unique mix of current events, and gas, rent and costs for supermarket staples, like eggs, milk and cheese continue to increase, Denny's is proud to bring our guests Endless Breakfast at a time when we know each dollar matters," Denny's chief brand officer John Dillon said in the news release. "We successfully tested Endless Breakfast extensively prior to the pandemic. As inflation is on everyone's minds and continues to impact Americans everywhere, we knew this was the perfect time to launch this deal. Now, Denny's is one of the only places you can fill up and leave knowing you got the most for your money."
This is the least healthy item on Denny's value menu
Denny's isn't known for its focus on nutrition. So, while there may be dishes that diet friendly, there are also some that are not. And when it comes to the latter, one value menu meal stands out from the pack. The least healthy All Day Diner Deals item, and one of the unhealthiest meals Denny's offers in general, is the Plate Lickin' Chicken Fried Chicken dinner.
Deep fried and covered in country gravy, the chicken dinner comes packed with a whopping 1,070 calories, according to the chain's nutrition guide. That's more than any other item on the value menu. And that's before you account for the two side dishes that come with the meal, which can tack on hundreds of additional calories.
But calories are just the start of the nutritional problems with the meal. The chicken dinner has 3,230 mg of sodium. That's more than 1,000 mg above the daily sodium intake recommendation of 2,300 mg for adults (via the U.S. Food and Drug Administration). The meal also comes with high levels of fat (62 g), saturated fat (14 g), cholesterol (170 mg), and carbohydrates (68 g).
This is the healthiest item on Denny's value menu
If you peruse the Denny's menu, you'll come across a plethora of high-calorie totals, many of which soar past 1,000 calories. But, as is the case with any restaurant, certain dishes are more diet-friendly than others. If you're looking for a healthy meal at Denny's and want to stick to the All Day Diner Deals value menu, your best bet is likely the Super Bird Sandwich.
According to Denny's nutrition guide, the Super Bird sandwich has 760 calories. But remember, the value menu version is only a half sandwich, so we can cut its calorie count down to just 380. The meal does come with the option of wavy-cut fries or a cup of soup. Health-conscious diners will likely want to opt for the vegetable beef soup, which adds only 200 calories. Those looking to cut down on calories even further can get their Super Bird sandwich minus the bacon. Just two strips of bacon come packed with about 100 calories.
Denny's gave away lavish prizes to celebrate the All Day Diner Deals value menu
Guests who thought getting a full breakfast for $5.99 was a bargain didn't know what Denny's had up its sleeve. To help promote its new All Day Diner Deals, the restaurant chain launched the Denny's Deal-icious Days Sweepstakes. The contest gave entrants the chance to win one of 10 lucrative prizes. No purchase was necessary to enter the sweepstakes. Instead, winners simply had to fork over $5.99, the price of the least expensive item on the All Day Diner Deals menu.
The prizes included a $3,000 Carnival Cruise Lines gift card, a 65-inch smart TV, a premium gas grill, a year of free gas ($1,200 value), Denny's for a year (a $1,300 value), a year of free movies, a gaming Laptop, a smartphone, a home theater system, and a three-day trip for two to Las Vegas. In total, the prizes were valued at $13,999, with each costing between $500 and $3,000.