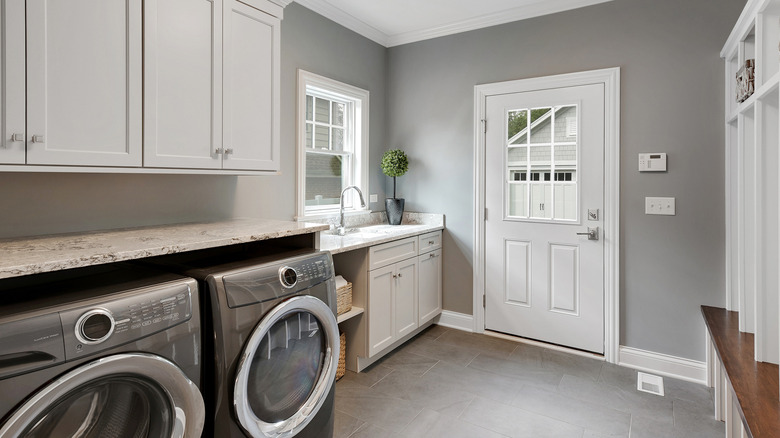 A utility room serves as a multi-functional space that can be used to complete different tasks, including laundry, cooking, and other chores. According to Petty Son & Prestwich, a utility room is also known as a scullery and is often used to store large kitchen and laundry appliances, such as chest freezers, drying machines, oversized fridges, and so forth. By taking advantage of a utility room, you can keep certain tasks in a confined zone instead of dirtying up other areas of your home. Whether you're using it as a dedicated room to wash your dog or keep extra shoes, it can provide the space for you to get the work done.
This type of room is a great investment for any homeowner, but it's essential to ensure it is a practical use of space and to keep it organized. Doing so protects your investment and ensures you can complete your chores as efficiently as possible. Besides being functional, you also want it to look sleek. If you don't know where to start, this guide can help take your utility room to the next level.
1. Invest in matching appliances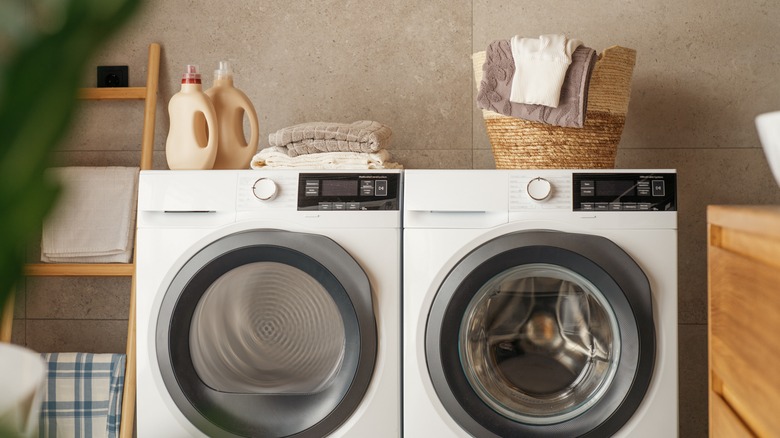 While owning matching appliances isn't essential, it helps unify the look of your utility room. Purchasing matching appliances can also bring a room together. Plus, this investment can help you save money with a package deal from the same brand. Regardless, make sure the finish matches the overall design of the space.
2. Install counter space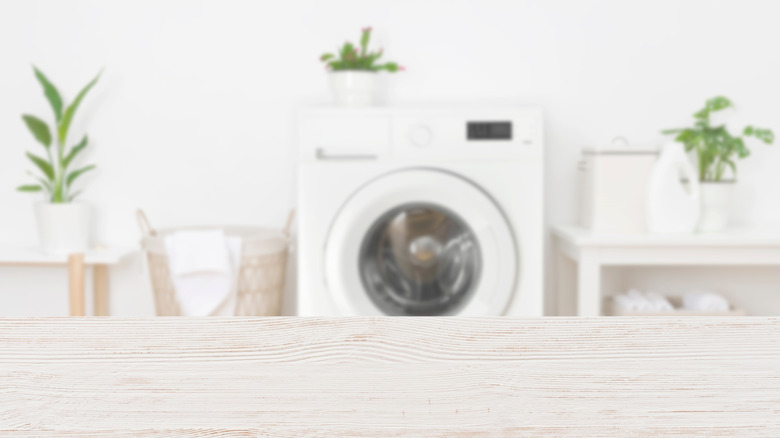 By adding the amount of counter space you have with an island or built-in countertop, you can get more work done in your utility room. For example, you can separate laundry easily and fold clothes in the same space instead of letting them sit in the basket post-wash.
3. Personalize with paint
A pop of color can be the final touch your utility room needs to go from drab to sleek. While there are many colors you can choose, the best paint colors for your laundry room include gray, light green, vintage blue, and dusty lilac. You can also use different hues of white, like eggshell and ivory.
4. Consider modern, functional cabinets
Because a utility room serves multiple purposes, it can become a catch-all space for your belongings. Eventually, this can limit the amount of space you have and lead to disorganization, making it difficult to find essential items. However, you can keep clutter away with modern cabinets.
5. Install floor-to-ceiling storage
Floor-to-ceiling cabinets allow you to maximize all the available space in your utility room. This can be a great thing for smaller utility rooms. In addition to increasing your storage, floor-to-ceiling built-ins can also prevent the formation of dust since there's no space above the cabinets for it to accumulate.
6. Use adjustable racks
Adjustable racks you can pull out and push back against the wall can help you dry clothes that must be air-dried. Another benefit is that they don't take up much space and aren't ugly to look at, so they won't reduce the aesthetic of your utility room.
7. Opt-in for durable flooring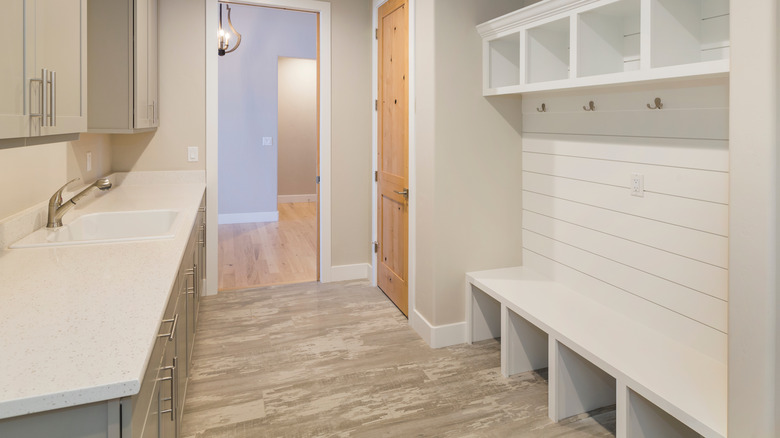 A utility room will be a place where you go in and out frequently to complete your chores. As a high-traffic area, the room needs durable flooring that's easy to clean. If you're installing a sink or doing laundry in this space, ensure the flooring is waterproof to protect against water damage.
8. Add a dog washing station
If you want to make your living space more pet friendly, consider building a dog washing station for your furry companion. Doing so can keep your dog out of your personal tub or shower, preventing expensive damages. It can also minimize the number of trips you take to the groomers, so you can save money.
9. Enhance your space with wallpaper
If you're not fond of painting, you can install wallpaper in your utility room. There are many reasons wallpaper is better than painting. For example, not only can it be more cost-effective, but it can also protect your walls. You also don't have to install this all over. Instead, you can create an accent wall.
10. Invest in a laundry chute
Organizing your laundry room is easy with a laundry chute. This can help keep dirty clothes out of your bedroom–all you have to do is drop your items down the chute, and they'll automatically end up in the utility room. As a result, you can streamline wash day and make it more efficient.
11. Make space for a sink
Whether you're using the utility room for laundry, cooking, or washing your dog, a sink can be a valuable addition. For example, you can use it to easily hand wash delicates before air drying or remove stains manually before throwing them in the wash.
12. Hide appliances behind closet doors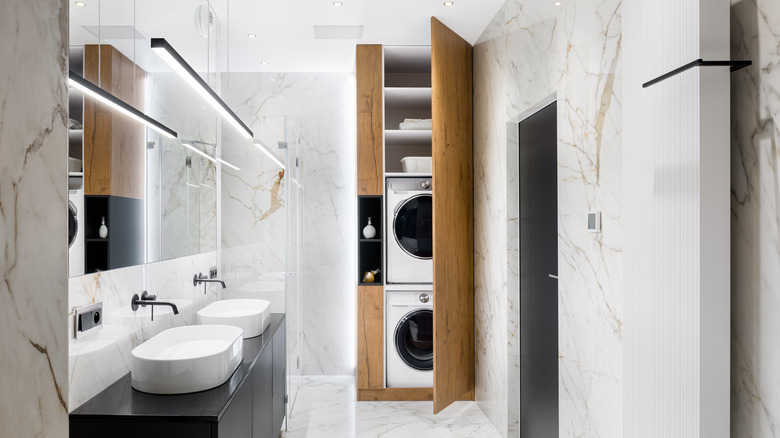 Sometimes, appliances take away from the design of your utility room. To create a sleek, modern space, you can hide appliances in a closet. Doing this can muffle the sounds of loud machines, making it a great choice if you're using the room for other tasks, such as folding laundry or preparing dinner.
13. Use baskets as storage
Using baskets as storage in your utility room can minimize clutter and ensure your space remains organized. For example, you can place dryer sheets in one basket and dog supplies in another. Regardless of which type of baskets you purchase, make sure they blend with the theme of your room.
14. Utilize glass containers
Glass containers are a great way to unify the look of your laundry room by eliminating the original plastic or paper container a product uses. For example, you can repurpose a glass beverage dispenser for your laundry detergent or use a few canning jars to store your dog's treats.
15. Decorate with functional items
You want your utility room to be as functional as possible. To do this, you can decorate with items that are not only aesthetically pleasing but also useful. For example, a woven basket can double as storage and as a place to organize your towels.
16. Maximize space with shelves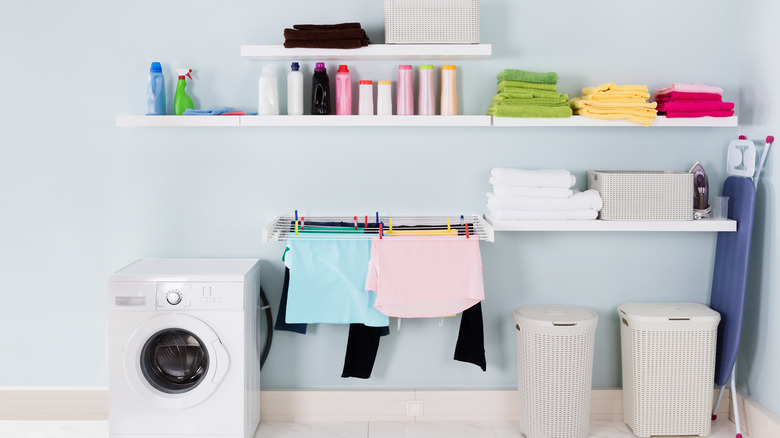 Shelves allow you to use your wall to its fullest potential, maximizing all available space. Additionally, you don't have to limit yourself to a boring fixed shelf since there are many styles to pick from. For instance, there are floating, corner, hanging, and glass shelves–just to name a few.
17. Install good lighting
If your utility room doesn't have good lighting, it's time to invest in a new ceiling light fixture that can brighten up your space. Doing so is especially important if you'll be spending a considerable amount of time in the room. After all, you don't want to complete chores in a dark or dimly lit area.
18. Take advantage of windows
What's better than artificial lighting? Natural light, of course. If your utility room has windows, take advantage of them and let light in every once in a while. Doing so can help your space feel more bright. Opening the window can also allow fresh air to enter the room, preventing smells from becoming trapped.
19. Ensure uniformity with one color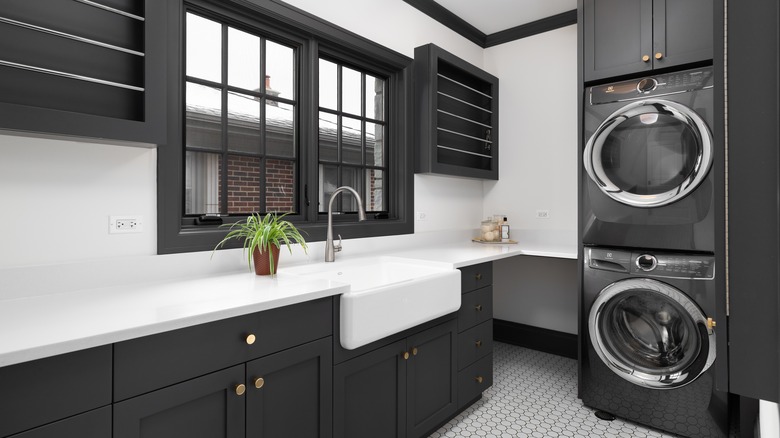 Using a singular color for your utility room's appliances, fixtures, cabinets, wall trimmings, and so forth can create a sleek, uniform look. Whatever color you decide, make sure you can find the items you want in that same color. Otherwise, you may not achieve the cohesive look you're going for.
20. Make it multi-purpose
Designing your room to be multi-purpose can be a great way to use the available space. For example, you can set up a crafting station with all of your essentials or a desk to work from. The possibilities are endless.