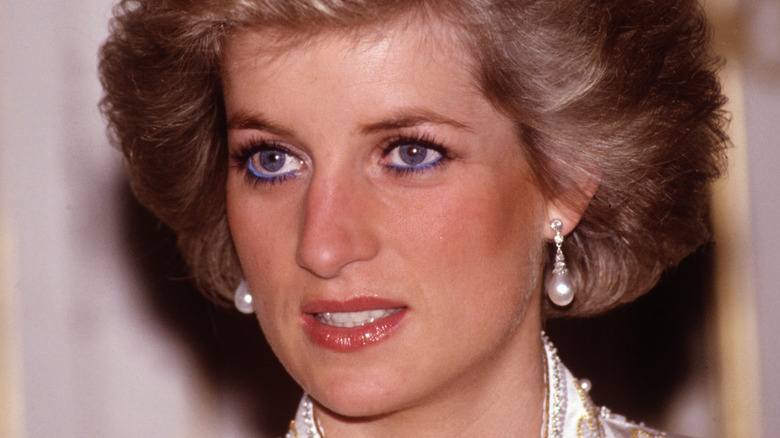 The Netflix series "The Crown" is broadly loved and abhorred, depending on who you ask. Now in its fifth season, the show has extensively covered many aspects of the lives of the British royal family that they themselves might have preferred to never have to think about again.
Much of the show's fourth and fifth seasons focus on the late Princess Diana, who married into the family in July 1981 after dating King Charles for six months. Diana was enormously popular with the public, but less so within the family itself, and in the later years of her life she was open about the mental, emotional, and even physical struggles she contended with.
As a result, the team at "The Crown" has had a lot of material to work with when it comes to telling Diana's story. Unfortunately, they don't always get things exactly right — but as we well know, the show is a fictitious recounting of a family's history. Here's everything "The Crown" gets wrong about Princess Diana.
Princess Diana and King Charles didn't have a post-divorce breakfast together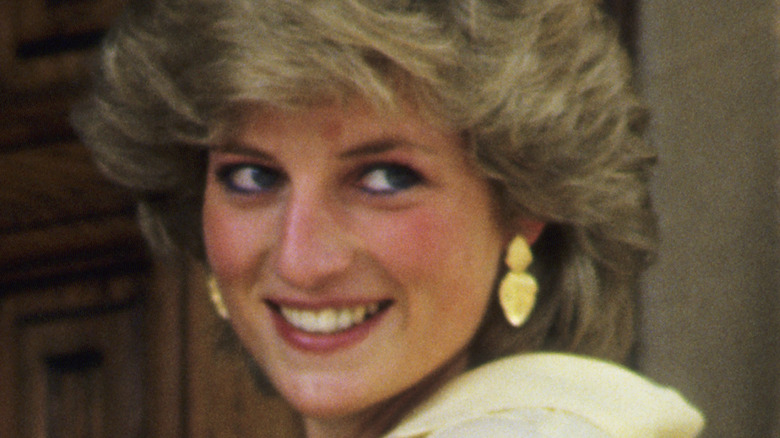 Princess Diana and King Charles had a notoriously up-and-down marriage, something that Season 5 of "The Crown" covers extensively. In the episode titled "Couple 31," the pair are shown sharing breakfast following the signing of their divorce papers and settlement agreement. In the scene, Diana cooks Charles eggs and the two chat about their marriage and how badly suited they were. One thing leads to another, and Charles walks out of the apartment while Diana is crying.
It's tough to know for sure if any such scene transpired in real life, but as the New York Post pointed out, there's definitely not a record of it. Diana and Charles weren't known for spending a tremendous amount of time around one another following their separation and divorce. Unfortunately, Diana's untimely death in 1997 meant that the two didn't have a lot of opportunity to get to know one another as co-parents (via Vogue).
It's unknown if Princess Diana really warned Queen Elizabeth about her interview
Season 5 of "The Crown" is really packed with quite a few scandals, which is fair as the season covers one of the modern royal family's most dramatic time periods. As many know, in 1995 Princess Diana sat down for an interview with Martin Bashir of the BBC's "Panorama." Diana admitted more than anyone dared to imagine she might in the interview, particularly when it came to discussing King Charles' affair with Camilla Parker Bowles. As the New York Post pointed out, this is the interview in which Diana famously stated, "There were three of us in this marriage, so it was a bit crowded."
In the show, Diana is depicted asking for a meeting with Queen Elizabeth to tell her about the interview ahead of its release. Diana is quite emotional and tells the monarch that she hasn't ever felt supported by the royal family and that she's felt she was treated as if she was never part of it. In response, Elizabeth defends herself and the family and tells Diana that they've only tried to protect her. Diana is on the brink of cancelling the interview altogether, but decides not to.
Per the New York Post, there's no way to know if such a meeting took place because personal audiences with Elizabeth weren't recorded, and Diana and Elizabeth are no longer with us to verify or refute such a claim.
Princess Diana didn't consider the family's trip to Italy a second honeymoon
Season 5 of "The Crown" begins in part by focusing on a family trip that Princess Diana and King Charles take with their young sons. In an attempt to butter up the press and prove the marriage between Charles and Diana is okay, the trip is described in the media as a "second honeymoon." While Diana is shown in the series as being receptive to this branding, and perhaps even hopeful that it might be true, in real life Diana was under no such illusion.
As royal commentator Kinsey Schofield told Insider, it's very unlikely Diana herself would have described this period of her marriage to Charles as anything resembling a honeymoon. As Schofield put it, if Diana was ever to use such a term about the marriage, it would have been about the period of time before Prince Harry was born. She said, "It was a much happier time for the couple than the pregnancy of William."
This claim was backed up by Diana herself in a series of audio recordings used in the documentary "Diana: In Her Own Words." In one, Diana recalls the weeks before Harry was born as "the closest we've ever, ever been and the closest we'll ever be" (via Insider).
Princess Diana's first trip to Balmoral didn't go well
Season 4 of "The Crown" sees Princess Diana heading to the royal estate Balmoral in its second episode. At the time, Diana was brand-new to the family and to her relationship with King Charles. While the episode portrays the episode as a rousing success and indicates that the trip was part of the reason why Charles was encouraged to propose to Diana, the reality is that the trip was anything but easy for the future Princess of Wales.
In Andrew Morton's book "Diana: Her True Story – In Her Own Words," Diana insisted that she had a tough experience at Balmoral during that first visit. As she put it, "By the third day they're sapping me again. There are so many negative atmospheres. That house sucks one dry." She also admitted that while she did build a bond with Prince Philip, Prince Andrew, and Princess Anne, the rest of the family didn't warm up to her in the way the show depicts (via Brides).
Princess Diana's relationship with James Hewitt was longterm
Princess Diana and James Hewitt first met in 1986 at a party. The two began spending time together after Hewitt began coaching Diana in horseback riding; things between the pair quickly turned from friendly to romantic, and they engaged in an affair that was said to have happened during the same time when Prince Charles and Camilla Parker Bowles were carrying on their own romance.
"The Crown" briefly showcases the relationship that Diana and Hewitt developed, but the reality of the matter is that their relationship lasted five years, from 1986 to 1991. Diana's former security officer Ken Wharfe told Marie Claire that Hewitt opened up Diana in a way that Charles could not, and that, "The pair usually met at an old cottage in Devon belonging to Shirley, Hewitt's mother, where the creaking bedroom floorboards told the story more loudly than any confession."
Eventually, Hewitt went to the Middle East during the Gulf War, reportedly angering Diana in the process. In 1994, Hewitt was interviewed by author Anna Pasternak for her book "Princess in Love," a transgression that Diana was saddened by. While speaking of Hewitt, she told Martin Bashir in 1995, "Yes, I adored him. Yes, I was in love with him. But I was very let down" (via Marie Claire).
Princess Diana's sister introduced her to King Charles
Perhaps one of the oddest aspects of Princess Diana's life that "The Crown" gets wrong is the way she and King Charles first met. In the show, this takes place by chance in Season 4, when Charles has arrived at Diana's family's estate to meet her sister Sarah, whom he was dating at the time. Diana happens to walk into the room where Charles is waiting, and the two end up chatting, despite her insisting that he pretend she wasn't there.
The reality is that Sarah herself introduced Diana and Charles as potential partners. While she didn't provide too many details, in an interview with The Guardian that followed the announcement of Charles and Diana's engagement, Sarah commented, "I introduced them. I'm Cupid." The same interview provided a bit of insight into what the pair's dynamic might be as married partners, as Charles himself told the outlet of their 12-year age difference, "I think that Diana will keep me young, apart from anything else. I think I shall be exhausted."
Princess Diana didn't need special lessons on how to be a royal
In Season 4 of "The Crown," Princess Diana is shown requiring lesson upon lesson in how to become the perfect royal wife. The reality of the matter was that as a member of a longtime aristocratic family, Diana was practically born knowing exactly how to behave in society and in the royal family. In one specific scene, Diana receives lessons in curtsies from her grandmother, Lady Fermoy, though as Insider points out, all of this would have already been instilled in Diana during her upbringing.
Author Hugo Vickers backs this up in his book "The Crown Dissected," in which he claimed, "It is crazy that the Diana figure would make so many gaffes of 'protocol' on entering the Queen's drawing room, considering she had been brought up in royal circles." Vickers does admit that it's likely Diana did need dance lessons, but that's as far as the royal author allows.