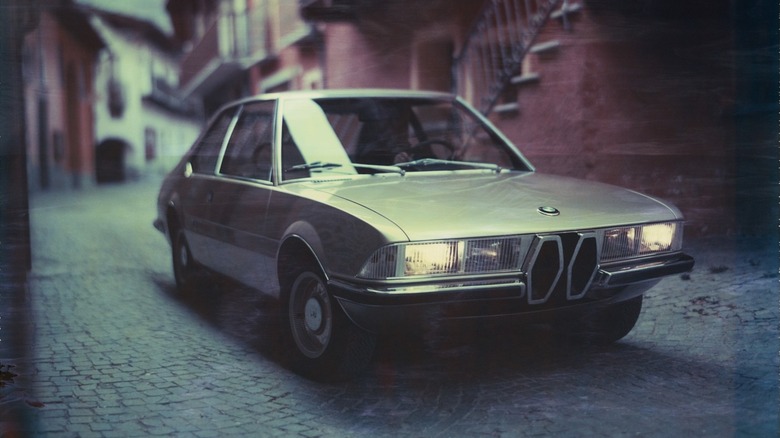 Cars disappearing is nothing new: According to the latest statistics from Carsurance, a car is stolen in the United States every 43.8 seconds, leading to $6.4 billion in losses every year. On top of theft, there are plenty of cars that fall victim to natural disasters, get into accidents, or simply end up abandoned for one reason or another. However, it seems implausible that a car could simply vanish into thin air, never to be seen again, especially if it's a high-profile or desirable model. But, in rare cases, mysterious disappearances have been known to happen, and in many cases, the car in question has never been found again.
Every now and then, rumors resurface as to the whereabouts of these cars, and when they do, there's usually a group of historians and interested collectors trying to track them down. Mostly though, those rumors turn out to be just that: unsubstantiated claims that, although there might be some truth in them, don't lead anywhere. Even cars that would be worth millions of dollars have remained missing for decades, with their fates remaining a complete mystery despite the best efforts of automotive sleuths.
Bugatti Type 57 Atlantic La Voiture Noir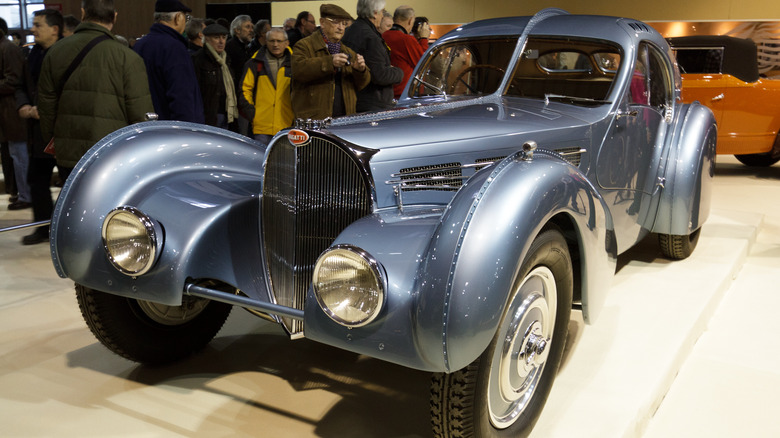 One of Bugatti's most prized creations, the Type 57 Atlantic "La Voiture Noir" is probably the most valuable missing car on Earth. Valued at up to $100 million if it was ever found, La Voiture Noir is one of four Type 57 Atlantics ever made, and left the factory in 1937. It was designed by marque founder Ettore Bugatti's son Jean, with the younger Bugatti using it as his personal car for a while. As the Nazis advanced towards France during World War II, Ettore announced that his cars and factory equipment would be sent to the company's secondary factory in Bordeaux, and loaded everything onto a train to make the journey. While the rest of the equipment arrived intact, La Voiture Noir was nowhere to be seen.
Several theories have been proposed to explain the car's fate, with each of them appearing to hold some validity. One theory is that the car was destroyed by the Nazis after they eventually captured France, or it was stolen by them and hidden away, perhaps in another country. Another theory suggests that the train was really a decoy by Ettore to hide his prized car in a location known only to him, and that he took that secret location to his grave when he died in 1947. It's also been suggested that the car might be hiding away in a private collection, although none of these theories have ever been confirmed (via The Drive).
Ferrari 375MM
The Ferrari 375MM is one of the brand's most desirable 1950s race cars, with a total of 26 cars built. All but one of those has been accounted for, with only chassis number 0378AM remaining missing. This missing car is thought to be worth north of $10 million, and was originally sold to a friend of Enzo Ferrari's called Dottore Enrico Wax. Wax was a notable collector and reportedly owned many high-profile cars, but his 375MM has never been found, leading to speculation that it still lies abandoned somewhere in a garage in Italy.
If it was indeed abandoned or simply forgotten about by its owner, it would likely be in original condition, making it ripe for restoration. With a naturally aspirated 4.5-liter V12 making 340 horsepower, the car was one of the fastest road cars of its era, and each example received a coachbuilt body by the likes of Pinin Farina or Scaglietti. The 0378AM received a highly unusual metallic blue paint finish, with a beige interior, being the only 375MM with this color combination (via MotorBiscuit). If the car ever is found, and it's in original condition, it's likely to set new records for the model at auction.
James Dean's Porsche 550 Spyder
It's one of the most famous celebrity deaths of all time, but the story of James Dean's fatal crash in his Porsche 550 Spyder is surrounded by mystery. On September 30th, 1955, Dean was driving his newly-acquired "Little Bastard" Porsche up to a race at Salinas airport in California, when a car turned left into his path and collided with him. The light weight of the 550 Spyder meant that it was instantly crumpled against the much heavier Ford it had driven into, and the force of the impact killed Dean almost instantly. After his death, the wreckage of his car was sent to a junkyard in Burbank, where its engine, transmission, and various other parts were bought by Dr. William F. Eschrich, an amateur racer who also owned a 550 Spyder. Eschrich sold some of the parts to his friend and fellow racer Troy McHenry, and both men were killed in racing accidents shortly after, starting the legend of the curse of "Little Bastard" (via SFGate).
The chassis of the car was sold to famed car customizer George Barris, and he lent it out to various shows and institutions, spreading the news of its supposed curse in the process. Barris claimed the chassis simply vanished on a cross-country trip from Miami to L.A. in 1960 and remained missing ever since. When he was pressed about what exactly happened to the chassis, SFGate reports he said "I like the story as it is."
Chevrolet Waldorf Nomad
One of the star cars of GM's 1954 Motorama show, the Chevrolet Corvette Nomad, or Waldorf Nomad as it became known, has a perplexing history. It disappeared shortly after its appearance in the show, and many assumed it had simply been scrapped, which GM was known to do with its one-offs at the time. However, a rumor later resurfaced about a Nomad stored in a warehouse in Newport Beach, CA. It was said the car was sold at some point to a private collector, although there's been no concrete evidence to back up this theory. To add to the confusion, David W. Temple, author of several books about GM's Motorama era, claimed in an Old Cars Weekly article that he had seen evidence of not one but three Nomads actually being built.
He found evidence that one of those three was scrapped in July 1955, but has also unearthed photos of an apparent second Nomad on display at the 1955 Canadian National Exhibition in Toronto, held around six weeks after the first car was supposedly scrapped. If one of the cars made it up to Canada, there's a chance it could still survive, albeit in an unknown condition. The third of the three cars may well be the one that's alleged to have been found in Newport Beach, but until one of them makes a public appearance, it's impossible to know for certain.
Jim Morrison's Ford Shelby GT500
Jim Morrison only owned one car in his lifetime, a 1967 Ford Shelby GT500 that he reportedly nicknamed "The Blue Lady." It was bought for him as a present from Elektra Records founder Jac Holzman, to celebrate The Doors' first number-one hit, "Light My Fire." Morrison loved the car and was known to drive it hard, squeezing every last drop of power out of its 428-cubic-inch V8 engine. He even made it the star of his unreleased 1969 movie "HWY: An American Pastoral," which was shot in the Mojave Desert and features footage of Morrison driving the car. However, the car mysteriously disappeared shortly before the iconic singer's death (via Hagerty).
There are two main theories as to what happened to the car, the most widely circulated being that Morrison crashed it into a telephone pole on Sunset Boulevard in Los Angeles one night, then left it at the scene and went to a party. When he came back the next morning, the car was gone. The second theory proposes that Morrison parked it at Los Angeles International Airport while he was on tour with The Doors, and it got towed while he was away. Both theories have one big flaw: Since the singer was so fond of the car, it seems very strange that he would make seemingly no effort to get it back once it initially disappeared. Either way, if someone does know the car's fate, they aren't saying.
Oldsmobile Golden Rocket
Unveiled at the 1956 Motorama, the Oldsmobile Golden Rocket encapsulated the Jet Age car design perfectly. With styling inspired by the fighter jets of the era, the car featured chrome "bumper bullets" at the front and rear bumpers that looked like space rockets (via Yahoo!). The car's tail fins were considered quite understated for the time, perhaps in an effort to draw onlookers' attention to its unique aerodynamic shape. As well as its futuristic exterior, the Golden Rocket also featured a number of cutting-edge interior innovations, including auto-rotating seats that allowed the driver and passenger to get in and out of the car with minimal effort.
It caused a stir at the 1956 Motorama show, but shortly after, the Golden Rocket seems to have simply vanished. It was common practice at the time for GM to scrap its concept cars after shows to reduce its insurance liability, but some rumors persist that GM's vice-president of design Harley Earl took the car to add to his sizable personal collection. There have been unconfirmed rumors of the car being spotted in the early '60s, with supposed photographic evidence, but nothing has led investigators and historians to any conclusive evidence that the car still exists.
William E. Carter's Renault Type CB Coupe de Ville
First-class passenger William E. Carter boarded the Titanic with his family and his newly-acquired Renault Type CB Coupe de Ville, the only car to be taken on the ship. Carter and his family survived when the ship infamously sank, but his car was not so lucky. It was reportedly stored in the ship's port-side Orlop Deck storage area, a part of the ship that stayed relatively intact even after it sank (via Hagerty). Despite this, the car has never been located by divers, despite several attempts. It's likely that, by now, there isn't too much of the car left anyway, as over a hundred years' worth of seawater exposure would have rotted its frame significantly.
However, it's unlikely to have disintegrated altogether, especially since plenty of other metal items have survived long enough for divers to find them. It seems odd, then, that the Renault seems to have completely vanished, despite being in a part of the ship that remained fairly secure on its journey to the sea floor. After his escape, Carter successfully made a $5,000 insurance claim for the loss of the car, which Hagerty reports is the equivalent of around $130,000 today. Very few original Type CBs survive today, but one changed hands at an RM Sotheby's auction in 2008 for $269,500 (pictured above).
Bettencourt-Zupan Coupe
While it started life as a '49 Mercury Coupe, the Bettencourt-Zupan was extensively worked on by a number of high-profile modifiers until it became more or less a unique one-off. It ended up in the hands of Dean Jeffries, the painter who had worked on James Dean's Porsche 550 Spyder, after the car's previous owner had died in an accident. It sat outside his shop until it was stolen one night in 1970, never to be seen again. Strangely, the Detroit Free Press reports, there were a few photos of the car that appear to have been taken after the theft, implying the thief didn't just joyride the car and crash it after a few hours.
If the car really did survive for years after it was stolen off Dean Jeffries' lot, there's a chance it could still be out there, albeit in a much more run-down condition than when the photos were taken. There have been no leads since then to suggest the car's whereabouts or current owner.
BMW Garmisch Bertone
The BMW Garmisch Bertone concept turned heads when it debuted at the 1970 Geneva Motor Show, its unique design putting a contemporary Italian spin on the brand's classic style. Shortly after the show, however, it disappeared, with no one able to work out exactly what happened to it. A few photographs of the car remained, and it was one of these photographs that caught the eye of BMW's head of design, Adrian van Hooydonk. He set about resurrecting the design with the help of the original concept's mastermind, Marcello Gandini, and the recreation of the concept debuted at the 2019 Concorso d'Eleganza Villa d'Este (via Classic Trader Magazine).
One of the concept's unique ideas was its re-interpretation of BMW's signature kidney grille, with the Garmisch sporting a more vertical, angular grille that took up a lot more real estate on the front of the car. There are some similarities between the Garmisch's grille and that of the newly-redesigned BMW M3, and van Hooydonk admitted himself that Gandini's ideas have been "an important source of inspiration for [his] work" (via BMW Group). Despite the historical significance of the original Garmisch concept, however, its fate remains unknown. Perhaps it's still in a Swiss barn somewhere around Geneva waiting to be rediscovered in person.
Horch 855 Spezial
Ex-Ukrainian President Viktor Yanukovych was ousted from power in 2014 after protests against his efforts to deepen his country's ties to Russia turned deadly, with pro-Russia troops opening fire on civilians and killing more than 100. He fled to the Russian city of Rostov, leaving behind the majority of his extensive car collection. However, Yanukovych appears to have brought with him one especially rare car from his fleet: a Horch 855 Spezial, valued at around $2 million at the time of its disappearance (via Autoweek).
Every car in his collection had an information placard next to it, and while the placard for the car was still there when journalists and activists gained access to the collection, the Horch itself had gone. It's thought to have been smuggled out of the country along with the president, but it's not clear whether it is still under his ownership, or where exactly it's being kept.
Chrysler Norseman
After the SS Andrea Doria collided with another ship in heavy fog and sank, its cargo, including the one-off unreleased Chrysler Norseman concept, was lost forever. The remains of the ship are known as "the Mount Everest of dives," due to its depth and complications surrounding the condition of the wreckage. Hemmings reports that a leading underwater researcher, David Bright, confirmed that the remains of the car were indeed down there during an expedition in the mid-1990s, but noted that it was in very poor condition.
Bright died in 2006 after suffering complications from a dive at the site, and since then, no one else has ventured far enough into the ship's wreckage to see the car. Because of the risks associated with the dive and the fact that the wreck is now becoming unstable, it's likely that no one will ever get to set eyes on the Norseman again, even if it's still in one piece.
Aston Martin DB5 from Goldfinger
One of the most iconic James Bond movies of all time, "Goldfinger" transformed its star car, the Aston Martin DB5, into a household name. Four DB5s were used in the making of the film, but only one featured working gadgetry. That sole functional car was stolen from a private hangar in Baton Rouge Airport, Florida, in 1997. A report by Autocar suggested it was worth more than $20 million, but despite its value, it's never been "officially" found.
The word "officially" is important here, as a 2021 report by The Telegraph claimed the car is sitting in a large car collection somewhere in the Middle East, and that the current owner was not aware that it was stolen when they initially bought it. The claim was made by Christopher Marinello of Art Recovery International, and although Marinello hinted in the report that he had identified the owner, there has been no verifiable news of the car's recovery at the time of writing.
Amilcar CGSS
Isadora Duncan was a well-known dancer and choreographer born in California but spent most of her time in Europe. She found fame in the 1920s across London and Paris for her innovative and expressive routines, but her life was cut short due to an unusual fatal car accident in 1927. She is thought to have been traveling as a passenger in an Amilcar CGSS when her signature long scarf got caught in a wheel, dragging her out of the car and onto the road, breaking her neck in the process.
Duncan died at the roadside, while the driver, Benoît Falchetto, escaped without serious injury. A common misconception is that Duncan died in a Bugatti, but The Telegraph reports that Falchetto's nickname was "Bugatti" because he raced them, which appears to be the source of the confusion. The Amilcar involved in the crash has never been located, and it's unclear if Falchetto even kept it after Duncan's death.
Maserati 5000GT Ghia
Although the sad reality is that most of these missing cars will never be seen again, there are a few times when a long-lost car has turned up after decades in obscurity. The only Maserati 5000GT Ghia ever built was thought to have disappeared after being sold to a mystery collector in Saudi Arabia and seemingly vanishing into thin air. However, decades after it was sold, it was found by the late owner's family, and rescued in the nick of time. It had been marked for the crusher, but thankfully it was brought inside to prevent further deterioration and went up for sale in its unrestored state in 2019 (via Hagerty).
It was sold at an RM Sotheby's auction for $533,000 (pictured above), with its owner presumably in the process of restoring the car at the time of writing. Hagerty spoke to an expert on the marque who said that restoration should be fairly straightforward as all the key parts were present, so let's hope to see this one-off Maserati back on the road soon.