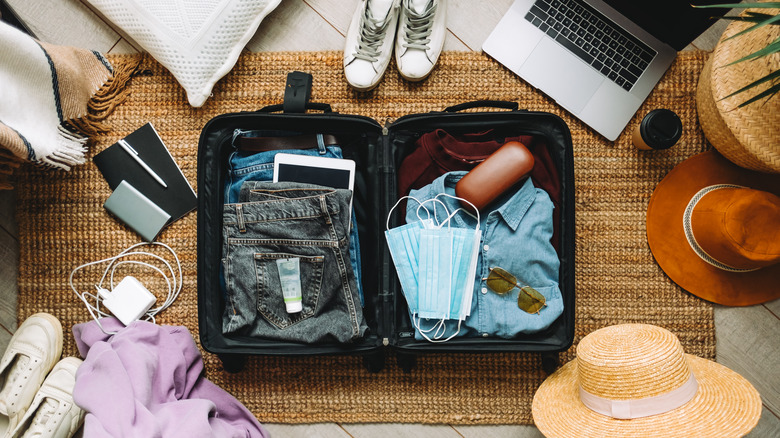 The idea of traveling is such a wonder. Whether you're traveling for business or pleasure, there is sheer enjoyment due to a change of scenery, incredible foods, and swoon-worthy adventures filled with picturesque moments. However, before that moment of pure bliss may come a slight panic. The panic involved with packing and making sure you've got everything for your "Eat, Pray, Love" journey ahead is slightly underrated but impacts many. You're going on a much-needed vacation, but you aren't sure if you brought all of the necessary items. Needless to say, packing for a trip can be the most stressful part of an exciting adventure!
With travel today, most airlines will allow you to take a carry-on bag and a personal item on board, however, you should always aim to double-check the Transportation Security Administration (TSA) for items that are and are not allowed, so you can eliminate unnecessary stress (and embarrassment at security). In a survey conducted by Cheap Flights, 57% of individuals surveyed said they try their best to avoid checking a bag and opt for a carry-on. Over 80% of individuals surveyed said they have complete faith in their packing abilities. What about the rest?
Packing is not necessarily a cakewalk, especially if you're packing for a three-week trip. There are several factors to consider when prepping for a long trip. Lighten the load a bit by following a few of our tips to ensure a smooth vacation from beginning to end.
Check the weather and create an itinerary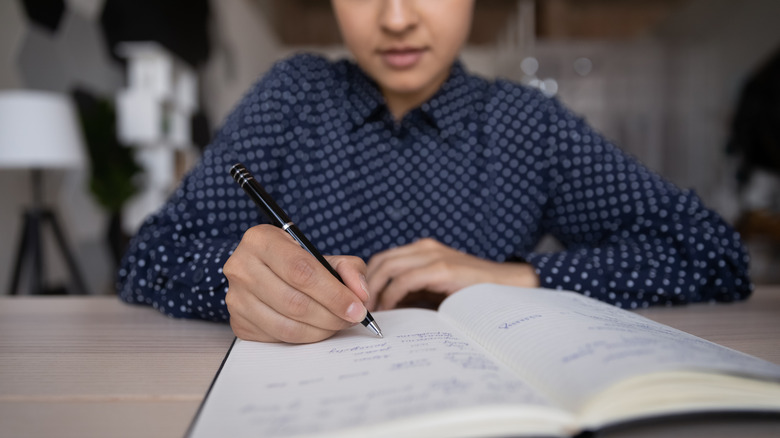 Vacations are meant to be relaxing, and carrying extra weight may just be the exact opposite of that. To eliminate the potential for this to occur, plan ahead! To assist with narrowing down the plethora of options, consider creating an itinerary for your destination. To do so, ask yourself if the bulk of the trip will be indoor or outdoor. Think about the time you plan to spend sightseeing versus relaxing. If the goal of this trip is sightseeing, consider packing durable, yet breathable, comfortable clothing for walking around all day. If relaxation is the goal, and there is little to no physical activity, opt for flowy pieces.
"Plan your outfits ahead so that you're bringing exactly what you need and nothing extra," Away Editorial Director Alley Betker shared with Jetsetter. Consider opting for a buildable wardrobe, where items can be interchangeable to create different looks.
"Create a packing list that includes all of your essentials, and then separate ones that are customized to your [trip's] relevant needs," The Home Edit's Clea Shearer and Joanna Teplin shared. According to them, one of the biggest mistakes you can make is "just throwing things in a suitcase without a system in mind." In addition to your itinerary, check the weather to ensure you're dressing appropriately. The last thing you want to do is purchase additional items that may eliminate any extra space you may have had in your luggage.
Focus on packing items that spark joy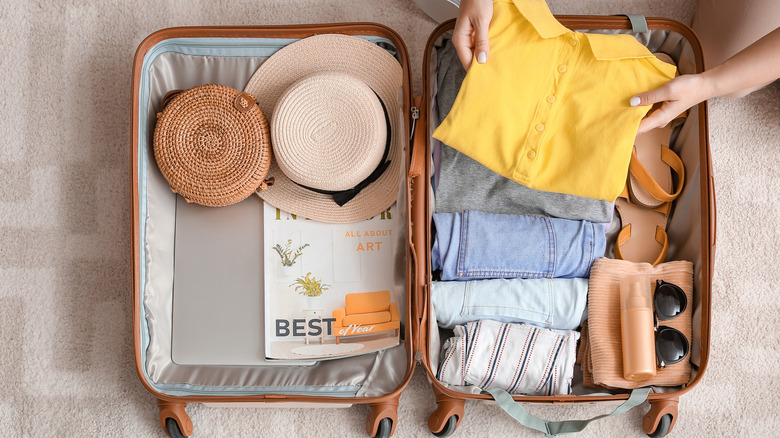 According to SWNS Digital, nearly 65% of individuals say they struggle with packing for trips. Nearly one-third of the individuals surveyed admitted to packing within the 24 hours before their trip. As a general rule of thumb, everyone should try to avoid panic-packing at the last minute. It's also good to remember that if you don't wear it at home, you will probably not wear it on your trip.
Now that there is an approach to packing for three weeks, on to the fun part –- what to actually pack!
Your exact packing list will differ slightly based on what activities you plan to do and what the weather looks like at your destination. A good place to start is with your basic necessities. According to Three Week Traveller, the ideal items to pack for three weeks include:
4 comfortable shirts
1 lіghtwеіght, lоng-sleeve shirt
2 раіrѕ оf ѕhоrtѕ
1 lоng trоuѕеr
7 раіrѕ оf undеrwеаr
1 рullоvеr or sweatshirt
4 раіrѕ оf ѕосkѕ
Toiletries should be added to this list based on your preferences. While there is no ideal formula for what to pack, be sure to include clothes that you are comfortable in. Organizer guru Marie Kondo prefers to start with a clean slate and pack items that spark joy. "The fewer clothing options to choose from, the more you can focus on the joyful experience ahead," Kondo shared. We couldn't agree more.